Loving Phase 1 of our Garden Makeover!
Now I'm sure if Hubby sees this post, he'll be thinking 'Phase 1? I thought we had finished the garden makeover??' which to some degree we have but you know what we women are like, we always want 'more' so there will be a Phase 2, I'm just not sure when Phase 2 will take effect.
We have lived in our house for nearly 5 years now and so far the garden has been mostly neglected. When we moved in it was a big mud pile but then thankfully we were able to turf it thanks to a friend who didn't want her turf. For the last 2-3 years, our garden was dominated by the Beans' 10ft trampoline but at the start of the Summer, we decided it was time to dispense with that as the accidents were happening all too often.
Looking through magazines I had a flash of inspiration that began with our fences. I was fed up of staring at the same old Red Cedar painted fences that looked like every other garden fence. I wanted to look out and see a modern fence, a modern garden where we want to spend time as a family, not just an outdoor toy dumping ground for the Beans.
I bought some Cuprinol Fence Paint in Natural Stone and we set to work on painting the fences. The first coat soaked straight into the fences giving them a 'washed' look but we wanted a solid colour so it took another coat to get the colour we wanted. Even just that change of colour made a huge difference, even on a rainy day it looked bright and sunny in our garden, it made the garden feel bigger and more inviting but we hadn't finished yet.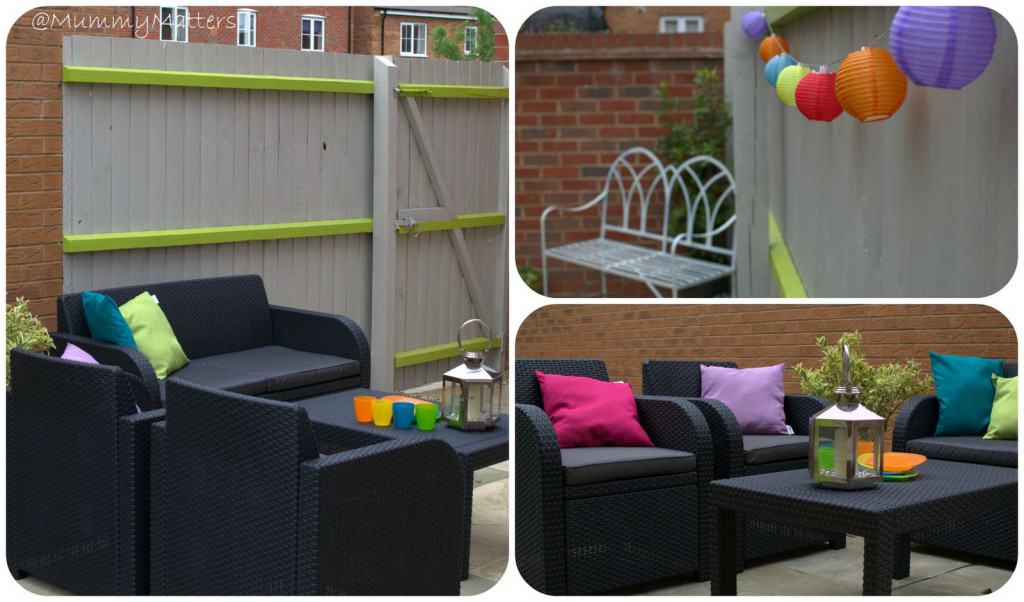 To bring our fences to life I chose a Lime Green accent paint to go on all of the crossbars of the fences to create stripes around the garden and I hope you'll agree, it looks brilliant! Our fences have come to life and have that modern feel that I was hoping for.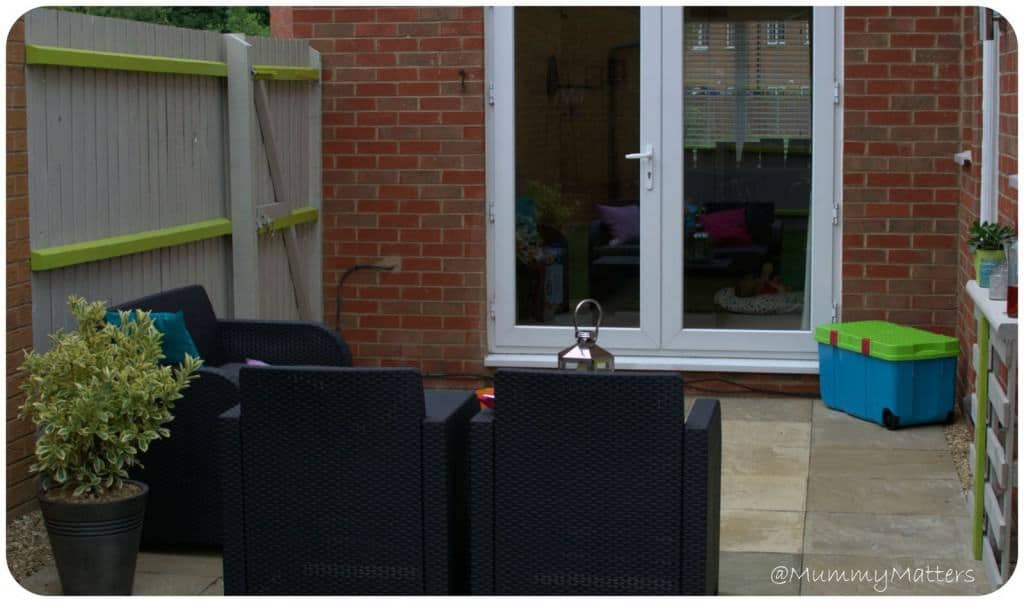 Next up laid new turf where the trampoline used to be and had our patio extended to give us a larger outdoor seating area. We built our own DIY Pallet Bar out of reclaimed pallets and the leftover fence paint. For full instructions on how to do this, head over to Wayfair to see my 'How To' guide. The Pallet Bar is the perfect place to stand garden ornaments, plants, tealights at night or a large glass of wine!!!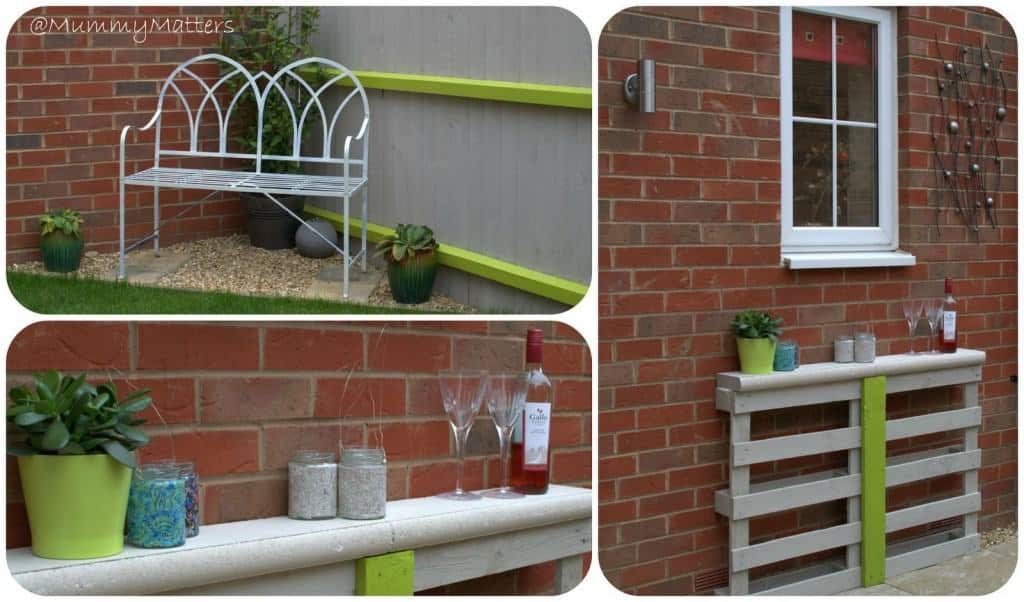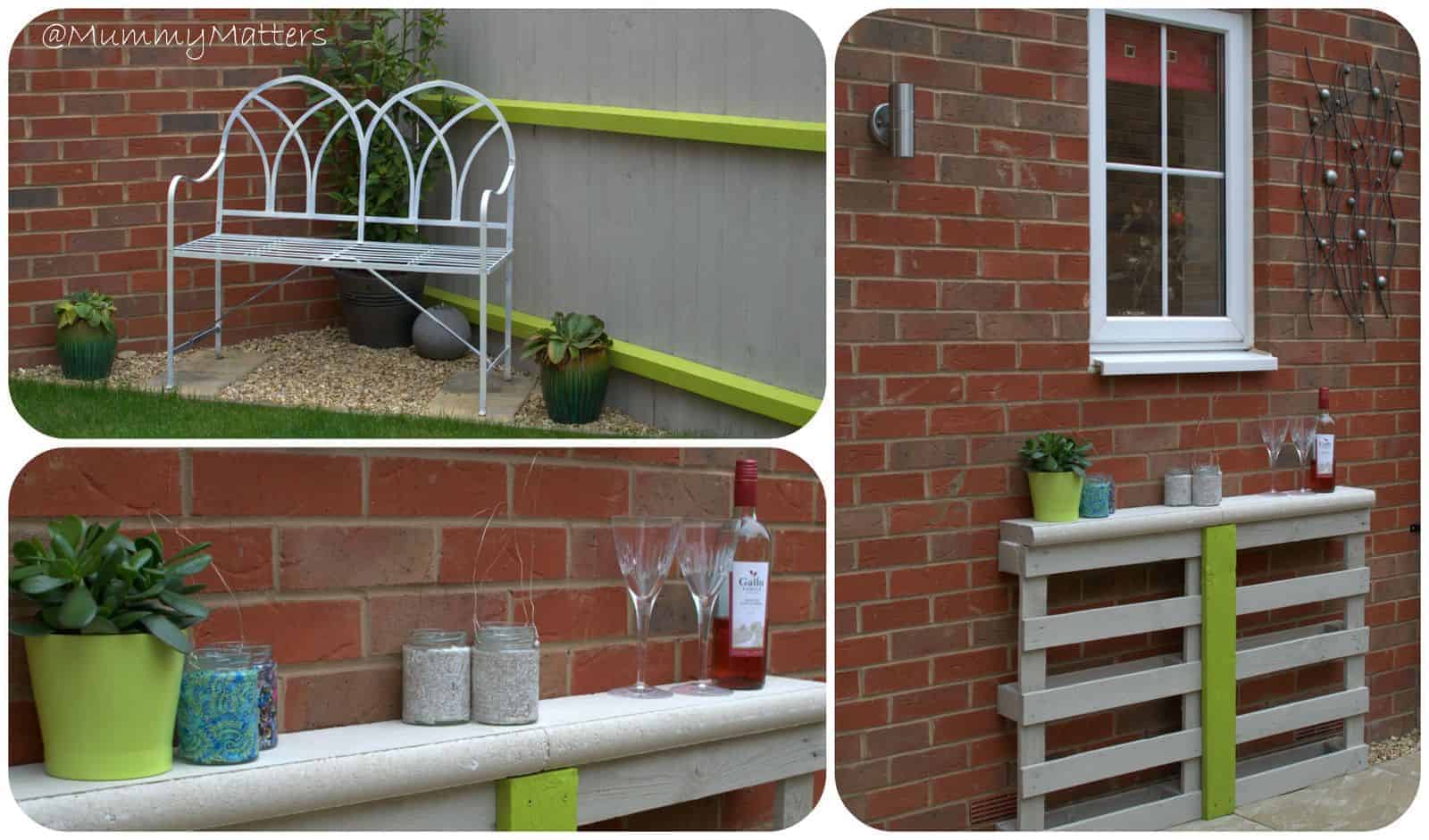 We created a new patio seating area with the lovely Rattan Sofa Set from Wayfair adding colour with cushions from our local garden centre. We added further colour to our fence during the day and light to it at night with our Solar Powered Fairy Lights from Argos. We still want to find a modern-looking patio heater to stand in the corner of the patio as it does get chilly out there quickly. I bought a beautiful Euonymous Jap Bravo tree to stand near the chairs for a bit of foliage and colour.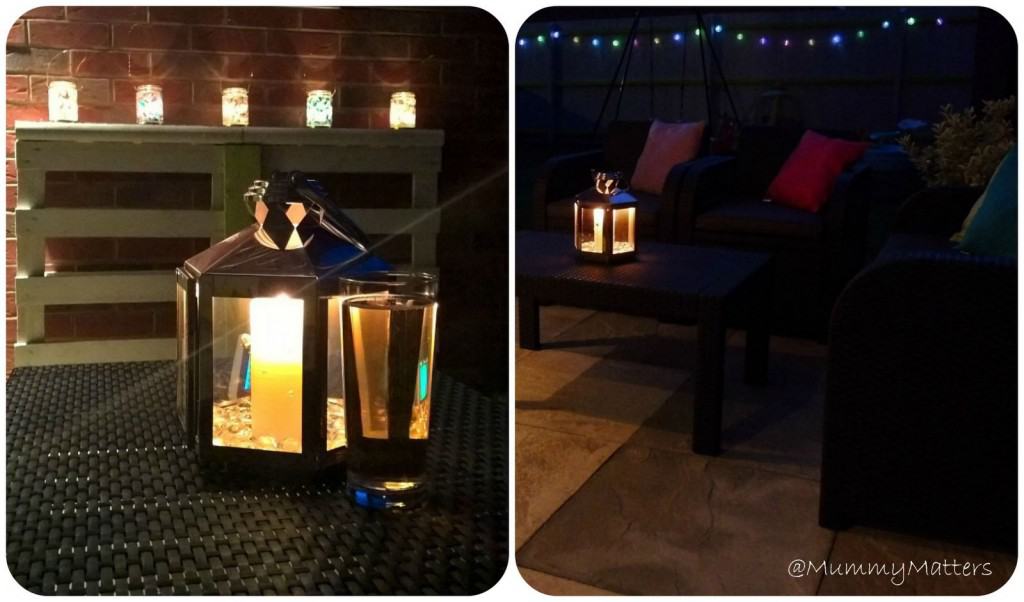 Next up we are hoping to build a low-level fence to divide the patio area from the garden with a little gate and to protect the chairs from any wayward footballs flying around. We are also hoping to find play equipment that will service all four children without dominating the garden because the swing is a constant bone of contention between the four of them.
Finally, behind our garden, we have a long thin spit of land which we think is just crying out to become an 'outbuilding' of some description, perhaps a 'den' for the Beans or a garden office for me?! But like I said, that might have to wait for another year . . .