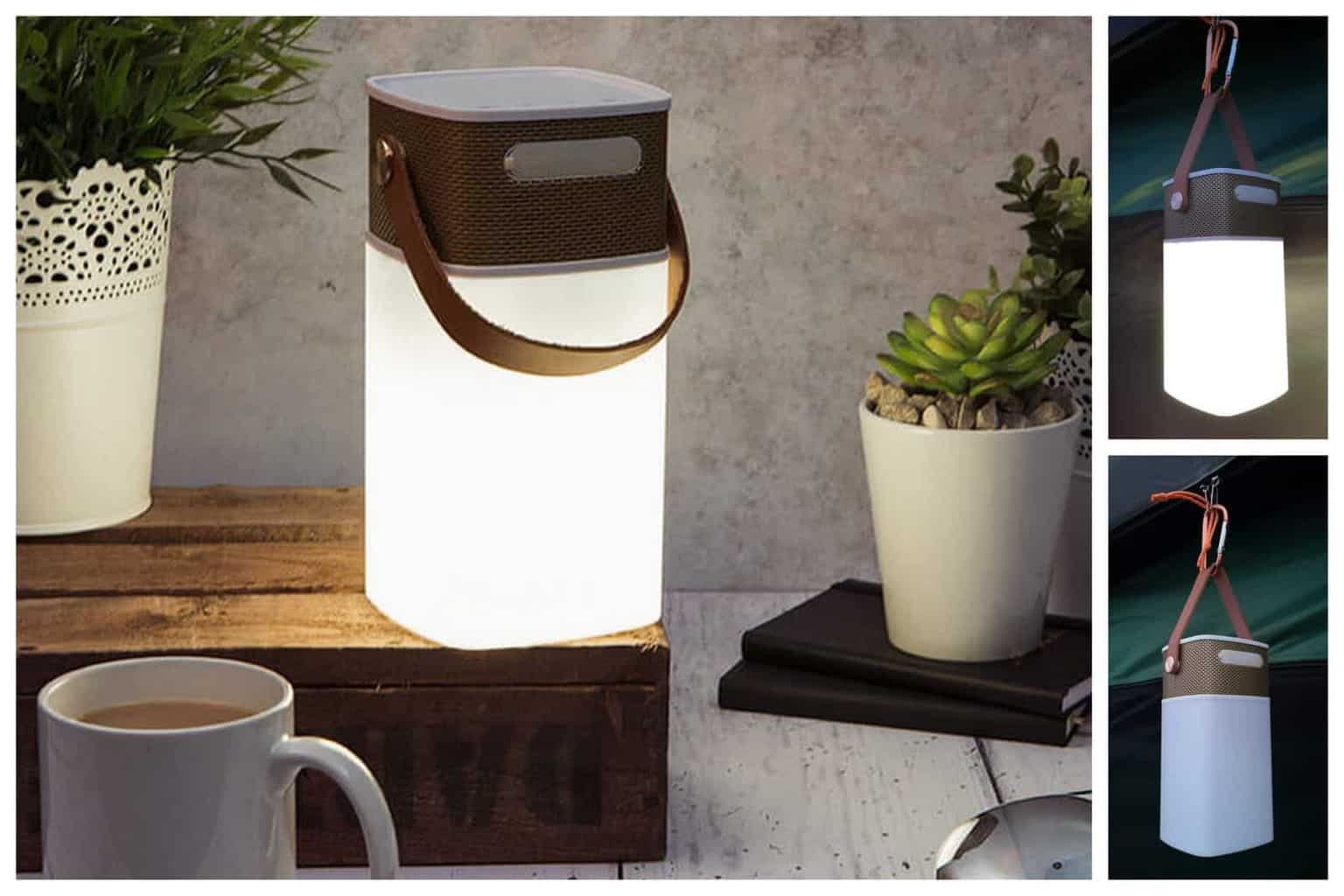 Our favourite camping accessories for 2018
So far this year we have been camping six times already in our Coleman Valdes 6XL. Some people might think we are bonkers, one camping trip a year is enough for most people but we love it. Camping is a great way to get away, get outdoors and explore. The children use their imaginations more, they make new friends and they burn a lot more energy by being outdoors and active instead of glued to a screen. This year we have been trialling a few new accessories which I am going to share with you now;
Kreafunk aGlow Light-Up Bluetooth Speaker from PrezzyBox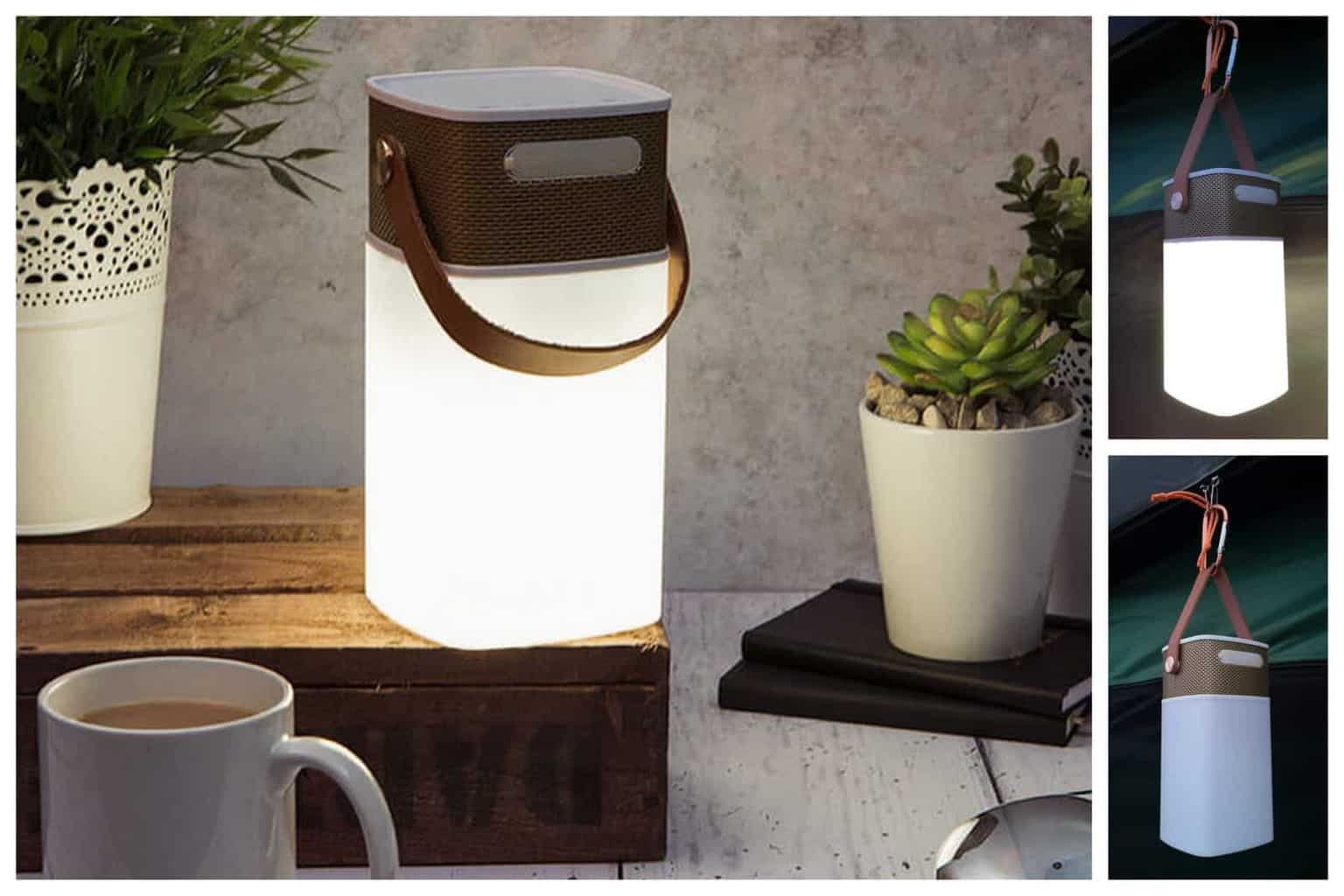 Depending on what time your children go to bed when camping, it can be a little noisy on site. We tend to allow the Beans to have a slightly later bedtime so the children are very tired but they also still want to listen to music. It helps them to zone out from the noises around them. The Kreafunk aGlow has been the perfect addition to our camping gear this year. This stylish Bluetooth speaker is also a cool light and can be used as a power bank to charge tech gear such as phones, tablets, and MP3 players. The leather strap meant that we could hang the speaker above the children's sleeping area so they could hear well but it also provided a light for the main living area.
We forgot to pack the iPod which would ordinarily have all of our music for camping. This time around I connected the speaker to my phone and played my downloads from Spotify. Bedtimes were a breeze thanks to the aGlow so it's definitely a keeper in our camping box for future trips.
The aGlow offers:
20 hours of playback/20 hours of light
Dimming function on the light
Built-in Speaker for hands-free calls
Built-in lithium battery
It is splash-proof
Power Bank function 5V/1A
Also comes with a USB cable and an AUX cable
Mia Tui – Cambridge Picnic Blanket and Make-up/Toiletry Bags
Cambridge Picnic Blanket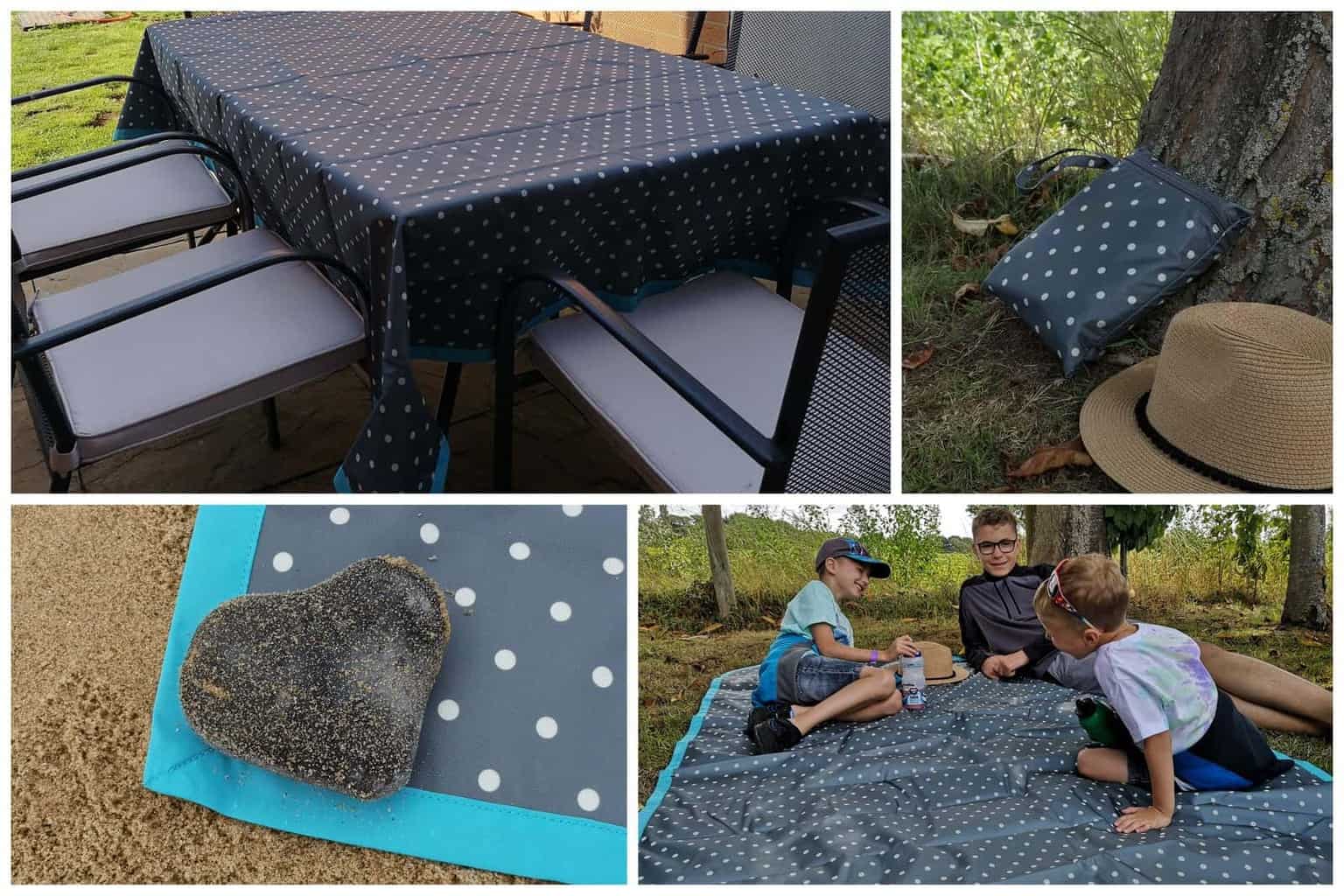 Whenever we go camping we tend to have picnics for our lunch and then eat in the tent or eat out in the evening. As such we have purchased a lot of picnic rugs over the years in search of the perfect one. As a family of six, this usually means we need more than one rug to fit us all on comfortably. Mia Tui came to our rescue this year with the Cambridge Picnic Blanket which has surpassed all others.
Specifications
200cm x 150cm
Folded Size: Width 33cms  Height: 25cms  Depth: 8cms
Two storage bags; one small, one large
Waterproof fabric top and bottom
Weight: 1kg
We have the Grey Spot design which we love. I was really surprised to find that it came with two storage bags but some people do struggle to get these things back into their bags. We have folded ours along the previous fold lines and have managed to get it back in the smaller bag every time. This has meant that we have a spare storage bag which we used to store charging cables and sockets in.
The Cambridge Picnic Blanket is the first blanket we have found which can comfortably sit all six of us without causing arguments. We used it every single day on our last camping trip whether we were in the middle of the countryside, sitting on the beach or even as an outdoor tablecloth on a picnic bench. I haven't had to panic about my accident prone boys spilling things on it because they wipe straight off, it literally is the best picnic blanket ever!
Gem and Beau Organiser Bags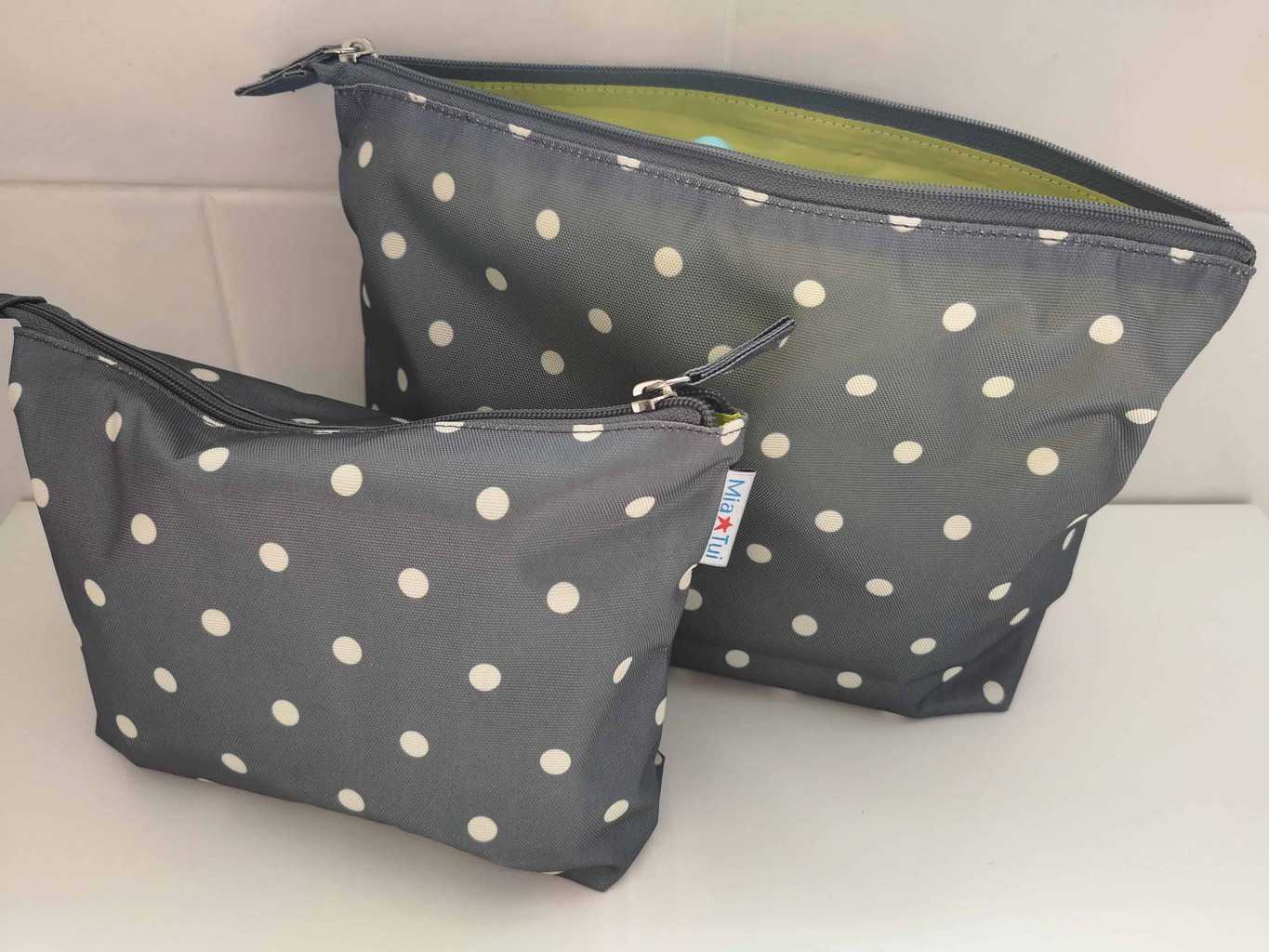 Packing for a family holiday when you go camping can be a fun exercise at the best of times but as a family of six, you need to be even more organised. We need to tread the fine line between having everything we need and not taking too much. When we pack our toiletry bags we usually try to fit the children's toothbrush, toothpaste, and shower gels into our own bags rather than taking additional bags. This hasn't always been easy but Mia Tui enabled us to be our most organised yet.
Gem Organiser Bag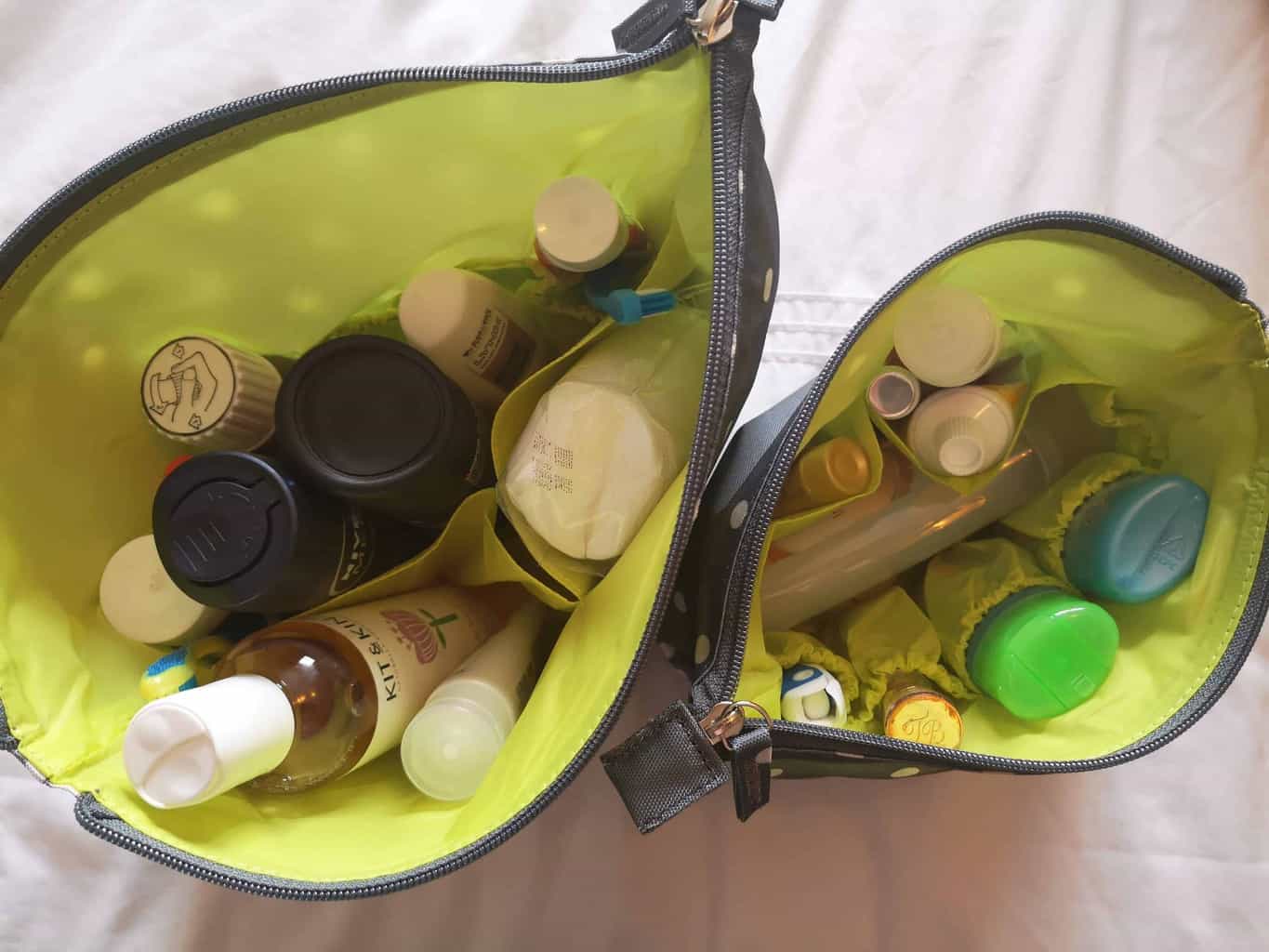 The Gem Organiser Bag is the larger of the two and has two pockets on one side for larger things and 5 elasticated pockets on the other, you then have space in the middle for other things. This was perfect for storing bottles of suncream, shower gel, and deodorant as well as body lotion, shampoo, and conditioner. For once we could see exactly what was in the bag at a glance.
Beau Organiser Bag
The Beau is a smaller bag which would be ideal as a make-up bag, cable tidy, sewing kit, pencil case or perhaps a first aid kit. I used the Beau as my own smaller wash bag with all my miniatures and travel toothbrush neatly tucked into the elasticated pockets.
Sigg Hot & Cold Brushed 1L Flask from Farrar and Tanner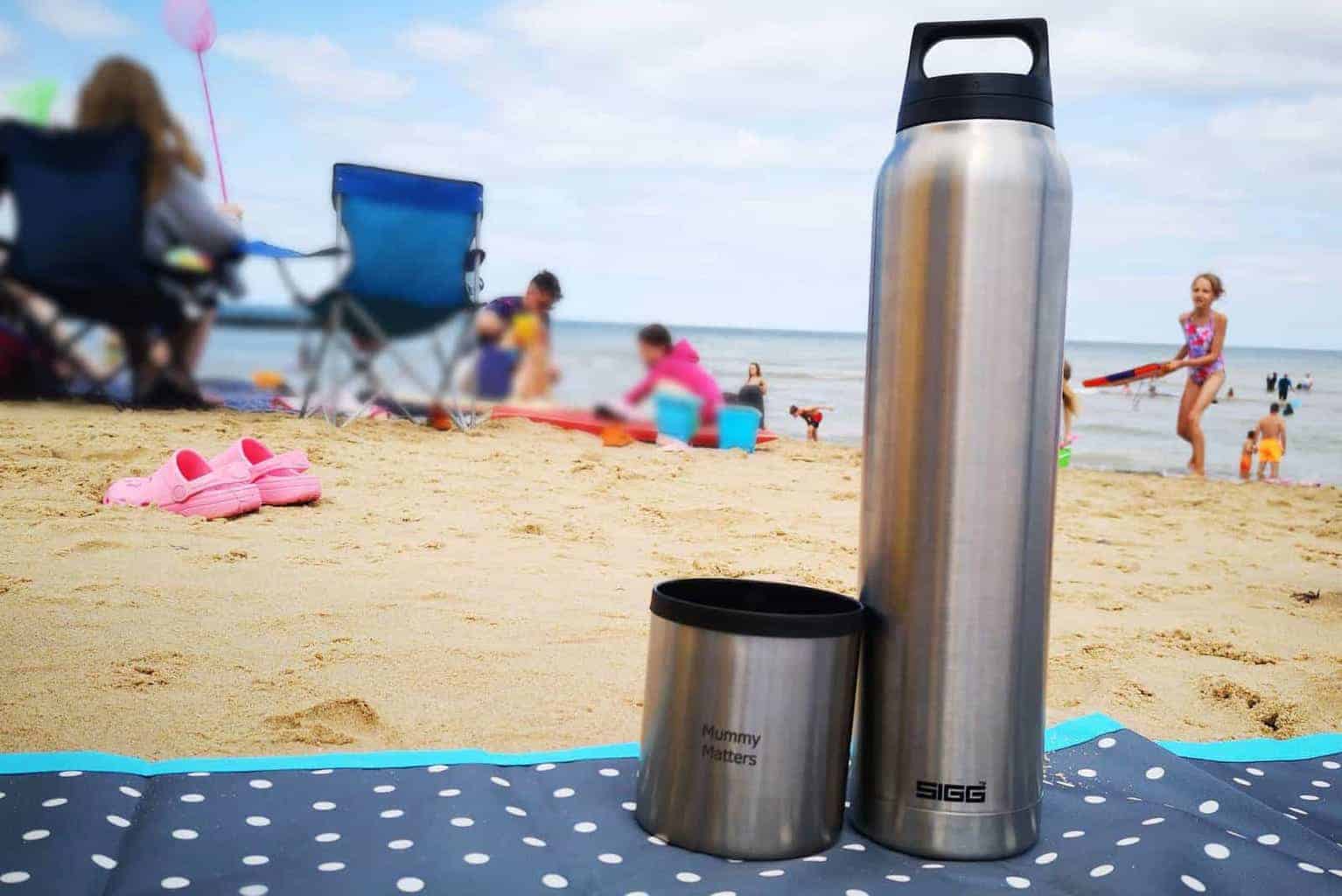 At the start of the Summer holidays whilst Mum and I were sitting on the beach watching the Beans cooling off in the sea, we both commented that we fancied a cold drink since the temperature was in the mid-thirties. Our sun-warmed water bottles were just not cutting it. Fast-forward two weeks later and it was Simon and me sitting on the beach. The sun didn't quite have hot and the wind was definitely cooler but this time we had a refreshing drink on hand to give us a much-needed boost. The Sigg Hot and Cold Brushed 1L Flask from Farrar and Tanner made our days at the beach and picnics so much better. On the hot days, we filled the flask with chilled water, on the cold days we filled it with coffee.
The flask has a rubberised bottom so that it doesn't slip around and has a screw top stopper to prevent any spills. What I really liked about my new flask though was that it had been engraved with Mummy Matters on the cup so there was no mistake as to who it belongs to. We were able to get two drinks each from the flask which is brilliant. One day we only drank half and then forgot to empty it when we arrived back to the tent late evening. The following morning we were amazed to see that our coffee was still steaming hot which was perfect for starting our day. Apparently, this is all thanks to the Swiss design with a double layered vacuum insulation. It will keep hot drinks hot for up to 24 hours and cold drinks cold so you'll be good for a whole day away from home.
Over to you
What camping accessories have you discovered this year? Any that you want to shout about or think that I and my readers should be trying out for ourselves?