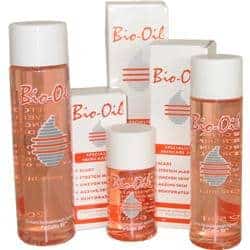 My maternity must-haves
Having been pregnant a few times now I know the need to take care of myself, my hair, my body, my skin because with each pregnancy it gets that little bit harder to get things back to how they were. So I want to share with you all the fab products that I have been using to pamper and preen myself;
Bio-Oil
This was the one product I wished I had used from the very start of my pregnancy with Little Bean but I didn't actually discover it until after her birth. After her birth I began using it to lessen the effects of my stretch-marks and throughout my pregnancy with Beanie Boy I used it to great effect. It has become my partner in crime on matters of maternity and motherhood! I am very pleased to say that I didn't develop any further stretch-marks whilst carrying my little man. This time around Bio-Oil is my friend once again, I use it every morning after my shower to lock in moisture. I love the gentle fragrance of Bio-Oil and how silky smooth it makes my skin feel.
To find out more about Bio-Oil visit their website.
£14.99 for £125ml
Cussons Mum & Me Range
This is a new product range which I am completely in love with. The range is divided into three key areas; sleep, skin and hair. My favourite at the moment has to be the Hair Range which smells divine and leaves my hair feeling silky soft and full of life. I have really noticed a difference since I began using the Shampoo & Conditioner because my hair was feeling so dry and looking dull, making me feel completely flat and horrible. I am currently using the Bump range which is designed for the Mum to be. There are also New Mum and Baby ranges for the subsequent steps on your journey to motherhood. I will definitely be using these to keep my journey a pleasant one!
To find out more about the new Cussons Mum & Me Range visit their website and to talk with other likeminded Mums why not check out their Facebook page.
Maternicare Pre & Post Natal Nourishing Cream
Your skin can take a real battering in pregnancy, your growing baby needs all the goodness it can get whilst growing and the only place to get that goodness is from Mummy. It's important to remember to keep drinking lots of water during pregnancy because your skin can dry out but it doesn't hurt to give it a helping hand with a Nourishing Cream like Maternicare which can also be use during pregnancy and following birth. A unique blend of essential vitamins and rich plant oils Maternicare smells amazing and makes your skin feel nourished, supple and as smooth as a baby's bottom! It is a hypoallergenic formula packed with pro-vitamin B5. After birth Maternicare is great for boosting the skin's natural healing process.
MaterniCare Pre & Post Natal Nourishing Cream is £14.99 for 200ml and is available from all good pharmacies. For more information you can visit: www.maternicare.com
Luxury Mummy Spa Kit from BooBoo
This was given to me as a gift after Beanie Boy was born and in one of my 'tidying sprees' I put it somewhere 'safe'. I rediscovered it when I found out that I was pregnant with JellyBean. This is such a gorgeous gift set, it all smells good enough to eat and leaves my skin so silky soft. I used the Silky Soft Body Wash every morning in the shower and I love how you only need a small amount to lather up for a really clean feel and my other favourite is the Bosom Buddy because let's face it, when I am intending on breastfeeding baby number 3 I need to take good care of Daisy and Mabel if I want to prevent them from heading south!
Luxury Mummy Spa Kit RRP £39.99