Gift The Personal Barber to your man this Valentines
My hubby will tell you; I like a clean-shaven man. I put it down to having soft and sensitive skin myself. If I'm going to kiss my man, I don't want to be left looking all red and sore from stubble rash! He argues that shaving often makes him sore, too, so it's important that he is taken care of, too, which is why I love the Personal Barber as Valentine's gift this year – it's a win-win gift that benefits us both.
Personal Barber Gift Subscription
Sign your man up for The Personal Barber Gift Subscription, and every 6 weeks, he will receive a box of wet shaving products, which will make his morning shaving routine a pleasure, not a chore. The first box comes with a gift card so you can tell him how much you love him and how much you're looking forward to kissing that gorgeously smooth face of his!!
Inside the box will be a unique discount code to share with friends or use to purchase further boxes or products for himself. He will also find a clear set of instructions on using the products to his best advantage.
What's in the box?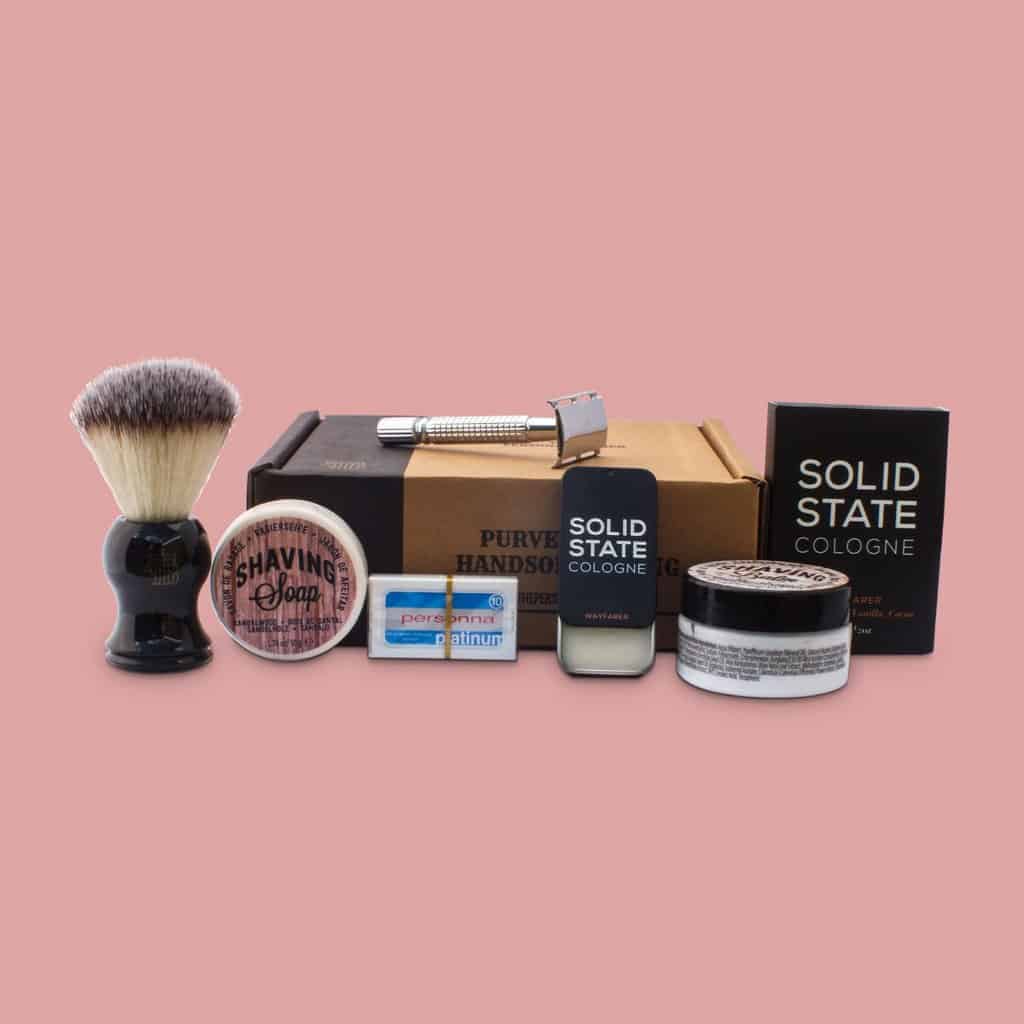 Each box varies, so you'll never know what you will be receiving next, BUT you can rest assured that each box will have been handpicked to provide you with the very best in wet shaving necessities to make your man feel and look amazing.
Classic Safety Razor
The first box contains a classic double-edged safety razor which is the perfect starting point for a beginner wet shaver. This great safety razor is perfectly balanced and a good weight with a thin head that offers maximum control. The locking system ensures that when you replace the blades, they also go in straight, so you're less likely to cut yourself.
Shaving Brush
The Personal Barber synthetic hair shaving brush is made from high-quality nylon, which is soft, somewhere between boar hair and badger hair – personally, we haven't stroked either, so we'll take their word for it?!
Replacement Blades
Each box contains a wealthy supply of replacement blades, each month, you will receive a different brand to find the brand that suits you best.
Shaving Soap
Shaving gel and foam might be quick and easy to use, but that doesn't mean it's good for your skin!! The Personal Barber show you how finding the right shaving soap can make all the difference to your skin, so you'll receive different shaving soaps in each box. Using a shaving brush and soap on your skin will help to exfoliate and keep your skin looking younger for longer.
Mystery products
Who doesn't love a surprise? This is the really nice thing about subscription boxes; you never know what you're going to get, so each box is like a gift just for you. You might receive a pre-shave oil, an aftershave balm, cologne or alum products; whatever it is, it promises to be great and will keep your shaving routine switched up.
In our box we received;
Delicate Owl Simply Lavender Shaving Soap – a beautiful floral scented vegan soap made right here in the UK.
Bee Cosmetics Natural Beeswax Aftershave Balm – offers protective and calming properties. It is made with a combination of avocado, almond and patchouli oil.
'Felix' a floral and woody fragrance from Solid Cologne UK, which contains natural ingredients and oils. This is perfectly sized to carry in your pocket or gym bag for when you need a top-up.
Treet Black Carbon "Black Beauties" replacement blades – known for their distinctive colour and outstanding performance.
Keep up to date with all the latest at The Personal Barber;
Facebook | Twitter | Instagram