Me&i clothing for Women and children
In my days pre-children I was a shopaholic, I would go shopping most weekends with my mum and find 'bargains' that I simply must-have. Of course, before children, I also had pert breasts, a flat tummy, long lean, toned legs and arms, in short, I had body confidence. Fast-forward a few years and the difference is vast, breastfeeding three babies later my breasts are most certainly not 'pert' anymore, my tummy doesn't even know what 'flat' means and although my arms and legs are still long, they are not lean and toned. In short, I lack body confidence and no longer enjoy clothes shopping.
So when I received an email a couple of weeks ago inviting me to view the new collection of clothes from Swedish Party-planning company me&i I actually didn't 'jump' at the opportunity as I normally would have done. I thought about it for a couple of days before replying. I looked at their website and whilst my initial reaction was "ooh a bit too pricey for me" I have come to realise that you get what you pay for and once your body is less than perfect, you do need to pay a little more for clothes to get quality and fit that works for you. I also really LOVED the children's clothing and so with four children to clothe I decided to accept their invitation. It was the BEST decision I could have made. I asked if my Mum could join me as clothes are 'our' thing and it wouldn't have seemed right looking at clothes without her.
So last Sunday morning we popped in the car and headed for Northampton to join the regional representatives for a Swedish design company, me&i to see the latest range of women and childrenswear just days before they were launched to the public.
About me&i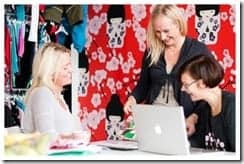 Me&i was founded in 2004 by Susan and Helene, both mothers themselves, from their kitchen table at home in Southern Sweden. Today their unique designs are available to buy in five countries and have an astonishing turnover of nearly £20 million via their 750+ sales representatives who work to bring the brand to you in your home. They use high quality, soft materials which have been responsibly manufactured in Europe. Their designs feature lots of fabulous colours, cool prints and timeless classics. The comfortable fit of me&i clothing is generally long and slim, designed to last season upon season, they are fun and funky yet functional and very, very flattering.
New collections are launched twice a year, one collection for children and one collection for women.
"Our aim is that the children's clothes should be natural choice for parents to purchase and for children to wear. The ladies wear should be versatile garments that work for everyday wear as well as for smart occasions."
Childrenswear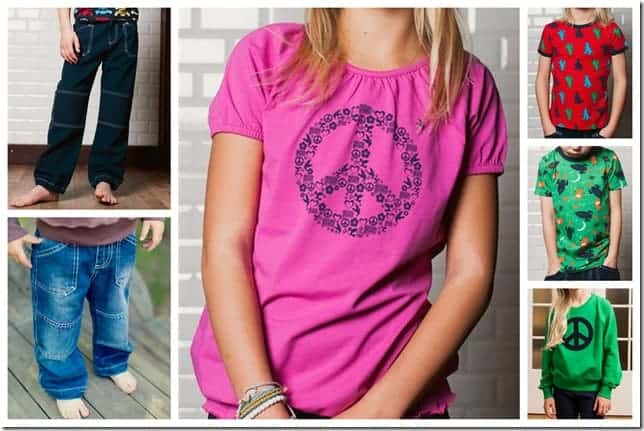 Childrenswear is fun, funky and largely unisex, designed to pass down through the family from brother to sister and so on (obviously with the exception of dresses and skirts). Dresses are designed to be worn initially as dresses, then as tunics and finally perhaps as t-shirts so that they last longer.
Trousers have adjustable waistbands (a must for my children). Canvas trousers have a double thickness on the knees, drawstring on the ankles with a loop to hook up the drawstring to stop it dragging on the floor and yoga pants, leggings and the like all have extra long cuffs at the bottom so that they can be folded up, to begin with, and folded down as the child grows. Me&i clothing is designed to grow with your children, not so they grow out of them.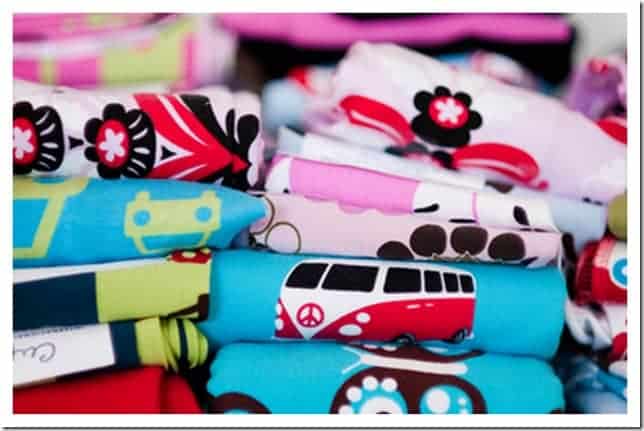 There are oodles of gorgeous prints featuring owls, campers, dinosaurs, emergency vehicles, Paisley, Sheep, Zebra and more besides. The prints are made so that they will not fade, crack or peel and the fabrics will not wash out, as I said me&i are made to last.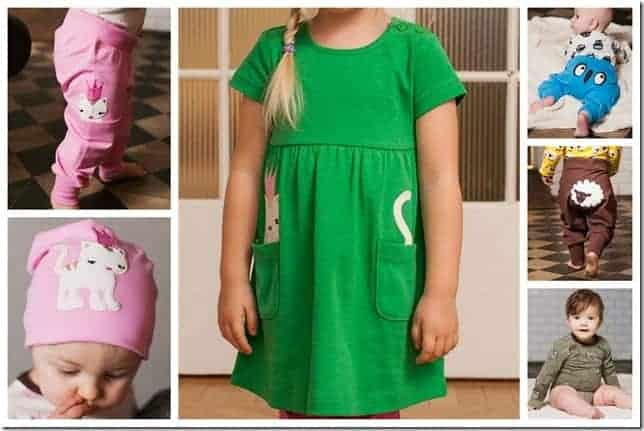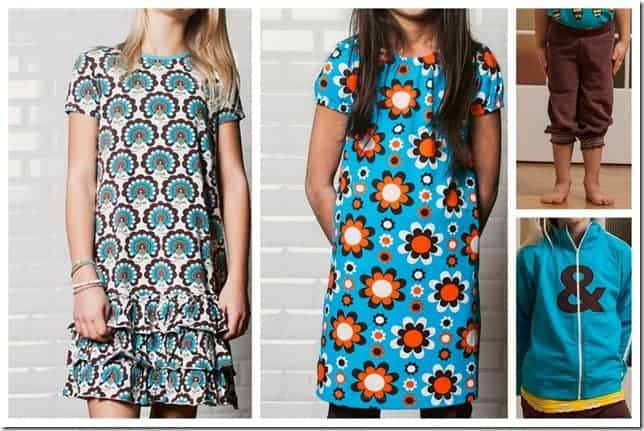 Ladieswear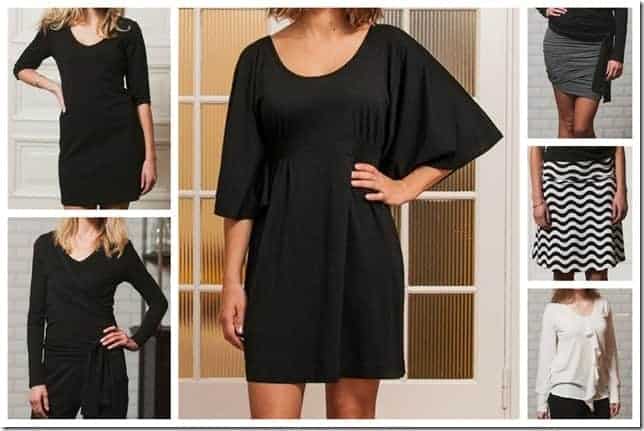 This season's ladieswear range features black and white with a few key colours to compliment.
As each item of clothing was removed from the rail and 'introduced' to us I found myself saying in my head "ooh I'd like that one", "ooh and that one . . ." and so it went on but in my mind, I was also thinking back to my recent shopping trips where everything looked better on the hanger than it did on me.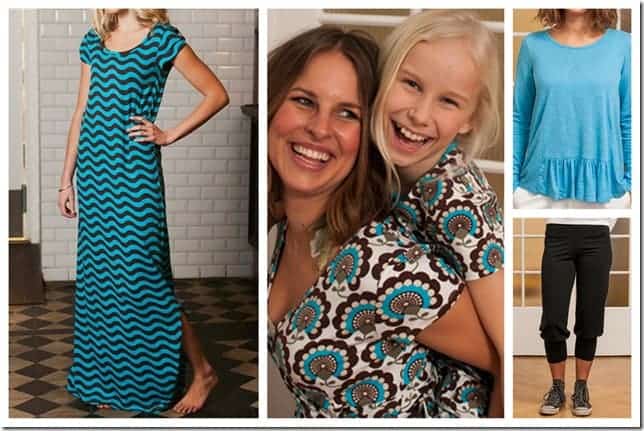 This is where it becomes apparent that me&i have been designed by Mums 'for Mums' because they understand how a Mum's body changes, how we are all so different and what we need to get confidence back in ourselves.
The boyfriend jeans are perfect for a Mum's body shape, they are higher in the waist so you can hideaway the Mum-tum, the denim is super soft so they are really comfortable and the pockets on the bottom are low slung so from behind you look like you are wearing a pair of funky jeans, not some old fuddy-duddies! However, if you're one of the lucky ones who can still get away with low-rise then the Skinny jeans are for you (and I might just hate you a little bit!).
The Maxi Dresses are cut long with high splits up the sides with the intent for you to cut the dress off to a length that suits you. This is perfect for me as I often struggle with maxi dresses being, well, not 'maxi'. You don't need any sewing skills because the fabric will not run or fray.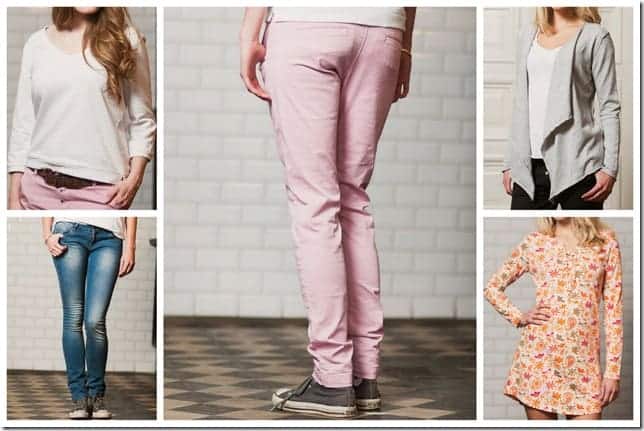 I tried on some of the range and was amazed at how good the clothes made me feel about myself. Items which I thought would make me look, dare I say it 'fat' actually disguised my Mummy Tummy, for once I was smiling when I looked in the mirror, something which hasn't happened for a very long time. I hope to be able to review an item or two for me&i shortly so I will be able to tell you more then.
Safe Fabrics
The fabrics used by me&i are designed in Sweden and made in Europe so from an Ethical and environmental stance, this means you can enjoy guilt-free shopping.
Oeko-tex
me&i are proud to say they are certified to oeko-tex standards. An oeko-tex guarantee means your clothing contains no hazardous substances which will irritate your skin or pose a threat to your health. Visit the Oeko-Tex website for additional information.
Combed cotton
me&i only use long fibres to make their fabric because it is of higher quality and means the item will hold its' shape and colour better.
Organic cotton
All of the baby clothes are made from Organic Cotton which means it is cultivated without the use of artificial fertiliser, herbicides or pesticides. Only a very small proportion of global cotton production is organically cultivated. This means that the price of organic cotton is significantly higher than for "ordinary" cotton.
American fleece
I particularly like the Peaceful sweater (above left) which has a pale pink 'peace' symbol on the back, this is made from American fleece which is designed to be more relaxed to give a more grungy look over time.
Pricing
As I said in the beginning, me&i isn't the cheapest clothing on the market but you definitely get quality over quantity here. Think along the lines of Joules and Boden, definitely not Primarni! This is because the clothes are designed to last, it's a durable style, not throwaway fashion.
Book yourself a party now
I hope to be holding a me&i party in the not-too-distant future once I can find a suitable date and of course, I will be more than happy to share my experience with you but if you don't want to wait that long you can book your own party now. Or perhaps you might like to consider becoming a Sales Representative yourself, it's a flexible working opportunity perfect for Mums with an interest in fashion.
DISCLAIMER: I received a goody bag and the opportunity to purchase end of season items at Sales Representative discounts (and I made the most of it!). All words and opinions are my own, I have not been instructed what to write.