Kiddy – keep it in the family!!

In July this year I was one of four lucky Mummy Bloggers who was invited over to the scenic town of Hof in Bavaria to be special guests of Kiddy and spend some time at Kiddy Head Quarters. We arrived on a sunny Wednesday lunchtime to a very warm and friendly welcome from Bettina Wuerstl, Joint Owner and International Sales and Marketing Manager of Kiddy. Bettina has an infectious personality which instantly makes you warm to her, she is so full of enthusiasm and passion, she has a vibrancy and drive that makes you feel like anything is possible.
Before Kiddy Bettina was a high-flying lawyer who on a chance meeting was introduced to Jan-Stefan Wuerstl. It was not love at first sight but a friendship developed and from there a happy marriage with a strong partnership at its foundation. Like chalk and cheese they have their differences but it is these differences which make Bettina and Jan-Stefan such a formidable duo. Bettina is the outgoing face of Kiddy, the person who draws you into their world and ignites you with the Kiddy passion, whereas Jan-Stefan is the more reserved character, the engineer and brains behind the operation.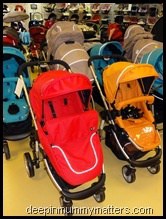 Kiddy was established in 1966 by Jan-Stefan's father who in 1976 developed their first child car seat the "Urkiddy" which became the first test winner in the Stiftung Warentest (Germany's answer to Which?) in 1978. As the company grew with the Wuerstl family the time came for the reigns to be handed down to Jan-Stefan, who, along with this wife Bettina and a dedicated team have grown Kiddy into the Award Winning brand that it is today. They have a fight on their hands as they compete against established brands such as Maxi-Cosi and Bugaboo but in 2009 Kiddy broke into the UK market, in December 2010 they picked up Which? Best Buy Award and now their innovative car seats, strollers and accessories are represented in over 40 countries worldwide. Despite this, Kiddy HQ is still very much a part of the community in Hof with the nursery shop serving the local families needs for their precious little ones.
In July this year they were pleased to announce an exciting new addition to their team by way of UK Sales Manager, Simon Gibbs, who for the past 10 years has been the the UK Sales Manager for Dorel Juvenile Group (Maxi-Cosi).
During a 60 minute presentation by Jan-Stefan we were told how the Research and Development part of the process is the most important part. When designing a car seat they will look at each and every component to decide what could go wrong with it, who is responsible for the development of that component and what they can do to make it better. It is a very important part of the process however it is very time consuming and exhaustive. As an example, one of their strollers took 3 years from design concept to final mass production. Kiddy can be summarised in one sentence – uncompromising safety for children.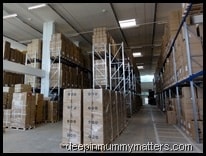 We were shown around every inch of their Head Quarters from the tea rooms to the warehouse, quality control to sales and design. We were introduced to all members of the Kiddy 'family' and encouraged to ask questions and take as many photographs as we liked. We were shown footage of their crash-tests and then taken to the storeroom where every car seat that has been involved in a crash test is stored for future reference.
Hopefully this will be the start of a long and happy relationship with a strong, family friendly brand! In the following weeks I will be reviewing some of the products in the Kiddy range and sharing my thoughts with you. In the meantime, why not head over to Kiddy's Facebook page where they will be giving away a Kiddy product to a randomly selected fan once they reach 1000 fans. You can also follow Kiddy on Twitter.