Cheap family fun at Stanwick Lakes
Hubby took the day off work on Tuesday so that we could have a family day out in the sunshine. A few people had recommended that we try Stanwick Lakes in Northamptonshire near Wellingborough, Thrapston and Kettering. I must have driven past it a hundred times and thought to myself, I might try there one day but then forgotten about it just as quickly.
Well today was the day so we headed for some cheap family fun at Stanwick Lakes. It is marketed as 'adventure for kids of all ages', 'outdoor and indoor play', 'nature walks and conservation areas', 'waterside bird hide' and 'cafe & shop' and it didn't disappoint. As we drove into the car park I couldn't believe how full it was, it took a while to find a space but I don't mind because this immediately tells me that it's a popular place! We had taken a picnic with us and found ourselves a quiet spot next to one of the smaller lakes. There were picnic tables dotted around but we had taken our picnic blanket and we weren't afraid to use it.
Once dinner was out of the way we were free to explore so off we went on our merry way, we followed the signs for the adventure trail and this is what we found on our way . . .
Curly quite fancied himself as a climber though I think he was quite surprised by how far he had gone when he got to the top and realised he needed to get back down again.
Each turn of a corner provided a new adventure for the children and I couldn't believe how adventurous Little Bean was, perhaps she's not so 'little' anymore?
As she crossed the rope bridge, she shouted out "I'm doing good Mummy, don't worry!" which made me giggle to myself. Curly tried to help her on and off the rope bridge (being the gentleman that we are training him to be) but Little Bean said "no thanks, I'm alright Bro!" (being the Miss Independent that she is!).
Around the next corner we found this huge swing/sculpture which I thought looked amazing but yet was still a functional piece of play equipment for big and little children alike.
Whilst Curly ran off to have fun on the zip wire, Little Bean took Daddy and Beanie Boy to a bridge which she had spotted and watched the boats as they passed underneath. She thought the boats looked really cool and wanted to go on one but I think perhaps we will save boats for when she and Beanie Boy are a bit older!
I think if we had left Curly here all day he would have been happy, he LOVES zip wires and made the most of his time whilst Little Bean was away talking Daddy into a boating holiday!!
By this time we had walked as far as we thought Little Bean was capable (or as far as Daddy's shoulders would carry her!) so we turned around and headed back to the main play area but still managed to have a little bit of fun along the way, dirt drawing or pooh sticks anyone?
Such cruel parents are we, when you arrive at Stanwick Lakes the main car park is right next to a huge play area which our children took all of a nanosecond to notice but we made them go for a walk before we let them loose. But they made up for it and had a great time climbing, swinging, playing the sand, playing in the water . . . .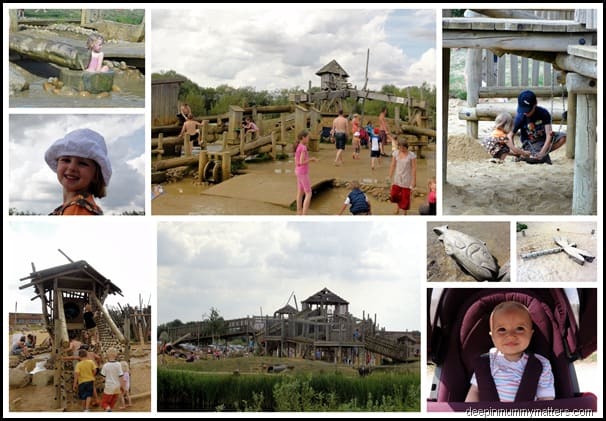 And finally, we headed indoors for some refreshments and to let Beanie Boy out of his buggy so that he could have some fun in the soft play area. There is also a Discovery Centre but we'd been having so much fun outside we arrived too late to have a look around. I guess that means we'll have to go back again another day – shucks! There was no admission charge for Stanwick Lakes, just the price of the car park – now how's about that for cheap family fun?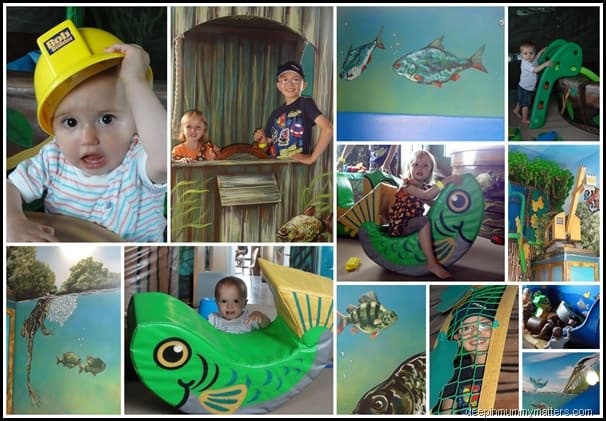 Before I go, I just wanted to share these two pictures with you, because I love them!