John Crane = great customer service! FACT!
A few weeks ago, my husband had a little accident.  He came home from work in one of these, quite a beast isn't she!  This is no joke, what happens when you cross a VW Amarok with a John Crane First Bike?  Erm, this . . .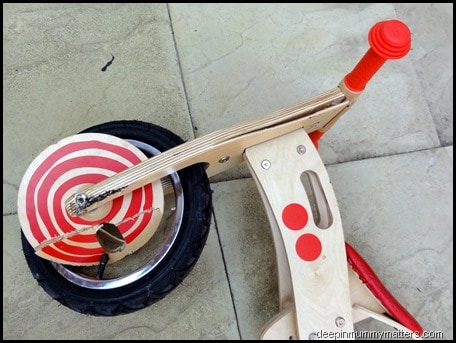 Yes, Little Bean had been playing out on her bike and did what most children do when they've finished playing with something.  She just dumped it wherever she fancied, and in this case it was right on our drive.  When Hubby came home I was stood talking to one of the neighbours as our children were playing outside and Hubby came around the corner waving to us all when we heard a horrible crack.  Yes he had run over Little Bean's first bike.  In fairness, you've got to give it to the bike because I think it put up a pretty good fight against the Amarok when you consider the difference in sizes.
Little Bean had really got to grips with her First Bike in the weeks preceding the accident so was very upset to say the least.  I did what any mother on twitter would do and posted a rant along the lines of . . .
Grrr Hubby has just driven over Little Bean's @JohnCraneBlog First Bike and now I have a distraught little girl  . . .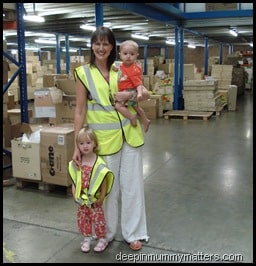 The very next day (Monday) I received a Tweet from John Crane asking if I thought the bike could be fixed so I sent them a photograph to which they said "erm no I think that is beyond repair".  And then I received an email to say that they would like to invite us over to be their VIP Guests for the morning, have a guided tour of their business AND they would like to offer Little Bean a brand new First Bike as a replacement.  All I needed to do was take the broken bike with me so that they could use it for spare parts.
How about this to put a smile on a child's face? We didn't just get to look in here, we stayed for a while and the children were able to play with the toys (and there was a plate of yummy biscuits!).  I can honestly say I hadn't realised the extent of their range.  Helen (John Crane's PR) said that quite a lot of their products are designed specifically with schools in mind.  What strikes me about the entire range is not just the quality but the beautiful colours that are used throughout, I felt excited looking around the showroom and I'm not even a child (well maybe a slightly overgrown one).  You can't actually buy from John Crane direct, they sell to high street stores such as John Lewis and independent retailers such as When I Was a Kid.  The toys are beautiful to look at, well designed and very high quality.  That said, occasionally things break and with wood there will always be odd little quirks and weaknesses but John Crane have that covered too.   This is their 'Spares Department' where they keep stocks of toys (such as Little Bean's broken bike) so that if a customer has a toy which has a missing piece then they can send it to them straight away.
We had a look around their warehouse where the guys were busy at work preparing orders ready to be shipped out to toy departments far and wide.  Just look at all those toys waiting to be played with and I would just like to point out that it was because of our trip into the warehouse that we had to wear those oh-so-sexy high vis jackets!!  Well, no-one wants to be flattened by a forklift now do they?
The next part of our tour I'm afraid I can't share with you because its top secret.  Well, I could tell you but then I'd have to kill you!!  And honestly I'm just not that type of person.  We were able to have a sneak preview at some of the toys for 2012 and they are fab, I'm going to try to stay very good friends with Helen because I'd be ever so happy to review any of these fantastic new lines when they are ready to hit the shops!!
So just to round up, you can't go wrong with John Crane (Pin Toy, Tidlo and Lilliputiens) if you want great value for money, good quality and all round customer service!