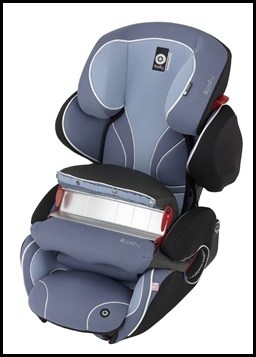 A few months ago I received an invite to Germany by Kiddy Car Seats and I'm ashamed to say that I didn't actually know who they were? I used a Maxi-Cosi Tobi which I was reasonably happy with apart from a few niggles and we have Britax car seats in Nanna and Nanny's cars. Without hesitation, my fingers began typing 'Kiddy Car Seats' into the search engine where I was faced with some very unique looking child safety seats thanks to the Kiddy original impact shield. Keen to find out more about them I headed to a local nursery store and gave them the once over, my interest was sparked and I couldn't wait to get to Germany to find out more about their innovative car seats. Kiddy has been in the UK since 2009 and in December 2010 picked up the Which? Best Buy Award and I were about to find out exactly why.
Meeting the Kiddy Team
Whilst in Germany I was lucky enough to meet the Kiddy team and have a detailed tour of their headquarters. We were shown exclusive crash test footage where Kiddy seats were repeatedly tested alongside 5 point safety harness seats in the same car. The results were astounding and I knew that there would never be another car safety seat that I would use for my children again.
Impact Shield
The Kiddy original impact shield reduces stress through the neck by more than 50% when compared to a typical 5-point safety harness. The shield allows for 'rolling over' of the upper part of the body in the case of a front end collision or severe braking which means the fragile cervical area in children is strained less than with a conventional seatbelt system.
Shock Absorber
The Kiddy Shock Absorber comes into play once the impact shield is removed from Group 2 upwards and the child is secured into the seat with the 3-point seat belt. The Kiddy Shock Absorbers which were clearly visible red blocks in the Guardian Pro is now incorporated into the seat shell itself providing extra protection for older children. In the event of an accident as the seatbelt goes taut the energy is pulled into the KSA's and away from the child. There are no other child car seats available with this 'crumple zone' technology and it is patented by Kiddy. Side impact is covered too thanks to the carefully shaped headrest and chest protectors which have also been lined with unique shock-absorbent 'Honeycomb V2' material.
Group 1, 2 and 3 Car Seat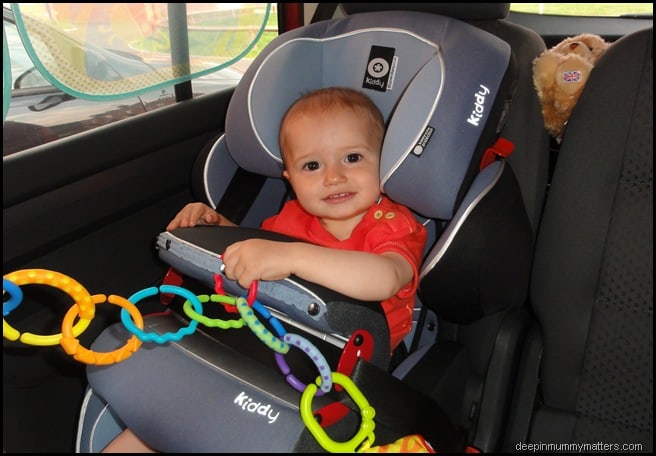 The Kiddy Guardian Pro 2 is a new generation of ultra-safe car seats for Groups 1, 2 and 3 which came out top in a major international test of 20 leading designs by Stiftung Wahrentest (Germany's answer to Which?). We have been sent the Guardian Pro 2 to review for Beanie Boy as he has outgrown his first rear-facing baby seat. Although I was excited to use the seat because of how safe I knew he would be, I wasn't sure how well the seat would be received by my little man. He isn't used to being held into his seat by a large shield and I have to say he's a hot little monster so I was adamant that he would overheat behind his shield!
Adjustable Height Seat Cushion
When the seat arrived I didn't have to read a manual to find out how to fit it into the car, I simply placed it on the back seat – job done! The Guardian Pro 2 comes with a foldable insert cushion to adjust the seat height for smaller passengers such as Beanie Boy. The cushion raises Beanie Boy to the correct height behind his impact shield for ultimate comfort and safety. Once he is in the car I insert the impact shield into the guides on either side of the seat and then thread the car seat belt through the guides on the front of the impact shield, fasten the seat belt and then thread it back through the guides on the front of the impact shield. This also means that the seat can be easily moved from one car to another without the need to keep re-fitting it!!
Peace of Mind
The first time I put Beanie Boy into the seat and tried to insert the impact shield he placed his feet behind it and pushed it away, I thought this would be the beginning of the end but I tried again and this time he allowed me to put the shield in place and fasten him into the car. I have now been using the Kiddy Guardian Pro 2 for 2 weeks and I can honestly say Beanie Boy loves it. Now when I sit him in his seat he holds his arms up ready for me to put the shield in place, once I have inserted the shield he holds onto it over the top whilst I belt him in and then he relaxes. He has been sleeping beautifully in his seat and looks so comfortable, within seconds I am able to recline his seat for greater comfort. The one thing which has really surprised me is how he no longer feels hot and clammy when I take him out of his seat which is thanks to the breathable Thermotex fabric that increases air circulation. I know that I will never need another seat for my little man!!
But don't just take my word for it, Made for Mum's (the UK biggest professional review site for baby products) has also been reviewing the Kiddy Child Safety Seat Range why not head over to see what they have got to say.
Kiddy Guardian Pro 2
Group: 1, 2 & 3
From approx 9 months to approx 12 years (9kg to 36kg)
Weight: approx 7.5kg
Dimensions (HxWxD): Min – 46x65x40cm Max – 60x81x52cm
One-handed adjustment in height and width of the head and shoulder rest
Extendable and elevated leg support
Kiddy Shock Absorber (KSA)
Approved for use on aircraft