Stuffing a Stocking: A Husband's Manual for Stocking Stuffers
It's not only about the wrapped presents under the tree when Christmas morning arrives. Before unwrapping the gifts, your loved ones would normally open their stockings first. Fill their stockings with pleasant surprises and small gifts that will keep the tradition alive and add to the pleasure of your holiday celebration.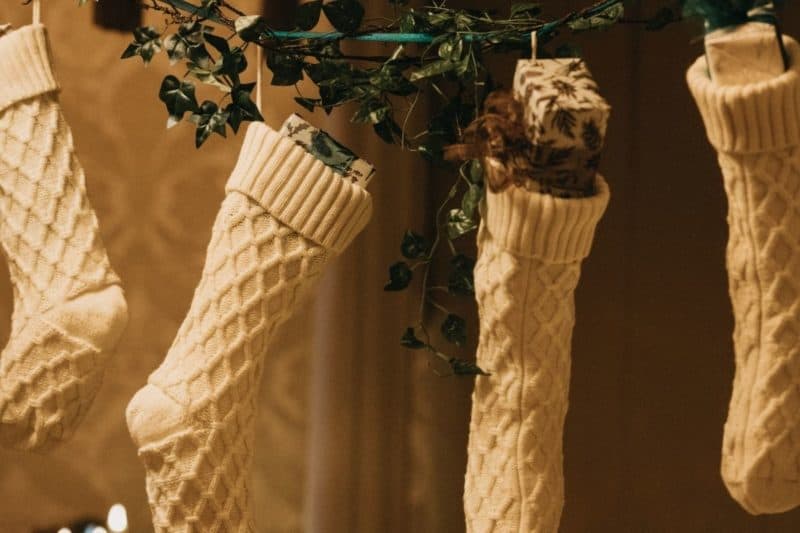 Sure, great things come in large packages, but there's something about those little gifts that makes them so unique. Picking the perfect stocking stuffer is a terrific way of showing someone you love and respect. Whether they enjoy sewing, cooking, wellness, or something completely different, these stocking stuffer gift ideas are perfect for ladies of all ages. And just because they're fantastic stocking stuffer gifts for Christmas doesn't mean they cannot be fantastic present ideas for other occasions. These modest presents are perfect for birthdays, Mother's Day, or special "just because" occasions. Whatever the occasion, you can be sure that any of these stocking stuffers will make a huge impression. (Not to mention your bank account, which will appreciate your simplicity this year.)
Here are some stocking stuffer ideas for adults you can choose from!
1. Tile Tracker
Is the female on your list prone to misplacing her keys, wallet, phone, and other valuables? In 2021, use a Tile Pro Tracker to help her keep track of her valuables. She can track an object using the Tile's app once she connects the small square to it – within a 400-foot radius.
2. Recycled Glass Paperweight
The French perfumeries have created a magnificent collection of recycled Murano glass paperweights in partnership with the renowned Venetian glass firm Laguna B. It'll be difficult to pick just one.
3. For the one who loves to nap: Eye Mask
If your giftee enjoys catching some zzz during the day, they can wear a sleep mask to shut off the light (and her family). Our editor described the Eye Mask as "personal blackout curtains for your eyes" after using it. Because it's contoured, no light will slip in, ensuring peaceful dreams no matter what time of day it is.
4. For the one who drops their phone: Popsocket
Popsockets are the ideal phone accessory since they can be inserted or removed to form a convenient carrying handle or stand. This makes calling, FaceTiming, watching YouTube, taking photos, and anything else you might want to do with your phone easily. Each one is interchangeable, so you can get a variety of tops to mix and match.
5. Warm Revelation Gloves by lululemon
She needs gloves to keep up with the frigid temperatures and her electronics needs, whether she's texting on the street or switching music during an outdoor workout.
6. A mask she'll want to put on
Face masks aren't going anywhere anytime soon, so get her a set of on-trend silky and very comfortable leopard pattern face masks. Try the finest cold weather face masks for coronavirus if you're looking for something to keep her warm this winter.
7. High Waist Yoga Pants with Pocket
What is it about pockets which makes everything easier? The small pouches on these leggings make it incredibly easy to store your phone or cards when you're out and about.
8. For the one who likes their hair up: Invisibobble
The Invisibobble hair tie is perfect for all hair types, whether straight, wavy, thin, or thick, making it a wonderful stocking stuffer for someone with long hair on your holiday shopping list. The waterproof coiled hair ties won't break or harm most hair types and create a curl like other hair ties.
9. For the one who loves selfies: Selfie Light Ring
A ring light will ensure they always have the optimum lighting for selfies, whether they've mastered TikTok dances or are always trying to find the greatest lighting for their shots. Due to the various light settings, one will instantly transform self-portraits taken in a dark place or at night. This rechargeable light attaches to the top of the phone and fits comfortably in a bag, belt, or pocket.
10. Resistance Bands for Exercise
Resistance bands may not appear to be much, but after you incorporate one into your exercise regimen, you'll see why they're so popular. She can choose from several difficulty levels in this exercise and can tailor the workout to her preferences.
11. For keeping her masks clean: Personal Protection Spray for PPE
This FDA-approved medical-grade spray was created exclusively for use by healthcare professionals in hospitals. It's a mineral-based spray containing an iodine and copper complex, which means it has the same disinfecting effect as traditional iodine but is colorless, fragrant, and safe to use on a daily basis. There is no alcohol, strong chemicals, or bleach. You can add a dozen of those.
12. For knotty hair: Mini Wet Brushes
There's a reason why the Wet Brush is so popular. It has detangling power and smooth bristles that work on damp hair; your giftee can use it every time they shower. These little ones are great Christmas stuffers because they can easily be thrown in a bag and taken to the beach or the gym.
If this list isn't enough, look here for 400 more ideas for stuffing!
A Little Thought Goes A Long Way
Stocking stuffers are, above all, an opportunity to have a little fun on Christmas morning. The items you stuff can be ridiculous as long as they demonstrate that you thought about it and gave it to you all. What makes a stocking "good" has nothing to do with the money but everything to do with the thinking that went into it. So take a look around. Target's dollar section, World Market, Whole Foods Market, and Trader Joe's are all fantastic locations to shop for amusing stocking stuffers for your wife! And if you still need assistance, turn to her best friend! However, on December 24th, please do not go to the gas station, buy a 10-pack of gum, and call it a day. I'm just saying. You might not want to start your Christmas morning like that.