Christmas Gift Guide for Dogs
Our fur-babies give us lots of fun and unconditional love throughout the year so it's only right that we make sure they are remembered at Christmas too.  This is our Christmas Gift Guide for Dogs with our pick of treats, toys and gadgets.
PitPat Dog Activity Monitor
Just like you would wear an activity tracker yourself, the PitPat is worn on the dog's collar or harness to monitor their daily activity and exercise levels to ensure that your dog is in the best health possible.  It works with the PitPat app which is free to download to your phone.  Through the app, you can see if your dog's food needs to be adjusted up or down in line with the amount of exercise they are getting and any fluctuations in weight.  It has been designed with Vets and is made in the UK, it's also fully waterproof so it's fine for dogs to wear when swimming and diving (even in the sea).
Webbox Toys
Dogs love toys (well ours do for sure) so they always make great gifts and are a chance to have a change-up from the ones they play with throughout the year.  Webbox offers a variety of toys for dogs from the chewers to the snugglers, pouncers and chasers.  I love these cute Christmas toys and I know that my boys will too.
Webbox Dog Treats
Webbox has a range of tasty festive treats are sure to get every dog's tail wagging on
Christmas morning. Whether they've been naughty or nice, all dogs will deserve our Meaty Pigs in Blanket flavoured treats, made with fresh pork. For those who have been super good this year, our Festive Bauble with Milk Biscuits is the perfect gift to hang on the tree. The
Doggie Deli Pack contains both meaty treats and cheese cubes, perfect to get any
dogs taste-buds tingling over the festive period.
Puppy Toys from Nylabone
Everyone knows how much puppies love to chew, so if you want to make sure they aren't chewing your best furniture, your favourite shoes or the kids' toys, you'd better find them something which will hold their attention a little longer.
Even before Dobby arrived I had been looking into puppy toys and one name which kept cropping up with rave reviews was the Nylabone Starter Kit.  Their safe, durable chews are designed with dogs in mind.  The starter kit includes 3 bones; a soft plastic Puppy Chew Bone for teething puppies before they get any permanent teeth, a Power Chew chicken-flavoured bone for puppies starting to get their permanent teeth, and a Healthy Edibles chew treat recommended for puppies 6 months and older.
Nylabone Turkey/Sweet Potato Snacks
Made with natural ingredients and traditional WILD flavours, Nylabone Snacks will occupy and satisfy. Limited ingredients with no nasties. No artificial colours, flavours or preservatives. Low in fat and no added salt or sugar. Authentic wild bone shape to encourage chewing to help prevent the build-up of tartar. Nylabone Puppy Snacks are for puppies 3 months of age or older and up to 7kg.
Nylabone Puppy Teething Keys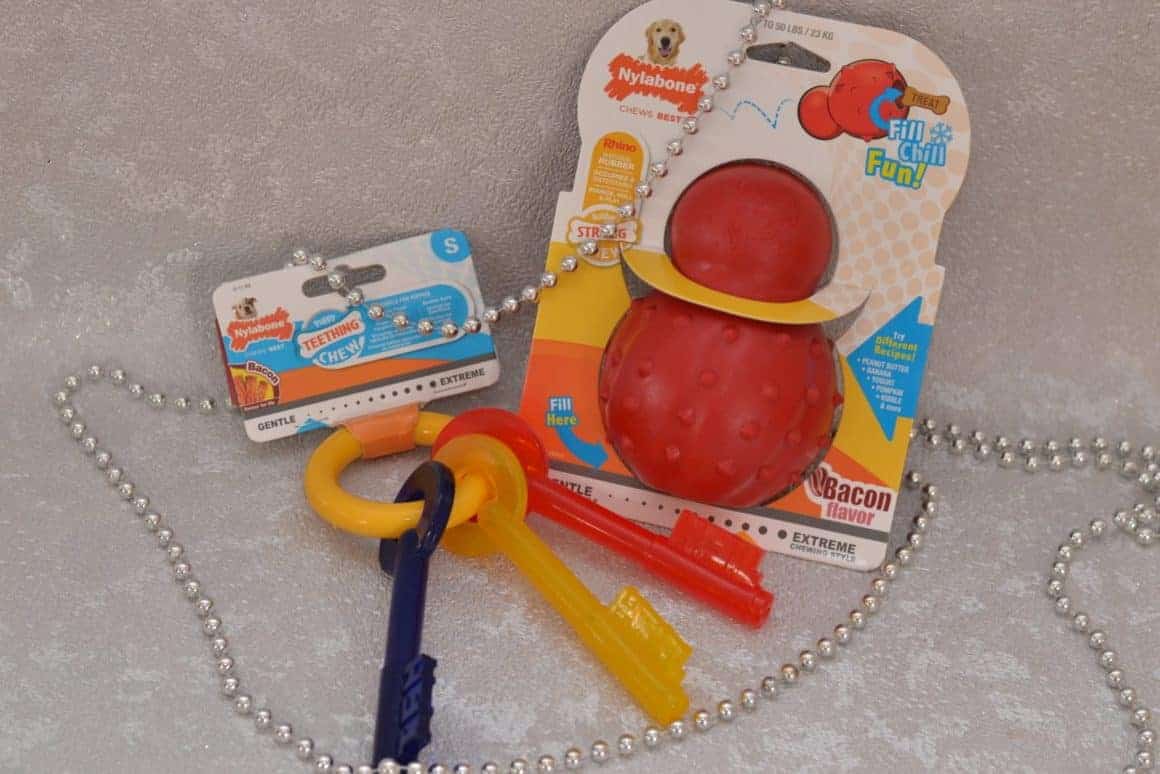 Without a doubt the Nylabone Puppy Teething Keys are Dobby's favourite chew toy, he carries them with him everywhere.
Helps clean teeth – controls plaque & tartar

The Puppy Teething Keys from Nylabone are the perfect chew toy for your teething pup, it is specially formulated to help the growth and development of young teeth and jaws.

Made from durable Nylon, the Nylabone Puppy Teething Keys discourage destructive chewing and promotes appropriate, healthy chewing.

As your pup chews, the surface of the Nylabone becomes rougher, creating bristles, which help clean teeth and control plaque and tartar build-up.

As you can see, this is a firm favourite for Dobby.
Nylabone 

Natural Bacon Flavour Stuffable Rubber Cone Dog Chew Toy
We can't go leaving poor old Bramble out, so he has the Nylabone stuffable rubber cone which is keeping him entertained.
Fill this stuffable dog chew toy with treats and freeze for a long-lasting treat session

Features raised dental nubs to help clean teeth

Bounces and rolls unpredictably for an exciting playtime

Strong dog chew toy that keeps dogs busy and entertained

Natural rubber chew toy for dogs up to 11 kg
Mikki Puppy Grooming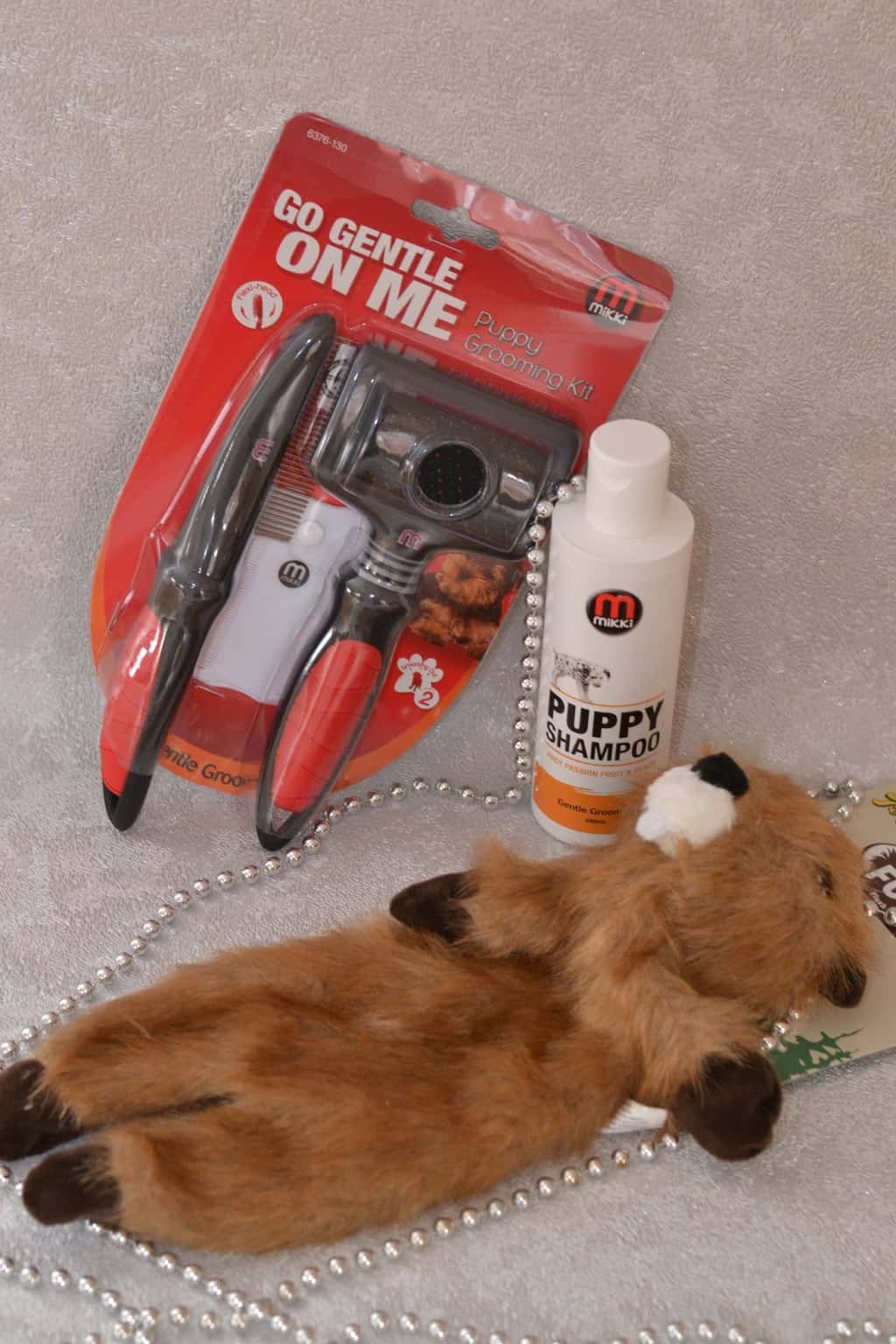 When your puppy looks as cute as Dobby you'll want to keep him looking his best at all times.  The Mikki Puppy Dog Grooming Kit is the perfect gift set for Christmas.  It is designed to help your puppy become familiar with being groomed and to make this an enjoyable event for both of you.
The slicker brush helps remove moulting hair, whilst the comb helps tackle any stubborn knots and tangles. The flexible head on the slicker brush gives a more gentle brushing experience for you and your pet.
Holding your puppy firmly but gently, use the brush, then the comb, and repeat until the comb glides through the coat. Finally, finish with the flea comb as part of a flea control programme.
The Mikki Puppy Shampoo is a unique and gentle formulation designed to be ultra-kind to the skin. The essential ingredients leave the coat feeling healthy and refreshed whilst keeping the coat in top condition. Not to be used on puppies under 8 weeks.
Pet Love Furzz Plush Dog Toy with Squeaker – Beaver
Let your dog play with the wild! Pet Love FURZZ Beaver look realistic enough to motivate any dog to play for hours! The stuffed head contains a squeaker to satisfy your dog's natural chewing instinct, while the stuffing free body has that flopping action making them fun to carry and toss around. Each Furzz character is available in 2 sizes, Small and Large.
Chuckit! Max Glow Ball
Who says you can't have fun after dark with your dog?  The Chuckit! Max Glow Ball glows in the dark without the need for batteries.  It's super durable and easy to clean too, your dog will love it.
Chuckit Ultra Ball (Launcher Compatible)
The Chuckit Ultra dog toy ball is the ultimate fetch ball, designed to bounce higher, float better, last longer, and stand out from the rest. Made from natural, high-bounce rubber, the Ultra Ball encourages dogs to leap and jump for more stimulating games of fetch. Featuring an extra-thick rubber core, these dogs fetch toys are durable for long-term use, yet lightweight and buoyant as water toys for dogs. Chuckit, Ultra Balls are strong dog toys that hold up to dirt and slobber and are easy to wipe clean. The bright orange and blue design grabs dogs' attention in the air and can be easily spotted in tall grass or on water. Available in five sizes ranging from small to XX-large, dogs of all sizes can enjoy fetching with the Chuckit, Ultra Ball. Two-packs are available in select sizes for pet parents to keep an extra Ultra Ball on hand. The Chuckit! Ultra Ball is compatible with the Chuckit, ball launcher for dogs, enhancing fetch with slobber-free pickup and long-distance throws.
Delia the Duck Dog Toy
Delia the Duck from Dog's Trust has all the fun aspects a dog wants from its' toy.  There is a squeaker, cuddly body, ropes for legs and a beak and feet that a dog will love to chew for hours.
Check out this roundup of the best dog water bottles from CoolThingsChicago.com