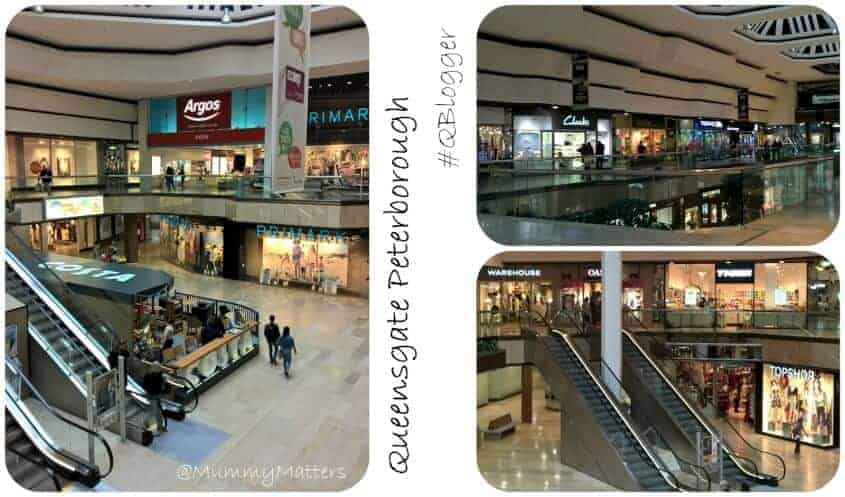 Getting set for Summer at the Queensgate #QBlogger Event
Long before I moved to Peterborough in 2012 I remember coming shopping to Queensgate with my Mum. The overall look of the Centre hasn't changed that much over the years, new shops have come and gone, the clock was moved and there are more 'Pop-Up shops' on the lower mall but it's still the place I remember visiting as a child and teenager. Over the next few years all that is set to change as there are exciting plans afoot for Queensgate to make it into an entertainment hub with a new IMAX Cinema and spangly new Food Hall as well as some amazing new shops which you're sure to get excited about when they are revealed. I may have a little inside gossip on that one but I must remain tight-lipped for the time being – you're going to LOVE it!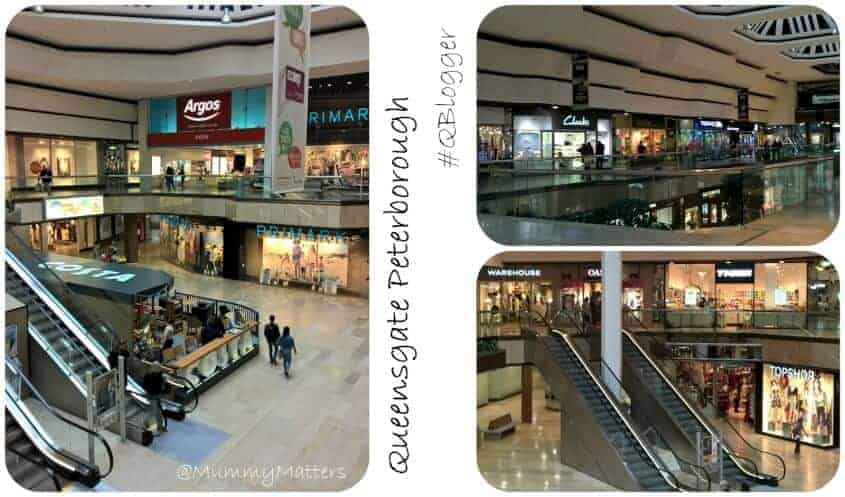 So, as the working week drew to a close last week, a small group of bloggers were invited to the first #QBlogger event at Queensgate. After collecting our passes we made our way to the new look high-tech McDonalds where they have some rather swish meeting rooms tucked away upstairs. Once inside we were greeted by the lovely Leigh and Emma who introduced us to our fellow #QBloggers; Rachel at Blogging Mummy, Foz at Muslim Mummies, Emily at Musings & More, Laura at Loved By Laura, Kat Rayment at Laydey Katabella and Sophie Kate at Sophie Kate. We were each faced with a very large goody bag with a fun task sheet perched on the top. Leigh and Emma gave us a quick run down of the #QBlogger initiative and the exciting new plans for Queensgate before wishing us well with our tasks and waving us on our way.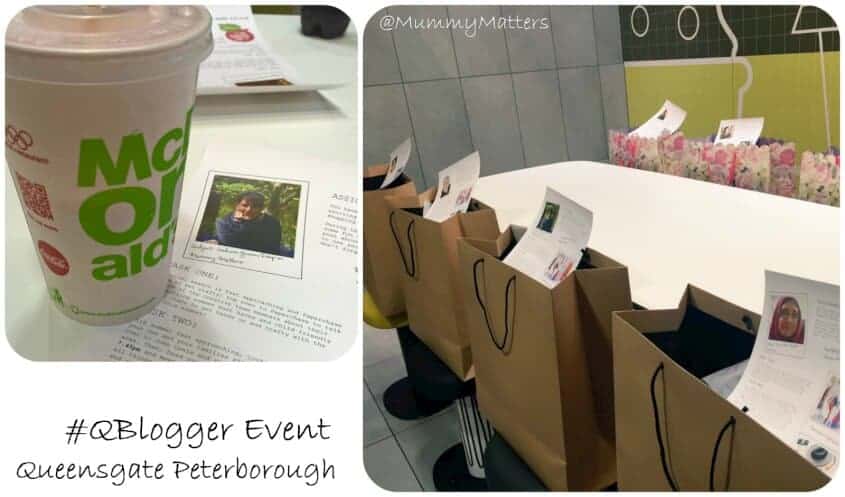 Queensgate Peterborough Opening Times
| | |
| --- | --- |
| Monday | 9am – 5:30pm |
| Tuesday | 9am – 5:30pm |
| Wednesday | 9am – 5:30pm |
| Thursday – LATE NIGHT SHOPPING | 9am – 8pm |
| Friday – LATE NIGHT SHOPPING | 9am – 8pm |
| Saturday | 9am – 6pm |
| Sunday | 10:30am – 4:30pm |
| Bank Holidays | 10am – 5:30pm |
It's worth noting that Queensgate car parks offer FREE CAR PARKING on Thursday and Friday nights from 5.30pm.
Task One:
Rachel and I have known each other for a while so we set off together and made our first stop at Paperchase where we met with Emma, part of the Creative Team who was eager to show us their bestselling must haves and child friendly craft items. Being Mums to little people, Rachel and I were in awe of the fabulous Aqua Marine range which is a really bright and fun collection aimed at boys and girls. It features all the great things you would need to keep youngsters entertained whilst travelling. I particularly like the Travel Journal (great for encouraging them to keep writing), the Aqua Marine Fish Holdall and the Colour Your Own frame so you can display your favourite holiday snap in a personalised picture frame.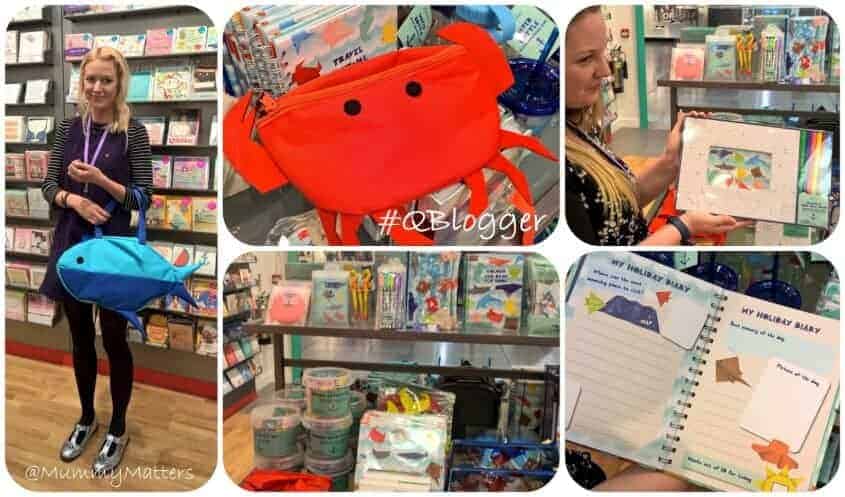 I was also a big fan of the Serengeti, Let's Squawk and Nice Slice collections. I have always been a big fan of stationery so I could spend hours in Paperchase and Little Bean is definitely following in my footsteps. We are just about to redecorate her bedroom and the Serengeti collection will be perfect for adding accents to her new room.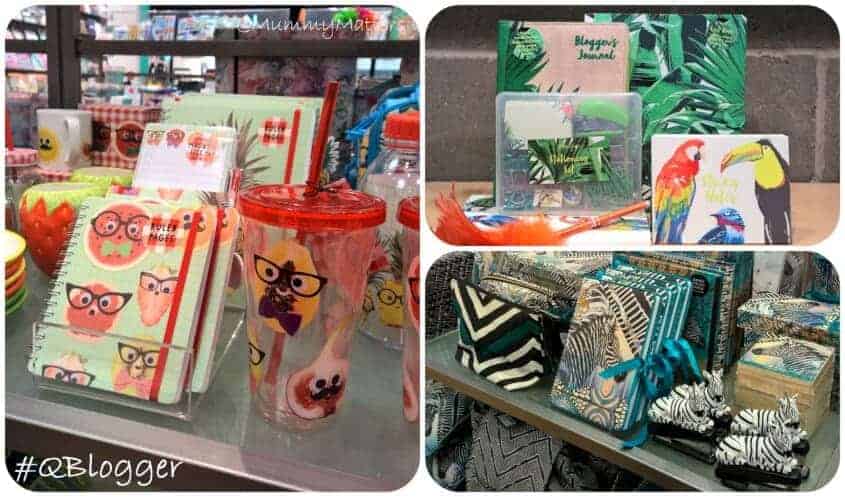 Task Two:
We were advised to go to the Origins counter in John Lewis to meet up with Greg, Sales and Education Executive who was clearly very passionate about his job. Greg started out as a loyal customer of Origins before he began working for them and if anyone was an advert for lovely skin, it was Greg. Whilst he was talking I was trying to suss out his age, I was thinking maybe 32 but possibly even younger, I was shocked when he told me he was older than my 40 years!!!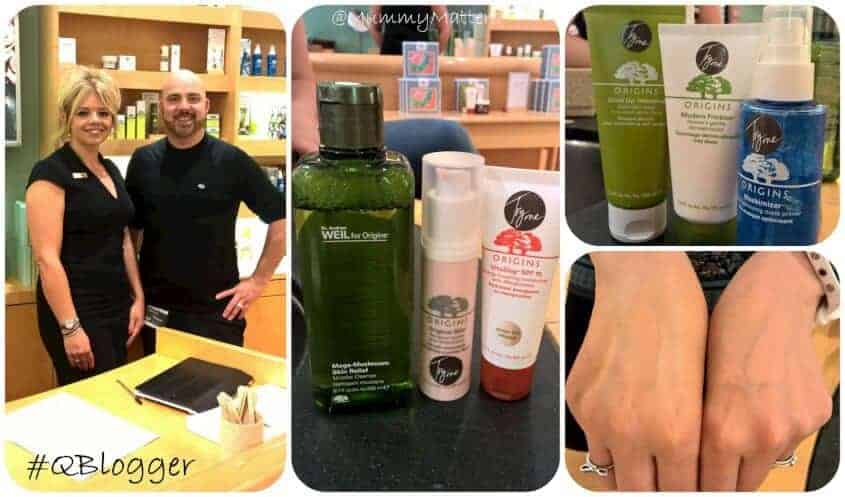 I regularly shop in John Lewis but have to admit that I normally fly past the beauty counters because I often feel out of my depth when it comes to 'beauty products'. I'm quite lazy with my skincare; if I remember to take off my make-up it will be with wipes or sometimes cleanser/toner, I tend to only wash my face with water when I am in the shower, I never exfoliate, I moisturise after my shower and occasionally use eye cream if I can find it. Now that I have turned 40 I really do want to start looking after myself better.
Greg explained that Origins harness the power of plants to create high performance skincare, providing the best of nature from sustainable regions. He showed us through a range of skincare which would bring back our healthy glow and natural radiance starting with the Mega Mushroom Skin Relief; an amazing no-nonsense formula which cleans the skin of make-up, dirt and pollutants. The first thing I noticed was the beautiful packaging and secondly how scrumptious everything smelt. We just worked on the skin on the back of our hands but instantly the difference could be felt and seen. I shall be returning to the Origins counter very soon for a mini-facial so watch this space!
Task Three:
For our third task we were to find our family holiday essentials in Next, M&S and Warehouse BUT we ran out of time. We nipped into Warehouse quickly and spoke with the lovely assistants in there and asked for their advice on must-have holiday items. The ladies were both really excited to help and even modelled their favourite holiday gear.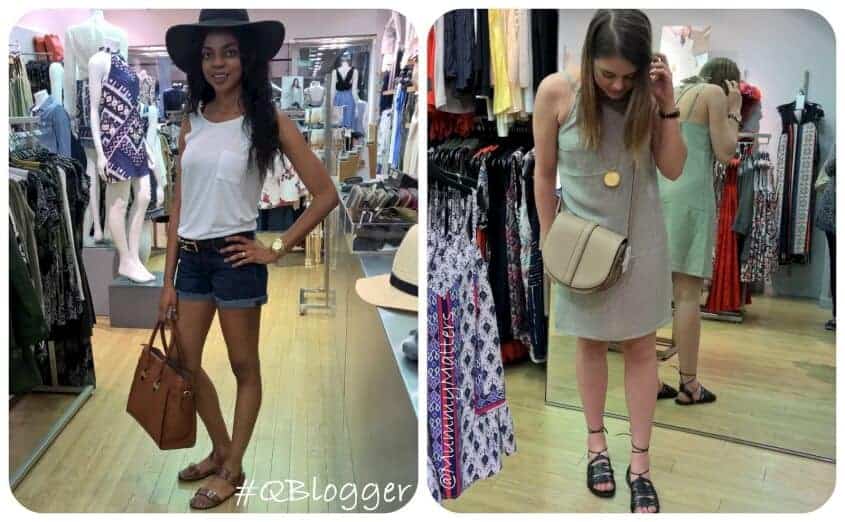 The good thing about living in the modern age though, is that when the shops have shut you can come home and continue browsing online. I tend to do a lot of my shopping this way since having the Beans as I just don't get the time to look in the shops like I used to. Now I find what I like online and then head into the shops to try on and buy! This Summer Hubby and I will mostly be taking the children to explore the UK via camping breaks so our holiday essentials need to be lightweight and fit for a change in the UK weather. These are my picks of holiday essentials from Warehouse, Next and M&S.
Great Goody Bags
Receiving a lovely goody bag is always a nice part of attending blog events, especially when they are full of treats which you know you will use and love BUT they aren't the 'be all and end all' for me. I enjoy attending events as an opportunity to meet other bloggers, find out more about the product or service we have been invited to see, the goody bag is a bonus.

Friday's event was no different at all and we received HUGE Goody Bags packed with goodies and information from some of the amazing retailers in Queensgate so in no particular order I would like to say thank you to; Paperchase, Origins, Tiger,
Carluccio's
, Lakeland, Handmade Burger Co, The Body Shop, Lush and Boots concessions.

I shall be keeping you posted on the latest from all my favourite retailers over the coming weeks and months. If there is anything that you would like to know more about or to see on Mummy Matters then please don't hesitate to drop me a note in the comments box below.

DISCLAIMER: I received all of the above items in my Goody Bag free of charge as a Thank You for attending the #QBlogger event. All words, images and opinions are my own and may not be copied without my permission. I have not been instructed what to write.