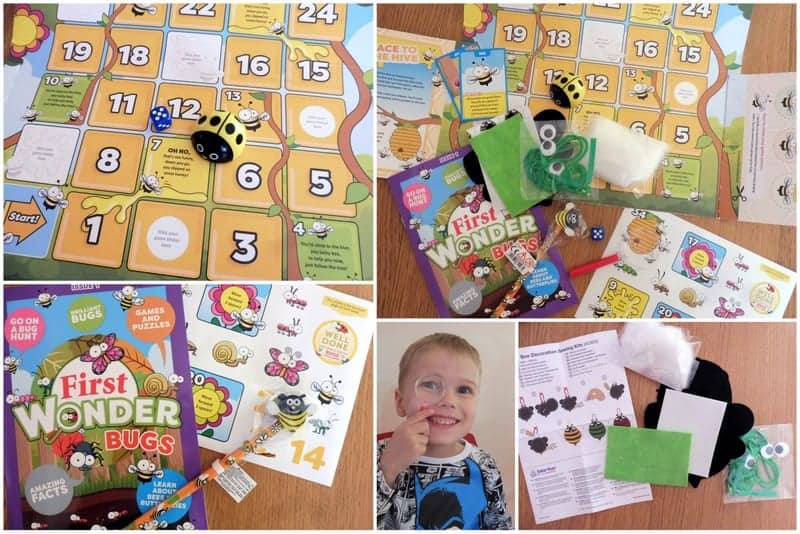 As a child I can still remember the excitement if something arrived in the post which was addressed to me, it made me feel special and important. These days there are numerous subscription box services aimed at children and adults so it can be difficult to know which ones to subscribe to. Last week, the Beans received a First Wonder Box each and were very excited to find something in the post for them. Created by the passionate team behind award-winning children's newspaper, First News, First Wonder Boxes are the perfect mix of learning and fun.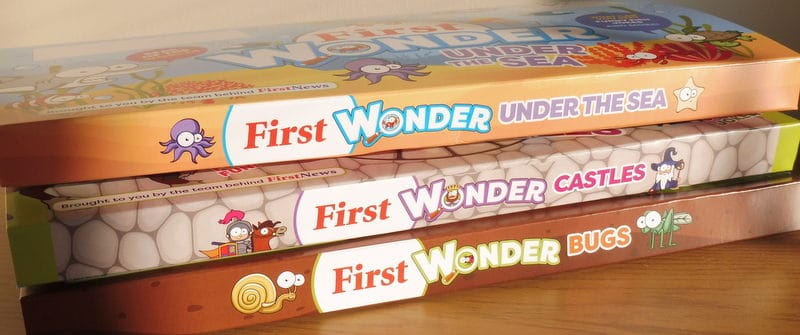 Our First Wonder Box selection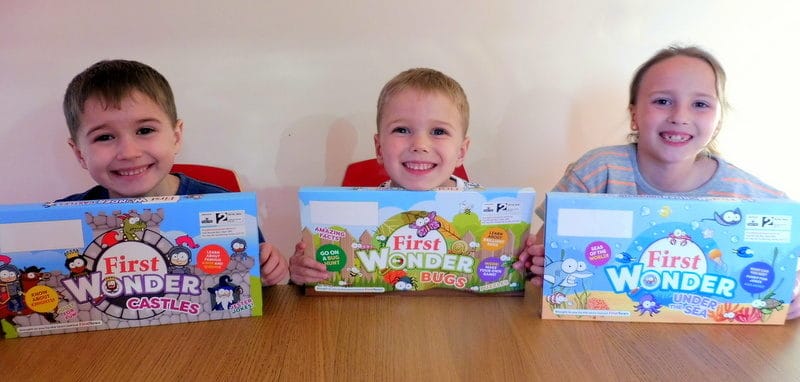 I let them each decide which box they would like and for once it didn't end in tears or arguments, everyone got the box they wanted . . . phew! As you can see above, we received Under The Sea, Castles and Bugs. Ollie chose Castles, Albie chose Bugs and Lillie chose Under The Sea. The boxes are designed to fit through the letterbox so you wouldn't have to worry about someone being in to receive the parcel. If you're out for day it will be a nice surprise waiting for the children when they return home. The boxes are very eye-catching and immediately appealed to the children even though they had no idea what they would find inside.
Under The Sea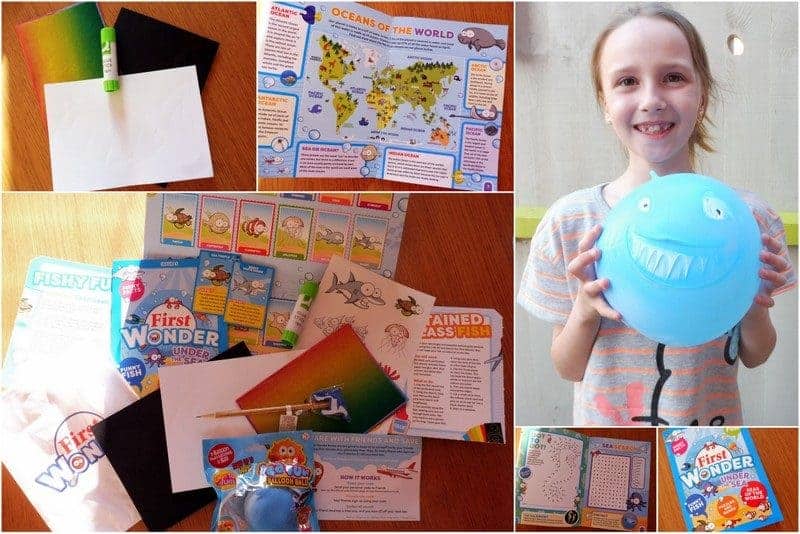 Each First Wonder Box is packed with fun activities relating to the topic. They each contain an activity book, stickers, fun craft, pencil with eraser, fun toy and the box itself is printed with fun fact cards and activities too. This box was perfect for Lillie because she is fascinated by animals and after all our trips to the Sea Life Centre has a keen interest in sea creatures. She has been busy completing the activities in the book and spouting fun fish facts to us at random points throughout the day. Lillie's craft is to create a stained glass fish picture using the white card (top right) which has punched sections which can be removed to reveal a fish shape and then pretty coloured tissue paper to stick behind the card. She also received this cool Puffer Fish balloon ball which we have had to hide upstairs as Bramble has taken a shine to it!!!
Castles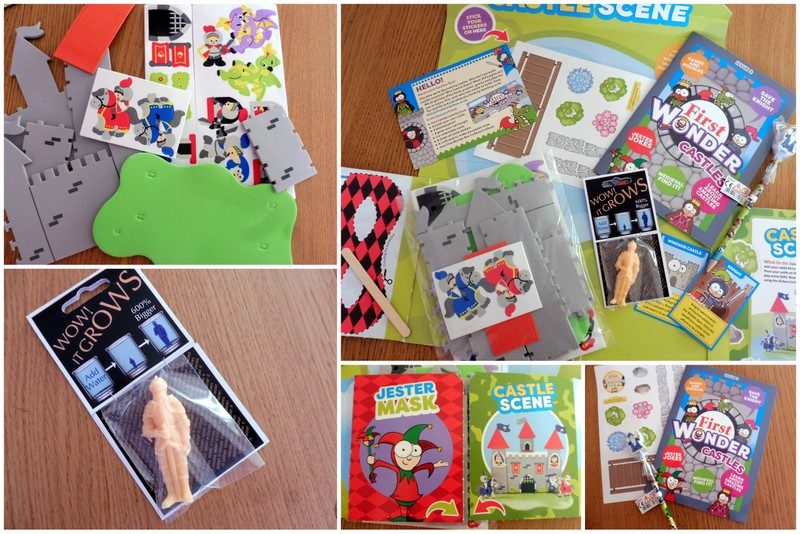 Ollie is very similar to me and has a love of castles, perhaps it goes back to our day at Warwick Castle a few years ago? In the Castle First Wonder Box is an activity book packed with fun puzzles, games, facts and jester jokes. A cut out and make Jester Mask, a 'Grow your own Knight' who is currently growing in a bowl of water in my kitchen, a fun 3D castle to build which can be placed on the opened box which doubles up as a castle scene complete with a moat and gardens. Keep your eyes peeled for my Instagram feed to see the finished product soon. There are fun cards and a pencil with wizard eraser to complete the activities in the book.
Bugs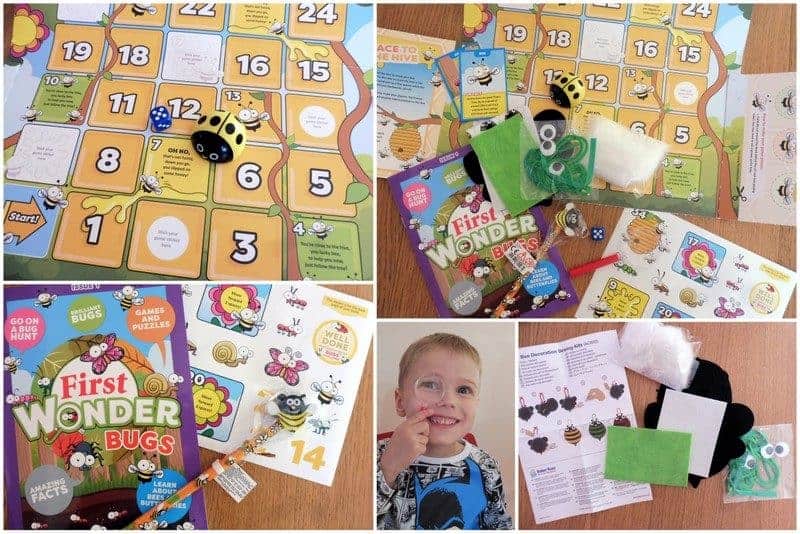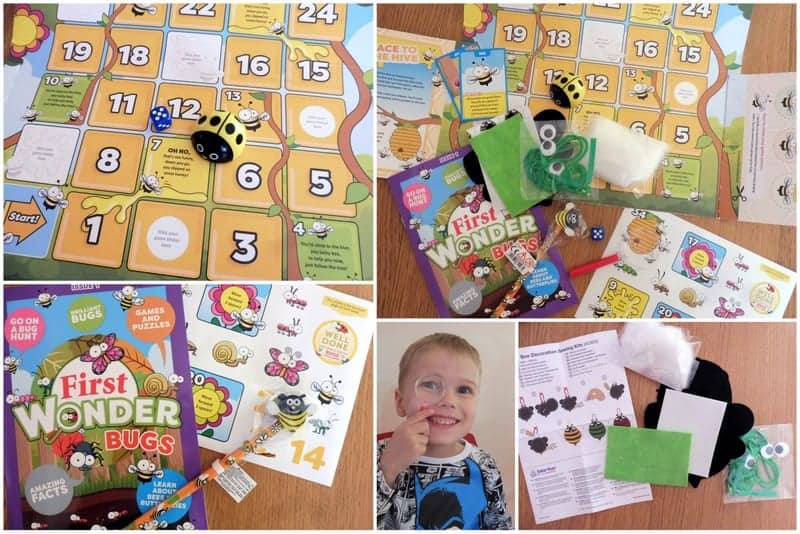 Albie can often be found making mud pies or mud baths for bugs in the garden so this box was very well suited to him. The box itself opens up to reveal a fun snakes and ladder style 'bug board game' with a die and whizzing bug. It also has the themed pencil with eraser and activity book filled with fun facts, games, puzzles, bug activities and fact cards. There is a sheet of stickers to help you to complete the Bug board game, a magnifying glass to help you on your bug hunt and a sewing kit to make your own felt bug. Albie has said that he wants to save his bug sewing for another day (by which he means, he wants me to do it because he is too lazy).
What we thought?
At just £3.99 for your first box and £7.99 thereafter I think the boxes are reasonably priced and I like that you can pause your subscription at any time. This means you don't have to rush to complete all the activities in the box within a short timeframe, you can enjoy it and then order your next one when the first box has been completed. These would make perfect activities for school holidays as I definitely feel children thrive on learning, especially when that learning is made to be fun. Perhaps you could team up the arrival of your box with a special activity like a trip to a local castle or organising a few friends to come over for a bug hunt?
DISCLAIMER: We received the boxes for the purpose of this post. All words, images and opinions are our own and may not be copied without my permission. I have not been instructed what to write.