We don't get to do it as often as we would like to but Hubby and I recognise the importance of giving each of the Beans some quality one-on-one time with us so last weekend that's exactly what we did. Jelly Bean spent the day with Nanna, Little Bean and Daddy had a busy schedule together whilst Beanie Boy and I spent the day at Warwick Castle by invitation of Mike the Knight no less!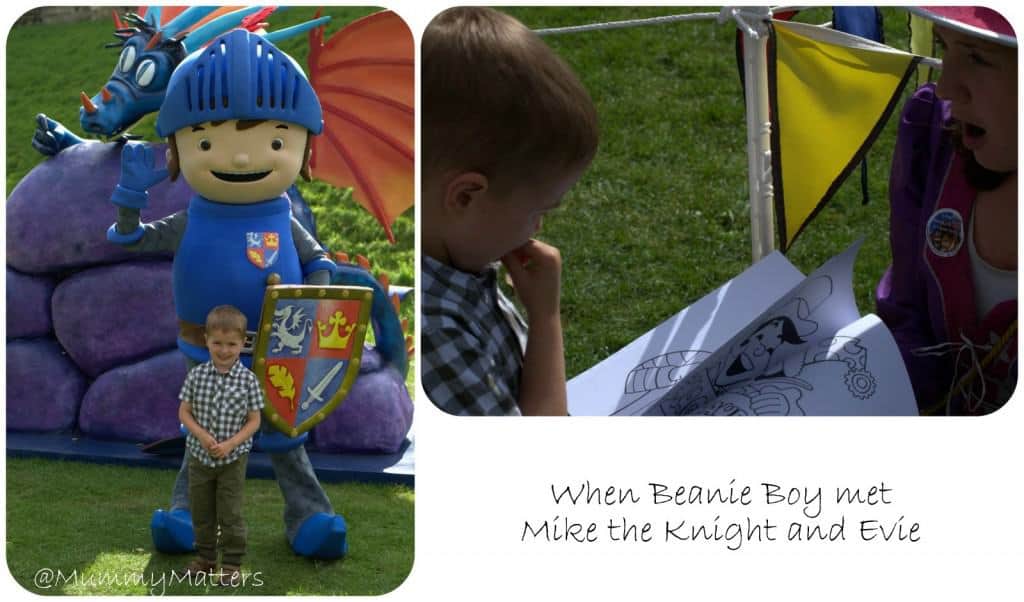 I LOVE it when we receive invitations to Warwick Castle, it's one of my favourite places to spend the day as it's such a beautiful castle and they always have great shows on too. We arrived at Warwick at 10.30am to watch a special screening of Mike the Knight; Journey to Dragon Mountain the first feature length movie from the children's favourite character. This was not our first Mike the Knight visit to Warwick Castle so Beanie Boy was excited at the prospect of another special day.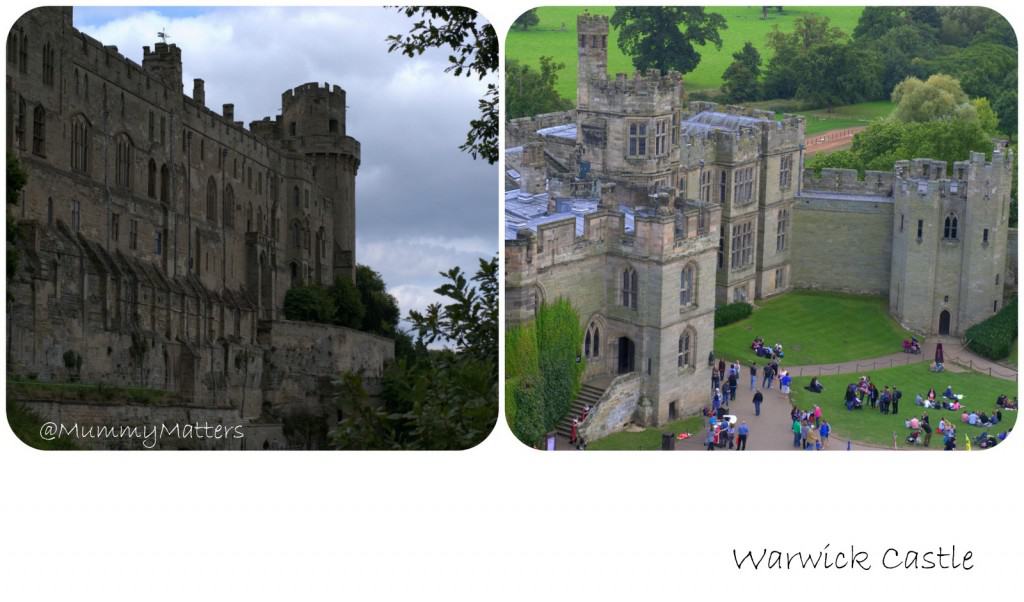 Journey to Dragon Mountain is available on DVD NOW and it definitely one which fans will enjoy, I definitely did!
Glendragon is in danger! When the King returns from faraway lands, he discovers that the Vikings have stolen a treasured crystal jewel from the dragon of Dragon Mountain. It is the King's mission to return the jewel and Mike's job to help him. The King, Mike and Evie form "Team Family Glendragon" and soon find themselves on an epic quest filled with dangerous obstacles from meddlesome gargoyles to giant dragons!
There are some catchy tunes in the film so be warned, you WILL be singing along before you know it! We have watched Mike the Knight a number of times since we came home (we were given a copy of the DVD in our goody bag after the event). Little Bean didn't attend the event but she has loved watching the DVD at home and of course with Mike the Knight it's always about the moral behind the story. By working as a team, listening to each other and learning from our mistakes we can can achieve anything. I'm just waiting for the day that the Beans actually notice the morals being placed before them!
Mike the Knight Journey to Dragon Mountain is available on DVD NOW!!! RRP £12.99 although you can grab a bargain on Amazon at just £5.00 right now.
When the screening was over we had time to ourselves to spend at Warwick Castle as we wished and since it was Beanie Boy's day, I let him lead the way. First stop was a walk along the castle walls and up into the towers.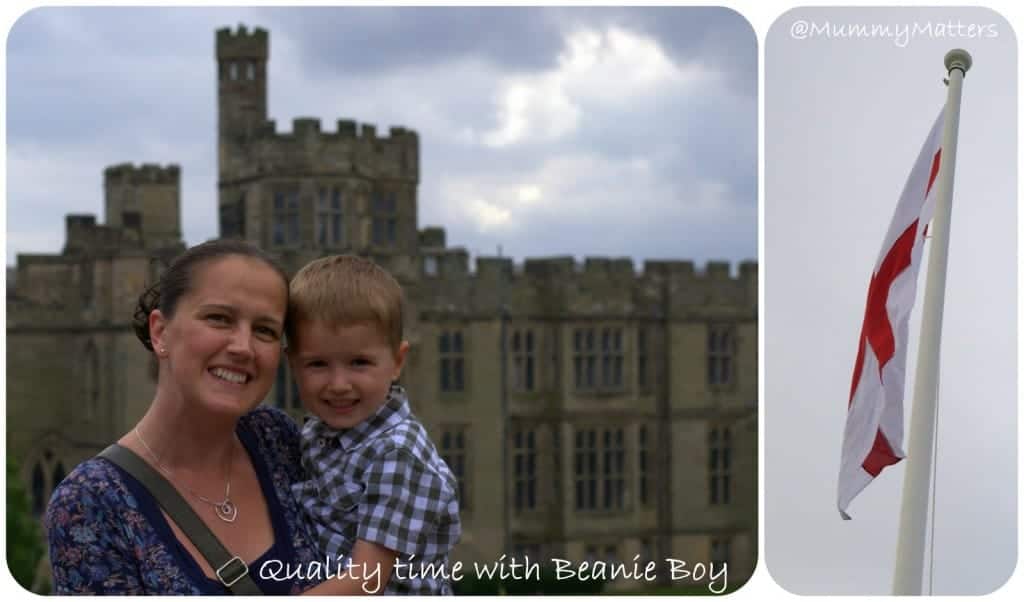 It does warn you before you start the climb that it is a long climb ahead of you but I still came away with a rather throbbing left quad muscle! Beanie Boy did moan a little bit and he wasn't too sure of the spiral stairs but we did it nonetheless with smiles on our faces.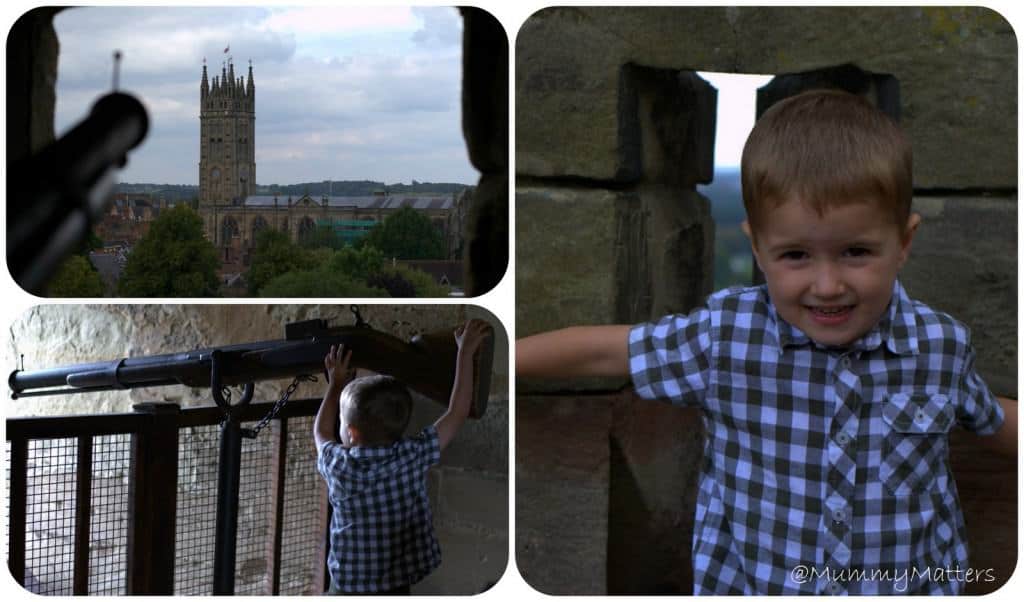 Warwick Castle always has a great schedule of events throughout the day which add to the Warwick Castle experience. The one show we hadn't seen properly before was The Bowman, this time Beanie Boy and I managed to get there early enough for a front row seat to a thoroughly enjoyable, entertaining and information show. Do you know where the 'thumbs up' came from? Well I didn't, but I do now! Apparently the thumbs up is the distance between the bow and the bowstring should be no less than the 'thumbs up' and this would be the signal given to show that the Bowman had prepared his bow.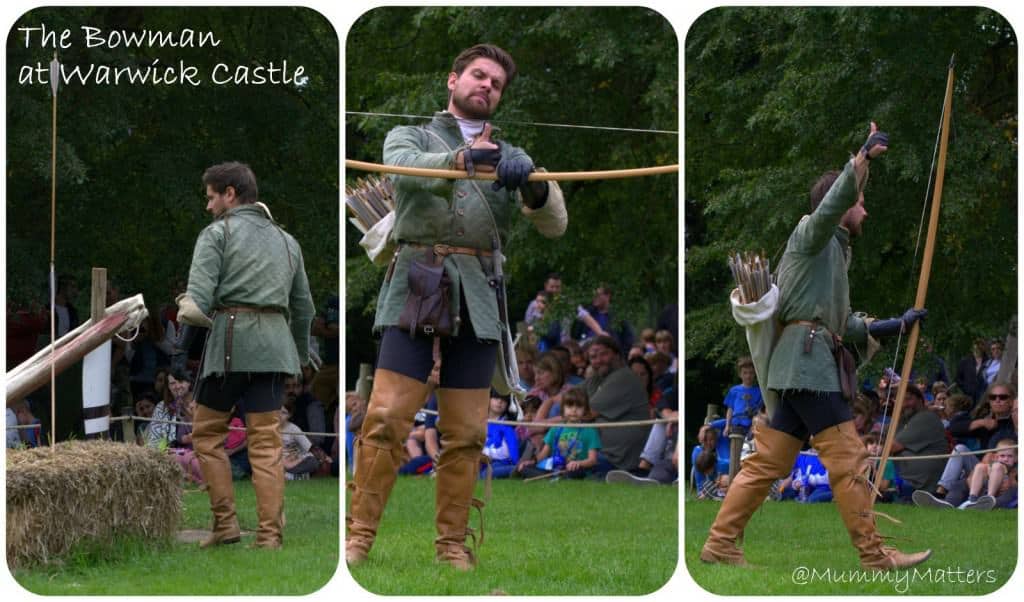 The Bowman even managed to surprise himself when he managed to fire one bow straight into the end of another bow (see picture above left).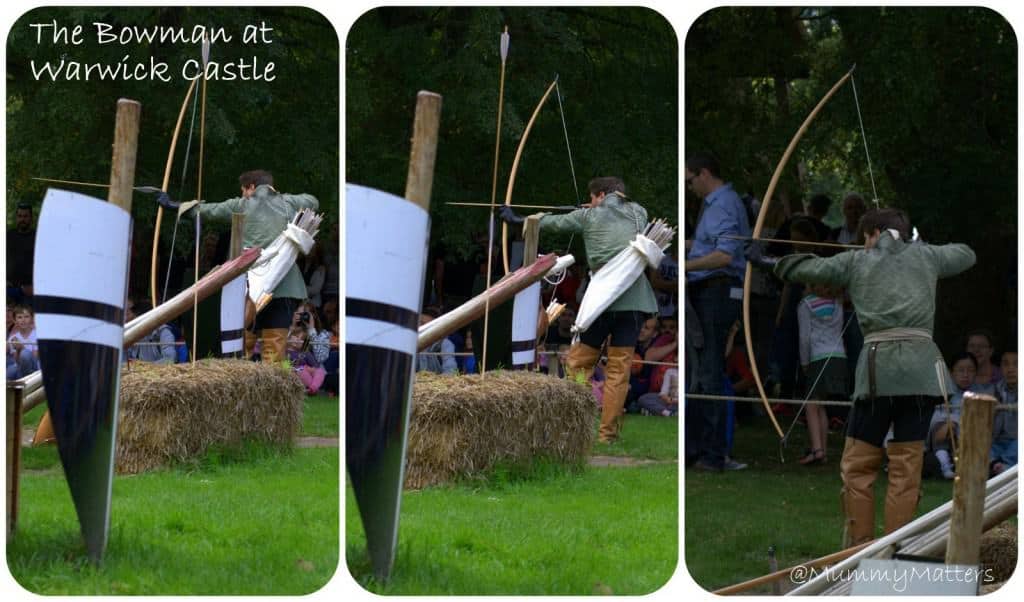 I must admit, when we first sat down I wondered how the Bowman would make his show interesting other than just firing loads of arrows into a target but he did. He gave us the speech that as Captain of his crew he would give to his men as they prepared for battle. He explained to them/us the injuries they could receive and how they could increase their chances of survival if they received any of the said injuries.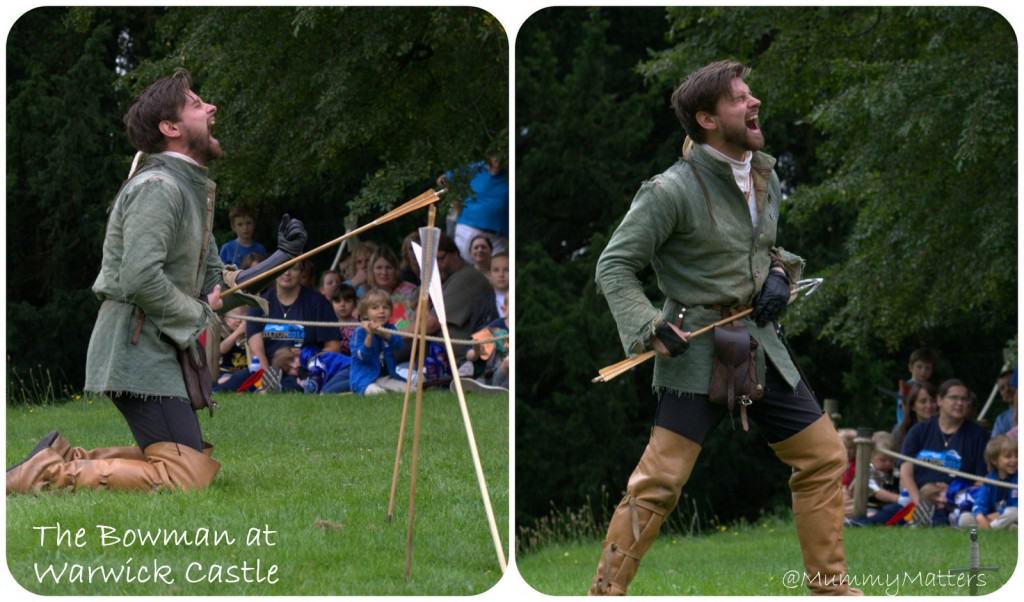 The Bowman was a great showman, he had the crowd laughing and cheering along throughout.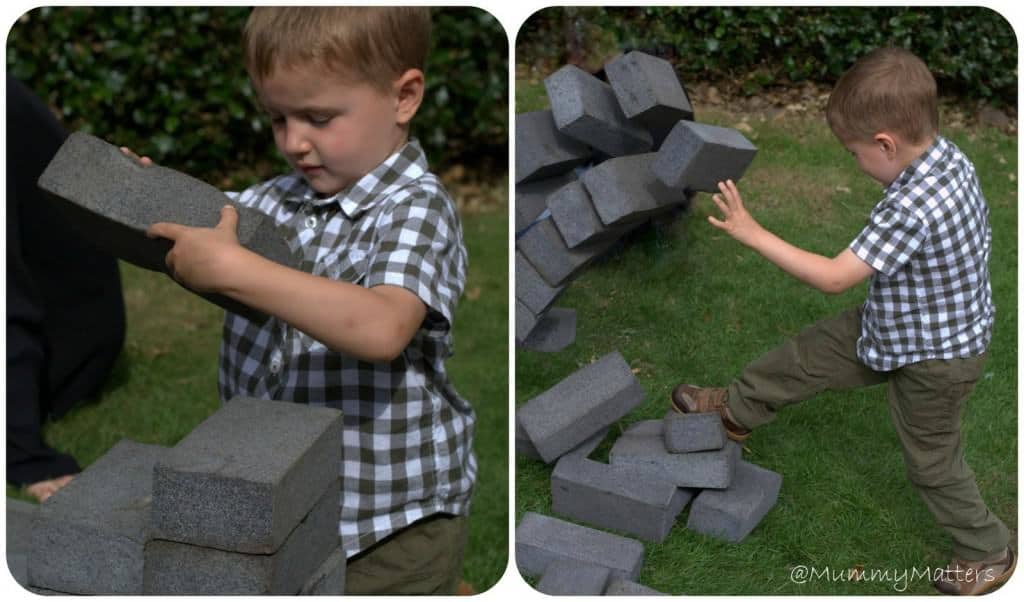 If you've never made it to one of the Mike the Knight themed events at Warwick Castle, it's defintely worth a visit. They have all sort of activities for little ones (and big ones) to join in with to learn about working together, trying your best and learning along the way.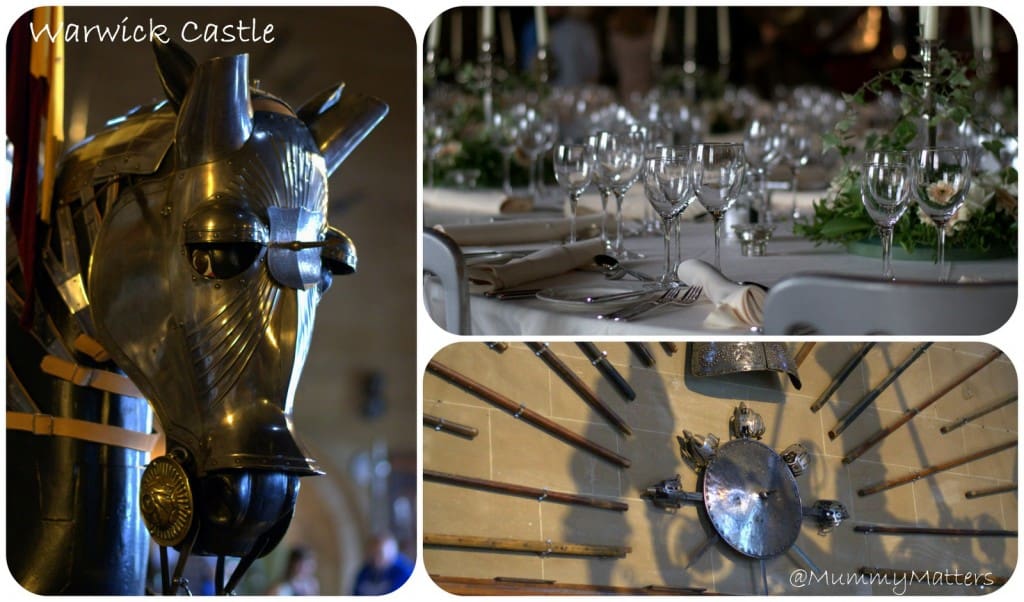 The Great Hall in Warwick Castle is such a beautiful sight to behold yet I don't think I have ever truly managed to capture it on my camera. I had no chance of doing so this time as I only remembered to take my 50mm lens with me so I'm just going to have to share snippets with you instead OR you're going to have to visit yourself to see.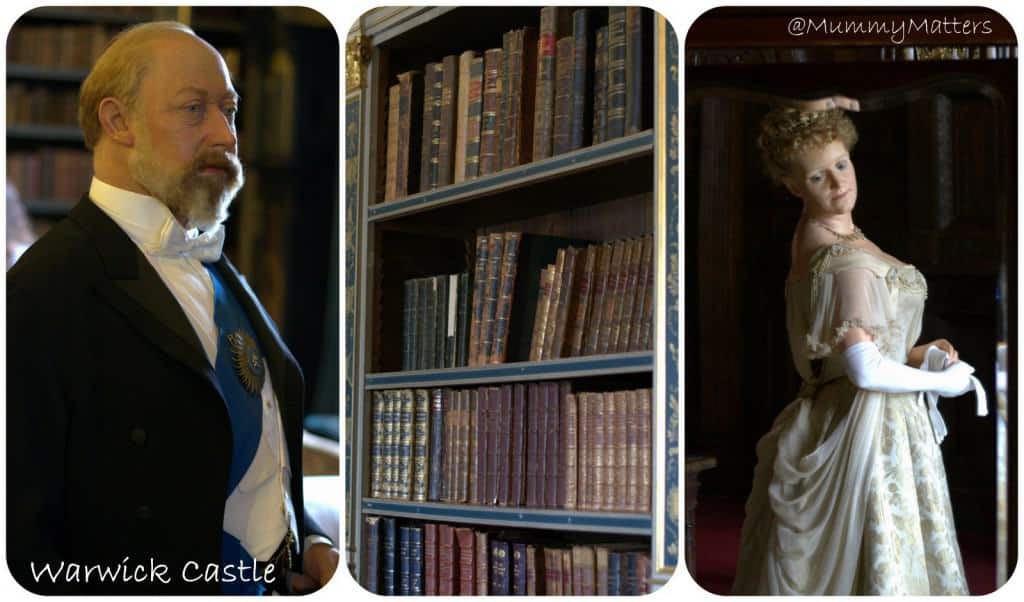 For the first time ever on one of our visits we were finally able to look around the left hand side of Warwick Castle's main building which houses the display the Royal Weekend Party. The Countess of Warwick, otherwise known as Daisy held a lavish party for some very special guests with the principal guest being the Prince of Wales who later became Edward VII. Walking around you get a feel for how life would have been at such a party – I admit it, I felt like I was walking through Downton!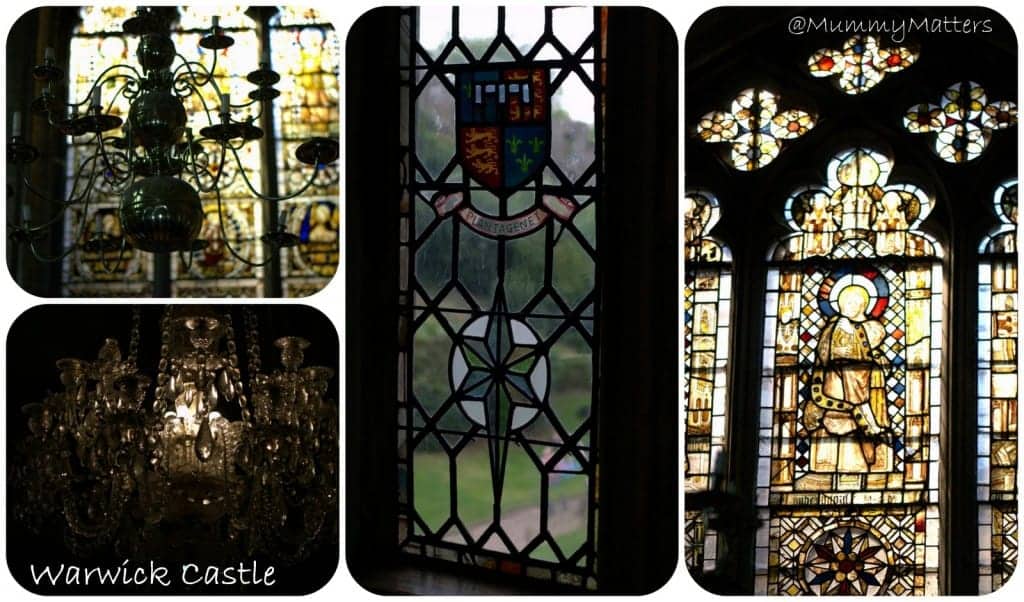 Having only my 50mm lens with me was actually quite nice as it made me look at Warwick Castle differently, I perhaps took more notice of things which in the past have got lost in the grand scheme of things. I particularly loved the Chandeliers and the beautiful Windows.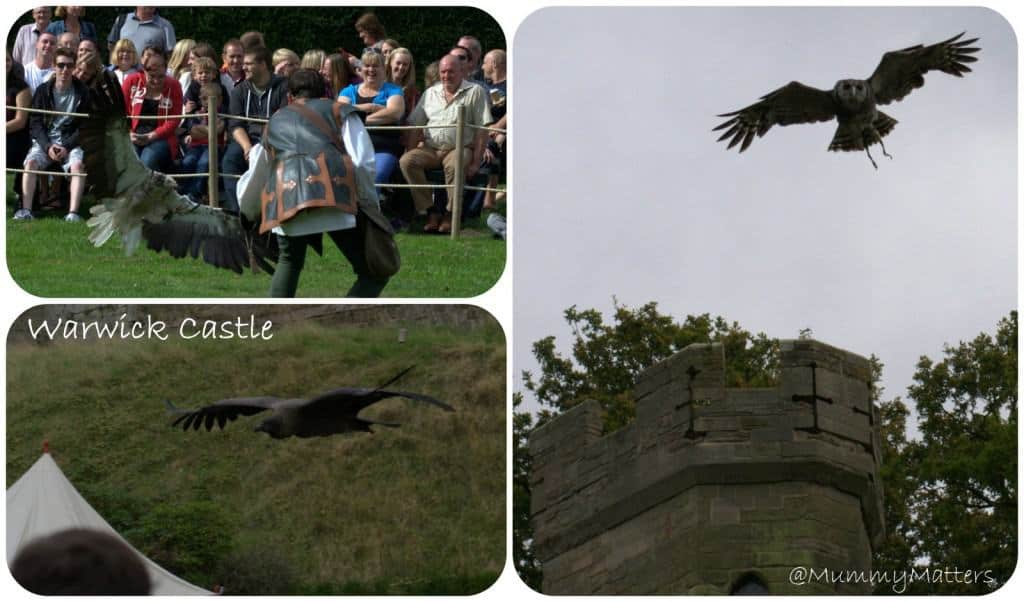 Beanie Boy had remember Ernie the Owl from our previous visit to Warwick so he was keen to stand and watch the Falconry display again. Frank the Bald Vulture and Ernie the Owl are quite the characters but the bird who perhaps took my breath away the most was the HUGE Albatross. I honestly don't think I have ever seen such a bird before. Be careful if you watch the display though as due to his size he isn't great with height so if you happen to move once he has taken flight and you are in his flight path you could receive a knock to the head because he can't correct himself easily once he has started. You have been warned!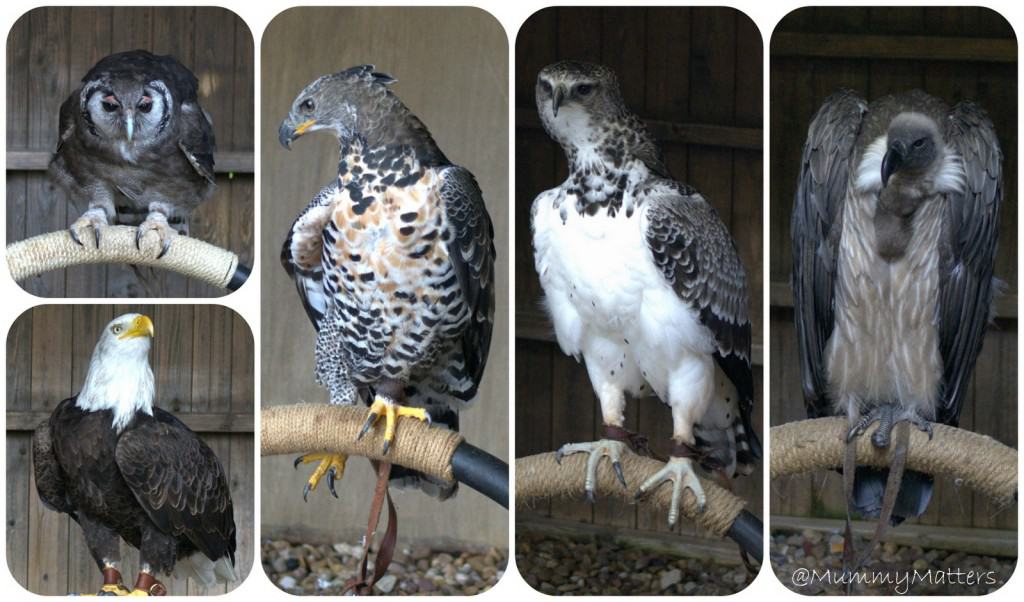 After the Falconry display, Beanie Boy said he wanted to go for a walk in the gardens with the Pabo Knights he had just bought himself in one of the gift shops. I love how he can lose himself with his figures, listening to him playing by himself his imagination comes to life and you hear snippets of role play from what he has seen and done during his day at Warwick Castle come creeping into his play.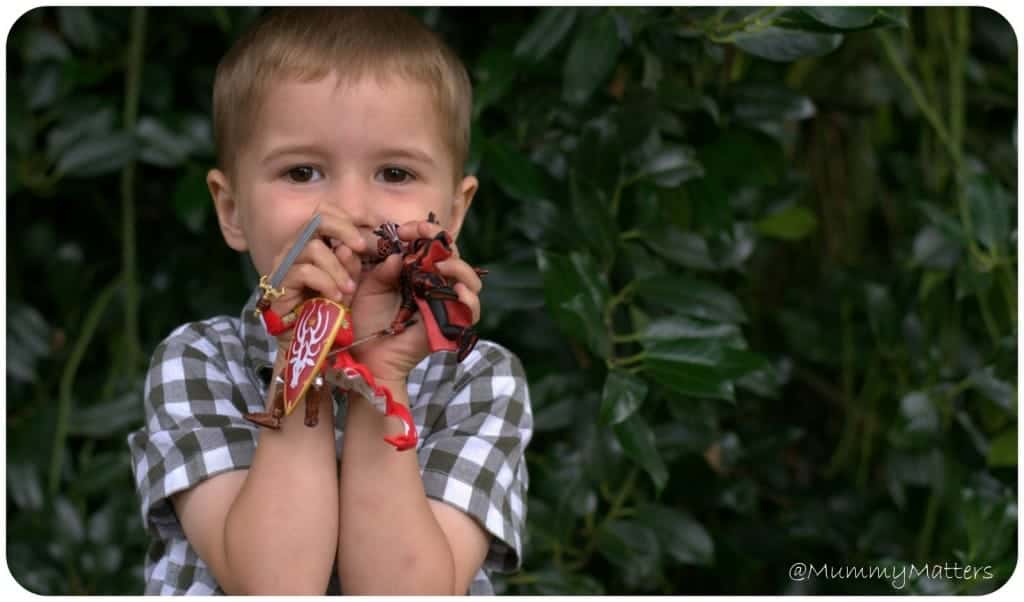 The Peacock Gardens and Fountains at Warwick Castle are beautiful, Beanie Boy was very taken with the water fountains and enjoyed just sitting on the side trying to pop the bubbles. He does make me nervous around water though as he is the one who would fall in without even moving!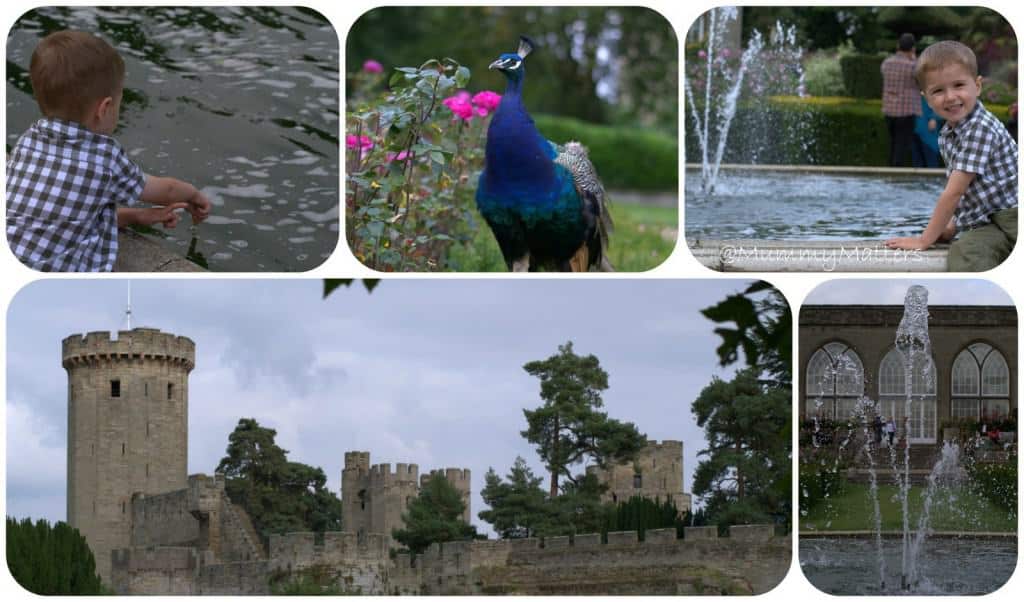 One of the things I love most about visiting Warwick Castle is how beautiful and well-preserved it is. There's a stunning picture to be taken from every angle, I don't think I will ever tire of visiting.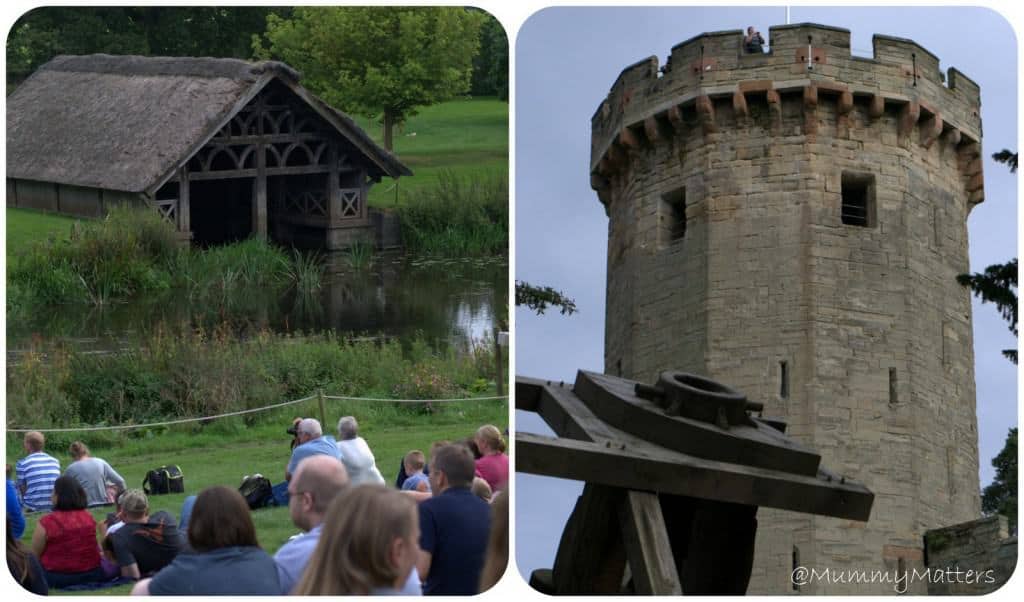 As the day was drawing to a close, the Trebuchet was loaded up for one final blast with a flaming boulder. The crowds gather on the banks of the river to watch as the Trebuchet is wound up by four people walking in the large wheels at the bottom. I bet they don't need a gym membership, it looks like tiring work!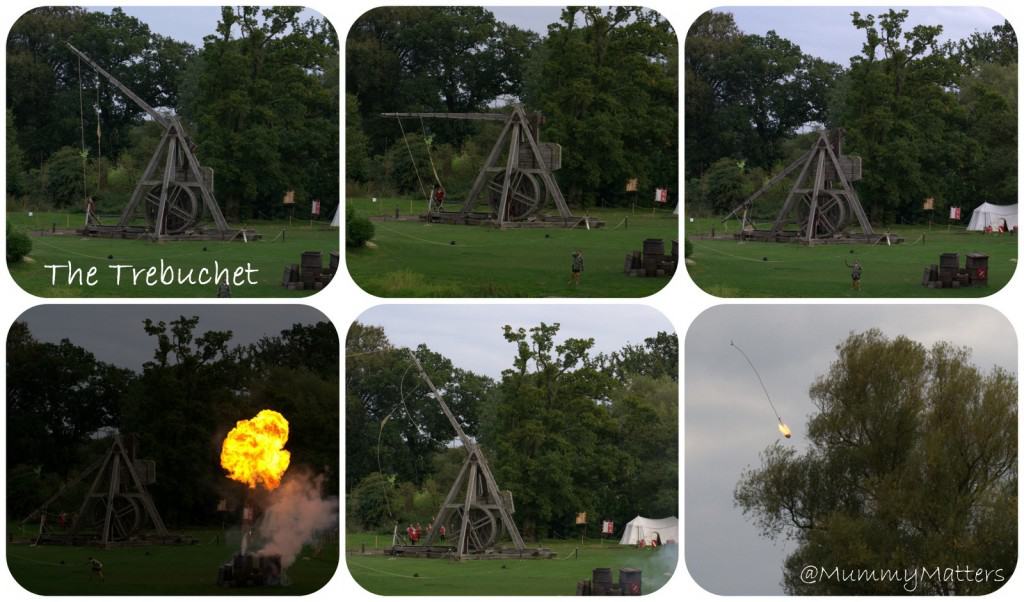 Beanie Boy was completely mesmerised by the Trebuchet until the realisation set in that it meant our day at Warwick Castle was almost at an end . . .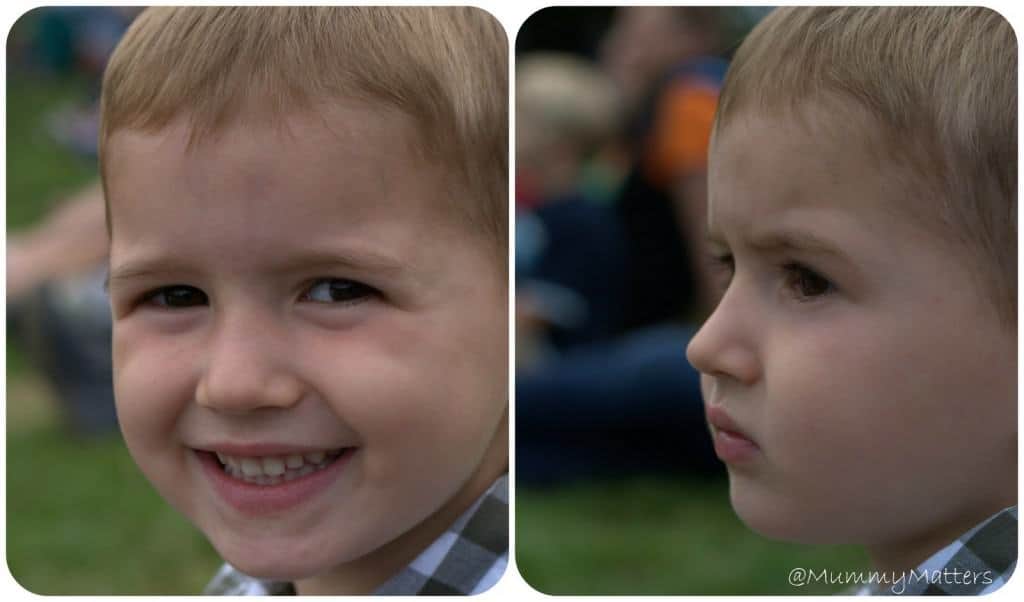 With that in mind, Beanie Boy suddenly decided to have a go at all the things he could find to do before we had to make our way back to the car.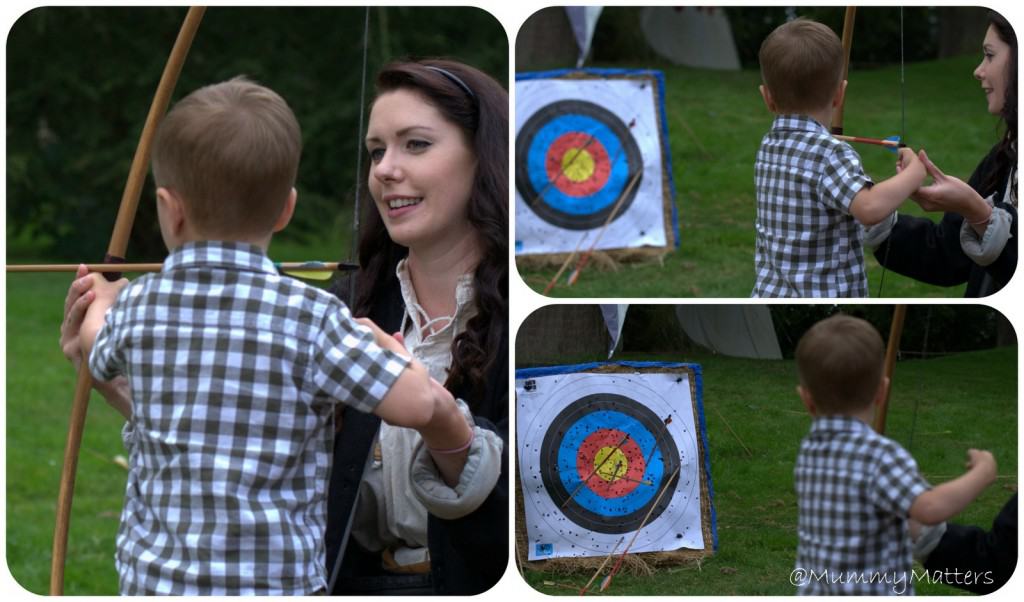 For just £3 he was able to try his hand at Archery and it turns out he was pretty good. He was given 6 arrows and the guidance of a very pretty lady which made him very happy. He was over the moon when one of his arrows hit the bullseye as well as one in the red, one in the blue and one in the black. Pretty good going for an almost 4 year old!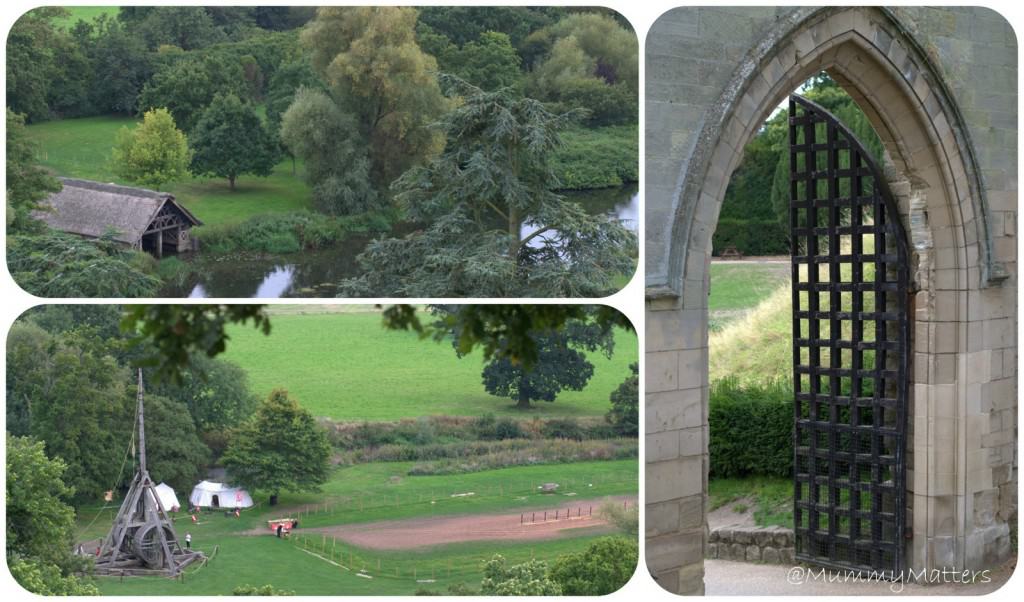 Finally we had lots of laughs chasing each other up the Mound for one final look at Warwick Castle from on high. Whilst we were up here Beanie Boy told me "I don't want to go home, I want to stay out with you all day Mummy". When you have more than one child it's easy to just let the time pass without making time for quality one-on-one time but it's so important. We had an amazing day, just as I have done in the past with Little Bean so we definitely need to make it a more regular thing.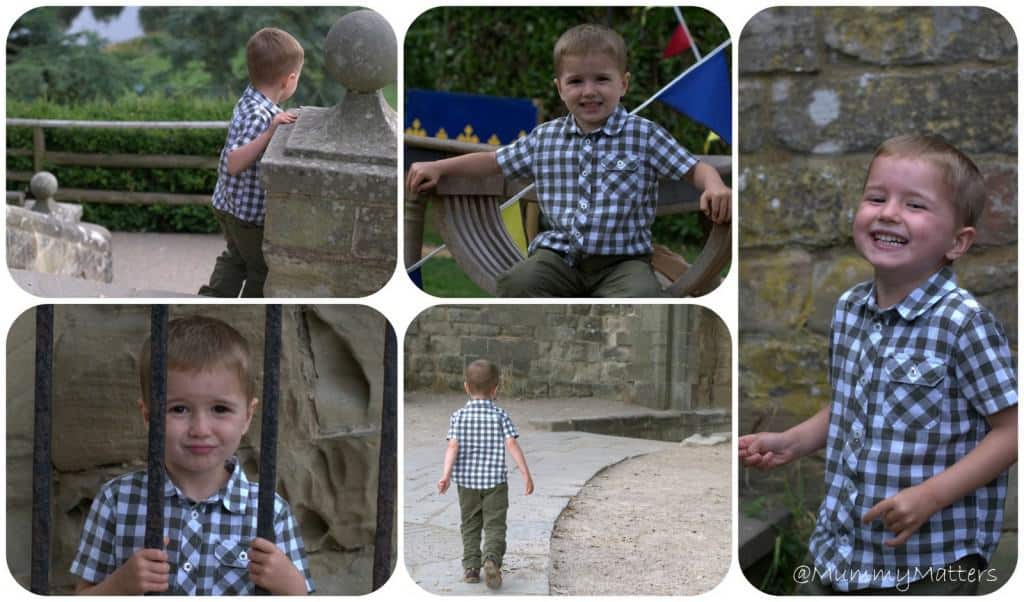 Start planning your visit now to Warwick Castle now!
DISCLAIMER: We were given free entry to Warwick Castle and received a Mike the Knight goody bag for the purpose of this post. All words, images and opinions are my own and may not be copied without my permission.