Creating our reading corner with Sloane & Sons
One thing that everyone in our family has in common is a love of reading. It fills me with pride to see my children losing themselves in a book, so much better than staring at a screen. With this in mind, Hubby and I had discussed how we would like to create a little corner of calm in the chaos of our large family home, somewhere that you can cosy up in with a good book, a warm drink and great lighting (how else would we be able to read?).
Sloane & Sons to the rescue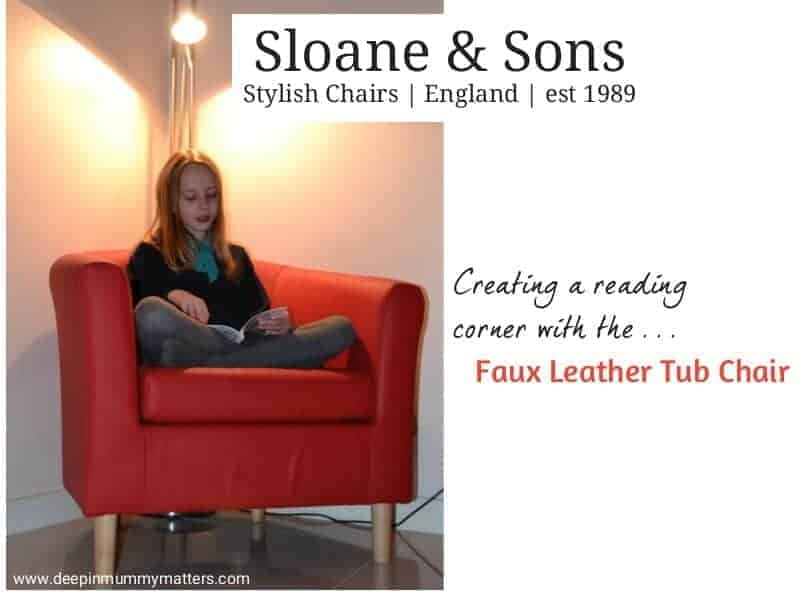 As if by chance I was invited to review a chair from Sloane & Sons, we knew that our 'corner' would be in the dining room, an odd choice some might say but when we aren't eating, this is actually a quiet room away from the hustle and bustle. Our dining room style is quite 'retro' with a bit splash of rich ruby red so when we looked on Sloane & Sons website we spotted the Red Faux Leather Tub Chair and knew it was the one. Initially, we liked the Angel Chair but then decided that fabric might be a little risky when so close to children who struggle to keep their food on their plates!
Making space
We said goodbye to the large computer desk which had been a bit of a monstrosity in the corner of the dining room, hardly anyone ever used the computer as it was so old and glitchy and the desk had become a dumping ground for anything which didn't have a home. With the desk gone we had a lovely bright, open corner perfect for the chair. Right next to the window it would be a good place to watch the world go by, snuggle up with a good book or even just watch over the children as they busied themselves at the table with their homework or crafts.
Getting comfortable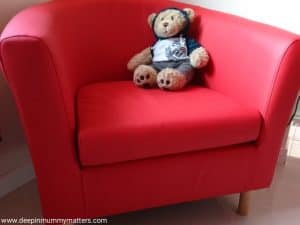 The chair arrived well packaged in a heavy-duty plastic bag within a cardboard box. All I had to do was screw the four legs into place and the chair was ready. It fits perfectly into its little nook and is extremely comfortable. The Tub Chair feels like you are sitting in a great big hug, it encompasses you. The arms are the perfect height to support you whilst reading or enjoying a drink. As predicted I have already had the opportunity to test out its ability to withstand food and drink splashes (the children do like to test these things thoroughly). I'm delighted to report that the yoghurt was wiped away easily, leaving no traces and no colour was lifted from the faux leather – phew!
Let there be light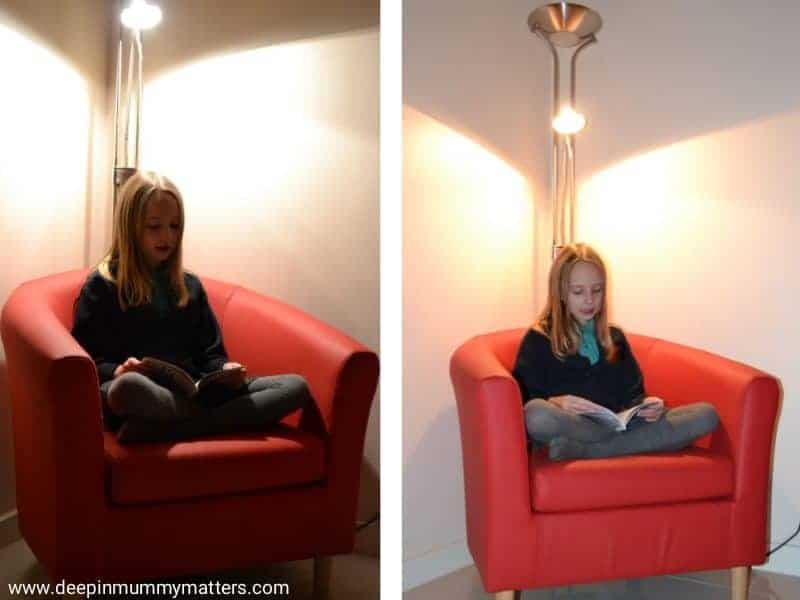 We shopped around online and decided that we would need a Mother and Child light so that it could provide a better light in the dining room in general as the overhead light always feels so stark. This would then have the added bonus of a dedicated reading light so there would be no excuses for eye strain. We found our light in B&Q, it's plain and simple, and it needed to fit in the space behind the chair and fit with our style of furniture. It did just that.
In need of a table and decoration
The only thing we feel is missing in our little reading corner is a small coffee table but we are holding out for the right one. It needs to be fairly slim, funky and functional. We also want to put some artwork on the walls but we haven't decided exactly what yet? All in good time . . .
DISCLAIMER: We were provided with the Tub Chair from Sloane & Sons free of charge for the purpose of this post. All words, images and opinions are my own and may not be copied without my permission. I have not been instructed what to write.