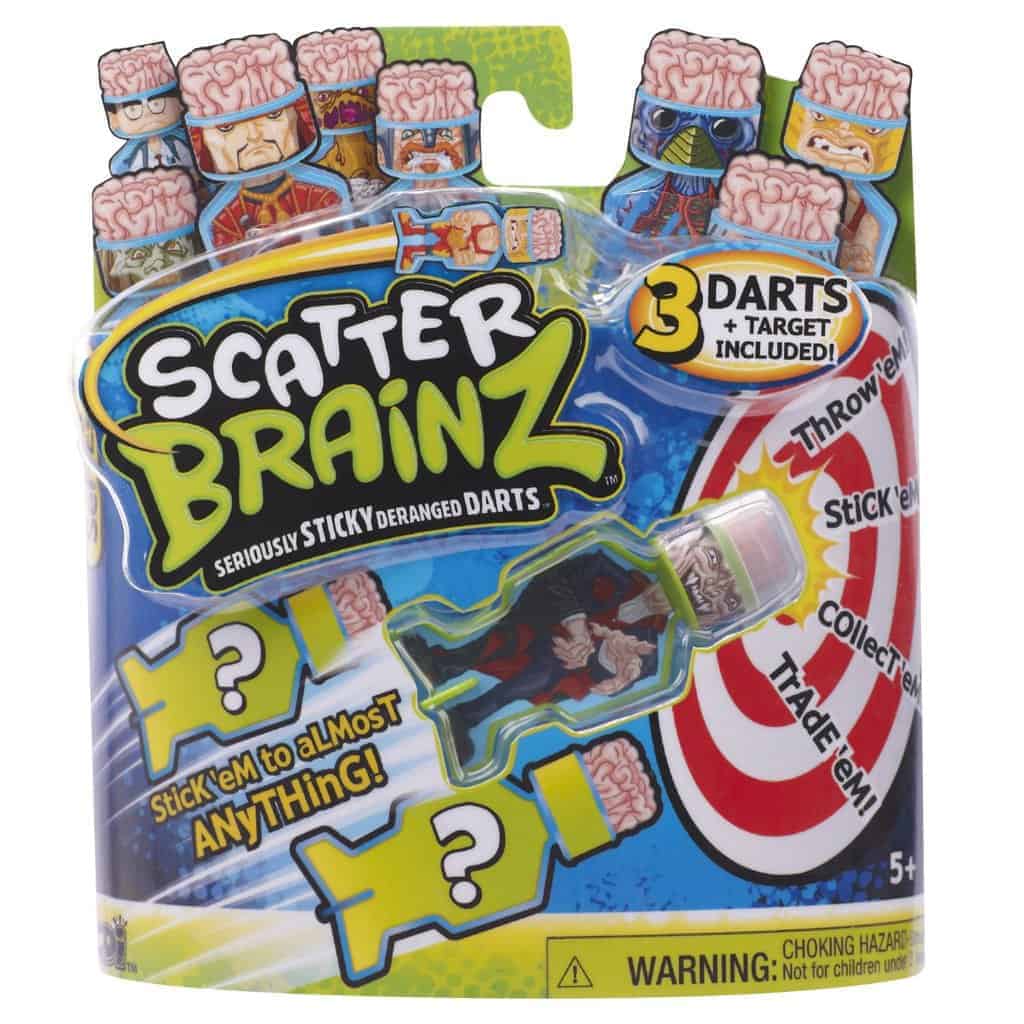 Scatter Brainz Darts Wave 1 (Pack of 3)
Perfect little stocking filler, these super sticky darts will stick to almost anything and keep your little monkey amused. They are part of a collector series so you can keep on adding to it until they have collected all 48 or like trading cards they can be traded with friends when they have duplicates. Once the sticky isn't, well, sticky anymore just wash the dirt off with water and leave them to air dry and they will be as good as new again.
This pack contains 3 darts, target and poster.
RRP £4.99
Available from Amazon
Go Minis from Golden Bear
Beanie Boy is a true boy, he LOVES cars and I have to admit the boy has good taste too. He is a fan of all cars retro and vintage so the Go Mini range from Golden Bear has been very well received by my little man. There are various sizes and styles in the range which is aimed at age 3 years plus (Beanie Boy is only 2 but he has been supervised when playing with his car) so there is a car for everyone. Each car has a cute friendly face which adds to the fun for the little ones. They are high quality and very colourful making them attractive too.
RRP £4.99+
Available from Amazon
Artzooka Flying Clothespins
Living in the UK we get plenty of rainy days so it's always a good idea to have craft packs in the house to keep the little ones entertained.
This kit contains 4 wooden clothes pegs and craft materials to create your very own Flying Clothespins. But why let the fun end there? Once you have created your Clothespins you can put on a little show with your newly created characters.
RRP £5.99
Available from: Amazon and John Lewis.
Artzooka Button Mosaic
Little fingers just love playing with buttons, for that matter – I love playing with buttons! We have been having lots of fun doing Button Mosaics together thanks to this great kit from Artzooka.
The kit comes with 3 templates and 400 buttons, then all that's left is to use your imagination and get creative with the buttons.
RRP £9.99
Available from Amazon.
Bananas In Pyjamas Talking Soft Toy
Nothing brings a children's TV show to life more than a soft toy character does it? Well how about a Talking Soft Toy?
Bananas in Pyjamas is one of Beanie Boy's favourite shows at the minute. We were sent a talking soft toy which is the perfect size for him. He has been recreating scenes from the shows he has seen and I bet you didn't know that Buzz Lightyear was also part of that show?! Well he is now thanks to Beanie Boy!! Let their imagination run wild and give them a new best friend!
B1 and B2 have 5 fun phrases which will activate when their tummies are pressed. They are supersoft for cuddling so perfect for bedtimes too. Make bedtimes easier!!
RRP £9.99
Available from Argos.
Character Building Ben 10 Kevin's Car
Ben 10 is still a big hit in our family, Curly has loved it for years and this is the perfect combination of a toy for him because he loves Lego and this is a car which you build from Lego-style bricks. There are 8 playsets to choose from, we were sent Kevin's car and it was an instant hit. Curly found the instructions easy to follow and has enjoyed hours of fun playing with the car as it is and also by trying to build his own creations.
RRP £9.99
Available from Amazon