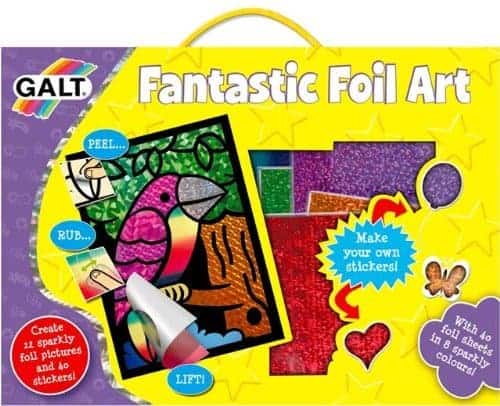 Galt Fantastic Foil Art Kit
Little Bean and I first saw this kit being demonstrated in a toy store and Little Bean BEGGED me to buy it for her. Unfortunately at the time I had already spent a fortune on her so I suggested she asked asked Santa instead. Anyway, by the power of blogging Santa came early and delivered this kit to her for some pre-Christmas crafting fun. It has been even better than we imagined. At 4 years old she has needed no help or assistance and the kit has been out on numerous afternoons keeping her busy.
The kit contains 12 pictures and 40 foil stickers. It's so simple to use, just rub the foil sheets onto the sticky pictures to create a shiny work of art. The kit includes simple instructions but Little Bean was able to get straight to work without me even opening the instructions!!
I wouldn't hesitate to buy this kit again in the future when the current one has run out.
RRP £10.99
Available from Amazon and John Lewis
Suitable for age 4+ yrs
Rivetz Giant Hornet Card Sculpture
For the construction enthusiast how about building your own giant Hornet? Using the pre-cut, pre-folded card pieces and the rivet gun you can build this impressive larger than life insect. The card is tougher than you would expect and the rivet gun is easy to use and you don't need to panic if you make a mistake because the rivet gun has a reverse action to take rivets out when they have been wrongly placed.
RRP £12.99
Available from Amazon and Argos
Suitable for age 8+ yrs (may require some adult supervision)
Green Science Green Rocket
The Green Rocket from Green Science takes junk modelling to the next level. This is a fantastic educational toy which definitely brings out the 'ooohs', 'ahhhs' and 'woohoos' from your budding scientist. All you need to add to the kit is an old magazine and two plastic bottles, in the box you will find everything else you need to launch your own rocket 25 metres into the air!!
RRP £12.99
Available from Amazon and Play.com
Suitable for age 8+yrs
Gelarti Activity Pack
We were excited by this pack when it arrived but we did perhaps expect a little too much from it. The kit contains 5 paints and 50 reusable stickers so that you can create your own cards, picture frames and tags which look really impressive when finished. It's really easy to use but in Little Bean's eagerness to get creative she used up the whole pack in one afternoon. This is a craft kit which would be best used a few stickers at a time so that you feel you are getting more for your money.
RRP £14.97
Available from Amazon and Tesco
Suitable for age 5+ yrs
Annoying Monsters – Irritating Ethel
Little Bean was over the moon to be sent Irritating Ethel to try out and so was Curly. Last year Curly received Bothersome Boris and he has a sneaky way of disappearing from Curly's room and reappearing in Little Bean's!
Irritating Ethel is rather . . . irritating but at the same time I have to admit she is rather amusing when you put a child's head on your shoulders and remember that life doesn't have to be so serious. Ethel is actually quite cute to look at, she's pink for a start so that's often a winner with little girls!! By pressing any of the swirls on Ethel you will activate one of her 5 functions, she burps, trumps, laughs, screams and talks back to you by repeating what you have said – it's almost like any other child really! Little Bean and Curly have been having great fun getting Boris and Ethel to talk to and repeat each other's annoying noises which has provided belly-aching laughter from the pair of them. If you tickle her feet she will giggle and bounce up and down. You might not like Ethel but I am positive that your little one will!!
RRP £14.99
Available from Amazon and Play.com
Suitable for ages 4+yrs
The Mini Micro Bag for Micro Scooters
If you have a young child who is anything like Little Bean you will know how much joy a simple bag can bring to one child. Little Bean LOVES filling bags up with . . . well, junk really? To her it's treasure, to me it seems like a load of old rubbish but what would I know, I'm an adult!! The one time that she has struggled with her bag fetish is when out and about on her Micro Scooter. We have tried backpacks but whilst she is still not that well balanced, the backpack only adds to tumbles so we LOVE the Mini Micro Bag which attaches to the front of your Micro Scooter and can be taken off very easily and carried around like a little handbag. There are loads of colours and designs to choose from, why not take a look?
RRP £14.95
Available from Micro Scooters
Disney Scenario Kit 3D
When your little one has mastered basic 2D puzzles why not challenge their skills a little further with this 3D Scenario Kit from Disney. A little adult help might be required to press out the 300 pieces of puzzle which fold and slot together to create a 3D scene. No scissors or gluing is required. This kit is a little advanced for Little Bean as it is aimed at age 5 yrs but with a little help from Mummy we created the scene and she continued to have lots of fun playing with the figures and playing out her own little scenarios.
There are other scenes and characters in the series so don't be put off by the ultra pink and girlie box. Choose from Mickey Mouse Farm, Minnie Mouse Boutique and Cinderella.
RRP £15.99
Available from Amazon
Suitable for ages 5+yrs
Trash Pack Street Sweeper Set
Personally I don't 'get' this toy but then again I'm not 5 years old and I don't have a thing about refuse trucks! I do however know of many children who get very excited when they see the refuse lorry coming down their street so this toy could be just their thing. The street sweeper in the first vehicle from the Trash Pack series and comes with 2 exclusive trashies which aren't available separately.
RRP £19.99