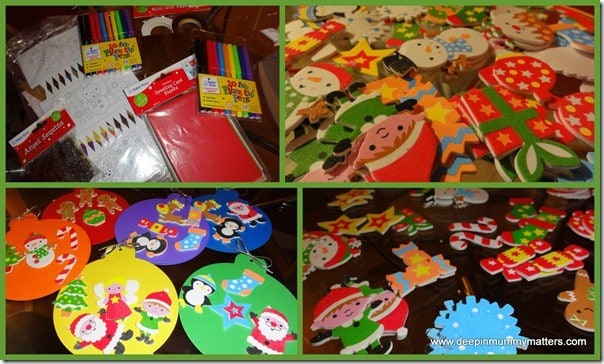 Yellow Moon getting us in the Christmas spirit!
When we get home from school I have found that the best way to avoid bad behaviour is to have pre-planned activities to keep them busy. For those of you who haven't noticed it's only a matter of 4 weeks until Christmas so we are getting into the Christmas spirit by doing Christmas crafts. We have been very lucky as we were sent a box of crafting goodies from Yellow Moon.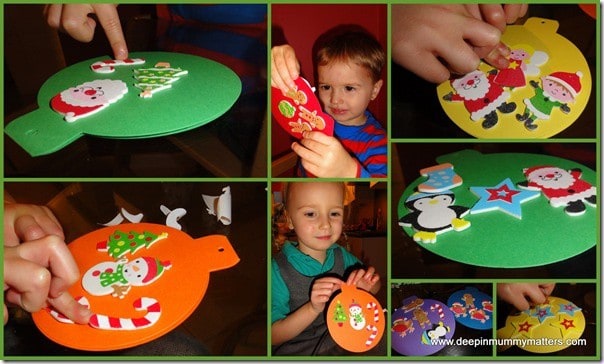 I should perhaps remind you that Little Bean and Beanie Boy are only 4 and 2 years old respectively so their crafting abilities are still quite limited at the moment. Neither of them are particularly good when it comes to colouring in, preferring to scribble across the page rather than keeping nicely within the lines so for the time being we have chosen not to do the Christmas crackers. This might be a Christmas task for Curly as he LOVES colouring.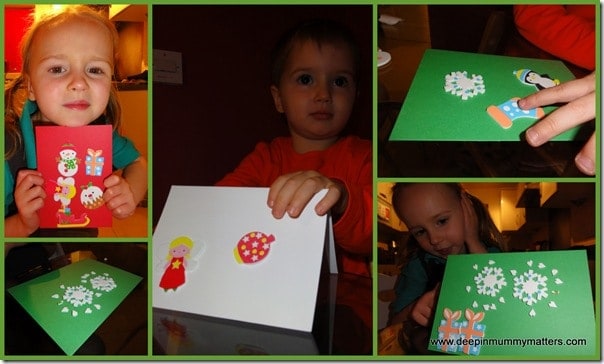 Little Bean and Beanie Boy have something else in common though, they both adore stickers and so have had great fun getting creative with these 'bauble' design Christmas cards, rectangular Christmas cards and gift bags. They both know exactly what they do and DON'T want on their creations. Beanie Boy began by asking me to peel the backing off his stickers but quickly realised that he could actually do this himself so then I wasn't even allowed to be involved in that part of the process either. If I have dared to make any suggestions of things they could add to their creations I have been given a very firm 'no' from both of them and so have left them to it.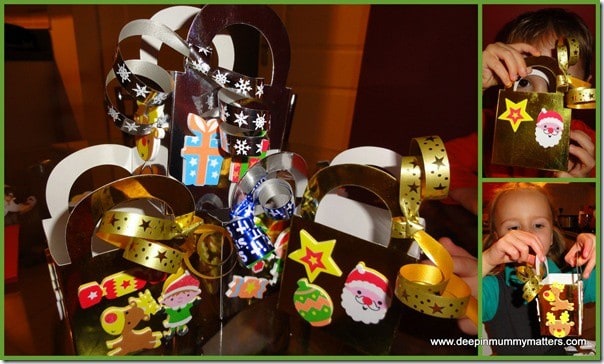 The 'bauble' cards are really cute because you can create your designs on both sides, then add the silver string so you can even hang them on the Christmas tree if you wanted to. The rectangular cards are great because you can design them as landscape or portrait and again, if you want to decorate the back as well as the front, who is going to stop you?! All of the blank Christmas cards come with envelopes too so all that's left to do now is write on them.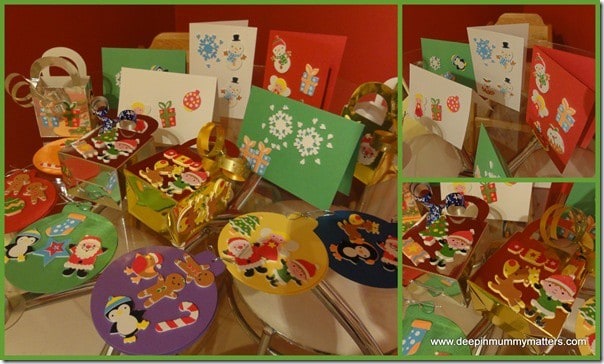 Little Bean and Beanie Boy both particularly enjoyed decorating their Christmas bags, we used pretty Christmas ribbon to add to the handles for a bit of extra texture, I wasn't even allowed to make suggestions on colour!!
Yesterday when I collected Little Bean from school we were given the latest Yellow Moon catalogue so Little Bean set to work on deciding which crafting supplies she wants to get her hands on next and the really good thing (other than the price!!) is that every item we buy through Yellow Moon donates money to Little Bean's school to help with their fundraising.
What crafts have you been doing to get you in the Christmas spirit?
DISCLAIMER: We were sent the craft supplies from Yellow Moon to enable me to write this post. All words, opinions and images are my own and may not be copied without my permission.