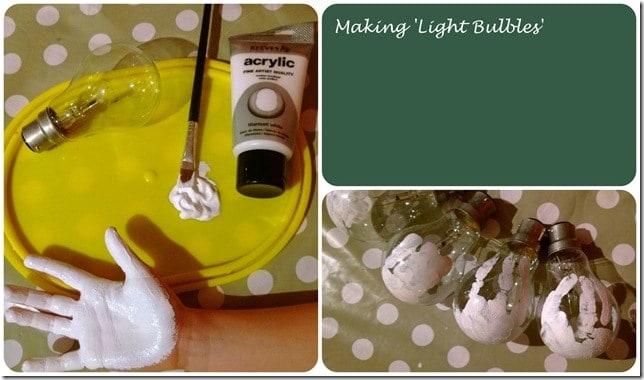 Christmas Crafting: Light Bulbles
No don't worry I haven't made a start on the mulled wine and I haven't forgotten to use the spell checker, I meant to write 'Light Bulbles' because that's what you call it when you cross a Light Bulb with a Bauble. Shall I explain further?
A few days ago I was asked if I would like to take part in a festive 'Light Bulbles' Xmas Crafting Competition, well they had me at crafting because I love the opportunity to get my creative juices flowing and it's even better if I get to make a mess with the tiddlers! The 'Light Bulbles' Xmas Crafting Competition has been launched by LightBulbs-Direct.com where the challenge was set to decorate old and plain light bulbs into exciting Christmas Baubles. Now, no offence to LightBulbs-Direct.com but I had never even considered buying my light bulbs online, I just automatically grab what I need when I'm in the supermarket or hardware store but I will be checking them out first in future, they have a lightbulb for EVERYTHING and that will make my life so much easier because the people who built our house obviously bought a job-lot of light fittings because I don't think we have two light fittings the same throughout the house??? How does that work???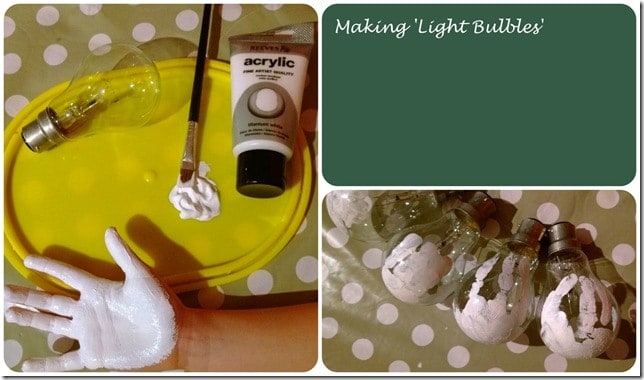 Anyway, back to our entry for the competition. Being the big softy that I am I wanted to take the opportunity to make our Bulbles personal to us and by that I mean, the children so I popped to The Range and grabbed a tube of White Acrylic paint (bargain at only £1.25) and then set to work on painting the children's hands (they all thought this was hilarious, they are sooooo ticklish) and then placed the lightbulb into their hand and told them to squeeze their fingers tight onto the bulb. Once removed we were left with white handprints on the bulbs. I then used our Porcelain/Glass pens from Yellow Moon and a black Sharpie pen to turn the white handprints into snowmen families with colourful hats on. Since their hands only covered once side of the bulb (we are fortunate to only have 5 digits on each hand!!) there was a gaping great space on the back of the lightbulbs so we drew on Christmas trees so that they could be seen through the front of the bulb to create a scene behind the snowmen. I used crafting wire to make a very poor attempt at a hanging device but I think it looks rubbish so I will endeavour to change this, perhaps ribbon would look better?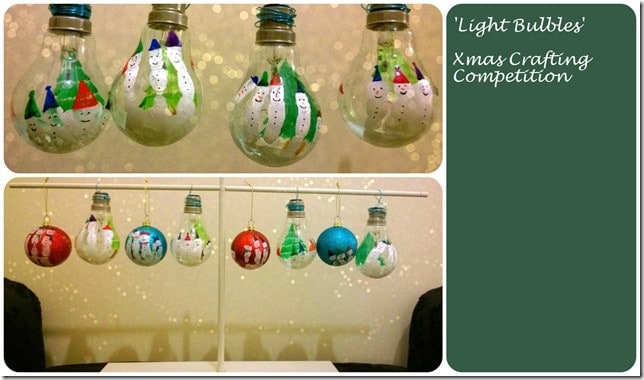 The best thing about this craft was that the children loved doing it so much we then decided to decorate some boring old baubles too then hung them all together on a cream stand we bought from Ikea a few years ago and now we have a lovely brightly coloured Christmas table decoration which each of the children have helped to create, hence Jelly Bean's snowmen are so teeny tiny. I have popped their names and the year on the underside so we can treasure them in years to come.
DISCLAIMER: This is my entry to the 'Light Bulbles' Competition over at Lightbulbs-Direct.com  All words, images and opinions are my own and may not be copied without my permission. I have not been instructed what to write.