Celebrating Father's Day and Family Time
Sunday was Father's Day and the children always get very excited about giving presents to anyone, you'd think they were the ones receiving presents. I love that they love to give as well as receive. We enjoyed a pretty lazy day together around the house and then in the afternoon popped over to Nanny and Grandad's to wish Grandad a Happy Father's Day too.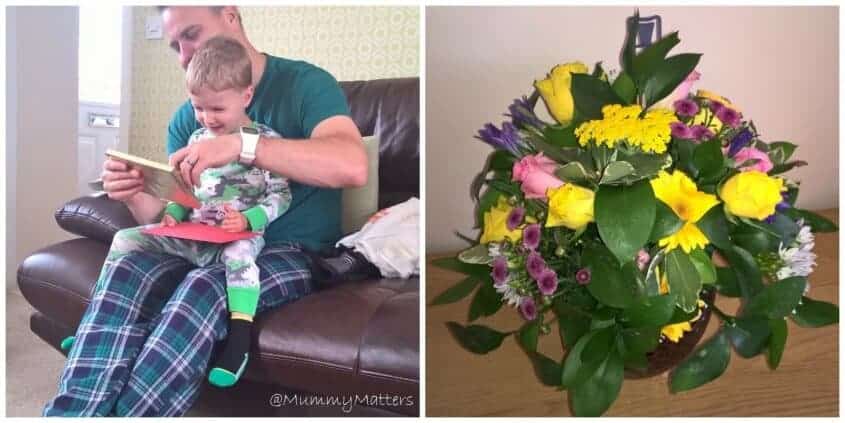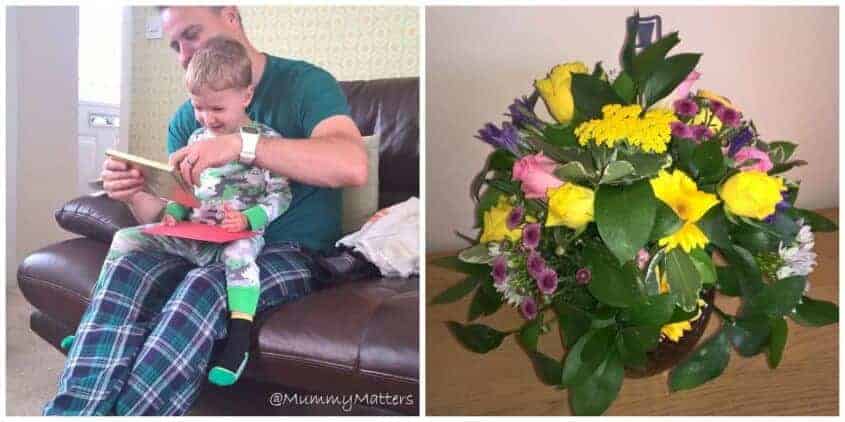 Monday was a sad day for my Mum and me as we had to travel back to our home town to say goodbye to a very special lady. The rain didn't stop pouring from the minute we woke up in the morning to the minute we went to bed in the evening. It's never nice having to say goodbye to a loved one but this was a goodbye we had been preparing ourselves for over many months and for Dot we felt that finally, she could be at rest and out of pain.
In complete contrast to the day before, the sun shone brightly on Tuesday morning and whilst I'm still unable to get out for a run because of my ankle injury I decided that a brisk walk shouldn't be too demanding on it. It felt so good to be out getting exercise again and not running meant that I was able to take in the beauty of my town at a slower pace. I stopped to take a photograph of this tree on the side of a house because it looked so pretty and just as I would have drawn a tree when I was a child.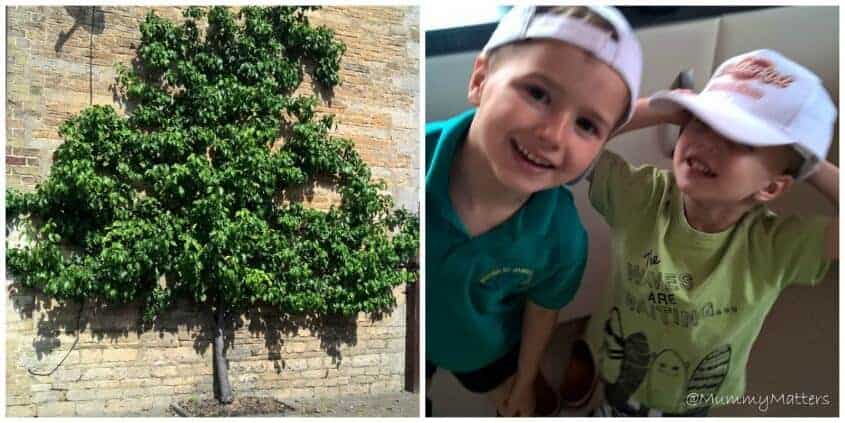 My boys had me in stitches on Wednesday, all of the Beans have a wicked sense of humour and I love it when they get the giggles, it's infectious. We had received a goodie bag from Butterkist #getcoated which I shall be telling you about soon and the boys were most excited by these two caps. They promptly popped them on their heads and pretended they were pop stars (hence the hazy photograph because I couldn't keep them still).
With Jelly Bean at preschool, I popped into Queensgate Shopping Centre for my next #QBlogger assignment which was to catch up with the ladies on the Benefit counter in Boots to find out more about their #BenefitBrows launch. I had a fun morning with Sam (in the middle) who explained how to shape my brows and give them definitions. I was a little anxious before going in, I had visions of them making me look ridiculous but I loved what Sam did with my brows and will be making more of an effort myself in future. Stay tuned for the low-down on my morning with Sam next week.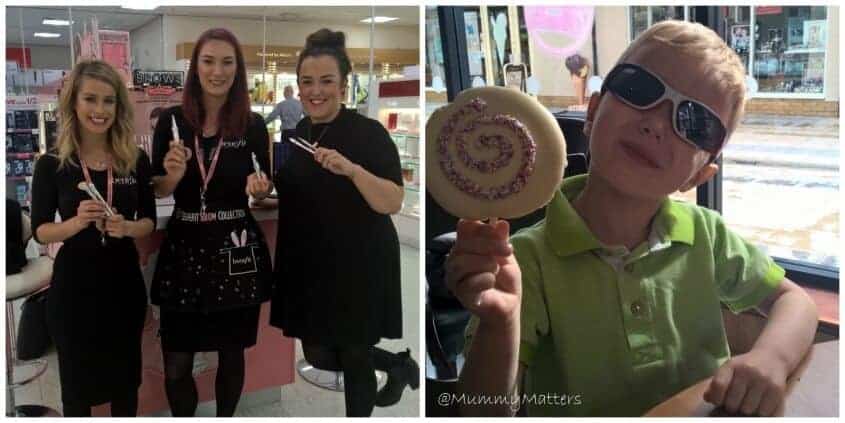 Friday was all about preparation for a surprise weekend away. Daddy would be coming home from work early and we would be hitting the road as soon as the Beans came home from school because we were heading to Norfolk for the weekend to stay at Islington Hall Farm with all of Daddy's family to celebrate Grandad's 70th Birthday, only Grandad knew nothing about it. We had already bought Grandad's main birthday present but Jelly Bean and I popped out in the morning to get a few little extras for him to open and since we arrived at the shops early, it seemed rude to not wait it out in Costa Coffee with a drink and a biscuit. Jelly Bean needed to keep his sunnies on inside though because he said that he was sitting near the window and it was too bright.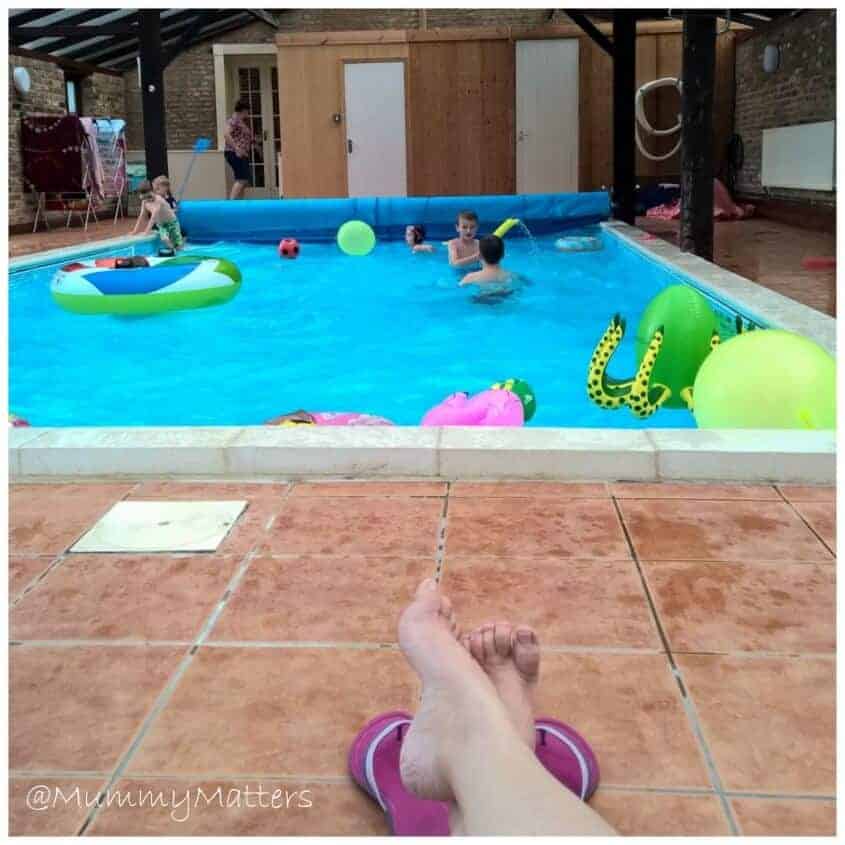 Grandad was suitably surprised when we all arrived at our weekend retreat and it didn't take long to get all of the kids (big ones and small ones) into the swimming pool. This was the perfect getaway for a multi-generation family, plenty of space for everyone with 10 adults and 6 children staying over and a further 5 adults and 2 children visiting.
It's hard to believe we are halfway through the year already isn't it!!