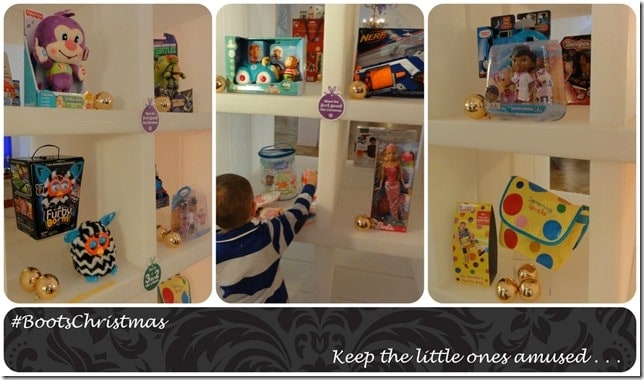 You can't beat Boots this Christmas!
You can't beat Boots this Christmas, they have such a huge range of Christmas Gifts to suit every member of the family, always at great prices and with some really good offers. Who can resist their 3 for 2 offers? You can start shopping early too since the 3 for 2 Mix & Match offers start from 30th October and are available across make-up, professional haircare, self tan and beauty accessories.
A few weeks ago, the boys and I popped down to London after dropping Little Bean at school to head to a Christmas wonderland created by Boots. This is just a quick run-through of our day at the event but as Christmas sneaks up on us I will be sure to share my favourite products with you in my Christmas Gift Guide.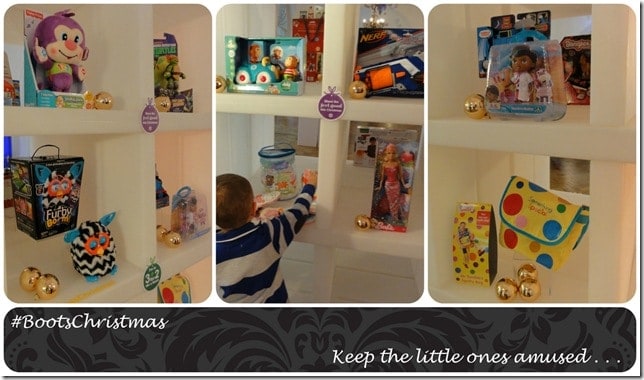 Boots always carry a brilliant range of toys to keep children of all ages amused, Beanie Boy really liked the Peppa Pig bath pictures, Mr Tumble's spotty bag and the Furby Boom but I'm sure if I had left him there long enough he would have talked me into buying everything for him. I often buy lots of my toys from Boots in the lead up to the season as there are some great bargains to be had.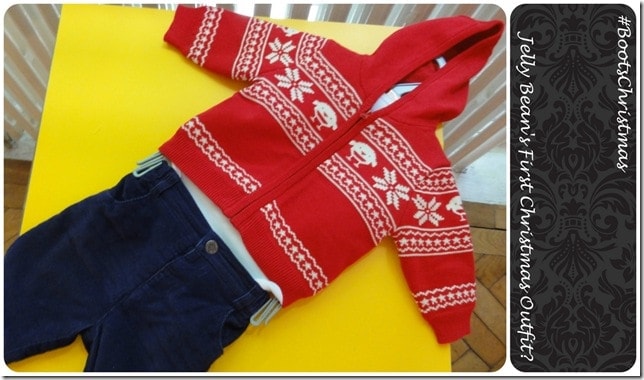 This Christmas will be Jelly Bean's First Christmas so it will be cause for much celebration. I always like to get the children dressed up for the day so when I spotted this little outfit I thought it could be perfect for my littlest man, what do you think?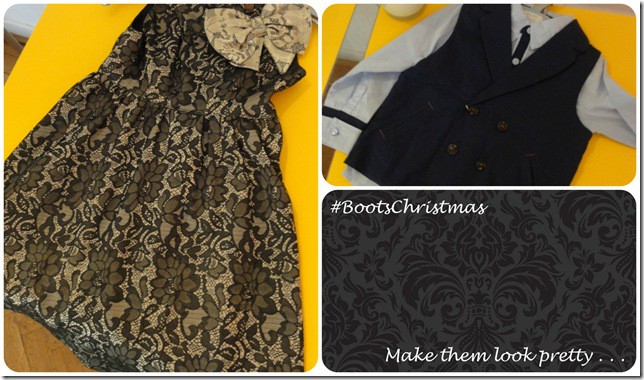 I fell in LOVE with this dress and shirt/waistcoat combo the moment I laid eyes on them, Little Bean would look beautiful in the dress and it makes a nice change from red. I can't wait to see the rest of the range if this is just a sample of it.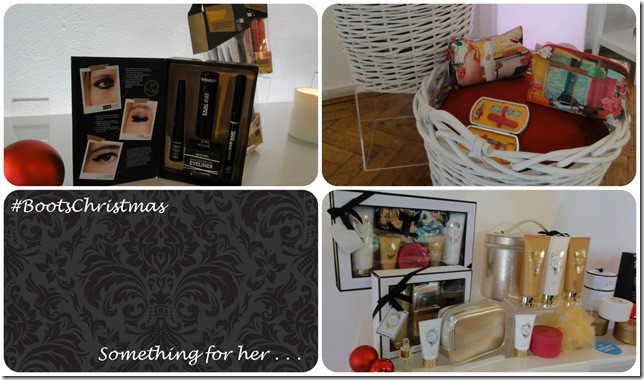 There is no way in the world that I could have fitted everything that I liked onto one collage for the ladies, I think that will have to be a whole blog post to itself. As usual there are some great beauty ranges from Clinique, Molton Brown, Jenny Packham, Gok Wan, Fearne Cotton and so many more besides.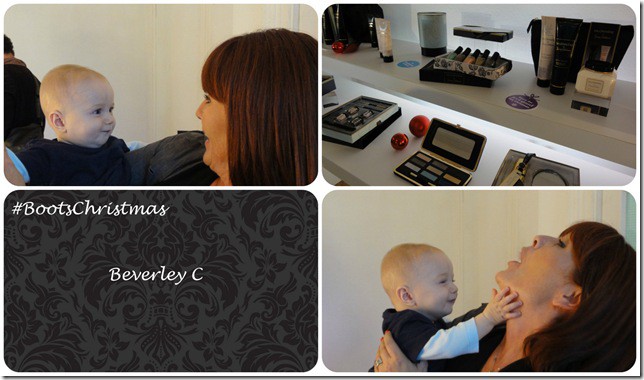 My favourite products are always the new hair stylers, I have the straightest hair in the world and so I am always on the lookout for a great styler to help me achieve some body or even better, CURLS with my hair. There was one styler which stood out for me called the BaByliss Curl Secret, it is as easy to use as a pair of straighteners, just clamp it shut on the hair and the hair is drawn back into the curling chamber where it gently heats the hair creating a perfect curl. I didn't manage to take any photographs of the Curl Secret in action because in all honesty I was too awestruck at how clever it was and completely forgot that I even had my camera in my hand so I'm sharing a video below. As you can see from the pictures above, Jelly Bean actually stole the show and Award Winning Hair Stylist Beverley C who couldn't get enough of my cheeky little chappy.
If you have a smaller budget but still want the curls then you will love the latest from Mark Hill's range, the Roller Hot Pod. It is a genius little invention which is perfect if you have small children around and you're worried that little fingers might get burnt or you want something travel size. The Roller Hot Pod remains cool to the touch and works instantly heating one large roller at a time. By the time you have finished popping one roller in, the next one is ready so you can have big bouncy curls in minutes.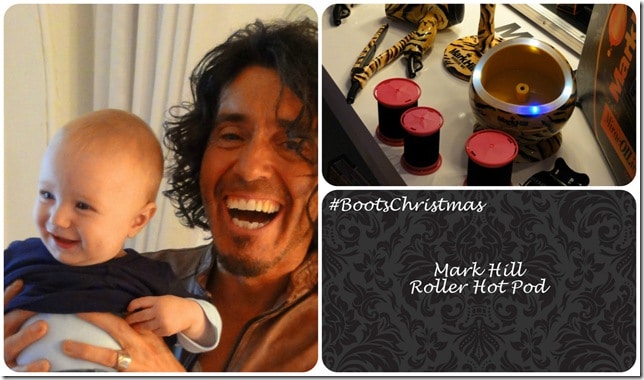 This was the third year that we have met Mark Hill and once again he was a true gentleman who was more than happy to entertain the boys, Beanie Boy took a shine to one of the mannequins and had a go at hair styling himself, let's just say I won't be letting him loose on my hair any time soon!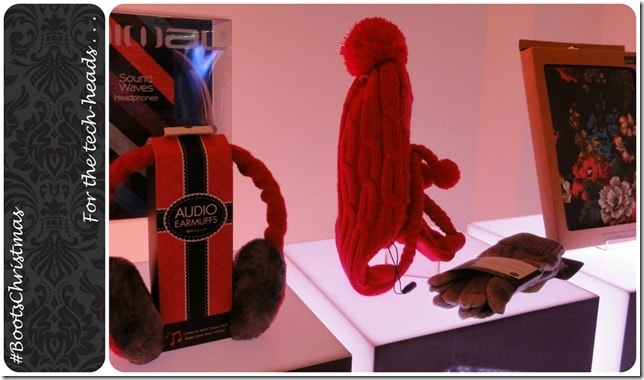 If you have tech-heads in your family (or indeed are one yourself) then you'll love these gifts – I will definitely be getting myself a pair of the 'touchscreen gloves' so no more cold fingers when sending messages and making calls in the winter or how about the Earmuff headphones or Woolly Hat with integrated headphones and of course a lovely range of Tablet and Phone covers.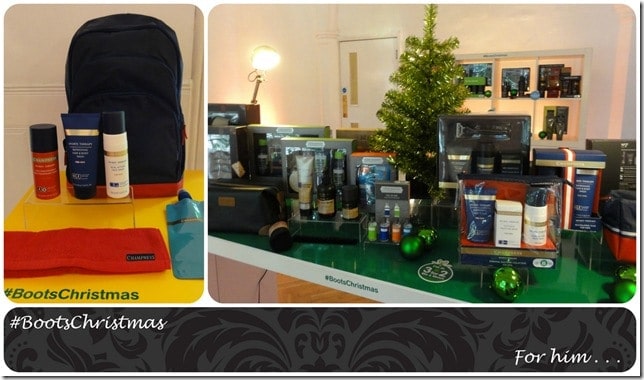 The men in our lives will not be disappointed with the range of gifts on offer for them too from the likes of Champneys, Ted Baker, Joules, FCUK, Bench and many more.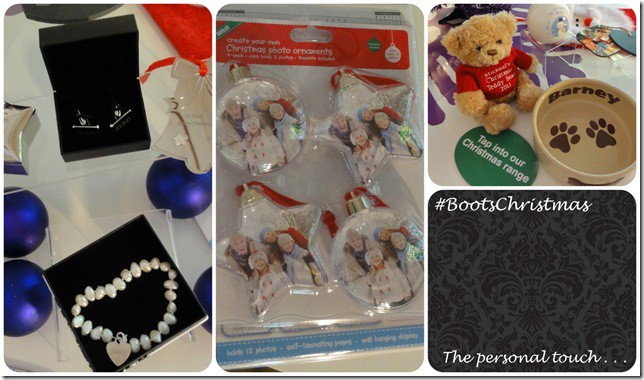 This year Boots have extended their Personalised Gift range to include some beautiful jewellery, Christmas decorations, teddy bears, money boxes, trinket boxes and a whole host of photo gifts.
Hopefully that has given you some food for thought, it's certainly given me a lot to think about, like how I'm going to get my hands on a Curl Secret so that I look pretty on Christmas Day!
DISCLAIMER: I was received a goody bag free of charge for attending the Boots Christmas Centrepiece. I have not received any payment for this post and have not been instructed what to write. All words, image and opinions are my own and may not be copied without my permission.