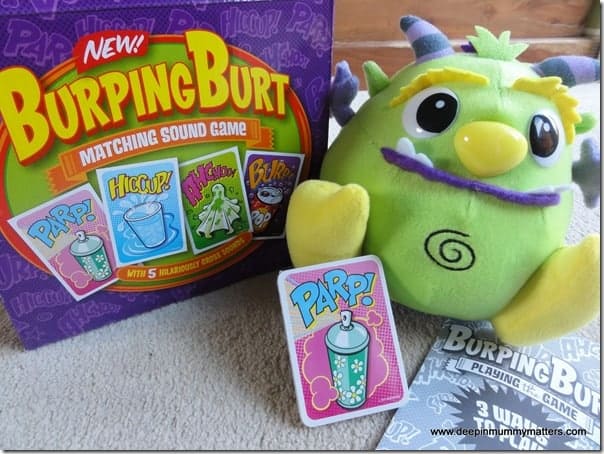 There is no other way to describe Burping Burt other than 'the new Marmite', people are either going to LOVE Burping Burt or they are going to HATE it and I guess that depends largely on your sense of humour. Personally I think this is a game which all children will love and find completely hilarious because it revolves around those bodily noises that children find so amusing, especially once they start school, burping, trumping, sneezing and hiccuping are all things guaranteed to set them off into fits of hysterics.
Burping Burt is an extremely simple game for children aged 4+ years for 2 or more players. Players split the pack of 24 cards and then take it turns to press Burts tummy, if Burt sneezes and the player has an Atchoo card they can put that card down, but if Burt snores then the player must pick up a card. The aim of the game is to get rid of all of your cards first.
Understandably, this is a game which Curly and Little Bean found more than just a little amusing, the prude in me wanted to say that it was a silly game that teaches children bad manners, the fun Mum in me laughed so much she nearly peed her pants! Sometimes we just have to remember that being a child is all about having fun and enjoying it all before life gets too serious and at least this game has an educational theme to it too (well almost) it's about fine tuning their 'listening skills', something which Curly and Little Bean could both do to practice a little more.
Burping Burt is designed for two or more players and suitable for children aged 4+ RRP-£14.99. Available from Argos, Tesco, Amazon, Play.com, John Lewis and selected Toy retailers.
For more information please visit www.imaginationgames.com