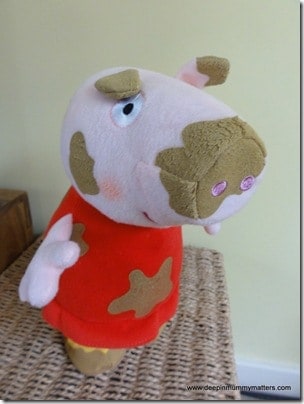 Jump In Muddy Puddles Peppa Pig
What did we do before Peppa Pig? She has completely captured the hearts of our preschoolers hasn't she, my two are obsessed with her. They have books, figures, DVD's, games, you name it so when we were sent Jump In Muddy Puddles Peppa I felt sure she would be an instant hit. Thinking back I should have remembered what my two can be like with automated characters, they freak out!
I should point out that my tiddlers aren't great with loud noises, they seem to have extra sensitive ears and eyes, they don't like bright lights either. When we stand in the queue to collect Little Bean from school Beanie Boy will stand with his hands over his ears until the school bell has rung because he doesn't like it and don't get me started on hand dryers!!!
But getting back to Peppa Pig . . . Jump In Muddy Puddles Peppa is a really cute plush toy who is covered in mud, something which my two love more than anything is jumping in Muddy Puddles, another reason I thought they would love this toy. Press the button on Peppa's chest and she will start jumping up and down and will natter away with one of her favourite sayings, she can even count to 10 which is great for helping your little one to learn. Beanie Boy has been practicing his counting quite a bit just lately and although I can't get him to actually sit and count with Peppa he will happily watch her and count along with her from the end of the room.
There are other great new toys in the Peppa Pig collection from Character including;
Peppa Pig Tree House Playset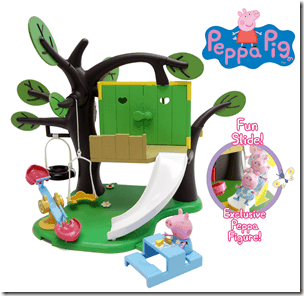 Peppa Pig Dance Playset
Peppa Pig Dress Up Playset