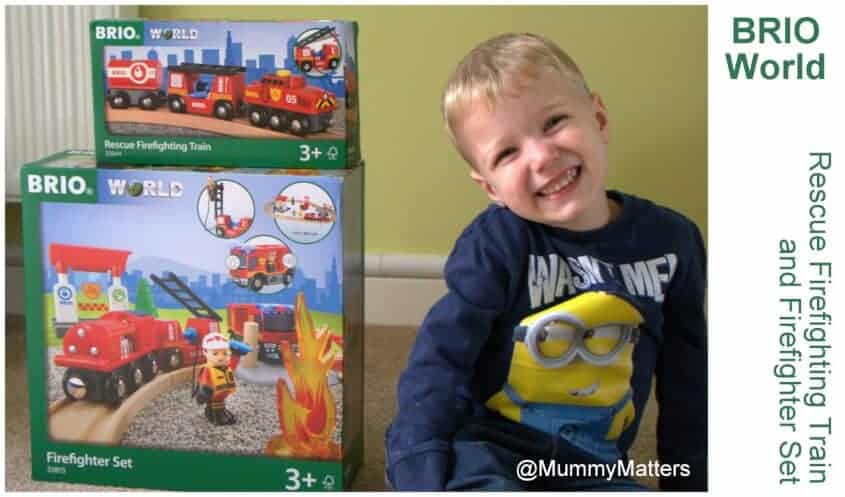 Brio World Firefighter Set and Rescue Firefighting Train
It always amuses me how completely different each child is in their preferred toys for play. When Curly was very little he loved Brio so Nanny and Grandad created him a Brio World table which they kept in their playroom for when he went to visit. Little Bean and Beanie Boy never felt the pull for it but Jelly Bean is in his element when presented with a box of Brio World.
Making Jelly Bean's Day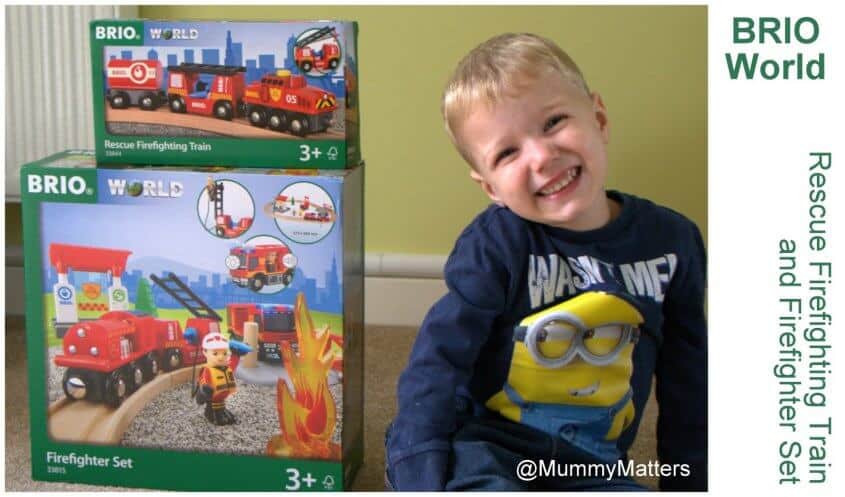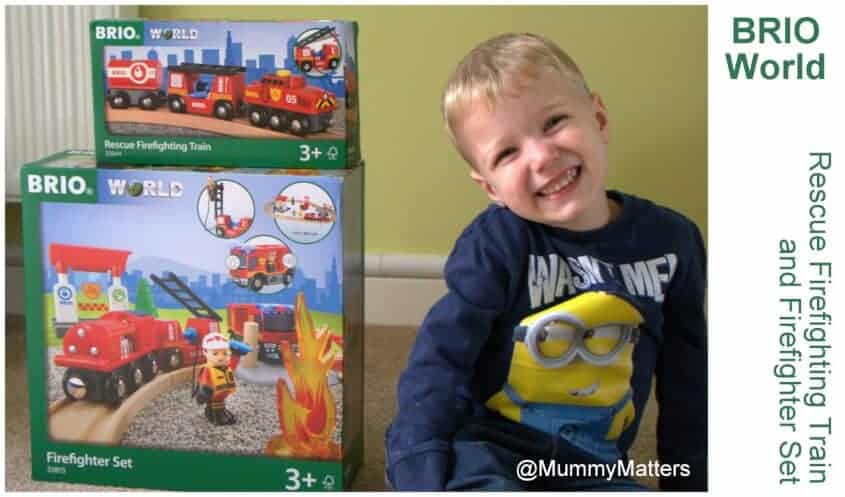 Last week I made his day when I presented him with a surprise parcel in the form of the Brio World Firefighter Set and Rescue Firefighting Train. His little face was a picture when he saw that they were Firefighting trains as he does love the Fire Brigade. We set to work quickly on building the track . . . actually no WE didn't, I DID! Jelly Bean disappeared with the trains and told me to "shout me when you have finished building Mummy". Good to know who's in charge then.
Brio World Firefighter Set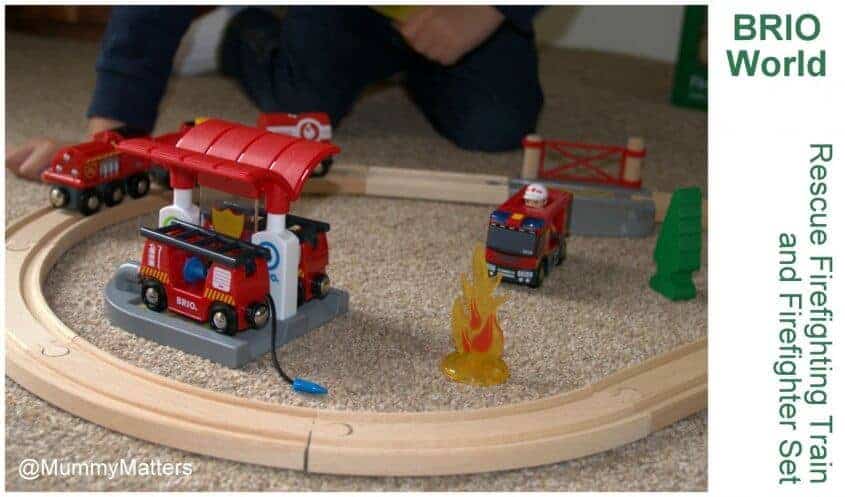 The Brio World Firefighter Set comes with 18 pieces which include:
1 x Train Engine
1 x Trailer
1 x Fire Engine
1 x Mini Station
1 x Tree
1 x Fire
1 x Firefighter
1 x Level Crossing
8 x Curved Tracks
2 x Straight Tracks
Unsurprisingly Jelly Bean's favourite piece was the Light and Sound Fire Engine. At the touch of a button the sirens sound and the lights flash, there is a lift up section to the top which allows the Firefighter to be placed quickly and easily into place ready to attend the Fire in record time. We have been having a lot of fires that he needs to tend to since the arrival of the Fire Engine. The Trailer has a ladder which raises up and the Fireman can climb to reach the fires up high using the extendable hose and then return to the Mini Station to refuel, top up with water and tend to the hose and ladder ready to wait for the next emergency call out.
Brio World Rescue Firefighting Train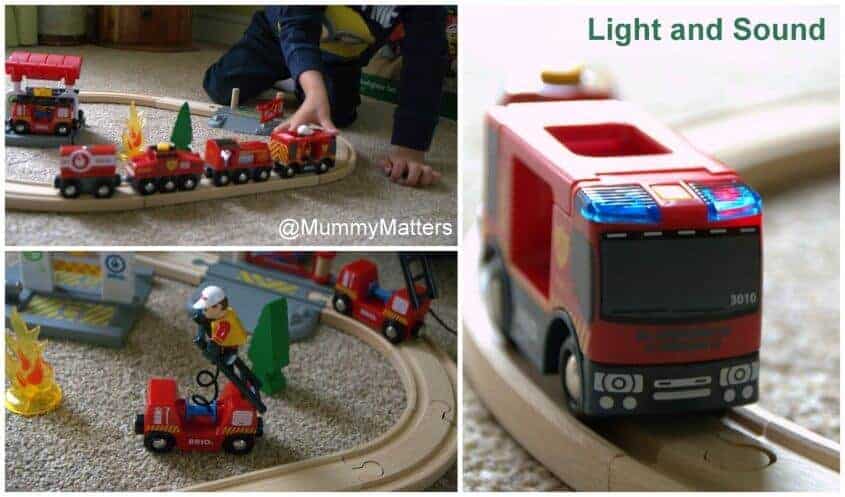 The Rescue Firefighting Train set consists of 4 pieces:
1 x Fire Rescue Train
1 x Trailer
1 x wagon with 1 x Removable Water Tank
Push the button on the top of the Fire Rescue Train to release for quick release in an emergency. As with the Firefighter Set, there is a trailer with ladder and extendable hose as well as a wagon with removable water tank.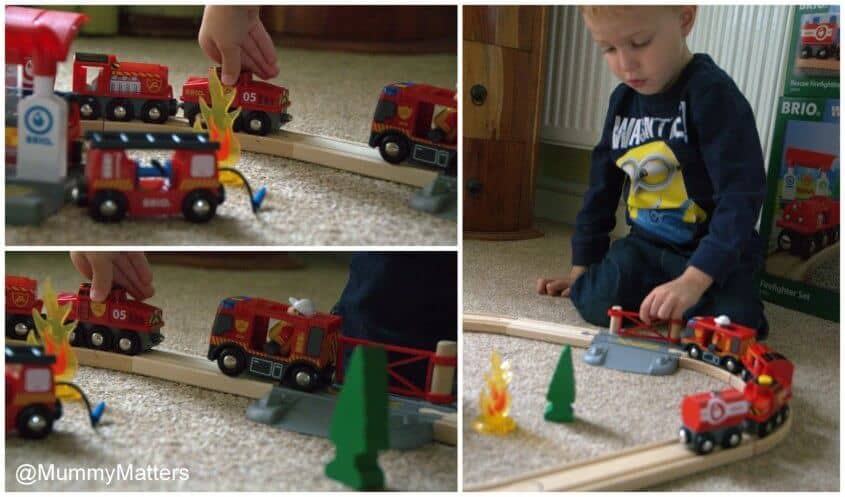 The great thing about Brio is that it is fully compatible with other Brio trains, sets and tracks. They are made from sustainably sourced Beechwood and high-quality plastics and feature the classic Brio magnetic couplings which make them perfect for little hands to put together and pull apart. Funnily enough, one of the first 'scientific' discoveries which Curly made as a child was about magnets which were all down to his Brio train set.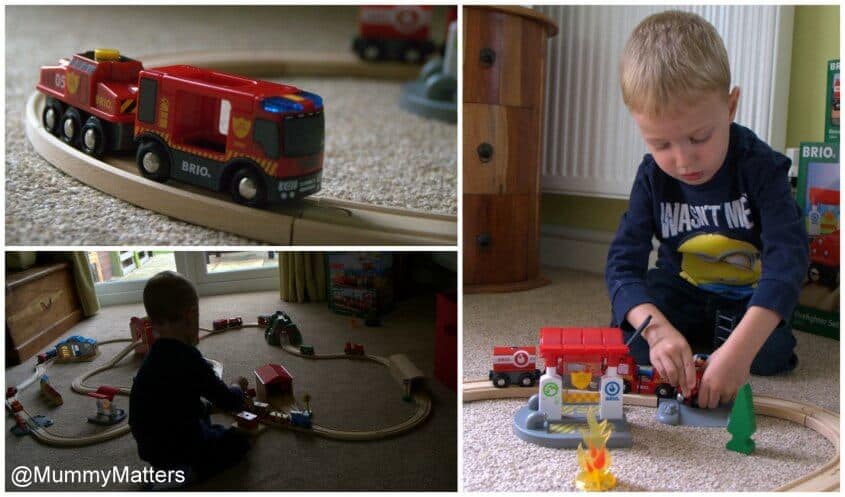 Brio is perfect for engaging their imagination and encouraging role-play. Jelly Bean loves his new sets and has enjoyed adding them to the rest of his Brio World collection to create a larger playset.
DISCLAIMER: We were sent the Brio Firefighter Set and Brio Rescue Firefighting Train free of charge for the purpose of this post. All words, images and opinions are my own and may not be copied without my permission.