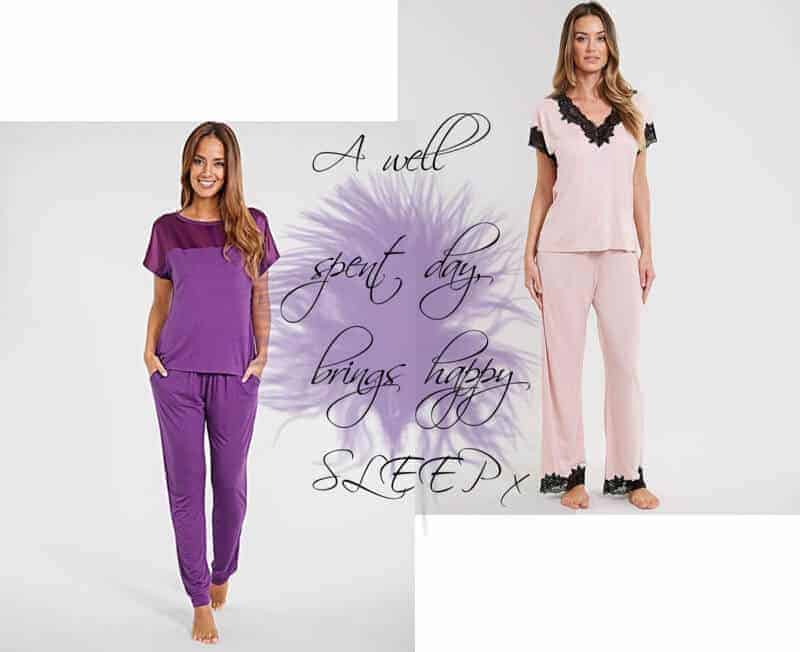 6 Perfect Pyjama Sets for a cosy Winter's night
Despite the fact that Summer is most definitely my favourite season of the year, I do love a good Winter's evening. Coming home, closing the curtains on the dark night and slipping into a pair of pyjamas to relax on the sofa with warm milky drink, the latest blockbuster film and snuggle up with Hubby.
I have been checking out what's available online and have found a lovely little selection of women's pyjamas for your Winter's night all from online store SimplyBe. I could have gone on and on as there were so many to choose from but these are my favourites.
Happy sleep by mummy-matters
For those who love pyjamas but still want to feel feminine and sexy I think these are beautiful. The purple Camelia Soft Touch Tapered Leg set is supersoft and trimmed with Luxe satin and features a classic round neck top and a tapered pant with elasticated waste.
The Claudette Pyjama set encapsulates romance, it is elegantly designed with a feminine shape, V-shape neck line and edged in delicate lace trim and drawstring pants.
When you wish upon a star . . . by mummy-matters
Don't you just wish for a chilly night and an open log fire with these two gorgeous pyjama sets from Pretty Secrets. The quilted loungewear pyjama set will be perfect for Christmas morning with the applique star motif to the front, contrast stripe trims and a functional tie waste. The jersey pyjama set has a classic 3/4 sleeve top with abstract print bottoms are simple yet stylish.
Relax, refresh, revive by mummy-matters featuring a pajamas
I'm a sucker for stripes so I don't see why my pyjamas should be any different? These traditional monochrome pyjamas have just the right amount of pink to keep them feminine with pink buttons and pink contrast tie waist. My final pick is this eye-catching loungewear set which is just asking for an evening chilling on the sofa with a good book. This Pretty Secrets set has 3/4 length sleeves, an elasticated waist with functional tie and cuffed trousers.
What do you look for when selecting your new pyjamas or loungewear? Do you have a go-to shop or a particular style you can't live without?