Beanie Boy's First Year at school is complete
I don't think I will ever get used to how quickly the school years fly by. One minute I'm packing Beanie Boy off to his first day at Primary School, the next I'm sitting in the school hall waiting for his Graduation to begin.
One by one, Beanie Boy and his classmates filtered into the school hall. All the boys had their shirts tucked neatly into their trousers and the whole class were wearing their handmade Mortar Board hats. Once seated it was like watching a slapstick comedy sketch as hard kept falling off each time a child moved their head and knocked their hat against the person next to them. It had obviously been the same in their rehearsals because the teaching assistants were limed up behind them ready to recover the hat and pop it back on the head from whence it fell.
Looking at the children they all looked different from those we had sent to school in the previous September, slightly bigger, much more confident. In unison they all rose to their feet and the stereo burst into song. The children sang along to Heather Small's Proud.
Afterwards, their Teacher gave a little speech about how much she and her team were going to miss the children, she talked about some of her happy memories from their first year at school and then invited some of the children up to read out their best memories of Reception. Hubby and I were very proud parents as Beanie Boy stood up in front of all of the parents and said "I liked Sports Day because I won the Bean Bag Race. I can write sentences and I like reading".
The children all returned to their seats once more and as the next piece of music began they got to their feet ready to sing. This time they sang 'World's Greatest' by R Kelly. Now it clicked into place, Beanie Boy had been singing lines from the song at home for a few weeks now but I just couldn't place it. As the children sang along with their heads held high I felt a surge of emotion and had tears welling up in my eyes, such a perfect song and such a proud moment.
Finally the time for their ' Graduation' had come and their Head teacher made his way to the stage wearing his own handmade Mortar Board. I love how he always enters into the spirit of things with the children. He gets very involved with each of the classes through the school and has a good relationship with all of the children. Home of them are scared of him but likewise they respect his position.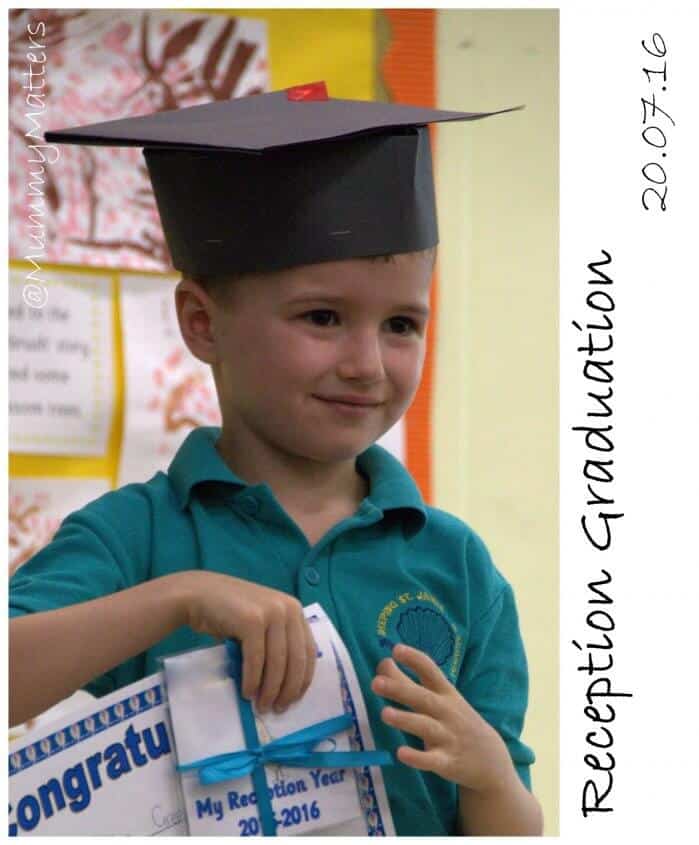 One by one the children were called up to be presented with their Graduation Certificate and a special CD of their online Tapestry journal, such a precious record of their First Year at school.
Their Teacher then invited the children to throw their hats in the air like they do at a real Graduation Ceremony. Hubby and I giggled as Beanie Boy only threw his a little bit. He said later that he didn't want to get it spoilt.
Afterwards we were invited back to their classroom so that children could show us their Topic books before they were sent away to storage ready for Ofsted. Beanie Boy proudly showed us every single page of his books. It was a lovely end to his first school year and now School's out for Summer let the fun begin!!!