An evening at The Body Shop #QBlogger Event
The Body Shop has been around for as long as I can remember. During my teenage years, the classrooms were ripe with the smell of White Musk perfume and Morello Cherry lip balm. My Mum always swore by their Elderflower Eye gel and I always loved their selections of body lotions.
I used to buy most of my makeup from The Body Shop and then one day I just stopped. I didn't have a reason for stopping other than I didn't really go into town as often so days turned into weeks, months and years before I set foot in the shop again.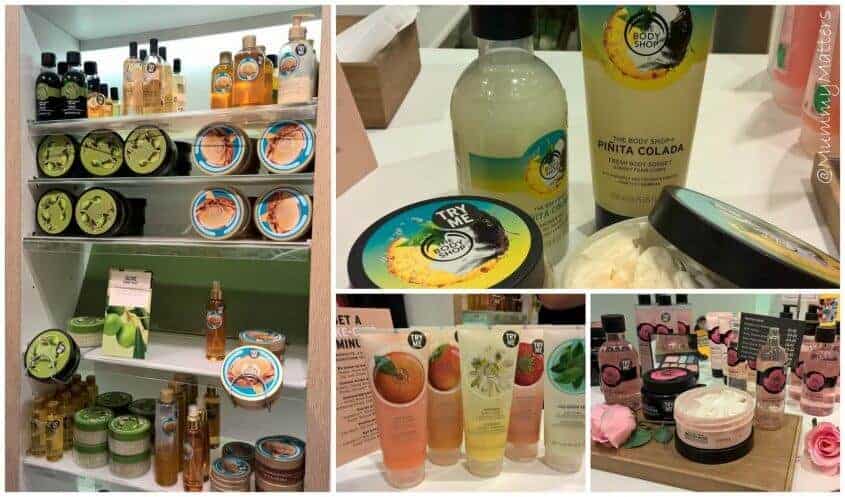 Earlier this year The Body Shop relocated in Queensgate Shopping Centre to a more central store and with its white painted walls and bright lights, it looked more inviting so I went in. Straight away I was transported back to my youth by the familiar smells and over the months I have found myself filling up my bathroom cabinet with more and more delicious smelling Body Shop products.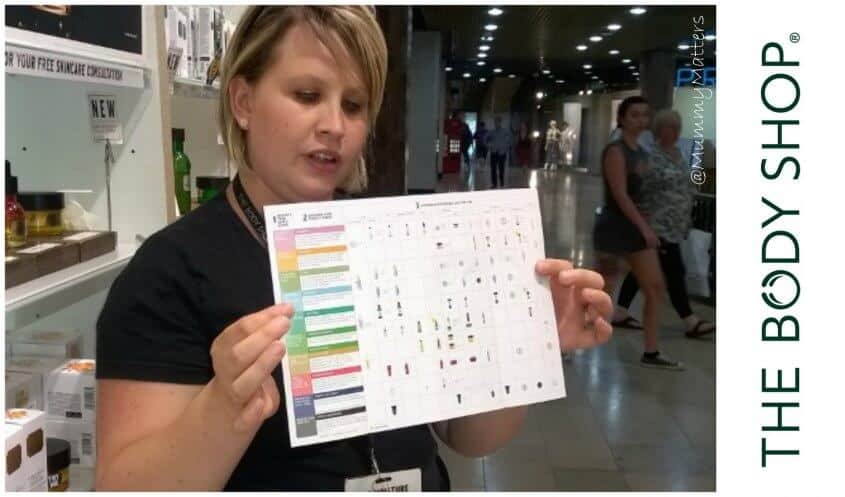 Just before I went off on our camping trip last week I was invited to the store as a #QBlogger to hear more about their range of Face, Body, Spa and Makeup ranges. We were greeted by Lisa who started out her Body Shop life doing home parties and now works instore, she has a real passion for it and us enthusiastic in sharing her knowledge.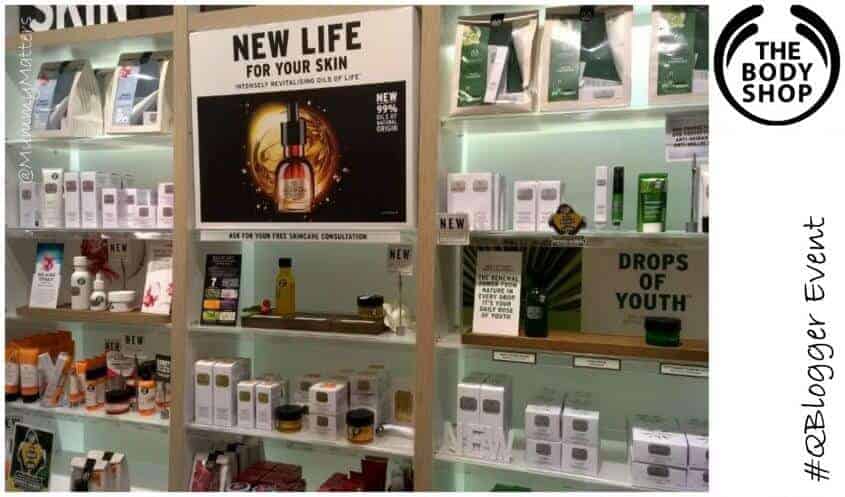 Lisa worked her way around the store pointing out some of the latest products to hit the shelves and the most popular ones. I particularly liked the 'Drops of Light' skincare range. Ever since I was pregnant with Little Bean during the Summer of 2008 I have suffered from Melasma or 'dark spots' on my forehead and cheeks during the Summer months when I catch the sun.
The Drops of Light range is clinically proven to reduce the number and intensity of dark spots making skin instantly look brighter and more luminous. They also had a lovely 'Drops of Youth' range but sadly I'm already too old for that one! Aimed at age 20+, Lisa says a little goes a long way. It renews 3 layers deep and is great for tackling lines and wrinkles, replacing elasticity and provides super hydration for the skin.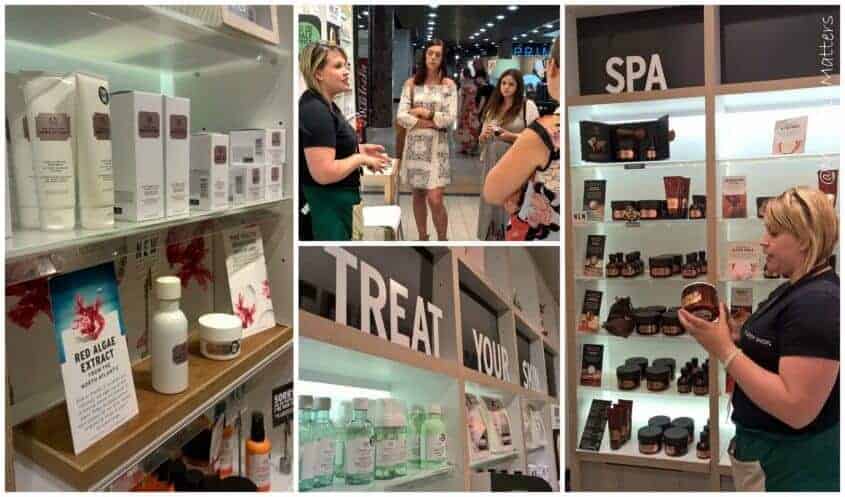 If you have issues with blemishes, redness and feel your skin needs purifying then good old Tea Tree is still your best option and at The Body Shop they have a great range of products to help. Lisa highly recommended the foaming facial cleanser as a great way to start the day.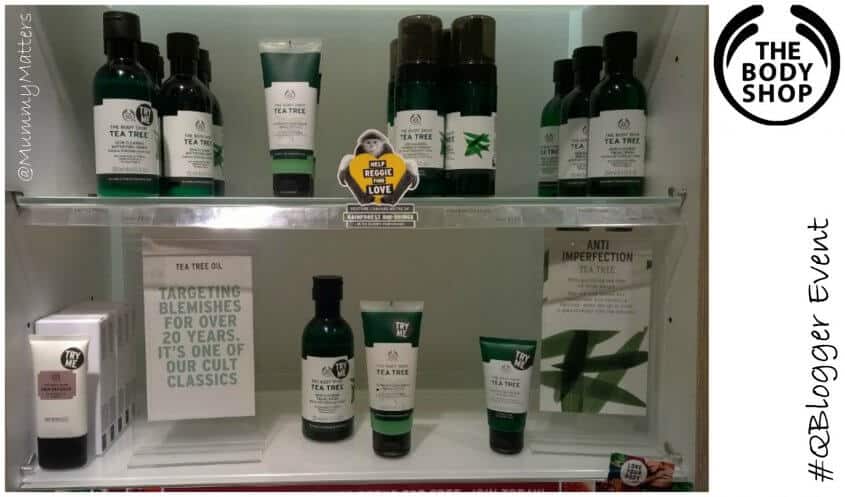 Lisa asked if any of us had any particular conditions we wanted to tackle and I immediately thought of Jelly Bean who has a terrible rash across his back from where nappy sits. He's always quite a hot little fella so he sweats a lot. She recommended that we use Hemp cream and gave me a tester pot to take home to try on him.
I'm delighted to say that just over a week since I started using the cream his rash is now all but gone so I'm amazed and naturally, Jelly Bean is very happy not to have a sore and itchy back.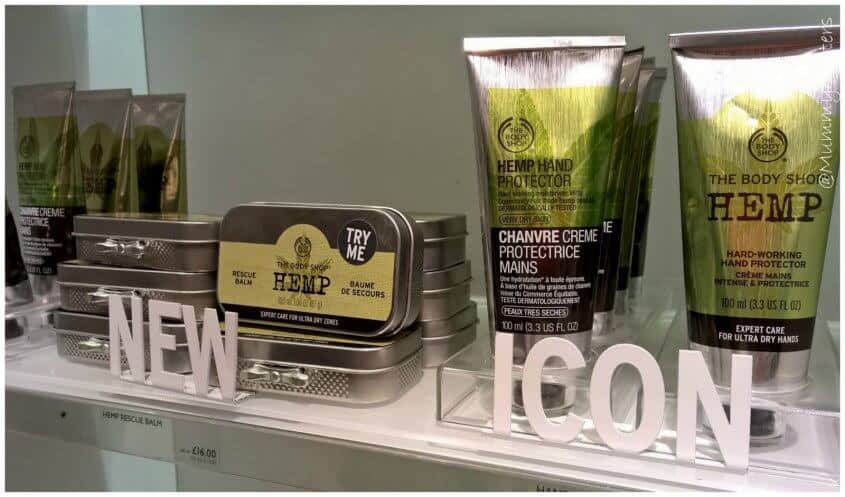 As I said at the start of this post, I used to buy a lot of my make-up from The Body Shop so I was quite excited to see what developments had been made. We were each given a tube of The Body Shop BB Cream which transforms from a white cream to match your skin tone.
I have been using this nearly every day since the #QBlogger event and I have to say I love it. I tend to go for a very natural look with my make-up during the day and I love how this evens out my skin tone to give me a fresh-look face and a great base for my eye make-up too.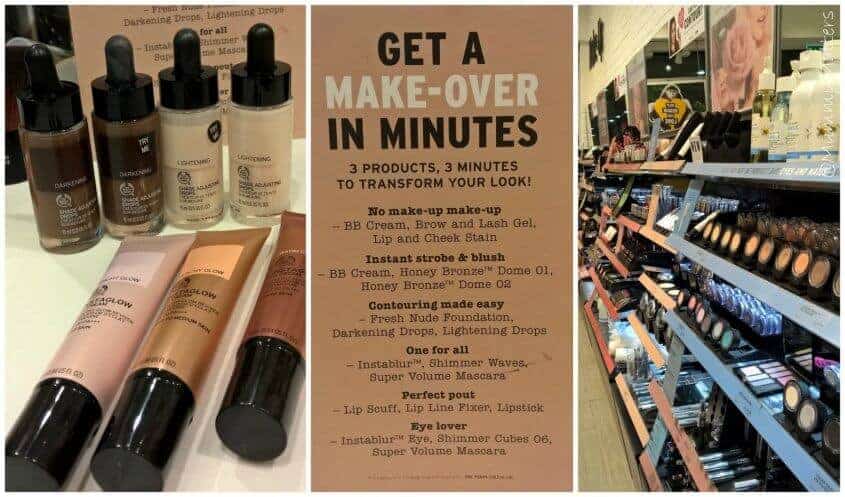 Did you know if you pop into The Body Shop you can make an appointment for a mini-makeover or even there and then if they aren't too busy? It's a great way to find out what make-up products suit you as it's so easy to stick to the same old products time and time again. I should know, I've been using the same eyeshadow trio for the past 7 years!! However, I am now the proud owner of a very pretty green eyeshadow I bought on my return visit to The Body Shop the very next day.
If you pop over to Makeup Muddle you can see what Gemma thought to the Cool Cucumber and Zesty Lemon Summer Collection from The Body Shop which looks amazing.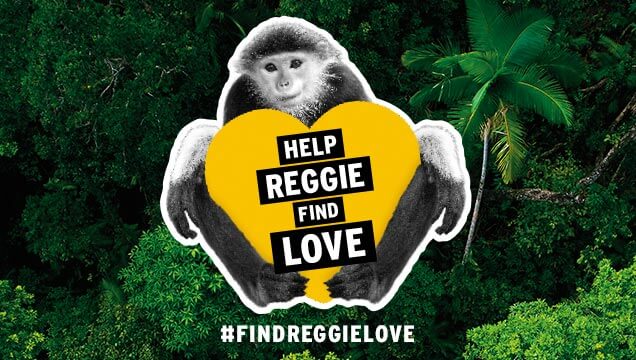 The Body Shop is still true to its original values, nothing is tested on animals and everything is ethically produced. They currently have a great initiative running called 'Help Reggie Find Love'. For every purchase made, The Body Shop will contribute 1p towards helping to restore Bio-Bridges. Bio-Bridges are restored wildlife corridors within damaged landscapes that help endangered species reconnect, enabling them and local communities to thrive. Find out more about Reggie and his search for love by clicking the link above.
DISCLAIMER: I was invited to attend The Body Shop event as part of my role as a #QBlogger. I received a goody bag of products in exchange for attending the event and sharing my views in this blog post. All words, images and opinions are my own and may not be copied without my permission. I have not been instructed what to write.