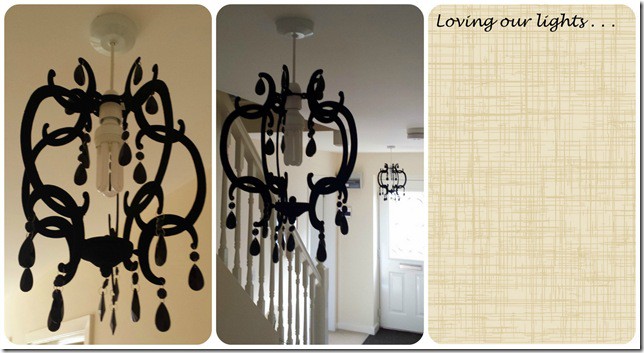 Bargain finds . . .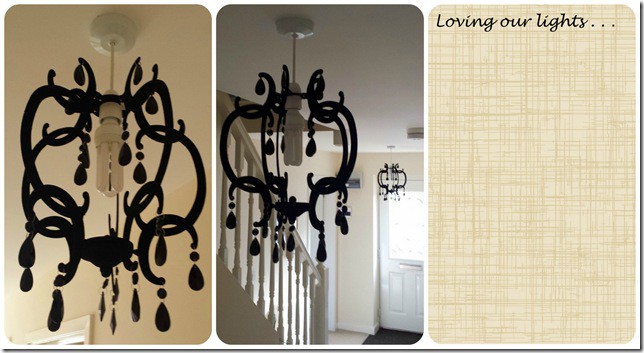 This week Hubby has taken a few days off with me and the children. The weather hasn't been the best so we've been spending a lot of time at home which meant that we have been spending a lot of time looking at all the things which we want to change around the house. When we had to take a trip to B&Q to get some more wallpaper to finish off our downstairs toilet we spotted these great light 'shades' which were a bargain at only £8 each. Our hallway, stairs and landing has always been an odd one. Downstairs it's all brown and cream but upstairs is black and cream so we have decided to bring the black theme downstairs to keep the flow going.
We found some cream damask wallpaper in Laura Ashley at just £4 a roll which we will use to make a feature wall at the top of the stairs. We bought some shabby chic frames from The Range which I am going to paint black and white, we have our 'Family Tree' picture to go up and we are looking for a Quote wall freeze to go in the downstairs hall and a set of black shabby chic drawers for the landing then I think we will be just about there.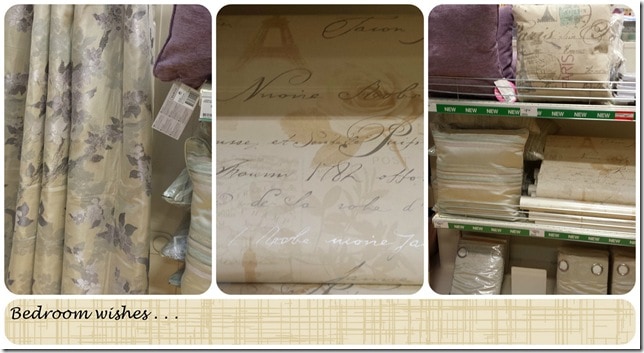 We have also been thinking about decorating our bedroom for a while now, it's the one room in the house which we have done nothing at all with since we moved in other than move it around a bit but we spotted this new range in B&Q and we are in love so maybe that will be our next project. Watch this space . . .