Did the Andrex Clean Routine work for us?
New research from Andrex has revealed that 63% of parents don't think their little ones are fully ready to clean themselves properly after the toilet, without parental supervision before they go to school for the first time and 40% admitted to still wiping their child's bottom well past their first year at primary school – some up to the age of 7!!
As a result of their findings Andrex commissioned the Andrex Clean Report to get a closer look at the cleaning habits of the nation and the physical and emotional benefits of being clean in our intimate areas.
So how do you compare to the rest of the nation?
34% of parents rate teaching their children how to clean after going to the toilet as their most difficult parenting task
15% felt that teaching their children to brush their teeth was the most difficult
5% found it tough teaching the children to hold their cutlery
3% struggled with teaching their children how to blow their nose

For the past week our household has been trialling the Andrex Clean Routine. In order to do this we were sent the following items;
A week's supply of Andrex Classic White toilet rolls
A week's supply of Andrex Washlets moist toilet tissue
A laminated Andrex Clean Routine guide for the bathroom
An Andrex Star Chart and stickers so we could map our progress
An Andrex Puppy goodie bag
Hand wash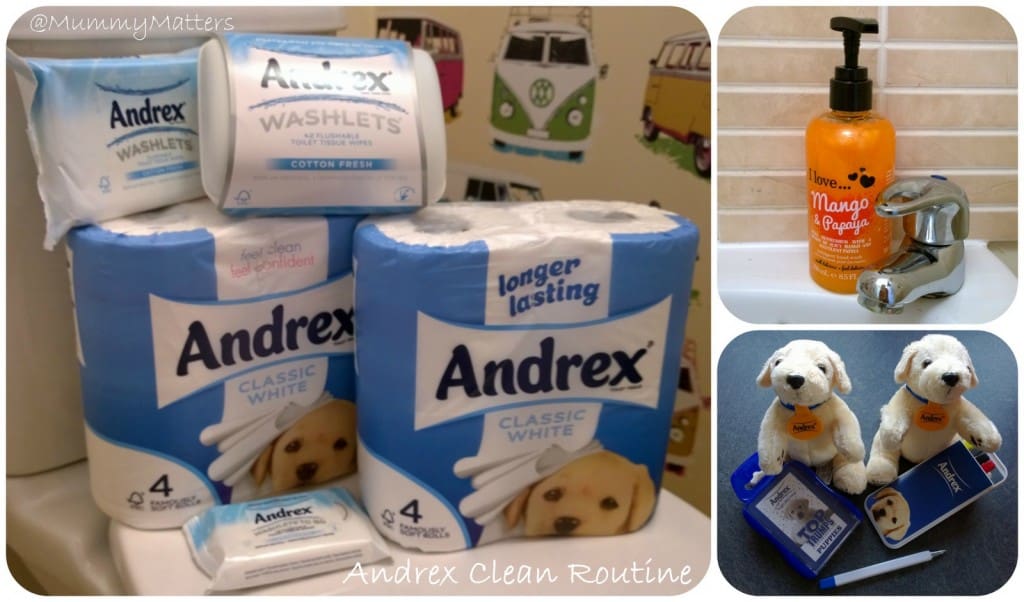 At the beginning of the week we sat down as a family and explained what we had been asked to do and more importantly we explained to the Beans (again) what they needed to do as part of their toilet routine. We are definitely within the 34% of parents who find it difficult to teach the Beans the toilet routine. We have tried rhymes, rewards, watching over them but still the lazy little monkeys will avoid wiping bottoms and washing hands at all costs.
Little Bean is perhaps our worst offender and as a result is the one who always has red inflamed privates which she gets very upset about. As a parent this is very frustrating because no matter how many times we have explained to her that if she would just clean herself properly after going to the toilet then she wouldn't have the soreness.
At 4 years old Beanie Boy is a bit hit and miss with his intimate cleaning dependant upon his activity. Most of the time he is pretty good and will often ask "can you check my bum" to which I generally tell him that he is old enough to check himself now but if he is in the middle of an activity that he is eager to get back to then he will skip the cleaning altogether (until we send him back to the toilet).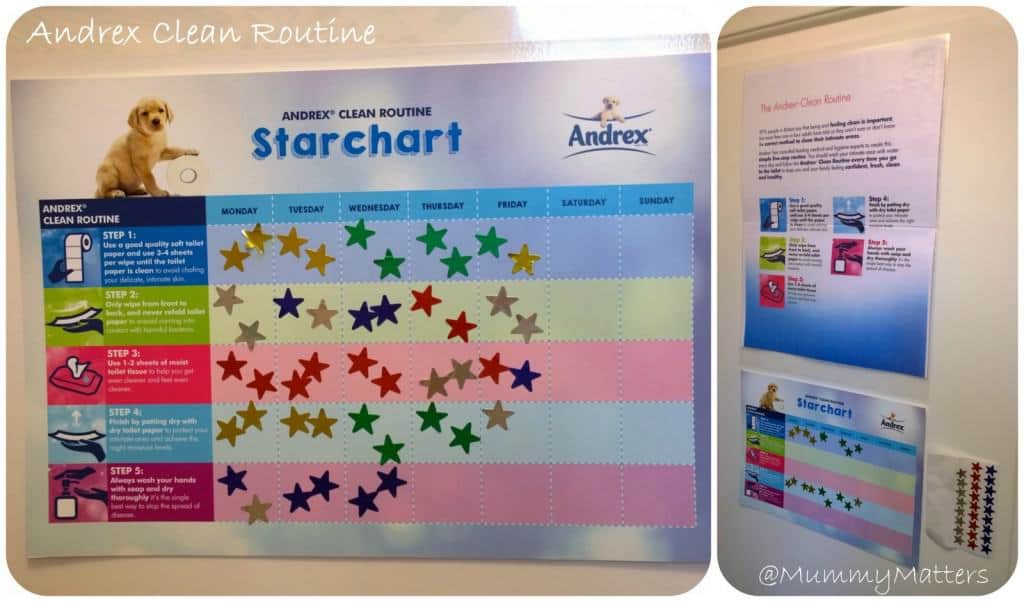 The past week has been mostly a success and I think that is down to the fact that I have had the visual chart for the Andrex Clean Routine in the bathroom and it is one that they can both follow even though Beanie Boy can't read. We currently have a big focus on reward charts in the house so the Beans have been eager to please.
Before the Andrex Clean Routine we hadn't tried the Andrex Washlets but I definitely think these helped the Beans, even Hubby, Curly and I have commented that we like them and will continue to use them because we feel so much fresher.
I think the biggest noticeable difference for us has been with Little Bean who has been much happier now that she isn't sore. She is sleeping better and so has been in a better mood all round. She has also LOVED the new handwash and will often come out of the toilet saying "Mummy smell my hands" which is worrying to start with but then I realise it's because she wants me to smell the soap. Beanie Boy says that he likes the washlets because he says that his bottom feels 'all clean' and he hasn't been calling for me to check so I have been able to tell him how proud I am that he is being such a big boy and this has had the knock-on effect that Hubby and I don't feel as stressed out by constantly having to check bottoms and sore private areas.
As a result of our trial I have decided to keep the star chart going with the Beans in the hope that it will become a more natural routine for them.