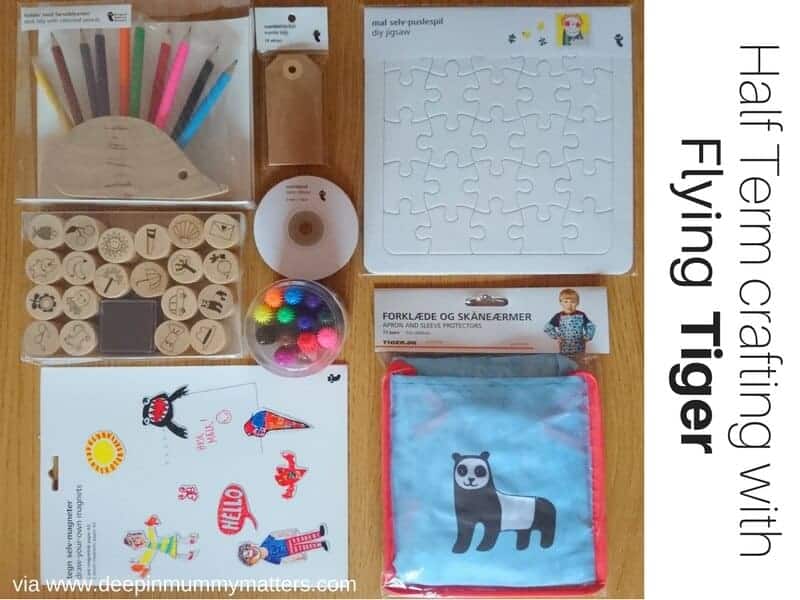 Affordable Half Term Crafting with Flying Tiger stores
I may have let out a little squeal when I was asked if I would like to work with High Street store Flying Tiger, known to most people simply as 'Tiger'. Whenever I pop into town I can NEVER leave without paying them a visit, they have EVERYTHING that you didn't know you ever needed and more. I remember the first time I introduced Little Bean to Tiger she was so excited she didn't know where to look first.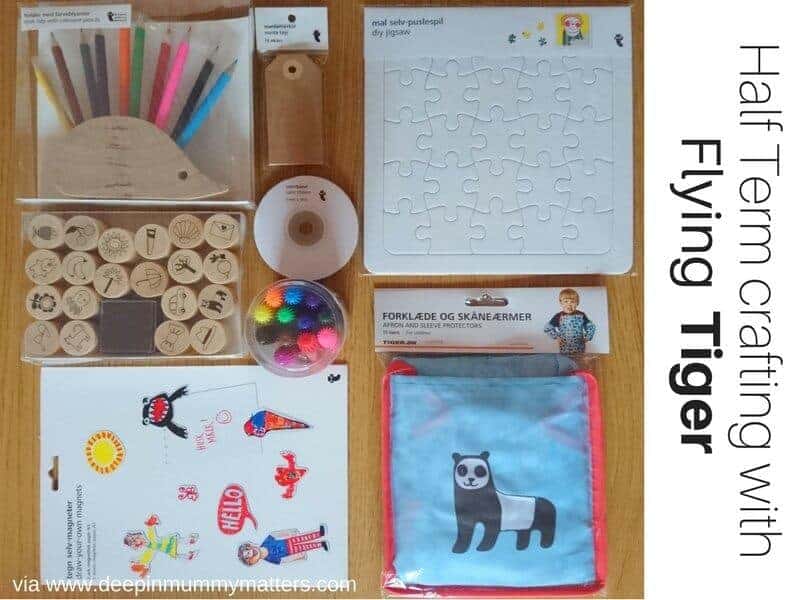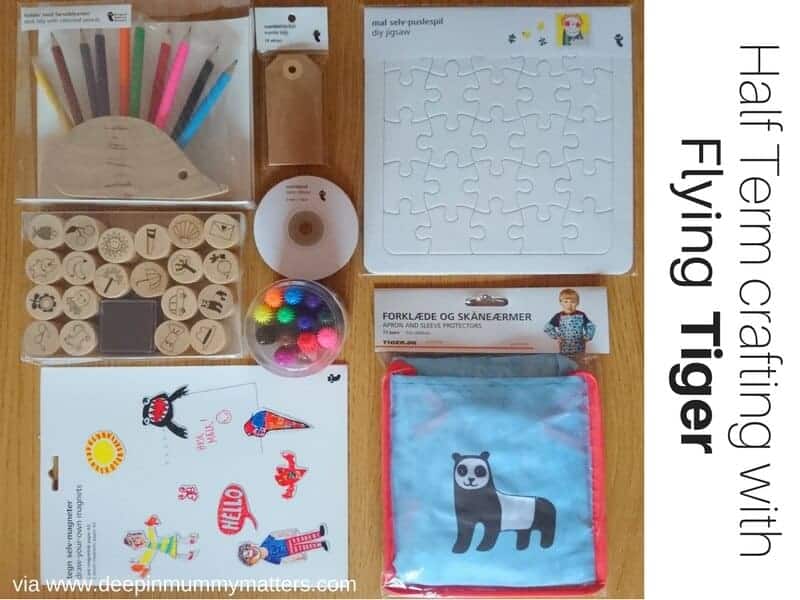 In readiness for the Half Term holidays we were sent a box of crafting goodies to entertain the Beans with but truth be told, we couldn't wait so we decided to hold a 'pre-Half Term/after school crafting party' all by ourselves. The Beans, I am pleased to say, all take after me in their love of crafting and it's one activity which we can do together without arguing and almost in silence as we are all so busy concentrating.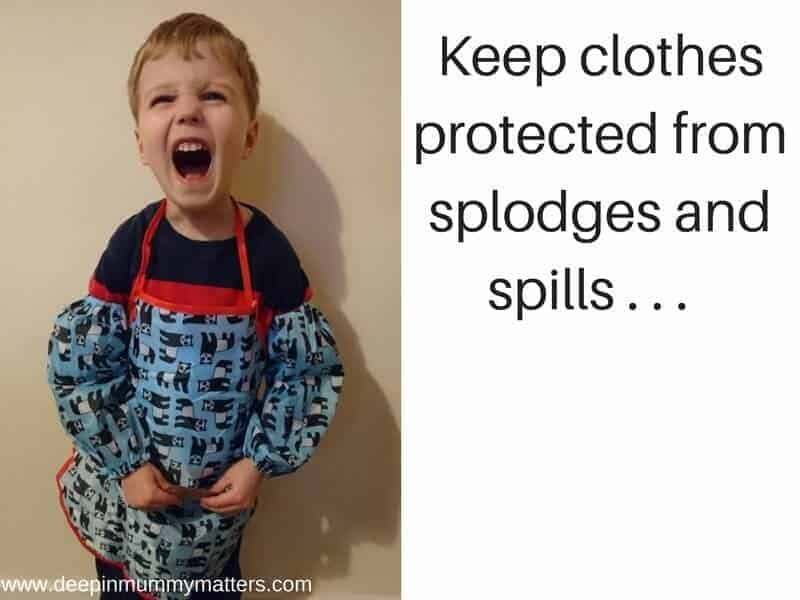 Over our years of crafting we have managed to work our way through many aprons and coveralls, they bear the signs of a fun crafting life. When Jelly Bean spotted this apron from Flying Tiger he VERY excited and being the messiest of the Beans I didn't hang around on getting him covered up ready to get stuck in with the ink pads and stampers. This apron comes with sleeves which aren't attached so they can be used only when necessary and for once they weren't so long that we had to roll them back – genius!
Before I unveiled the craft supplies to the Beans I must admit I cringed slightly as my little darlings do love to argue so I was already envisaging the carnage as they all wanted the same . . . I was wrong!! Beanie Boy said straight away that he wanted to draw his own jigsaw puzzle, Little Bean wanted to make magnets and Jelly Bean is a sucker for stamps so he chose the stamp set with gift tags and ribbons. I breathed a sigh of relief.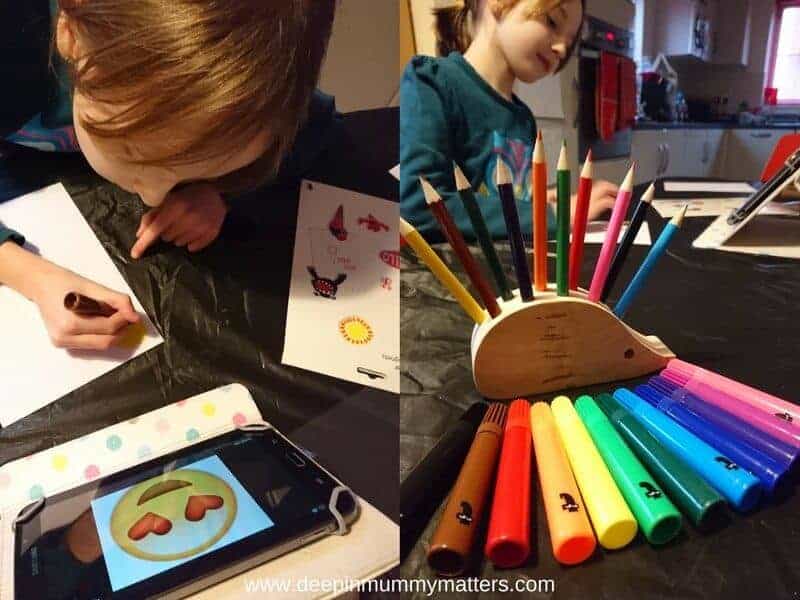 Little Bean didn't hang around, she has been wanting Emoji products for ages so she decided that she would have a go at drawing her own. The magnets have a paper front layer which can be decorated however you like. We received felt pens and crayons, Little Bean opted for the felt pens because she said that colours would be brighter.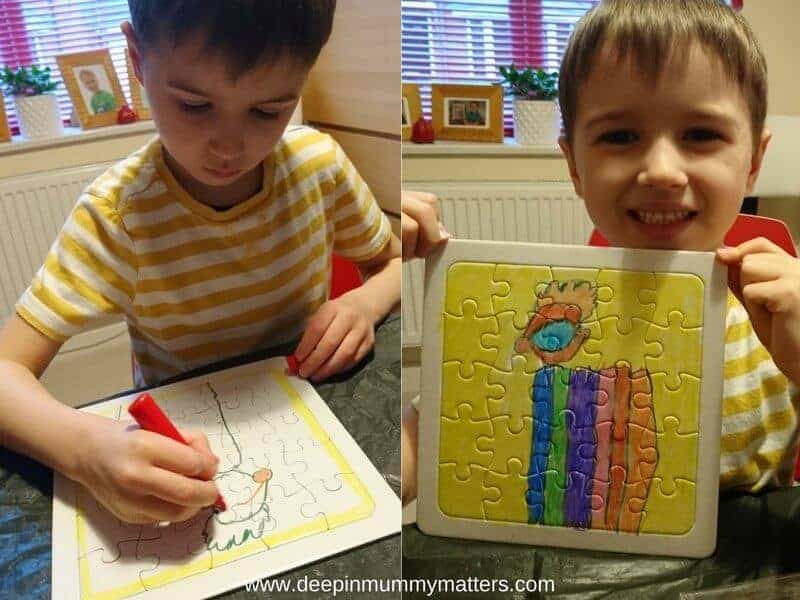 Beanie Boy is perhaps our least crafty Bean, when he was at preschool he would come out with a piece of paper with a cotton wool ball and a sprinkly of glitter and tell me "it's a picture of snow". I asked what he was going to draw for his jigsaw puzzle and he looked a little blank, I made a few suggestions which he thought were pretty naff so he opted to do his own version of the picture on the packaging. The great news is, I took the puzzle apart and was able to put it back together again.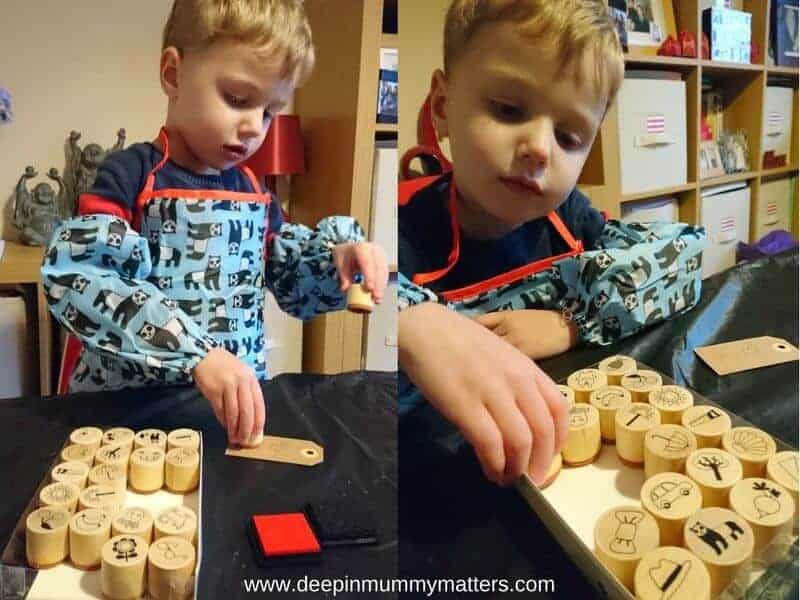 Jelly Bean was ever the sharing and caring little boy that he is and said that I could do stamping with him (I was going to do it anyway but better that he thinks he was letting me). The stamp set comes with two ink pads in black and red. The stamps were great although I did get a little frustrated that the stamps didn't always line up with the images on the top. This didn't worry Jelly Bean one bit. They were the perfect size for Jelly Bean's little fingers and I found them easy to handle too.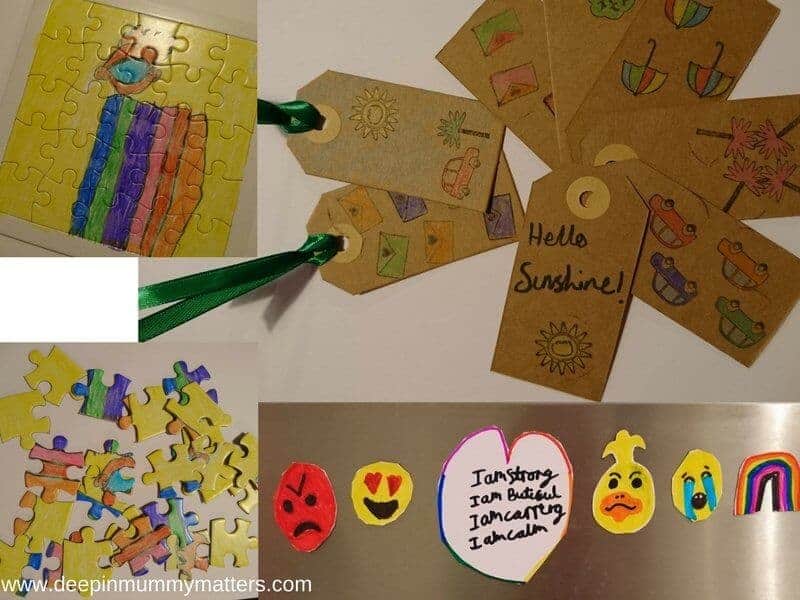 I added a little colour to the stamped gift tags by using the pencil crayons to colour in the pictures which was pretty effective.
Thank you Flying Tiger, we had a fun, relaxing afternoon with peace and quiet. We shall definitely be popping into store next week for extra supplies!
What are your favourite products at Flying Tiger?
DISCLAIMER: We were sent the above products in exchange for our honest opinion. All words, images and opinions are my own and may not be copied without my permission. I have not been instructed what to write.