5 ways to make an easy World Book Day costume
World Book Day is fast approaching, which means it's time to start thinking about costumes for your kids. The Kiddi Caru World Book Day survey, which was recently conducted by the nursery chain with over 750 parents, found that 40% chose to make their child's costumes themselves, and 80% of those making them in advance. So, with that in mind, here's a guide to five easy ways to make an effective World Book Day costume.
1. Mask templates
An effortless way to transform your child into their favourite character is with a mask, which can be just as easy to make yourself. If you have a pre-school age child, then the Gruffalo may be the World Book Day costume of choice this year, as it was rated the third most popular costume in the aforementioned survey.
Create a mask using a Gruffalo mask template with some card, attach a stick, or tie some string through holes on each side. With some brown clothes and this monster mask, your little one is ready to walk through Julia Donaldson's deep dark wood.
2. Easy accessories
Some kids don't really like dressing up, but that's ok – there's still a way for them to get involved in World Book Day. Roald Dahl characters are particularly effective, as his characters are usually just ordinary children but can be easily identified with just a couple of simple accessories. For example, you can create a golden ticket to be held by Charlie. A red ribbon, a blue dress, and a stack of books, and you've got yourself a Matilda. How about George from George's Marvellous Medicine? All you need is a big wooden spoon and a saucepan or medicine bottle.
3. Superhero capes
A superhero costume can be so easy to achieve with just a cape, and it may be the go-to for most parents, with the majority (68%) thinking that superheroes were a suitable costume for World Book Day, and 11% of those surveyed believing this type of outfit would be the most popular this year.
First of all, the costume base is simply clothes that match the shade of the character's outfit that your child wants to be. And the cape doesn't have to require any sewing either. If you have an old pillowcase, you can cut a hole in each corner of the closed end and thread through some ribbon, and it's ready to tie around your little superhero's shoulders. Or even easier, take a piece of longer fabric or bed sheet, tie the ends around their neck, and it's done!
4. Felt is your friend
Felt is such an affordable and easy-to-use fabric that it's perfect for embellishing plain clothes to transform them into a book-themed outfit. Plus, it's kid-friendly! That superhero cape we mentioned earlier – why not use some felt to create a logo on the back, something your children can help you make and design too.
Harry Potter is another easy character to achieve and a good choice to go for, especially as it took top position for the most popular theme for a World Book Day costume in this year's survey. Working your magic with some coloured felt, you can take a plain jumper and transform it into a Hogwarts house-suited school uniform, whether your child wants to be a grand Gryffindor or a sneaky Slytherin. Add the coordinating-coloured strips of felt as a trim on the jumper, and team with a white shirt, grey trousers or skirt.
5. Cheat costumes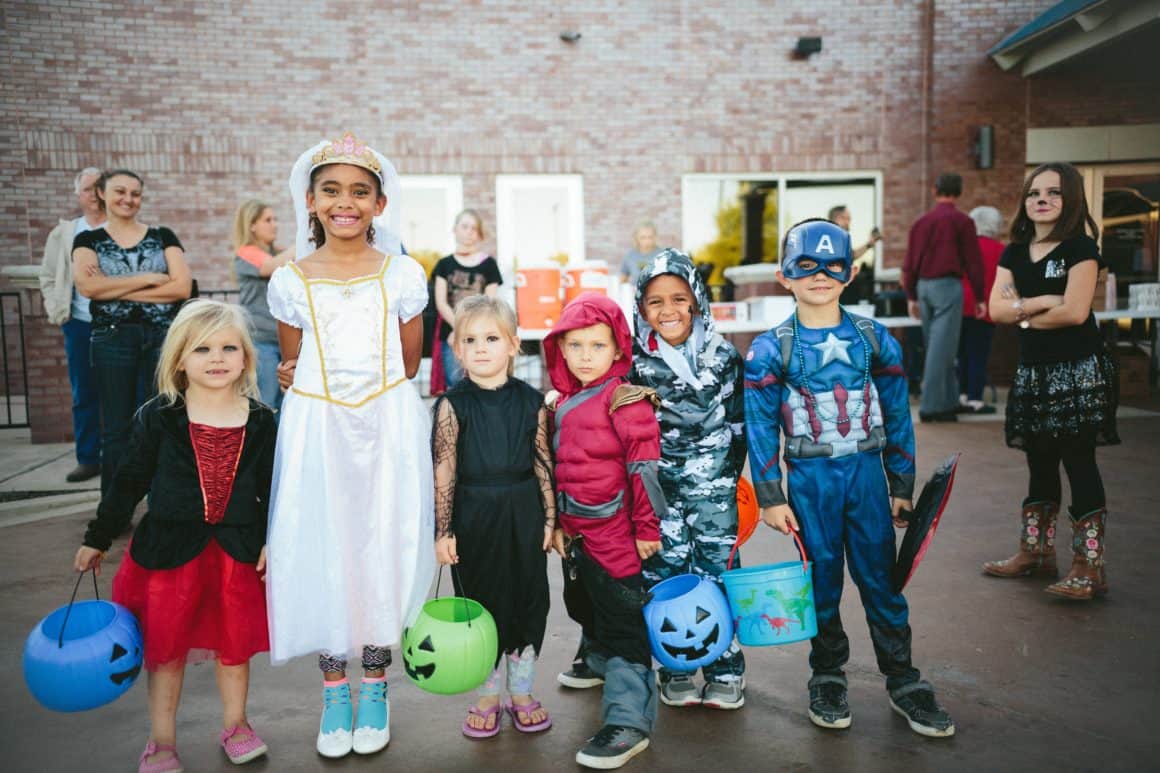 Whilst it may feel a little bit like cheating, there's no harm in re-using an old costume from a previous fancy-dress party or Halloween shindig to create one of your child's favourite book characters, such as:
Witches

– was your little one a witch last October? Then add a wand, or create one from a card using this handy template, and you've got the main character from Room on The Broom. You could also use this costume for The Worst Witch, The Witches or Winnie the Witch.

Pirates

– another classic Halloween costume that could just well be a book character. How about Captain Hook from Peter Pan or Long John Silver from Treasure Island?
Princess – a princess outfit can be found in pretty much any fancy-dress box, and nowadays, there is also always a book out there to match – Snow White, Cinderella, and Rapunzel, to name just a few. According to the survey results, 23% of parents thought that Disney Princesses, and Elsa from Frozen, in particular, were the most popular costume choice.

Fairy Wings

– another staple in the fancy-dress box, a pair of fairy wings with some carefully selected coloured clothing and your child can be transformed into a book character. Think green clothes and wings for Tinkerbell from Peter Pan, or how about all blue for the fairy in Pinocchio, and you can even choose from three fairies in Sleeping Beauty.
With these easy-to-make ideas, your child will be ready in a flash for World Book Day! After all, 74% of families said they are looking forward to the special day.