#10yearanniversary – 24 hours in Stratford-upon-Avon
On the 9th June 2017, Hubby and I celebrated our 10th Wedding Anniversary, it's unbelievable to think that we have been married for 10 years already, where does the time go?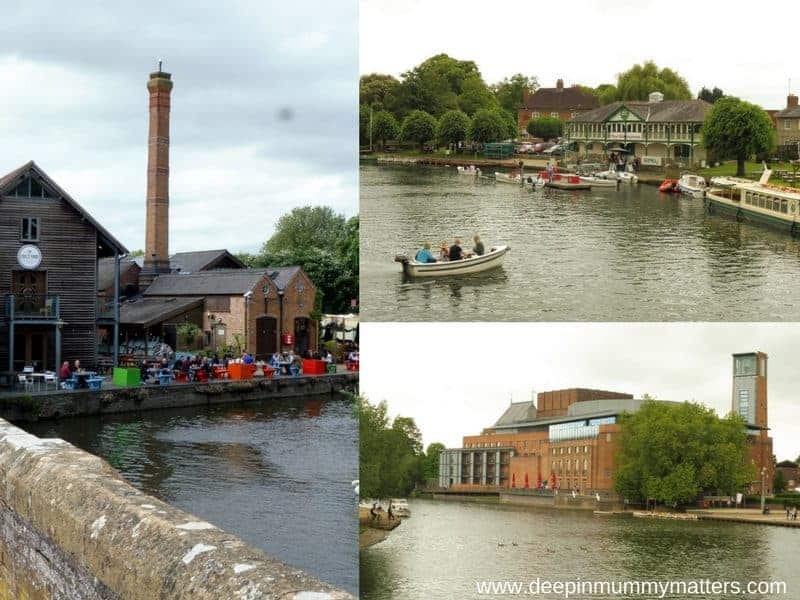 During our 10 years of marriage we have only stayed away from home 2-3 times without the children, unless you count the odd date night. Hubby booked a room for us at Arden House in Stratford-upon-Avon whilst my Mum would be staying at home to look after the Beans. It turned out that actually we wouldn't be staying at Arden House, Hubby had contacted them to say that we were celebrating our 10th Wedding Anniversary and they had given us a complimentary upgrade to one of their Master Suites in The Arden Hotel.
Whitewall Galleries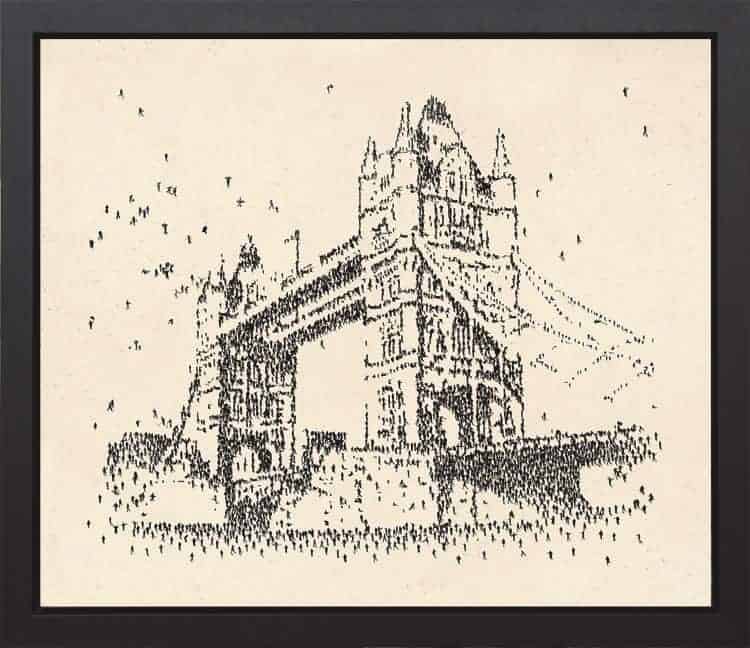 Since we had arrived early we decided to take a walk around Stratford-upon-Avon before checking into the hotel. The sun was shining, there was a slight breeze and it was really busy!! The last time we were in Stratford-upon-Avon was for our friend's wedding years ago but being there again felt like it was only yesterday. Before we knew it we had wandered into Whitewall Galleries on Sheep Street and lost ourselves over in the three floors of stunning artwork. We particularly loved Craig Alan's collection which portrayed iconic figures and landmarks through intricate figures and Doug Hyde for his fun and colourful artwork. I had spotted a Mini in the street outside which had been decorated in Doug Hyde graphics which looked amazing too.
Havilands Tea Shop on Meer Street
After a long drive we were ready for something to eat so we walked until we saw somewhere that took our fancy and stumbled upon Havilands Tea Shop on Meer Street. We spotted their sunny courtyard at the rear and received a friendly welcome before being shown to a table outside. Havilands was a busy place but the service was second-to-none and the food was delicious. It was the perfect start to our break away.
Shopping on Wood Street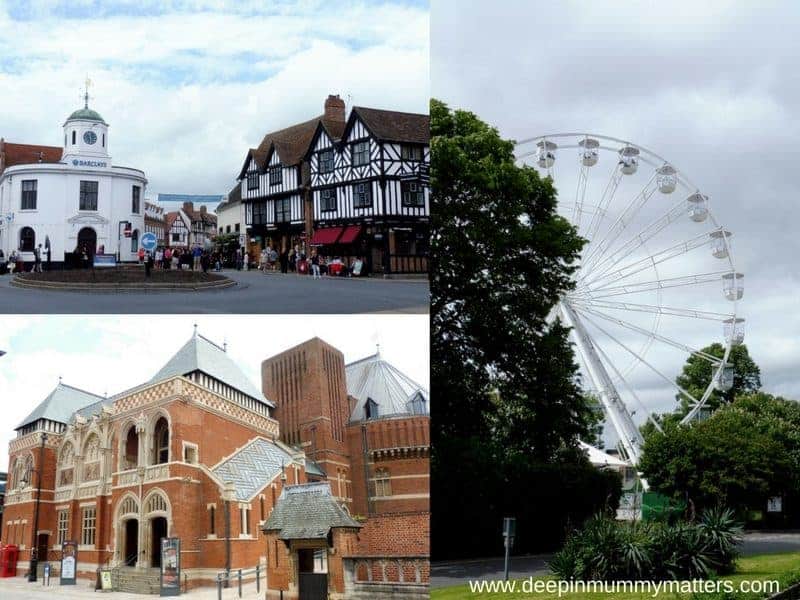 Had we been staying in Stratford-upon-Avon for longer then we would have visited the Shakespeare houses but we have been before so we decided to just relax in each other's company and take life a little slower. We rarely go shopping without the Beans so it was nice to be able to look and shop at our leisure. With shops like Joules, The White Company, Fat Face, Debenhams and M&S we found plenty to catch our eye. Unsurprisingly, we managed to have a little spend here and there.
Butterfly Farm
After our little shopping spree we took a walk down by the riverside and stumbled upon the Butterfly Farm. The Butterfly Farm is home to the largest selection of Butterflies we have ever seen as well as splashing waterfalls, fish-filled ponds and a collection of mini-beasts and reptiles. Other than the Butterfly enclosure at London Zoo, this was the first time I had visited a Butterfly Farm in about 6 years since our local Farm closed down. The Stratford Butterfly Farm had some beautiful species, you really had to look all over as they were everywhere; hiding under trees and bushes, flying through the air, on people's heads, hands and clothing. One landed on my shoulder and then another landed on Hubby's forehead!!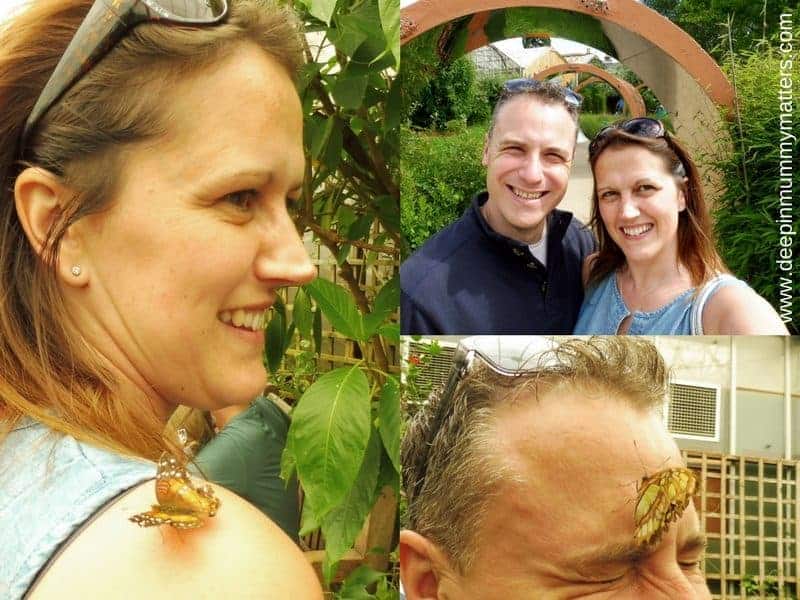 Relaxing at The Arden Hotel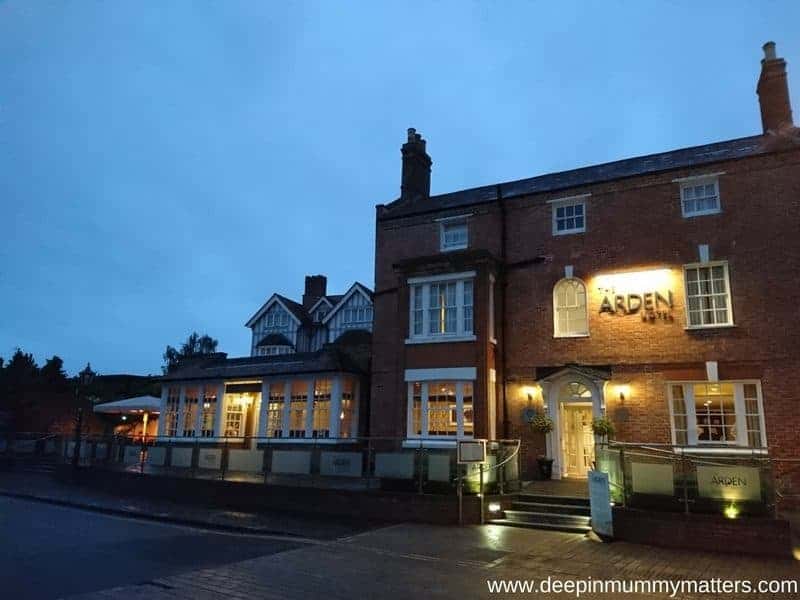 As you can imagine, it was stifling hot in the Butterfly Farm so we decided it was time to go back to our hotel to have a cold drink and relax for an hour or two. We arrived back at the hotel and stopped off at the car to grab our bags. As if by magic, the Concierge seemed to appear out of nowhere ready to take our bags. I mentioned earlier, Hubby had secretly secured us a complimentary upgrade to a Master Suite which was beautiful. The room was cool thanks to the air con and had a calming atmosphere. It had been decorated in all of my favourite colours, Hubby even commented that it had been decorated to suit my taste; dark wood and pistachio greens with blue, it was perfect. There was a HUGE bed and soft pillows to sink your head into and enough cushions to open a shop. Stepping further through to the supersize bathroom we found a deep bath, a cavenous walk-in shower and deliciously aromatic eSpa toiletries and robes.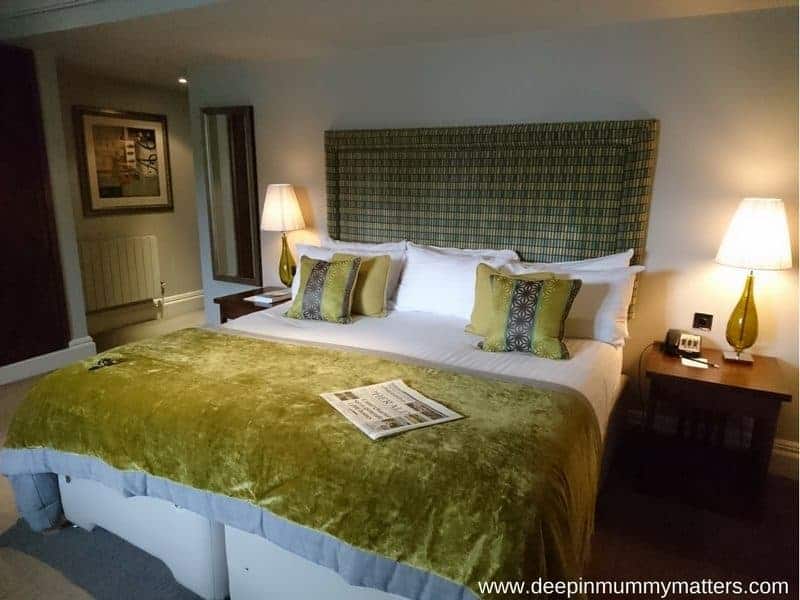 The one thing I didn't spot immediately was the bottle of champagne, chocolates and fresh fruit together with a card which was waiting patiently on the desk. Well, it would be rude not to, so we popped the champagne and toasted our anniversary.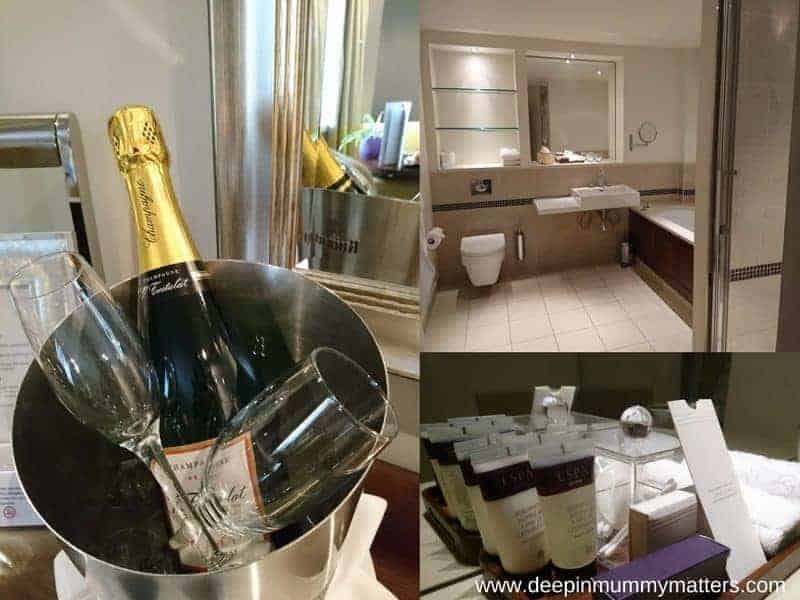 Whilst chilling in our room, I began looking through their directory of hotels within their group. How surprised was I to find out that the hotel we stayed in for the first three nights of our honeymoon, the Palazzo Sant Angelo is part of the same group of hotels. Cool coincidence I thought!
Dining at Prezzo
A few weeks ago, my Mum and I took the Beans to Prezzo in Stamford where I ate their seriously satisfying Chicken, Bacon and Avocado salad, it had been all I could think about ever since. So on Saturday afternoon, we had looked at the various eateries available to us in Stratford-upon-Avon and decided that Prezzo had exactly what our tastebuds desired and booked a table.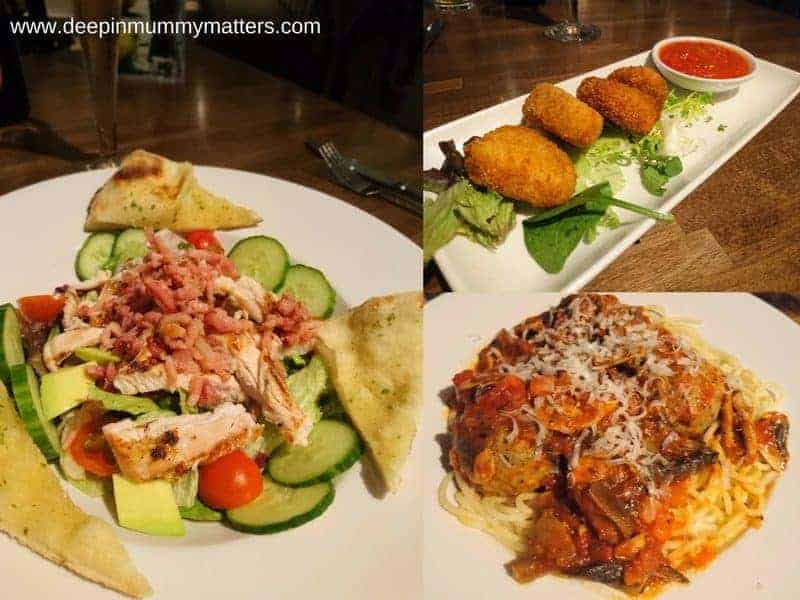 When we arrived it was comfortably busy, not at that raucous state where you can't hear yourself think. The staff were very polite and attentive but more importantly, the food was spot on. My salad was every bit as good as I had remembered and Simon surprised me by NOT ordering his staple Calzone but choosing Spicy Meatballs instead.
We celebrated with a couple of drinks and fully intended on hitting a few bars on the way back to the hotel but as it turns out, 10 years of marriage, four children and a day sightseeing it pretty tiring so stopped off only at one bar before retiring to the hotel bar to take drinks to our room.
Sunday Morning in Stratford-Upon-Avon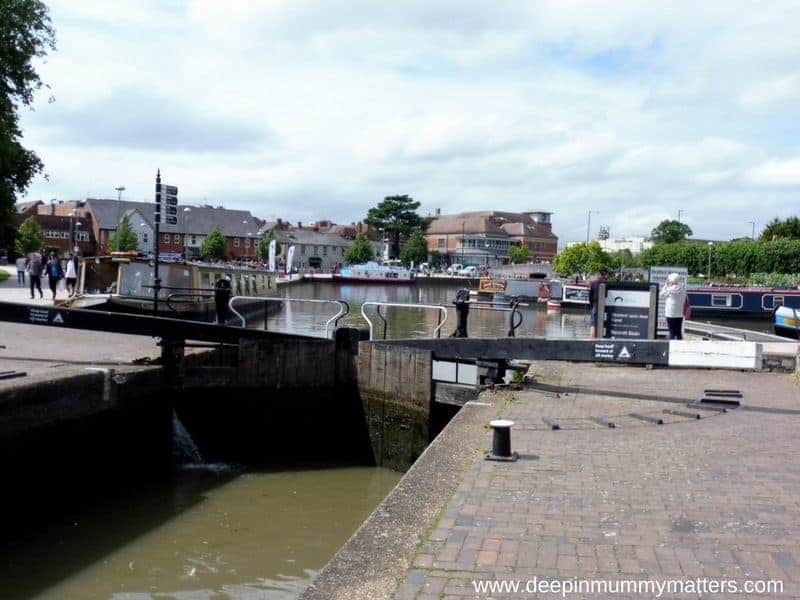 We awoke late on Sunday morning thanks to the lack of children and enjoyed a leisurely breakfast in the hotel. The sun was shining beautifully once more and we still had a few more hours to fill before we hopped back in the car to come home. We began with a walk around the Sunday Market which was positioned almost on the doorstep of the hotel to the front of the RSC Theatre. The town was already bustling with people and of course I managed to find a few little fancies to buy on my travels.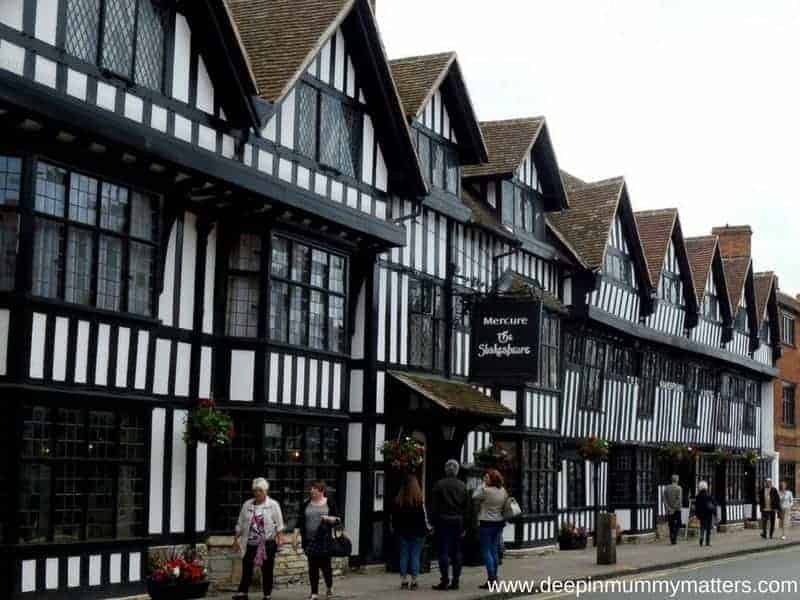 Afterwards we returned to the car and popped to the out-of-town stores which we had remembered from our previous visit to Stratford. We enjoyed a slow walk around the shops followed by coffee and a cake at Costa and then it was time to return home to our babies.
The importance of 'couple time'
As you can imagine, being the busy working parents of four children, we don't get to spend heaps of time just the two of us. Getting away together was just what we needed, time to relax, reconnect and remember what it is that we love about  each other. Simon and I are close as a couple anyway but our time in Stratford definitely brought us closer still and we both recognised that it was something we need to try to do a little more often than every few years but we couldn't have done it without the help of my Mum who stayed with Beans for us.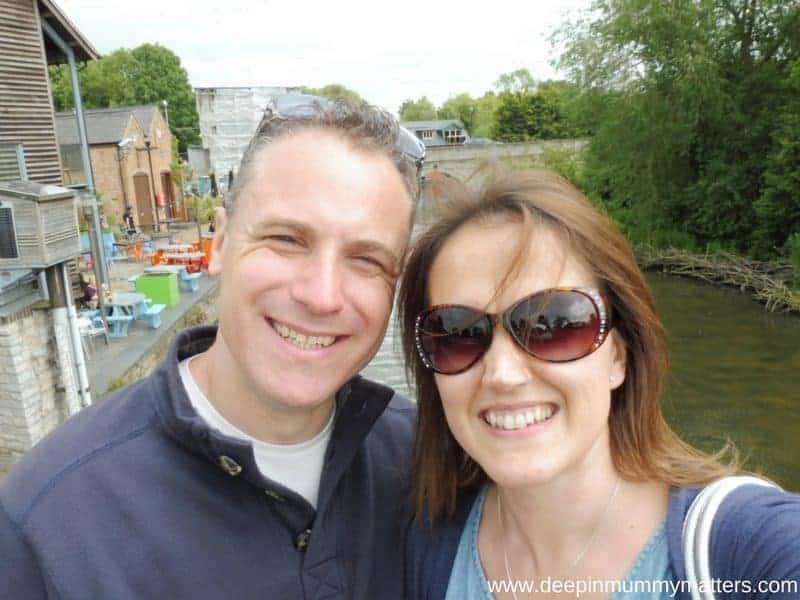 Sometimes as a 'Mum and Dad' you forget that you were a couple first and it's easy to get bogged down with the daily grind but spending time alone together means you can laugh at and with each other, rather than the children, you can have a whole conversation without being interrupted. You can eat a meal in a nice restaurant without having to worry that the children are being too loud or need the toilet every two minutes. You can look around a shop without being asked "can I have this?" and you can spend the afternoon drinking in a bar if you really want to. We wouldn't change our family for the world, it's what we always dreamed off but it was good to get away too.
The Arden Hotel
Upon arrival at The Arden Hotel we received a very warm welcome and a friendly Concierge carried our bags from the car through to our suite. The suite itself was impressive and as Hubby commented, looked like it had been designed with me in mind. It featured all of my favourite colours, dark wood, plush chairs, a kingsize bed and a beautiful marble bathroom with a deep bath and giant walk in shower.