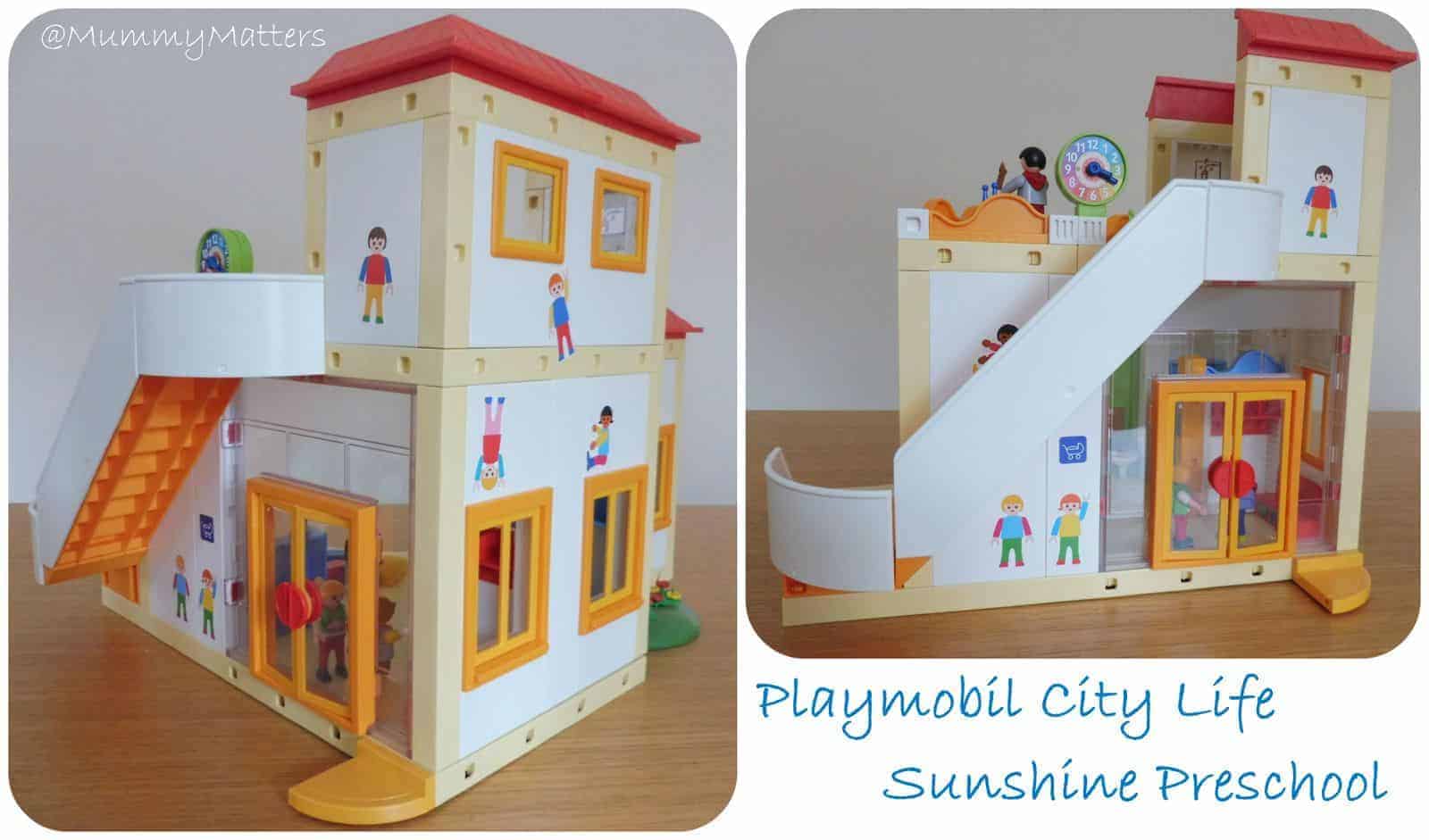 Woohoo proud to be Playmobil Playologists!
As the Beans and I were jumping in our car to head off on our first camping trip of the Summer, a parcel arrived which I had to hide straight away, otherwise we would never had got away on our holiday. It had the word 'Playmobil' plastered all over it so I knew there were some very exciting goodies awaiting the Beans inside.
Our first unboxing as Playmobil Playologists
So fast forward a little over a week and it was time to set the Beans on the box and see what they thought . . . Little Bean of course can read, so when I placed the box in front of them both she squealed with delight. As part of our role as Playmobil Playologists I have been asked to video the unboxing of the toys so check out how we got on below.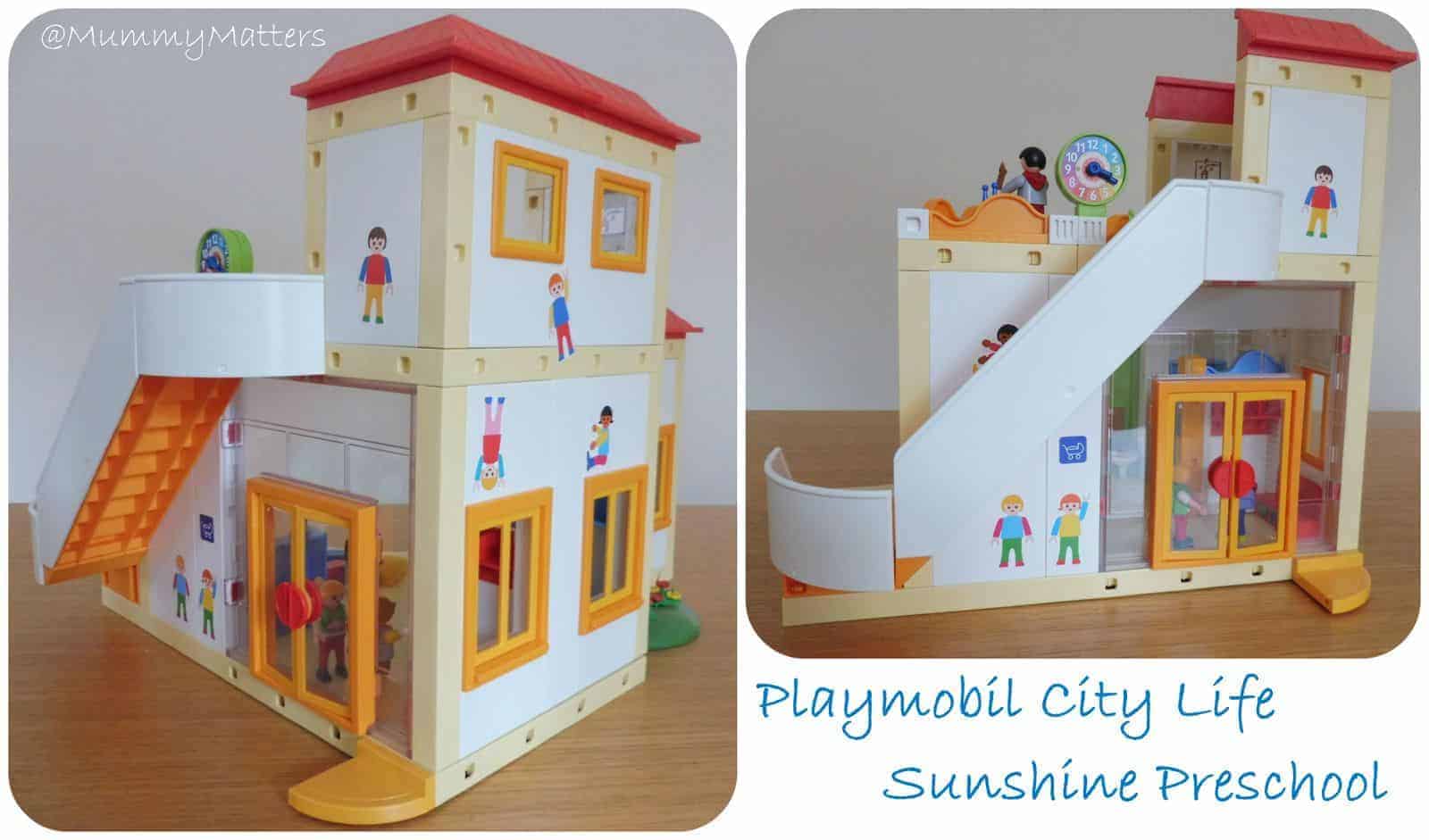 Playmobil City Life Sunshine Preschool
We received the Playmobil City Life Sunshine Preschool which really encourages role play for the Beans, Little Bean has been keen to take on the role of 'teacher' or 'play leader' leaving the boys to be the 'pupils' or 'preschoolers'. There is a kitchen area, toilets (complete with toilet brushes!!), soft play area, nap time area and art equipment. Everything a child would relate to a day in preschool.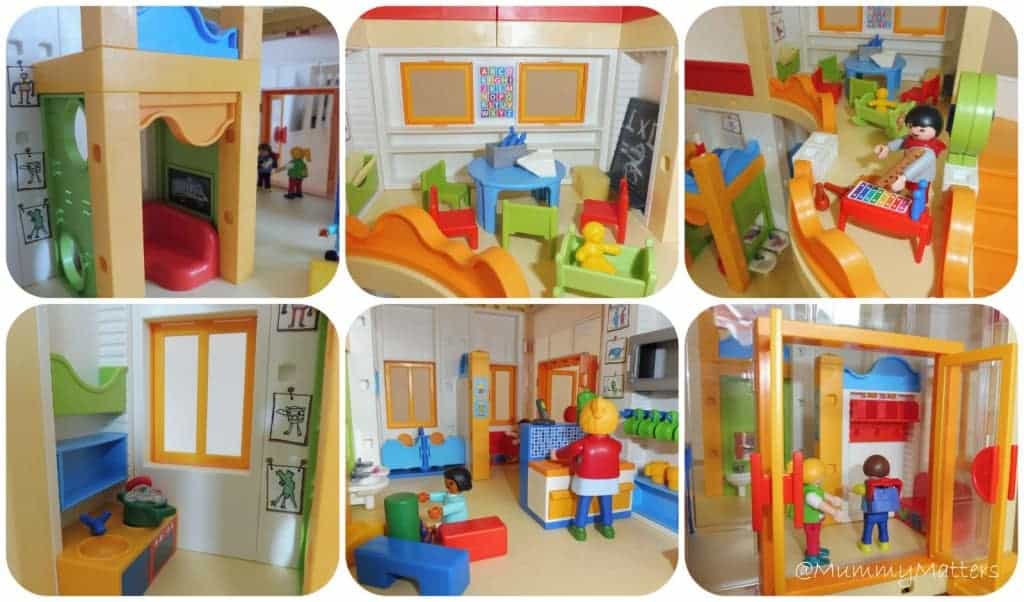 Getting stuck in
As a parent this was the first time that I had built Playmobil myself as this has always been 'Daddy's job' but this time I wanted to see what it was like for myself. The instructions are really easy to follow with large clear pictures to follow and I loved the little tool which you use to pop the connects into each component to clip them together. If you made a mistake it was easy to take apart again and it was pretty self-explanatory too. In total the Sunshine Preschool took me approximately 35 minutes to build which I didn't think was too bad for a first timer and a little bit of 'help' from the Beans.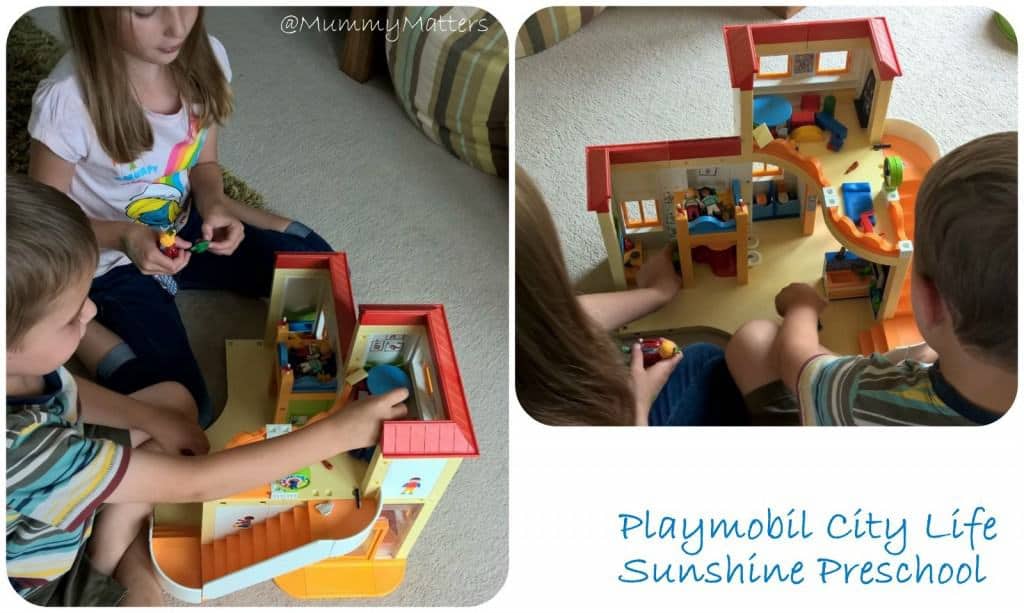 The Beans have really loved playing with the preschool, they made me laugh as we already have the Playmobil Large Zoo which they set up to the side of the Preschool and organised a 'preschool trip' for the children to visit the Zoo. I thought this was very resourceful of them and a great example of role play since they have obviously been on various day trips with school and/or preschool.
Playmobil 123 Take Along Zoo and Aquarium
Next up, we also received the Playmobil 123 Take Along Zoo and Aquarium. Little Bean built this whilst I built the majority of the Preschool whilst Jelly Bean was sleeping but I didn't want him to miss out on the fun so I popped the set back into it's carry case ready for Jelly Bean to discover in the lounge.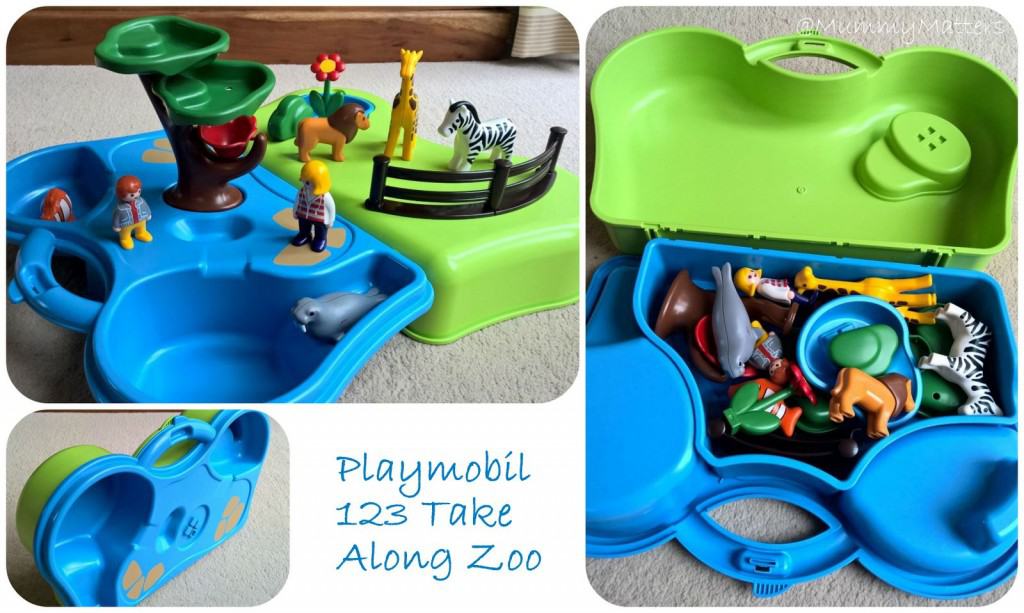 This is the perfect toy for taking on sleepovers to Grandparents houses, on holidays, day trips to visit friends who don't have children/toys/appropriate age toys as it is so compact and lightweight that your little person can carry it themselves.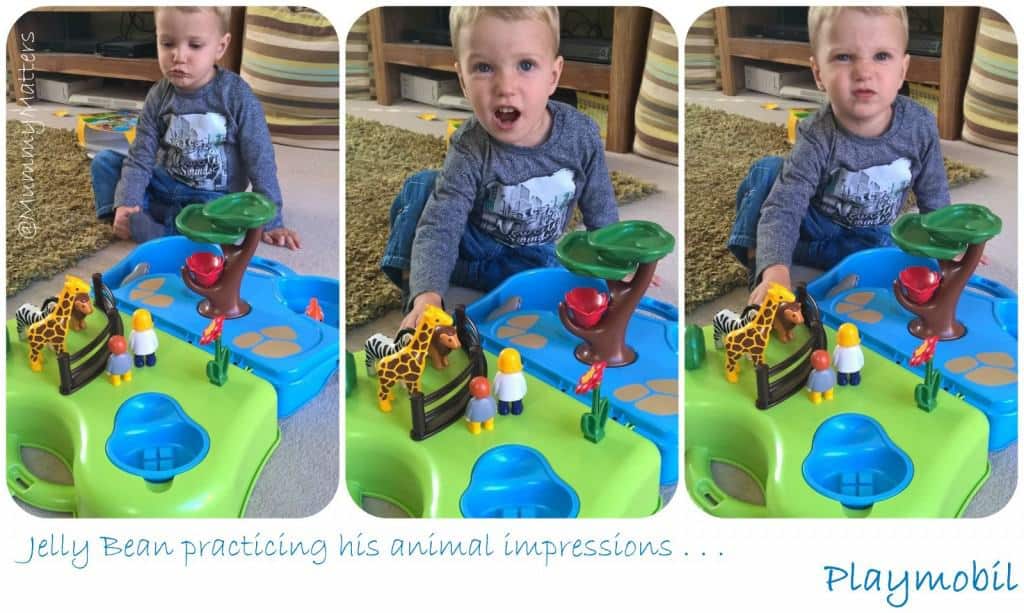 What Jelly Bean thinks?
Jelly Bean loved showing me all his animal impressions, it really encouraged active role play and learning different animal names, sounds and colours. For the life of me however I cannot get him to get 'Lion' and 'Tiger' the right away around. Suggestions please?!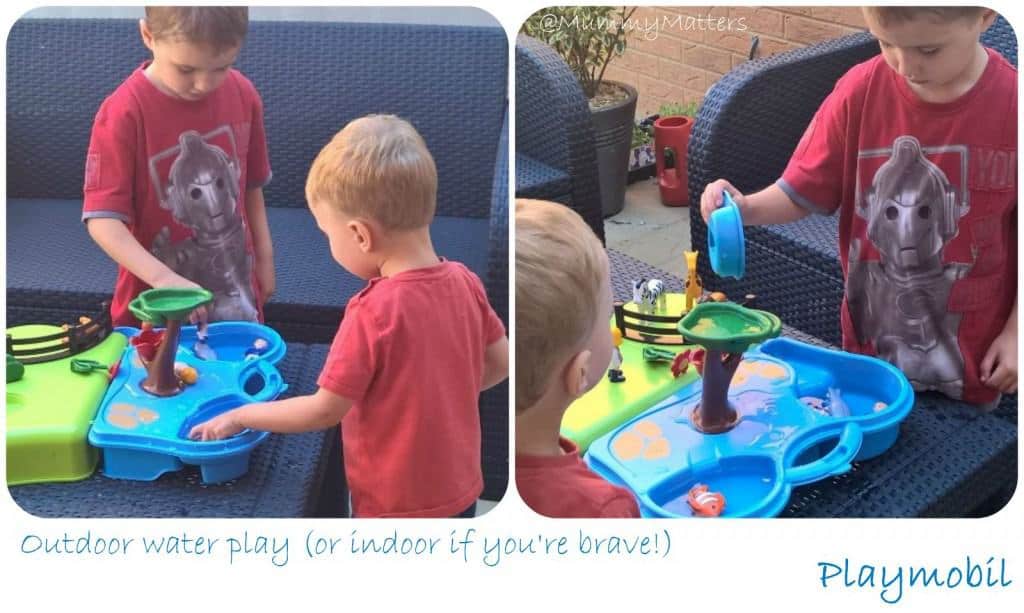 On one of those lovely 'Summer' days we experienced last week the boys took the Take Along Zoo outside for some fun water play action and had a blast. Although, I must admit Jelly Bean wasn't overkeen on sharing with his big Brother. I don't think he feels he has played with it enough on his own yet to share right now.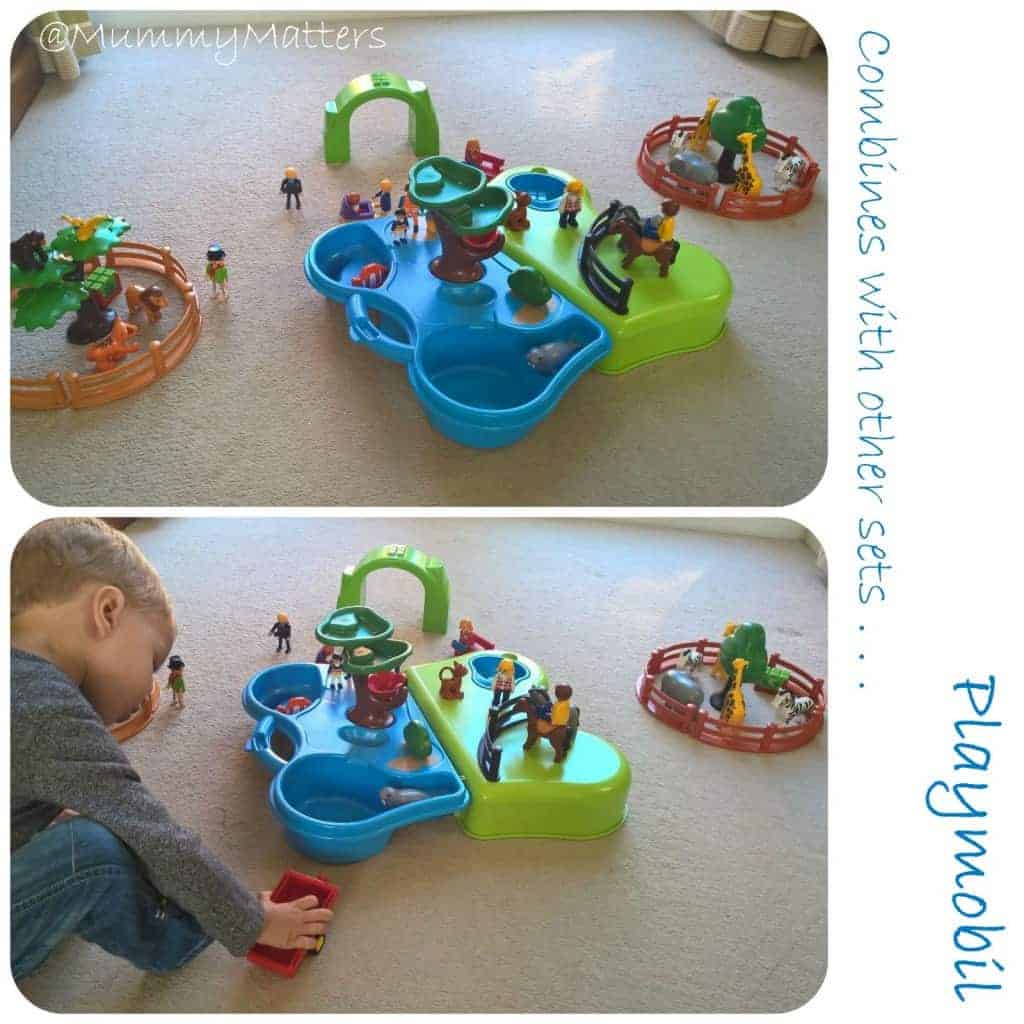 The other great thing about the Playmobil sets is how you can join them together to make bigger sets. Jelly Bean was given the Large Zoo set for Christmas last year and got it out to play with the Take Along Zoo to make a bigger too experience. I love to watch Jelly Bean play because he is more than happy to just sit by himself and he really interacts with his toys; he will get a full dialog going with the characters and animals, he makes up his own 'stories' and is very imaginative. He can also get a little 'rough' with his toys and that's where Playmobil is perfect because it's made of tough stuff and won't shatter or bend like some toys can. It has been made to be played with!!
DISCLAIMER: We received the Playmobil playsets as part of our role as Playmobil Playologists. All words, opinions, images and videos are my own and may not be copied without my permission. We have not been instructed what to write or say.