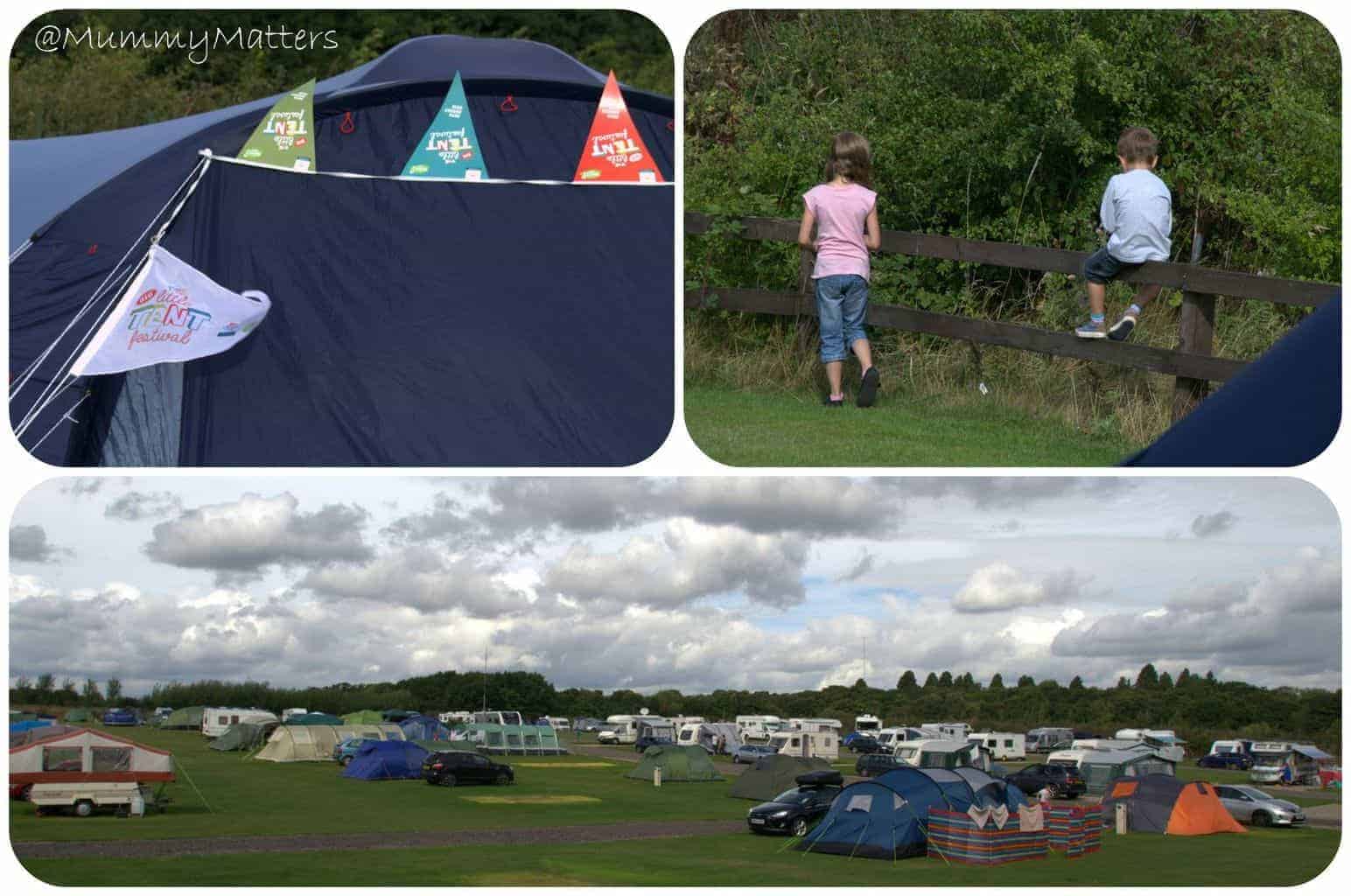 Our last weekend of the Summer holidays was a last minute booking, we were heading off to Norfolk for our second camping trip of the Summer when I was contacted by the Caravan Club to see if we would like to review a Caravan and Camping Club site situated next door to a Theme Park of our choice in celebration of The Big Little Tent Festival on 30th August 2015. We chose to visit Drayton Manor Caravan and Camping Site at Drayton Bassett near Tamworth in Staffordshire so that we could take the Beans to Drayton Manor and Thomas Land. The Caravan Club want to encourage families to get out together under canvas, away from technology and getting back to basics. We need very little encouragement with this as we LOVE camping and we fully plan on doing it for years to come. Camping is a great way for families to get out in the fresh air and to get away from the daily grind, it brings back happy memories of my childhood and teenage years when I would go away with my Mum. It feels good to be making new camping memories with my own family.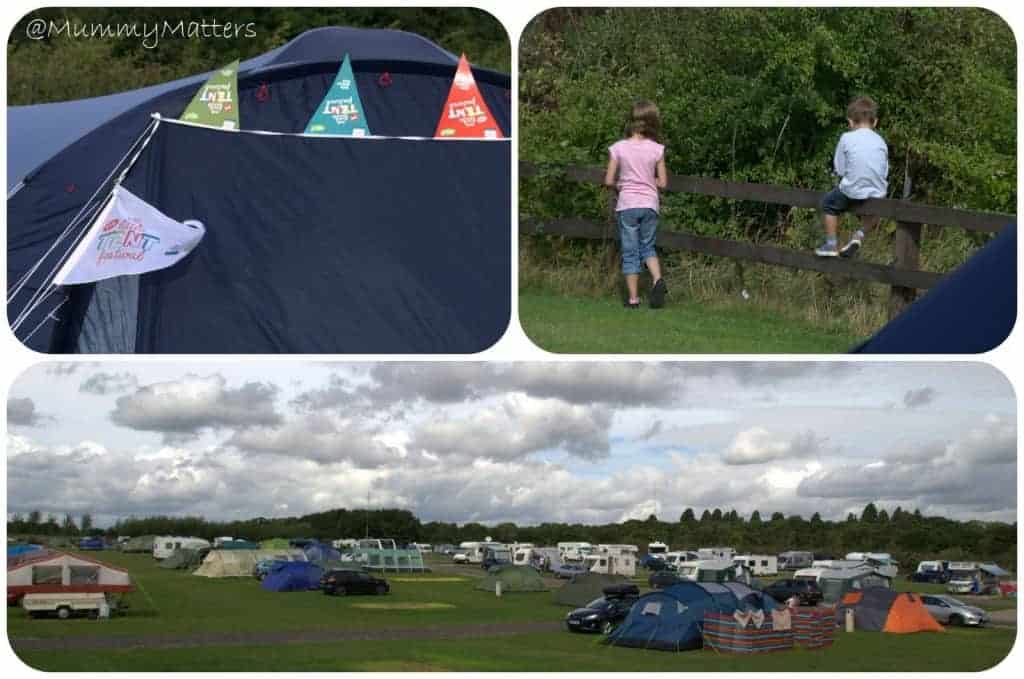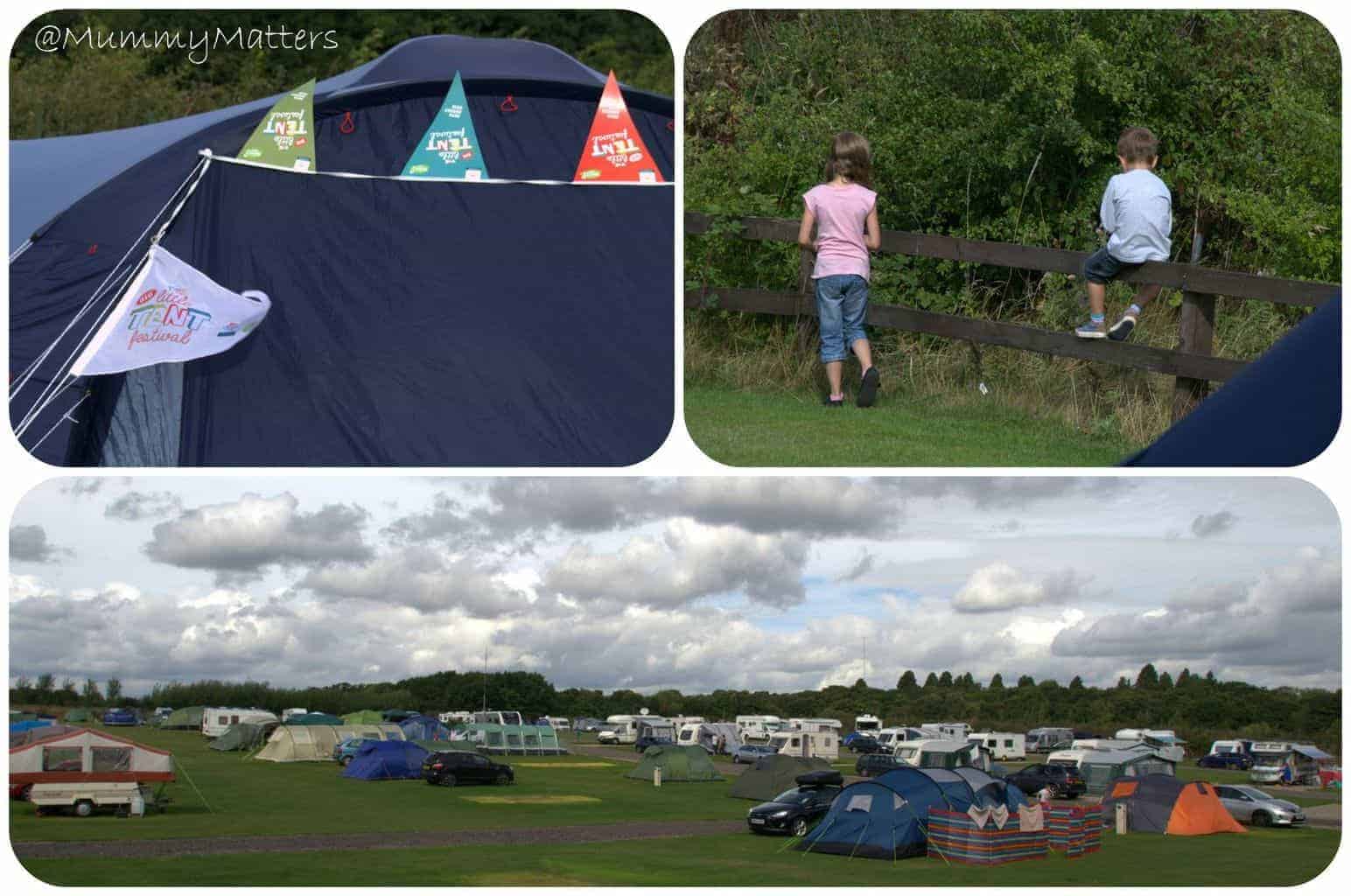 On the Thursday we packed up our tent and camping equipment into our cars in Norfolk and drove the 90 minute journey home to have a quick reshuffle. We dropped off all the camping equipment we wouldn't need, swapped our large tent for our smaller tent (we were booked onto a smaller pitch) and we needed to fit into one car instead if two. Curly was going away for the weekend with his Mum so it would just be the five of us.
Once we had shoe-horned our gear into my Honda FR-v (with roof box!) we hit the road, arriving in Drayton Bassett around 4.30pm. We followed the sat nav directions which took us directly into Drayton Manor and then into an area which was clearly not a camp site. We drove around for a while before finally spotting the smaller signs which said "Caravan and Camping". If you are planning on visiting then the campsite is situated just to the rear on the right hand side of the Drayton Manor hotel.
We were greeted at the gate by Stuart who explained where we needed to park whilst we checked in. Checking in was really quick and easy, they explained all of the amenities available on the park, discounts and recommendations for local food (including a take away which delivered to the campsite) and then walked over to the pitches to give us a choice of where we would like to pitch for our stay.
Unfortunately there had been a slight miscommunication from the PR when booking our pitch and the pitch reserved for us wasn't quite big enough. Within 15 minutes Stuart had managed to find us a Supersize pitch which was more than ample for our needs. It did mean that we were further up the campsite away from the play area and amenities but even so, it was only a 2 minute walk and the campsite had good low lighting so you felt safe walking around at night. I managed to NOT trip over any guy ropes on this trip.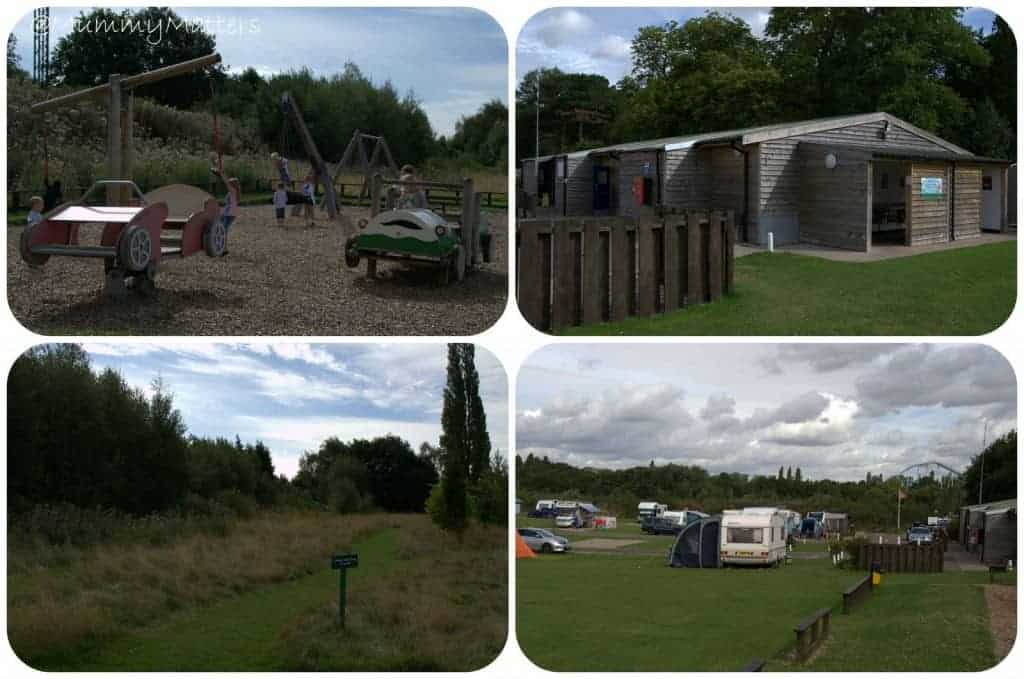 First impressions of the site were very good. The site is maintained to a very high standard, the pitches are generously spaced out so that you are not sitting on your neighbours porch and they only allow one vehicle per tent/caravan so the site doesn't look like a car park. The site operates on a one-way system so you feel safer moving around without having to look everywhere for traffic.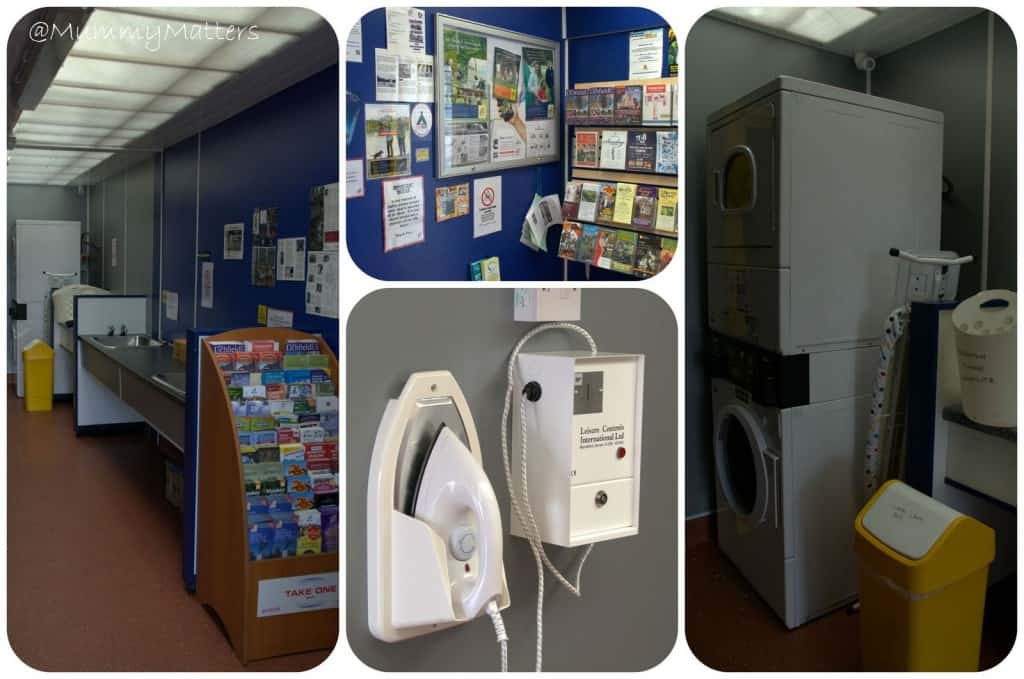 I assumed the site had been there for a few years but Stuart said they had only been operating for 6 weeks. It would be interesting to visit again next year to see how the site has 'bedded in'. The amenities were excellent, as well as the very large bathrooms, there was also a sizeable laundry room with washer/dryer, ironing board and iron, information centre and a very large disabled shower room.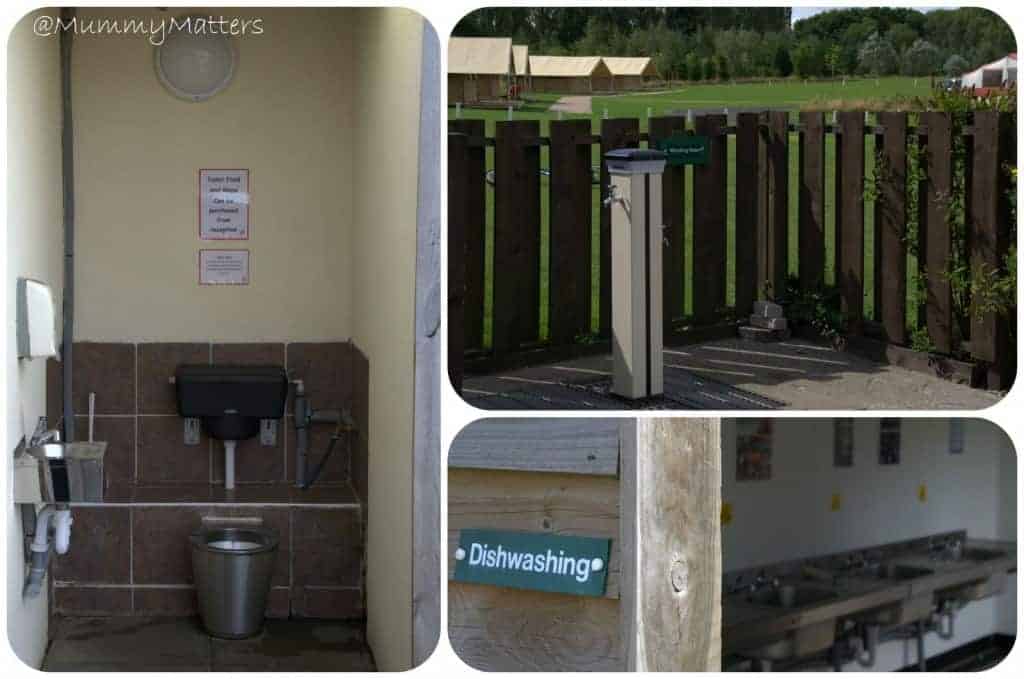 There were water points conveniently placed around the campsite as well as a sluice at the main amenities block (although we didn't need to use this). The dishwashing room is located on the end of the main amenities nearest the play area so it's ideally placed for those little people who offer to 'help' with the washing up and then conveniently disappear!!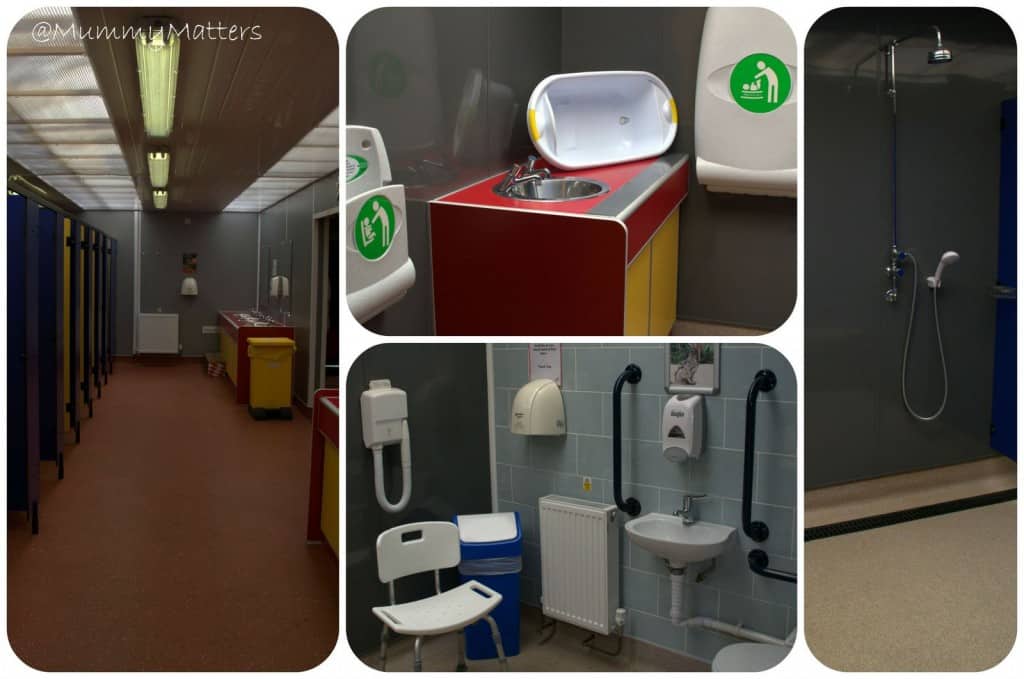 The toilet/shower block is a far cry from those of my childhood camping days. They have skylight windows and lighting which makes them bright and airy. The cubicles are are all blue and yellow which is cheerful and modern with each cubicle being very generous in size. Perfect when you have three children who insist on accompanying you on your every trip to the toilets!!! I particularly liked the family shower room which had a safety seat on the wall where you could strap a toddler in whilst you are showering (Jelly Bean thought this was brilliant), a baby bath, sink, baby changing table, low level shower and adult shower with rainfall showerhead.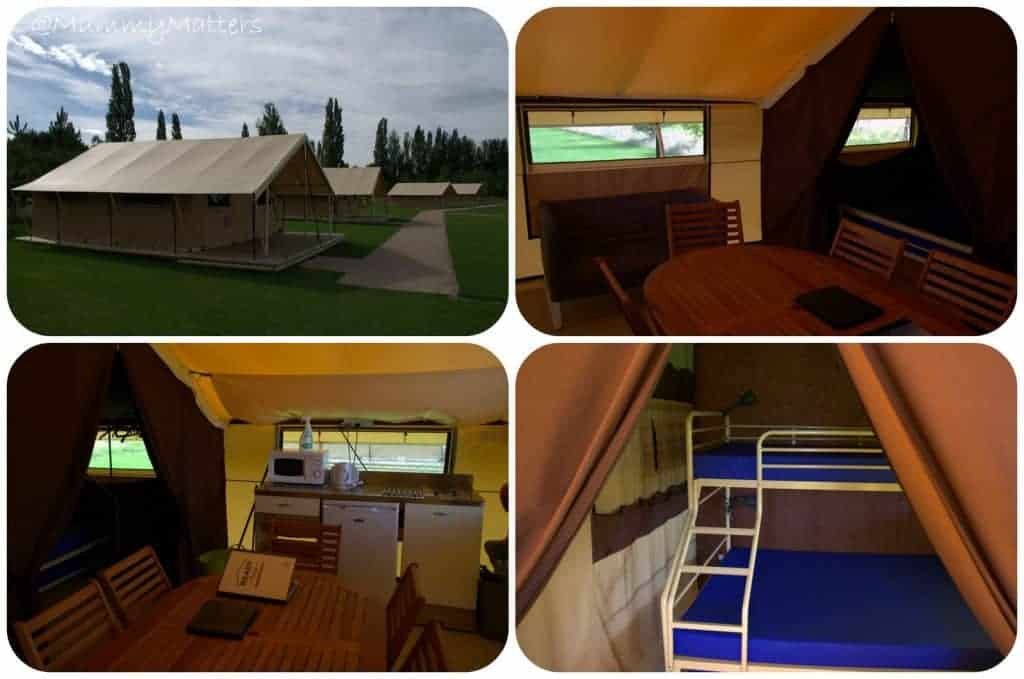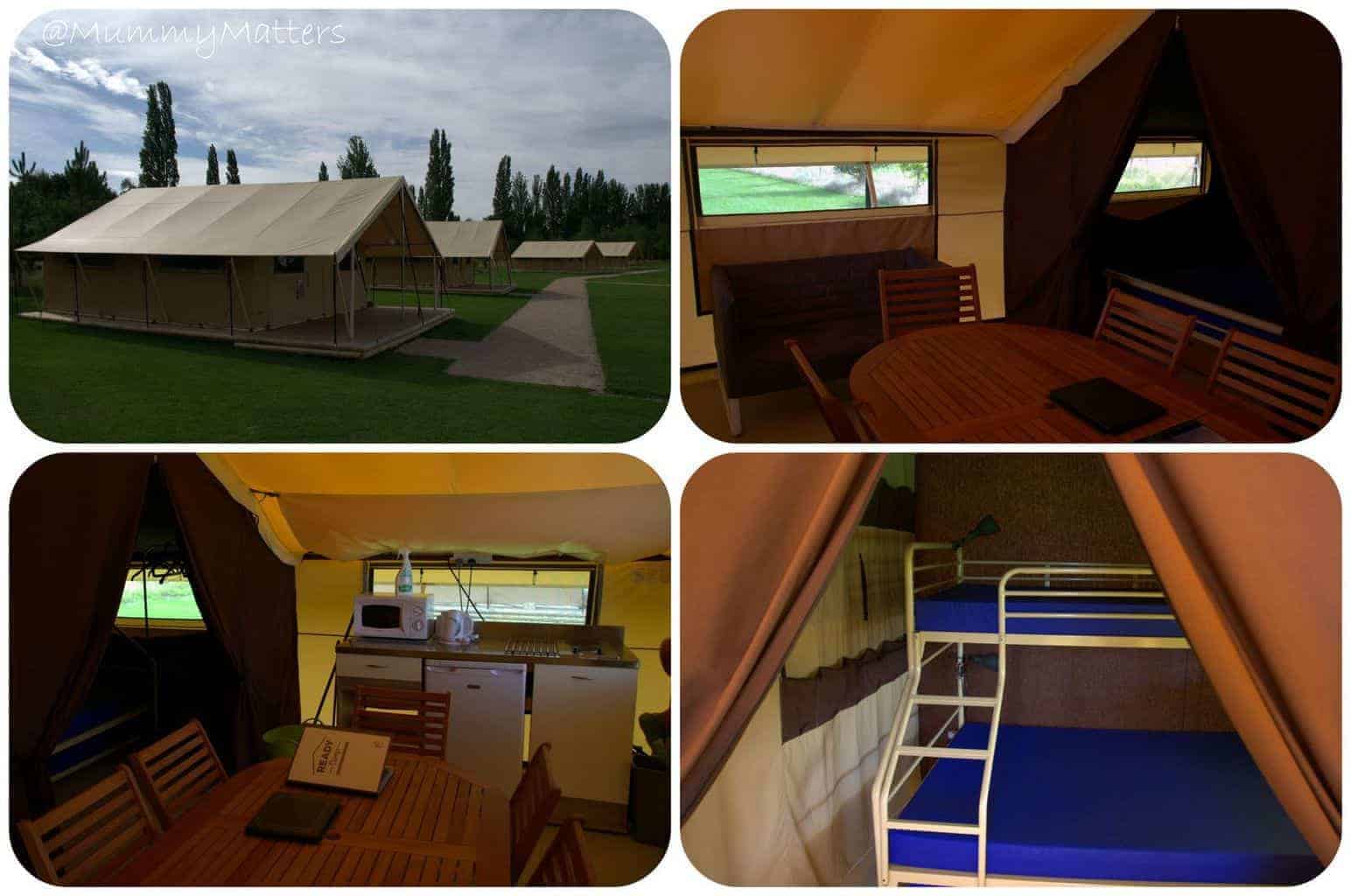 The site accepts all sizes of tents, trailer tents, caravans and motorhomes as well as having four Ready Camps which look amazing! We haven't had the opportunity to try out Ready Camp yet but we looked at them at the Caravan, Camping and Motorhome Show earlier in the year and they look perfect for our family. They sleep up to 6 people with a separate double bed, a bunk with a double bottom bunk, single top bunk and a single pull out trundle bed underneath, ideal for our children. The kitchen has running water, electricity, a dishwasher and microwave, a dining table with 6 chairs and a small two seater sofa. You can even hire a small heater. What I really liked about the Ready Camp is that the bedroom areas have blackout material so it looks like the rooms will stay really dark in the mornings – there is a slight possibility we could have a holiday with a lie-in!!!!!! It's on my must-do list for 2016. Will it be on yours?
I did worry before we arrived that being so close to a theme park it would be really noisy from the rides but I can honestly say it wasn't. The rides don't open until 10.30am and every now and then you would hear the screams from the rollercoaster but that was about it. It was much quieter than camping next to the main roads as we had on our two previous camping breaks this Summer.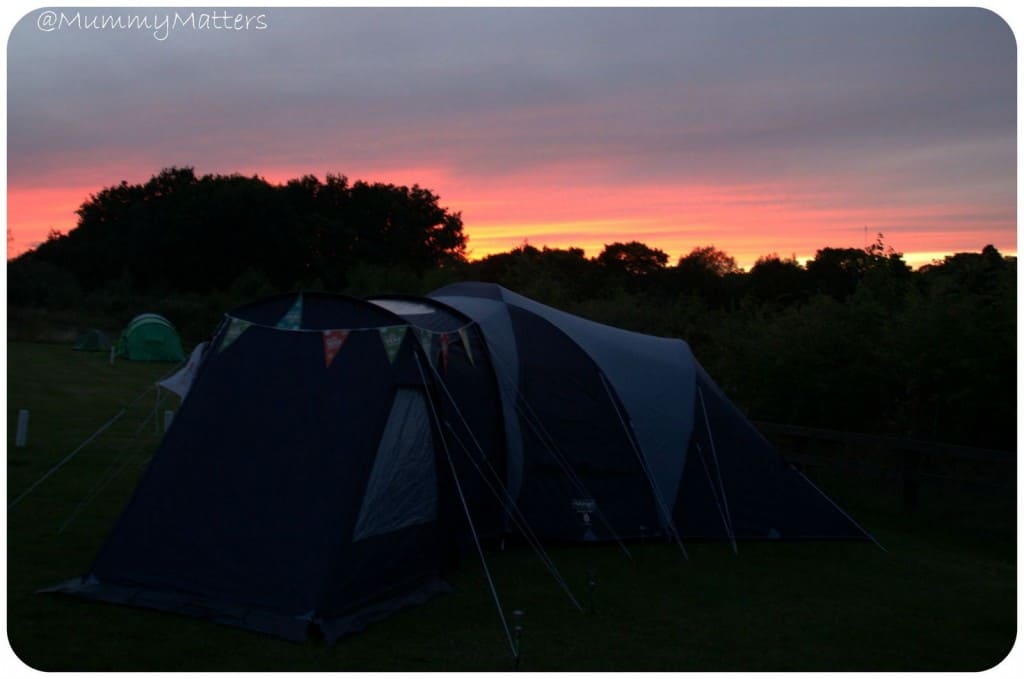 What camping next to a Theme Park did mean, however, was that for once we were there as the gates opened. We didn't have to get up at silly o'clock in the morning and battle through traffic or sit in queues to get into the car park, we could simply zip up our tent and walk 5 minutes to Gate 2 and then we were in. We spent the WHOLE day at Drayton Manor and Thomas Land and at 6.10pm as we were leaving the park we made our way to The Grill Inn where I had booked a table for us at 6.30pm via my Tastecard. We enjoyed a two-course meal and drinks and then using the Tastecard we received 50% off the cost of our food, making a saving of £20.63. I found a deal online for Tastecard where I paid £3 for 3 months. So far I have used it three times and made over £70 on meals out which I think is pretty amazing for a family of 6. When we had finished our meal we didn't have to get in the car and drive home with tired, grumpy children (we walked across the car park with tired, grumpy children because some things will never change) but within half an hour they had all visited the bathroom, brushed their teeth and were tucked up in bed leaving Hubby and I the evening to relax (or in Hubby's case, fall asleep) and watch a DVD on the laptop. Perfect!!
Have you ever, or would you ever camp next to a Theme Park?
DISCLAIMER: We were given complimentary passes to stay on the campsite and to visit Drayton Manor for the purpose of this post. All words, images and opinions are my own and may not be copied without my permission.