Why I love The Baby Show
I have been attending The Baby Show now for 5 years and it never fails to disappoint me, whether you are an expectant parent/family member, new Mum/Dad or a veteran parent to young children The Baby Show has something for everyone and it has new products and services to make family life easier, safer, more stylish and fun.
A few weeks ago I attended The Baby Show at ExCel in London with Hubby and the tiddlers, this was my first visit to ExCel and I was very pleasantly surprised. In the past, I have always gone to Earls Court but I loved how open and bright the ExCel Centre was. Parking was really easy and surprisingly cheap at only £10 for the day. The only downside to travelling to ExCel was the volume of traffic once we were within a mile of the centre as it took us a good 45minutes to get in and park.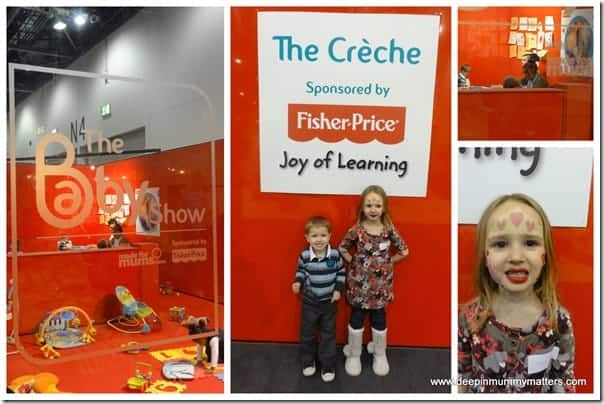 The first thing we did when we arrived was to find out where the Fisher-Price creche was so that we could find out if there were spaces available for Little Bean and Beanie Boy to stay at play. It is possible to book ahead to be sure of a place but we were lucky enough that when we arrived they still had spaces free so we booked them in for an hour to give us the opportunity to shop for the things that we knew they would have little interest in. Little Bean had even remembered the creche from our previous trips and asked if she could go there again. They get to play with great toys, do arts and crafts and they can have their faces painted if you give permission.
The main stage is the place to be to see the fashion shows for the latest maternity and nursing styles, to get top tips and advice from the professionals; Professor Robert Winston was the headline speaker offering tips and advice on baby development, Jo Tantum – sleep expert, Annabel Karmel – nutrition and weaning, Clare Byam-Cook – breastfeeding and finally The Natal Company were running a series of classes for new and expectant parents.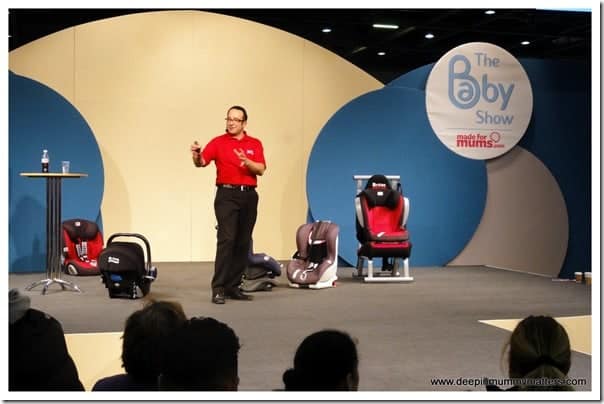 When it comes to babies and children there seems to be a never-ending list of things we need to buy and you want to be able to get the most for your money and know that what you are buying is what you really want. At The Baby Show, you can see just about every type of buggy, changing bag, feeding accessory on the market but here you can feel it, compare it and in many cases buy it at a special show price. New products are launched at The Baby Show so you know that you truly have the 'very latest'.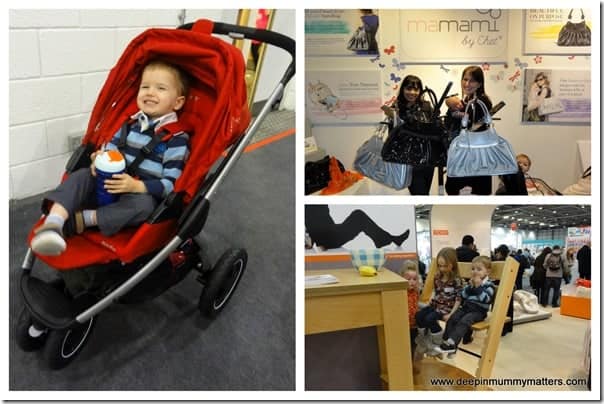 The facilities were brilliant too, there was a Baby Changing Area that provided you with free nappies and wipes and a Tommee Tippee feeding area which was equipped with comfy glider chairs for nursing in privacy, microwaves and bottle warmers to prepare your little one's meals. It's easy to get carried away when shopping for baby gear and let's face it baby gear can be quite sizeable for such a little person so Emma's Diary provided a "shop and drop" and "collect by car" service to make life a little easier for you.
We finished off our day at The Baby Show at the iVillage stand where Hubby and the tiddlers enjoyed a spot of colouring. Hubby is a little bit OCD when it comes to colouring in, he finds it especially difficult to sit with the tiddlers when they are colouring, he gets a bit twitchy when they don't colour within the lines so to alleviate his stress he decided to join in and do some colouring himself and was so proud of his creation that he pinned it on the board with the other children!!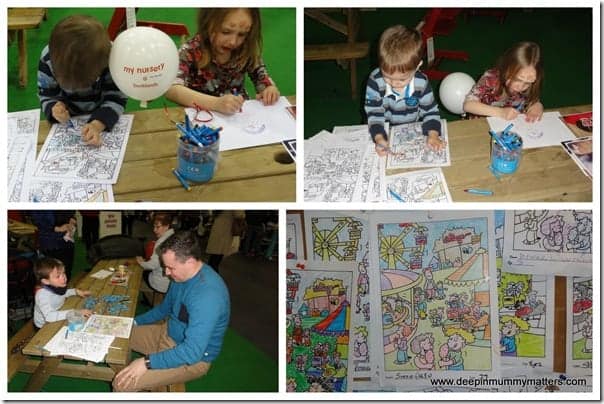 Have you visited The Baby Show before? What do you love about it?