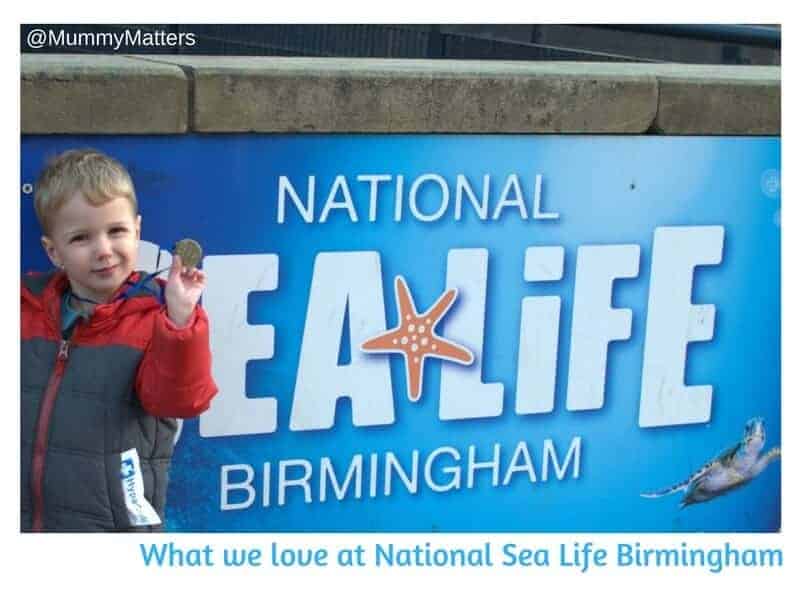 What we love at National Sea Life Birmingham
It's hard to believe that our time as National Sea Life Centre Birmingham ambassadors is almost at an end, we've had lots of fun visiting over the past few months so when we visited a few weeks ago I took the time to notice the things that we enjoyed the most during our visits.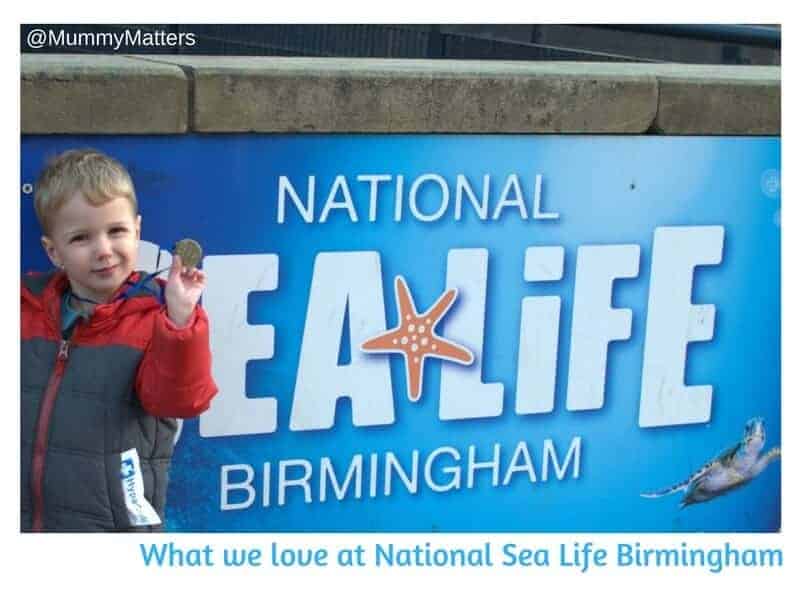 The Penguins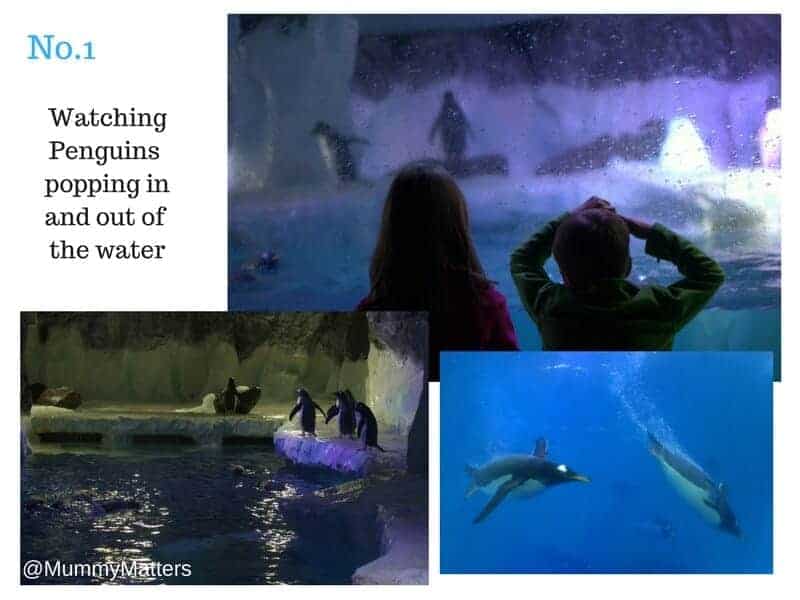 The Gentoo Penguins are the very first and very last exhibits that you see and I have noticed that they were the one that we stand at for the longest when the Penguins are very active. They are just so fascinating the way that they dive in and pop out of the water. Penguins have such character and being able to watch them under the water is very special too.
Tunnels and Viewing Domes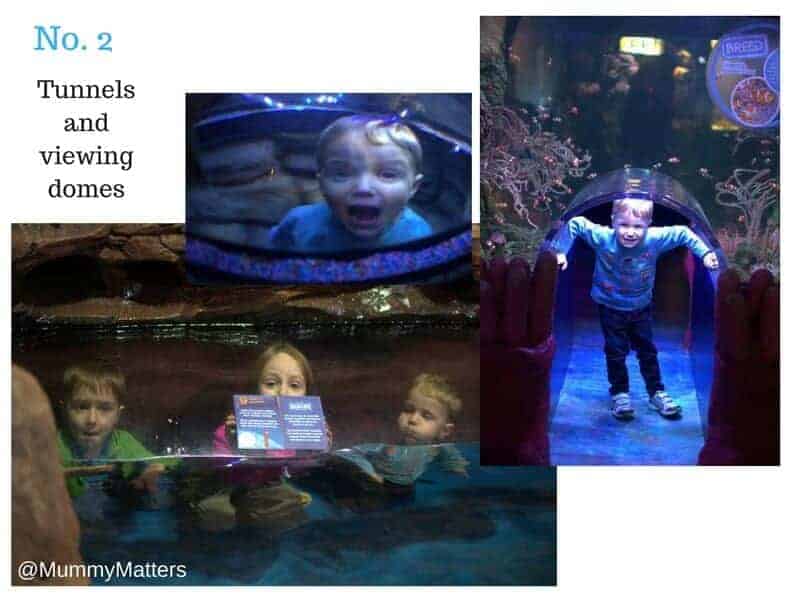 I was going to say that the little children love climbing through the tunnels but Curly is such a big kid that he dives in right after them without a care in the world. They love the opportunity to see the fish and sea creatures from a different perspective.
Underwater Cameras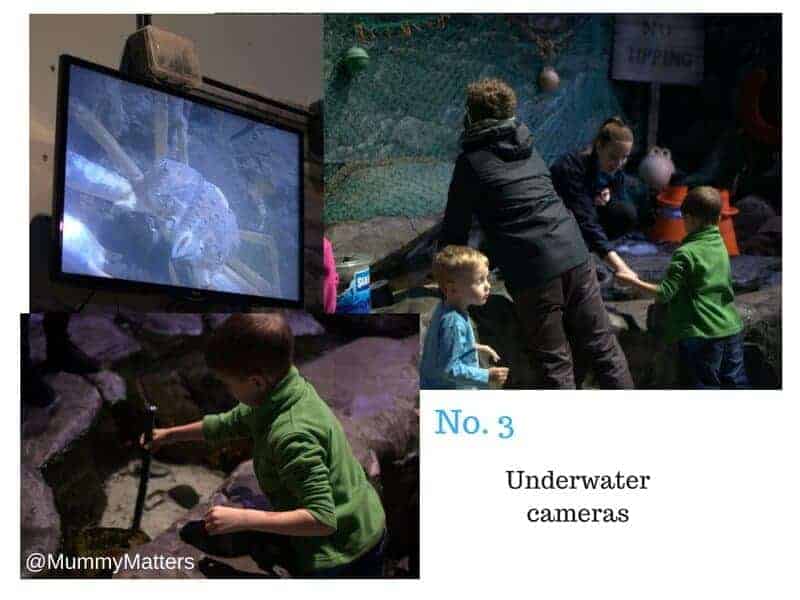 One of the latest additions to Sea Life Centre Birmingham is the underwater camera which the Beans loved. It was a great opportunity for them to be able to see the crabs up close since they often hide out of the way whenever we visit – I swear they see us coming.
Funny Fish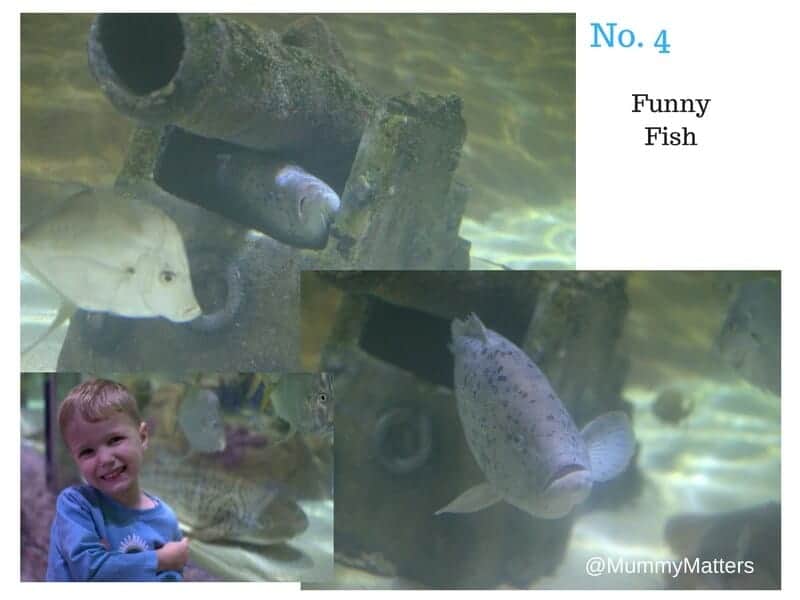 Just as we love to people watch, watching fish can be just as fun. We watched this big fella for ages, convinced that he was stuck under the barrel of the cannon but after 10 minutes he finally managed to wiggle his way out of his tight spot.
There are some real characters in the underwater world, the Beans always head for the tank with the spiny backed fish (I should remember their name by now) because as soon as they place their finger on the glass the spines pop up and when they take them away, the spines drop down.
Beautiful Bright Colours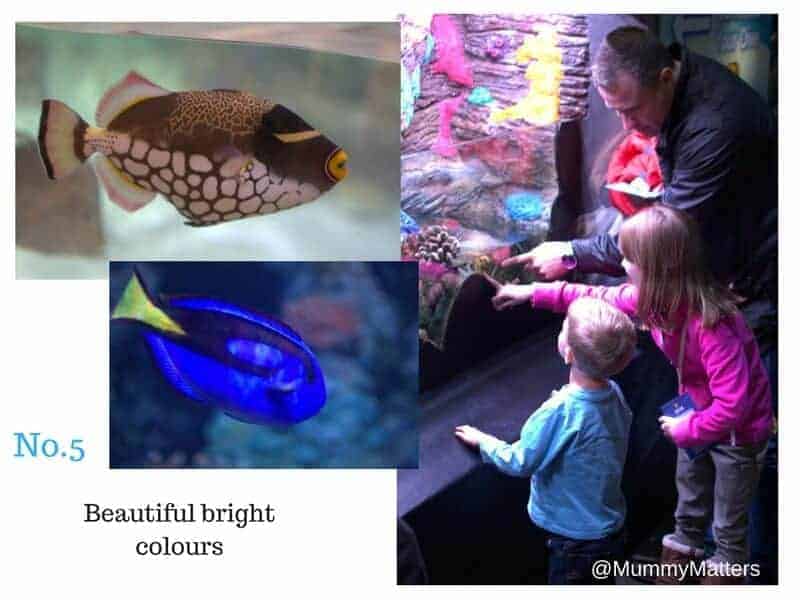 There are so many beautiful colours of fish it can be mesmerizing to see them swimming around. I particularly like the fish that look like they have taken the time to do their lipstick like this black, white and yellow one below.
Touching and Feeling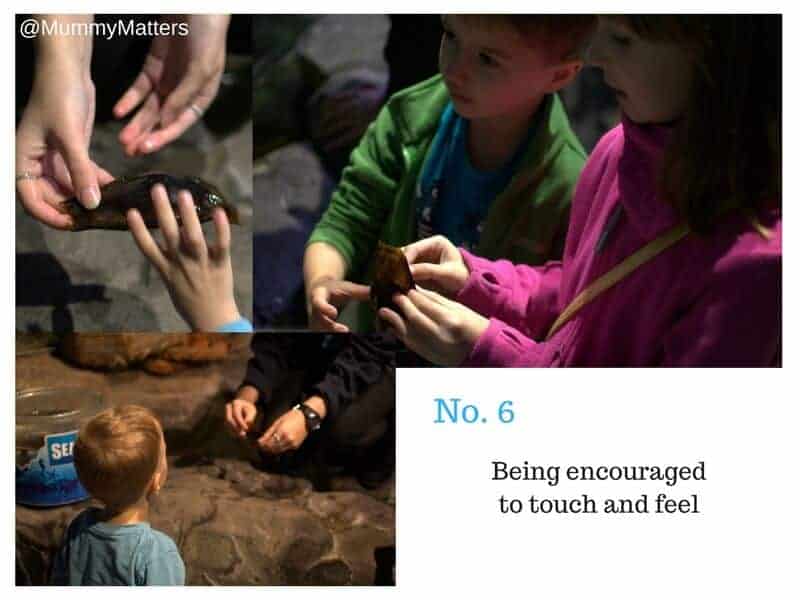 So often when you visit places with children you are having to constantly tell them "don't touch that" or "get away from there" but at Sea Life Centre Birmingham they are actively encouraged to roll up their sleeves to touch and feel. Little Bean has always been funny about textures and touching so she has really surprised me by how she gets straight in there and touches the starfish, mermaids purse and has even attempted to pick up a crab.
Fancy Fish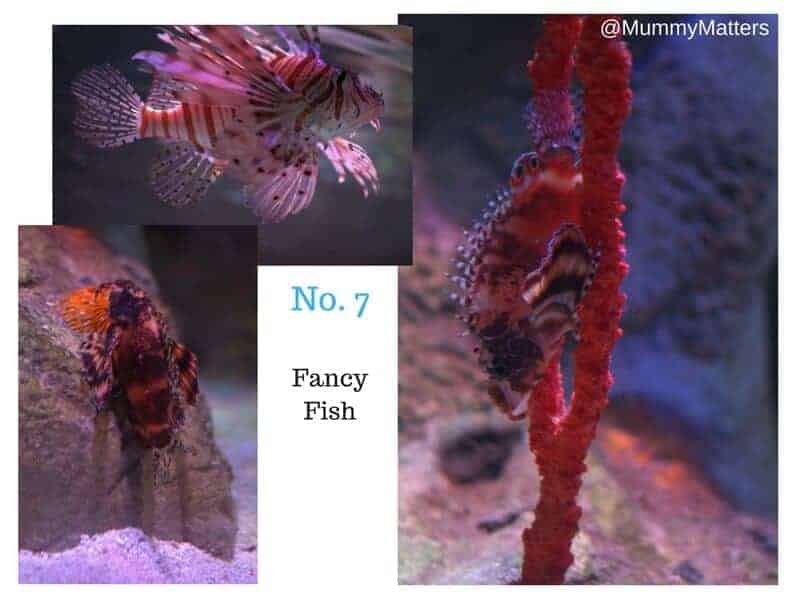 Just as there some really pretty brightly coloured fish there are also some very fancy fish, ones that blend in with their background and some that stand out as proud as a peacock.
Remembering what we have learnt so far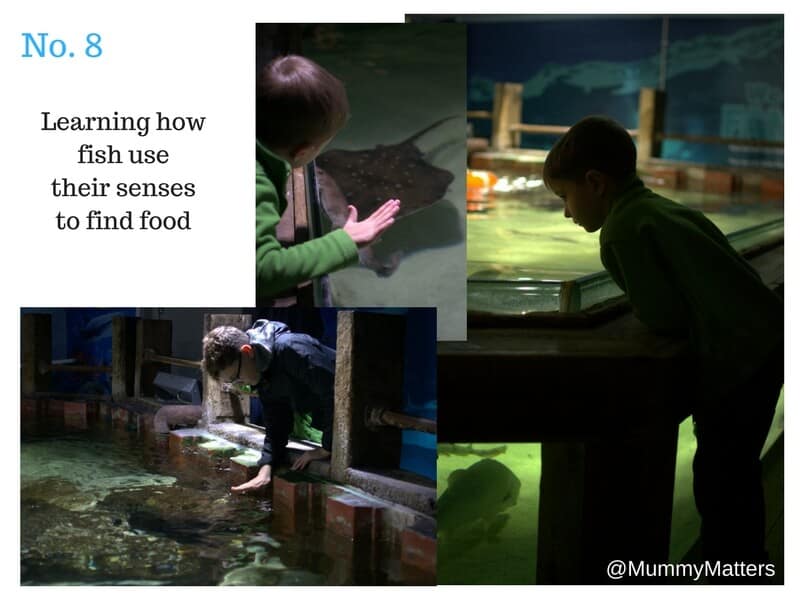 Visiting regularly has meant that we haven't felt the need to rush around to see everything all in one go. We have been able to stop and listen to the talks and the feeding demonstrations and learn lots along the way. When we visited during the Summer the Beans learnt that fish sense heat when trying to find food so if you warmed your hands and placed them just above the water, the fish would come. We tried it and they did. So when we visited a few weeks ago, I smiled to see Beanie Boy and Curly rubbing their hands together and doing it again.
Chilling out with the Jellyfish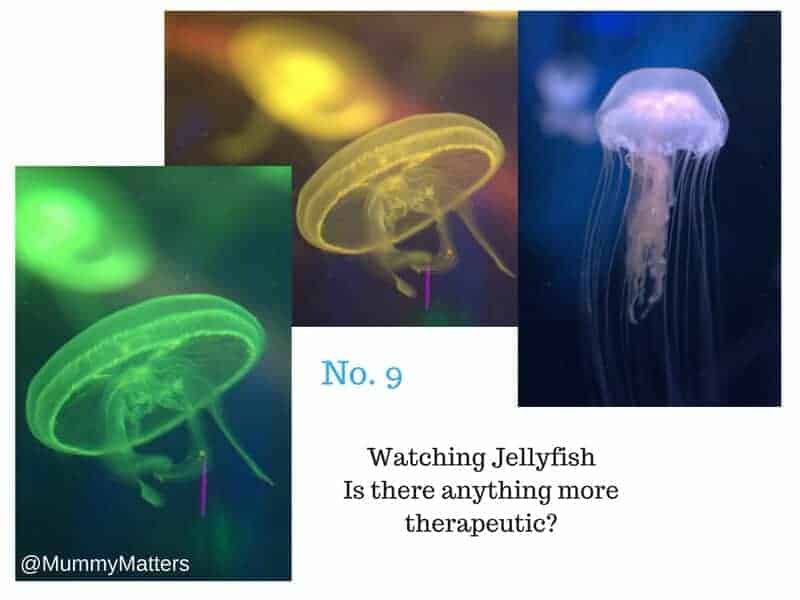 Given that the little blighters can give you a really nasty sting I really don't fancy coming across a Jellyfish in the sea but I do find them so therapeutic to watch swimming in the tanks. The colour changing lights and the way that they move is just so relaxing.
The 360 Tunnel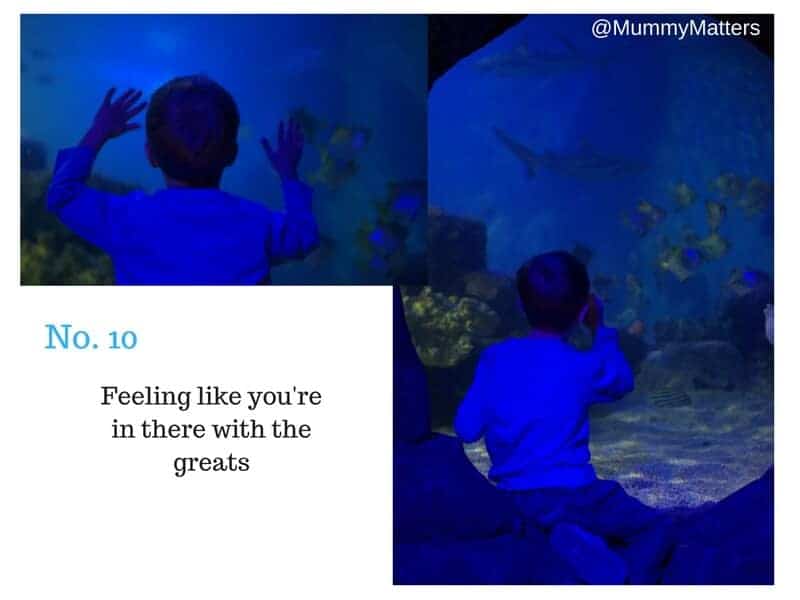 The big tunnel is always a highlight of our visit but it is even better since the side rails were removed and the floor opened up it's even better. The Beans tend to just stand like this with their hands flat to the glass taking it all in. They all have their favourites too, Little Bean loves the Moray Eels so she spends all her time trying to find where it is hiding, Beanie Boy and Curly love the Giant Ray and I like the Sharks that lay on the bottom rocking with the motion of the water.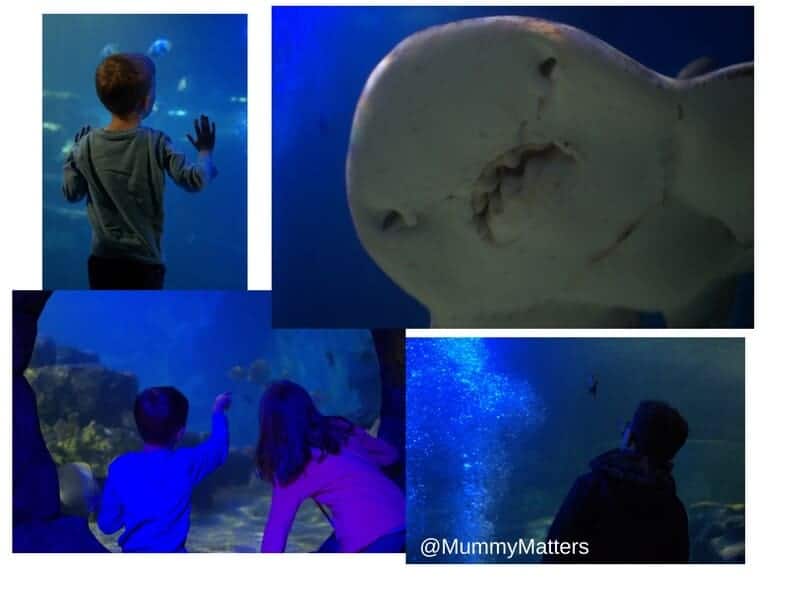 Molokai the Giant Green Sea Turtle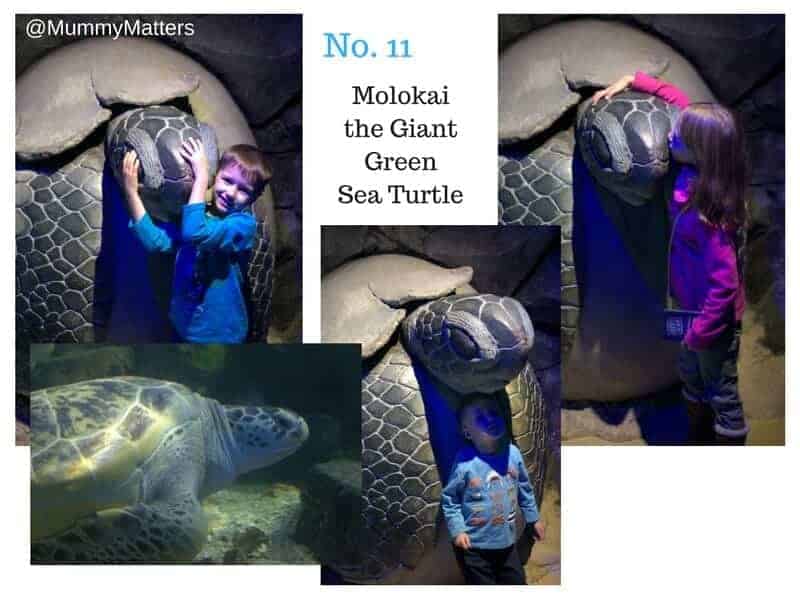 We all look forward to seeing Molokai, just such a beautiful creature and so graceful gliding through the water. It's hard to believe that Molokai was found in a lady's handbag when she returned from her holidays.
Soft Play and Medals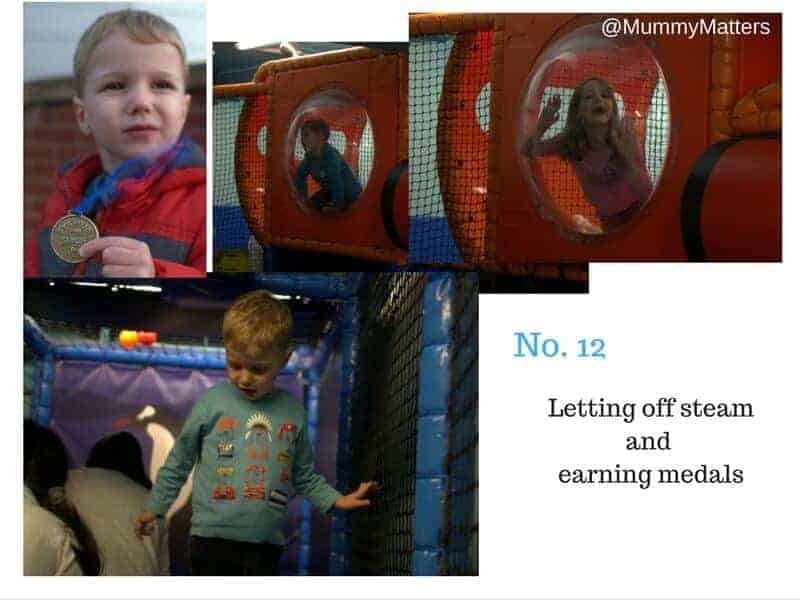 The Beans always look forward to spending time in the Soft Play area at the end, it gives them time to let off some steam before we cram them back into the car for the long journey home.
We also have quite a collection of Sea Life medals now as the Beans love collecting their stamps whilst they walk around. Once they have collected all of their stamps they show them to the assistants at the end and are presented with the medals.
What's next?
Well, it can only be one thing with Christmas just a few short weeks away. We have one last visit to make to Sea Life Birmingham (although we shall still be going back anyway) and that will be to see the big man himself, I bet you didn't know that Santa makes a special visit to Sea Life Birmingham!