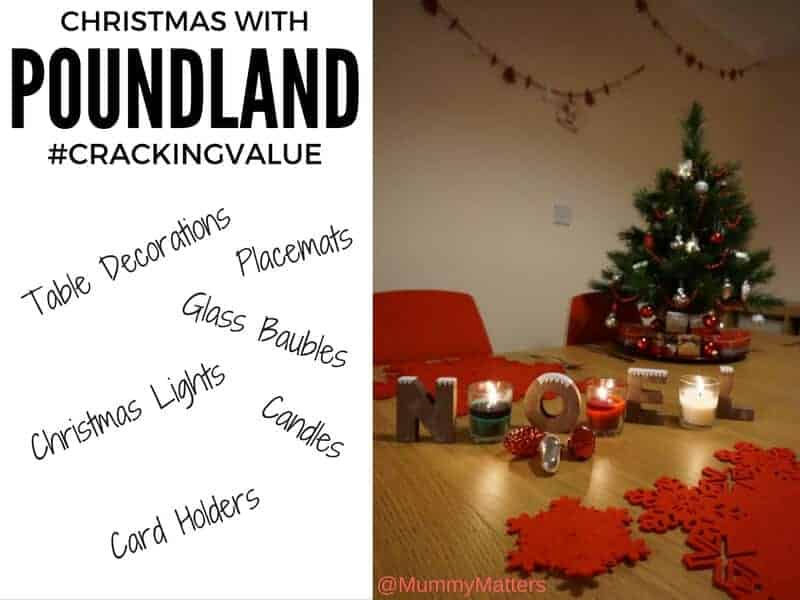 Christmas with Poundland #CrackingValue
I am no stranger to Poundland, tending to go there once or twice a month to top up the home shopping, buying brands names at, you guessed it £1!! (Although you can also buy some great value items for a little bit more). I make big savings on crisps, biscuits, snacks, cereals and household cleaning. My most recent shop was nothing to do with food or cleaning, it was all about Christmas . . .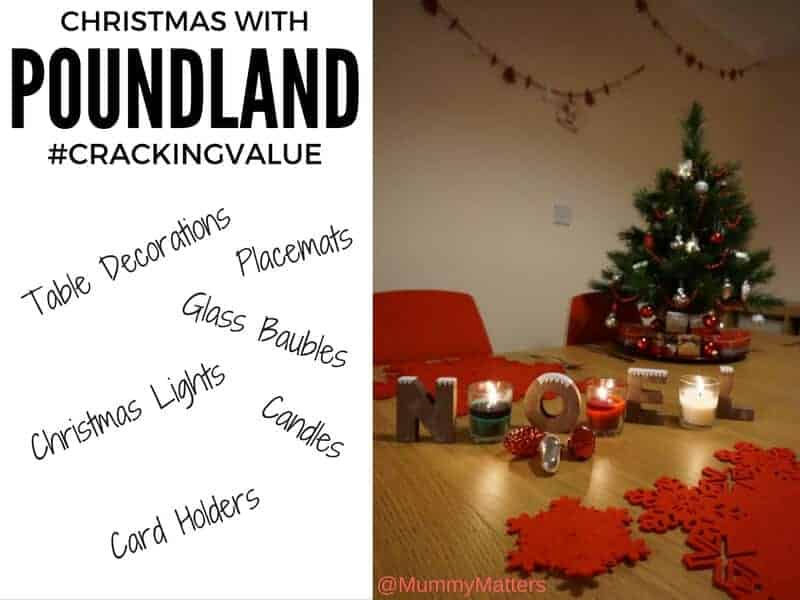 I love the opportunity to dress the home for Christmas, I used to put my decorations up 12 days before Christmas but since having the Beans our decorations have always gone up on the 1st December to get us into the spirit of Christmas. Last year we knocked through our dining room into the kitchen and its a room we spend a lot of time in over the festive period so I've been slowly finding new decorations to bring Christmas into the Kitchen/Dining room.
I was tasked by Poundland along with a group of fellow bloggers to see what they had to offer by way of Christmas decorations. My challenge was to decorate a room. I was sent £50 vouchers and the Poundland Christmas Look book which is beautiful and packed with great ideas and inspiration. The colour scheme in our Kitchen/Dining Room is mainly red so it's perfect for Christmas.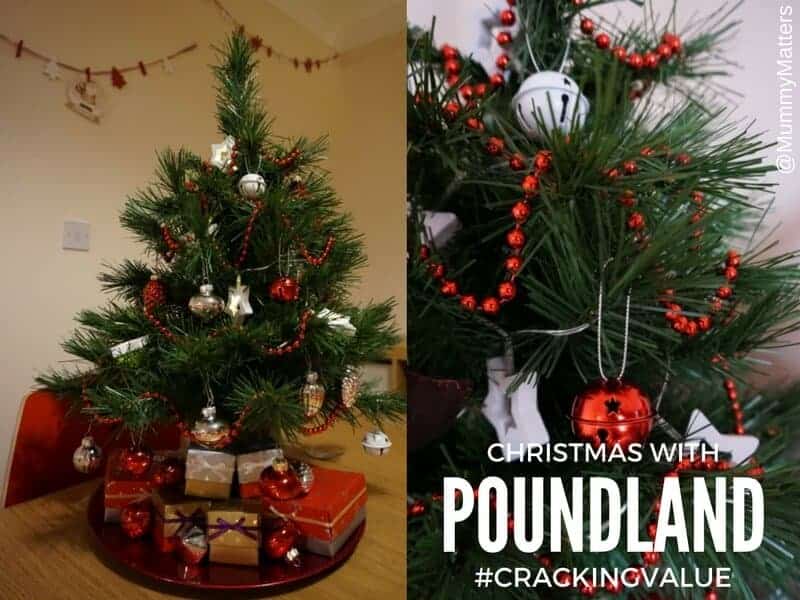 We have a small Christmas tree in our dining room which came with our main Christmas tree. To decorate it I bought boxes of red and silver glass baubles, red, silver and white bells, battery operated Christmas lights and red beads. The overall effect is exactly what I was looking for.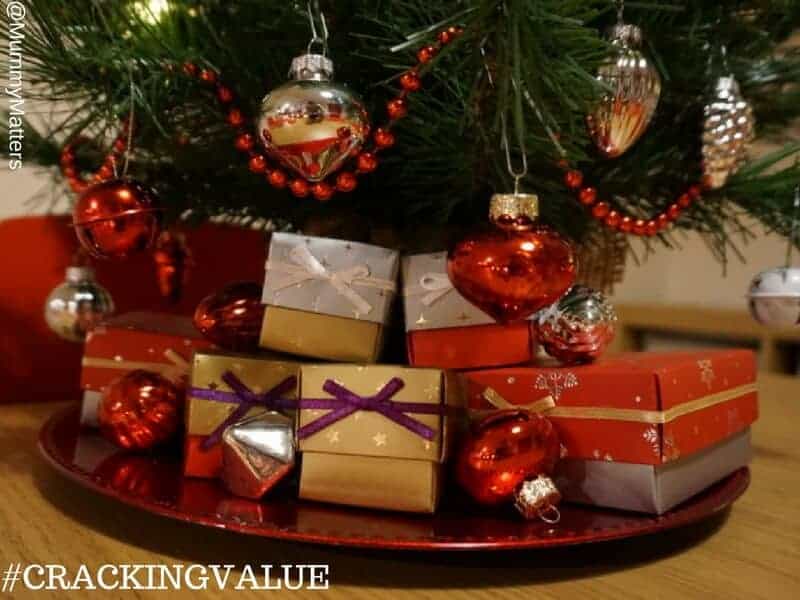 I used one of the red charger plates to stand the tree on and two packs of Mini Gift Boxes mixed up with a few of the spare glass baubles underneath the tree.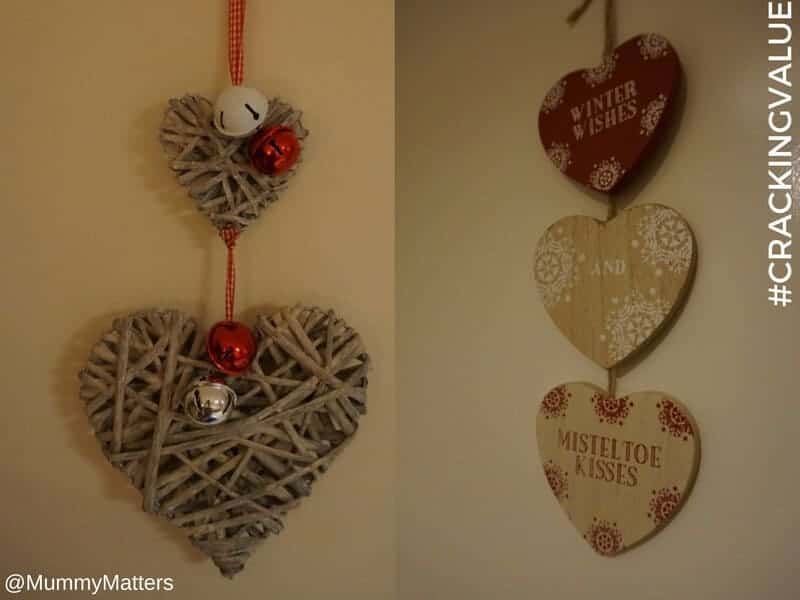 I love these hanging hearts decorations which fit perfectly with our decor, I added some of the spare bells to the double heart for a bit of extra colour, next year I might go a step further and decorate them with fir cones to the match the large heart we made last year.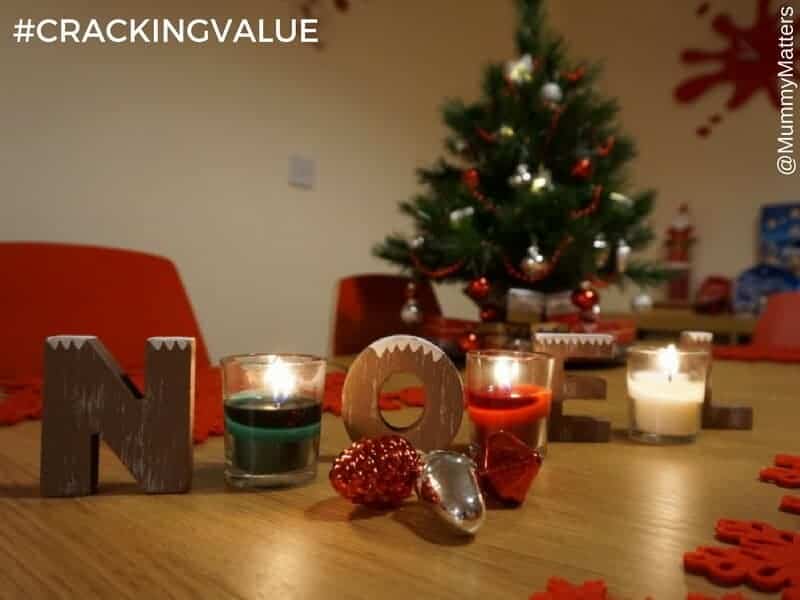 Candles never used to be my 'thing' but over recent years I have come to love them (providing they are out of reach of the Beans). These scented candles are colourful and they add a festive aroma to the home. I loved the Noel letters too but I obviously need to teach the Beans the meaning of the wording as they keep asking me why I have a name sign for someone who doesn't live here?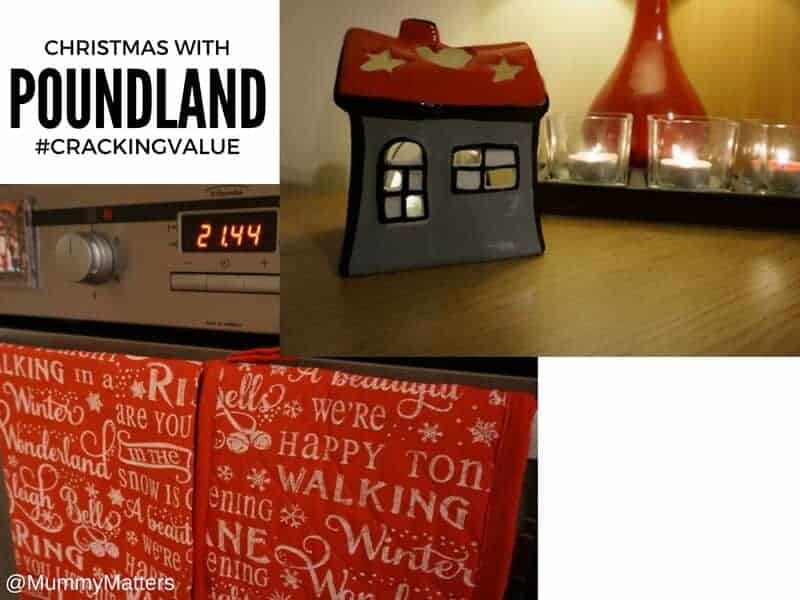 Hubby is the Chief Chef in our home so he will be in charge of Christmas Dinner again and he always does an amazing job. I spotted these festive tea towels and oven gloves which not only add some Christmas cheer to the kitchen but they will protect his fingers from the hot pans. I also bought a pack of red tea lights which are scented and have added them to the tea light holder I have had for a few years now.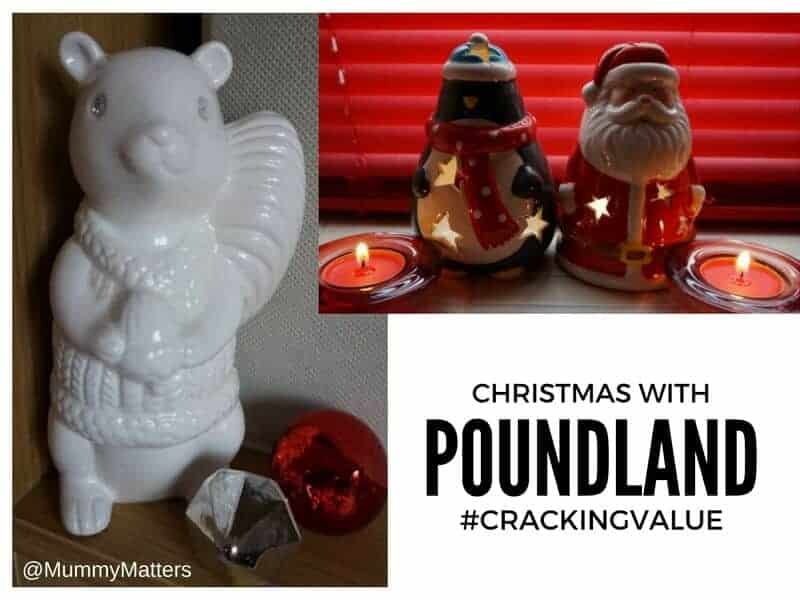 Christmas wouldn't be Christmas without twinkling lights, Santa Claus and of course a few animals. Beanie Boy chose Santa, the Penguin and the little Squirrel (though I am now wishing I bought a friend for the Squirrel as he looks a bit lonely). We use battery powered tealights in all of our festive lights and the Beans love them.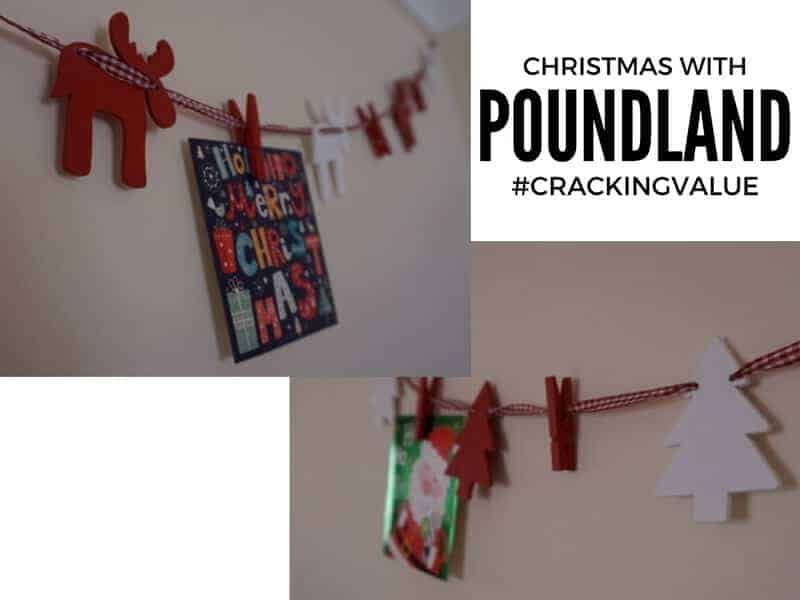 Saving my favourite until last I have been trying to find a card holder for years and have finally found the perfect ones for our home. We have a fondness for Reindeers but I just had to buy the Christmas trees too and love how they look up on the walls in the dining room. We used the 3M small hooks to stick them up over the festive period.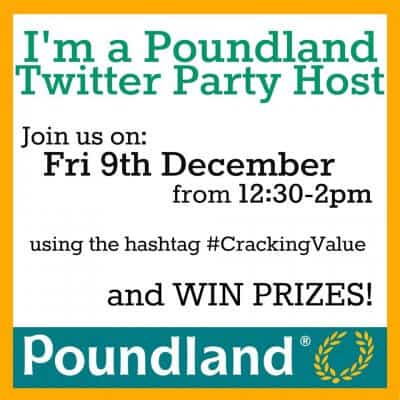 What bargains have you found in Poundland recently? If you're still looking for some Christmas inspiration then check out #CrackingValue on social media. As other posts go live I shall also add the links to the other Poundland Bloggers to the bottom of the post but before I go, I also need to tell you about the great Twitter Party we will be hosting this Friday from 12.30pm until 2.00pm. Pop along and join in the fun and you might just win some prizes!!
Poundland Blogger Posts
Little Likely Lads – A Poundland Christmas
What the Redhead Said – Starting to feel festive with Poundland
Modern Mummy – Deck the Halls with Poundland
Blog by Baby – #CrackingValue at Poundland
What Hannah Did Next – Festive Dining with Poundland
The Joy of Five – Getting Christmas off to a cracking start with Poundland
Me and My Shadow – Deck out your home this Christmas for less with Poundland's cracking value
Innocent Charms Chats – Festive Styling with Poundland
*Collaborative Post