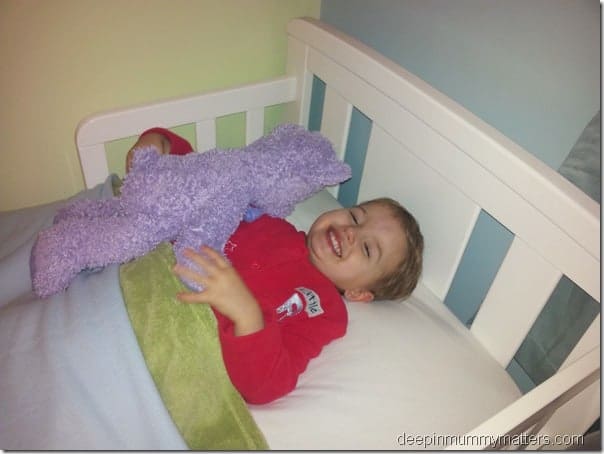 Oh come on you dirty minded lot, what sort of picture were you expecting to see here? Of course, I'm talking about my little Beanie Boy who as from January will no longer be the baby of the family. This week we have been busy getting ready for our new arrival due in the New Year and that has meant A LOT of decorating and moving of furniture (and general hoarded crap!!) from one room to another, to another as we have had a big change around in the Mummy Matters household. Little Bean has now moved into Curly's bedroom, Curly has moved into Beanie Boy's bedroom and Beanie Boy has moved into Little Bean's bedroom which he will be sharing with Jelly Bean when he gets here.
For Beanie Boy this has also meant a new bed, a BIG BOY'S BED which he is over the moon with. He keeps inviting everyone who comes through the door to go and look at his new bed and then proceeds to show them how he sleeps in it – so cute! I was really nervous about how he would get on moving to an 'open' bed, I expected that he would be out of it every 10 minutes but so far, so good! He is still going to bed really well at bedtime and he has only fallen out of bed once (although we do have a spare mattress on the floor at the moment) and he didn't even wake up when he did.
It's hard to believe where the last 2+ years have gone since we brought our little man home from hospital, he is growing into such a lovely little boy. He is very caring and eager to please, he's bright as a button and has the best sense of humour of all three and that's saying something! He really 'gets' humour and considers himself to be quite funny (which he is). He gives the most heart-warming cuddles ever and in recent weeks will come up randomly, sit on my knee and say "love you Mummy". To think that when I found out I was carrying a baby boy when I was pregnant with him and that I was nervous about how my relationship with a boy would be, I have the best little boy in the world and I am so in love with him (Little Bean and Curly too) that I count my blessings every single day (even the days they are driving me crazy – just not quite as much as the other days!!).