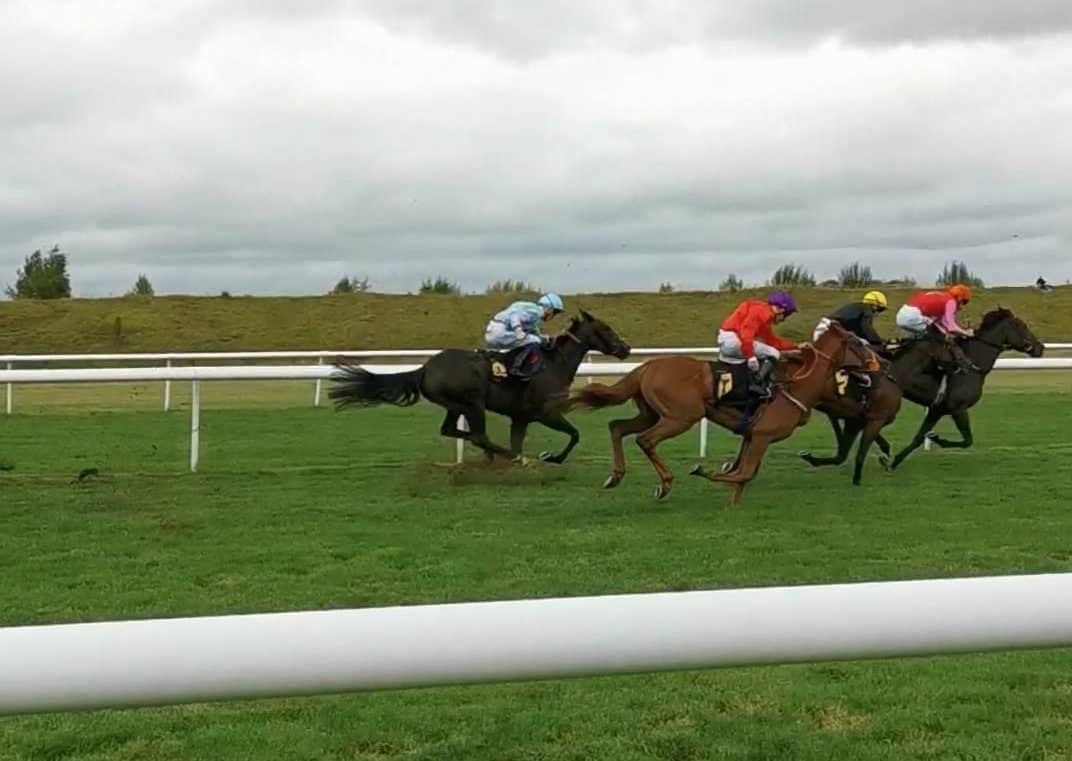 Our first family visit to Newmarket Races – Summer Saturdays
Horse racing isn't really something that I have ever considered taking the Beans to see. As a child, I used to love watching the horse racing on the TV with my Grandad on a Saturday afternoon but the older that I have got, the more horse racing hasn't really crossed my mind. A couple of weeks ago we were invited to try out Newmarket Races Summer Saturday as a family and of course, said yes, please! We were attending on the same day as my lovely friend Sarah from Boo, Roo and Tigger Too so the Beans had lots of fun playing with Roo and Tigger, leaving me and Albie to have lovely toddler cuddles with Piglet.
Ticket Information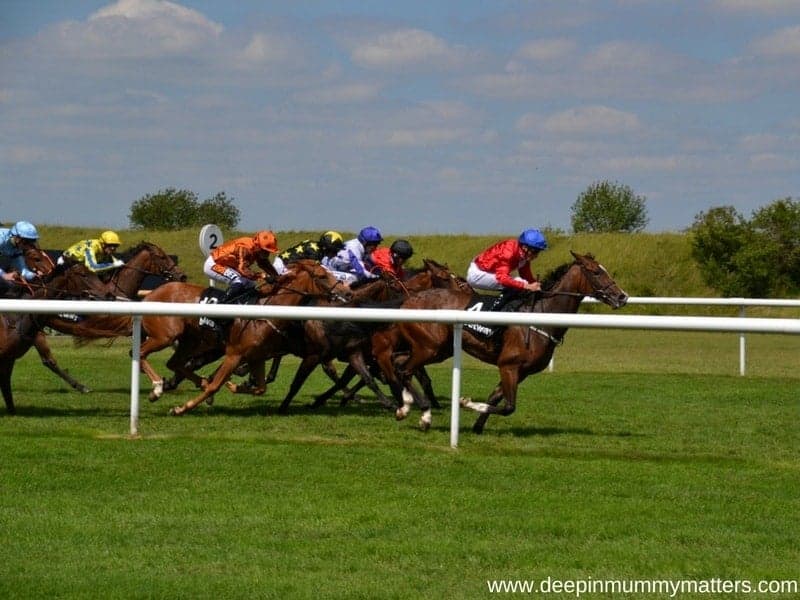 We arrived at Newmarket Adnams July Racecourse around 1.30 pm and was delighted to see that the sun was still shining brightly so we were off to a good start. We had been given tickets to the Family Enclosure (£11 per adult) which had then been upgraded to Premium (£16.50). This meant that we would have access to the Family Enclosure and to the Parade Ring and Grandstands so you get right in where the action is and see the horses pre-race and in the Winner's enclosure.
What are Summer Saturdays?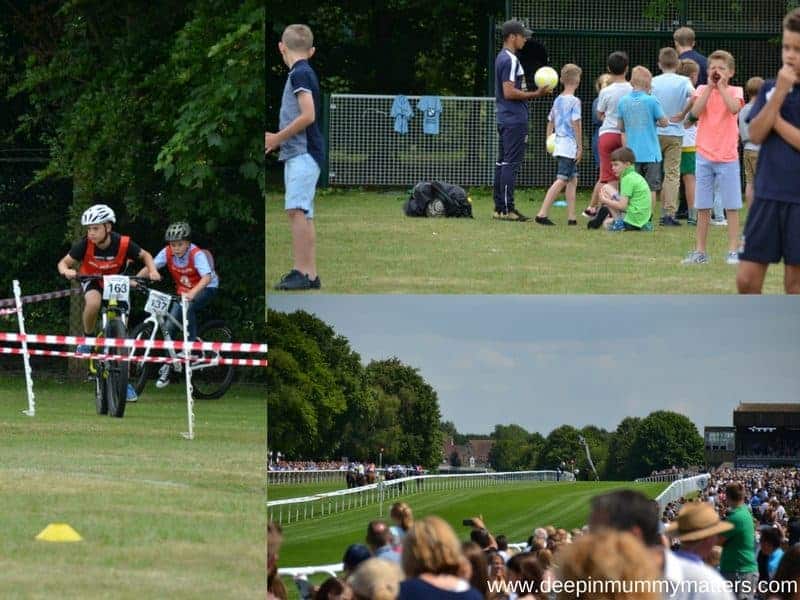 Throughout the Summer months, Newmarket is inviting families to get in on the action with their Summer Saturdays. These are themed days where there is something for everyone. The Saturday that we attended was 'Sports Day' so there were all kinds of sporting activities from Football with Cambridge United to cycling and let's not forget horseracing. The best part of it all? Children under 18 are free to enter AND all activities are free too so there's no need to say 'no'.
Family Enclosure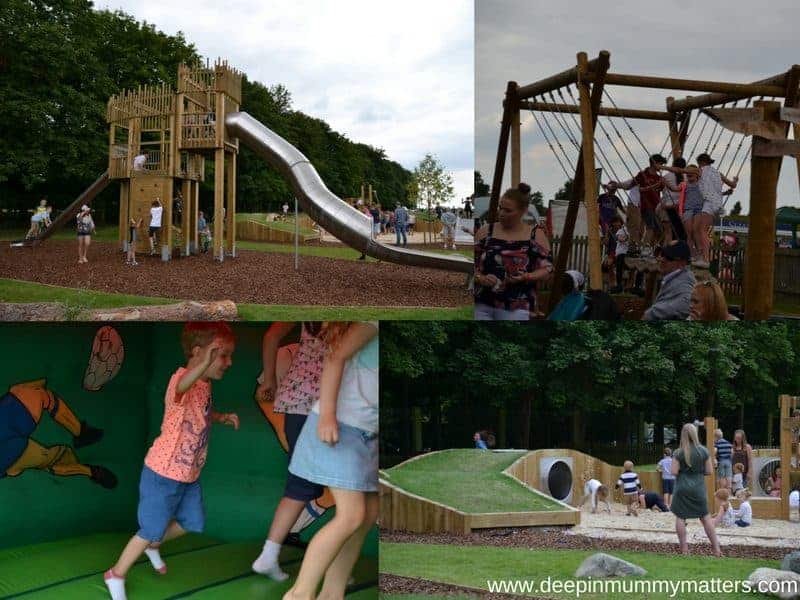 The family enclosure is a large area at the trackside so you don't need to miss a race! Picnic tables are provided but you can take along tables, chairs, picnic rugs and gazebos to really make a day of it. Whilst you sit back and relax with friends to watch the horses, the children are entertained by the various activities available to them AND the new MEGA play area. Newmarket has just installed a £90k adventure play area which has something for children of all ages and abilities. You really need to see it to believe it. As you can imagine, the Beans were in their element and didn't want to leave.
Winner's Circle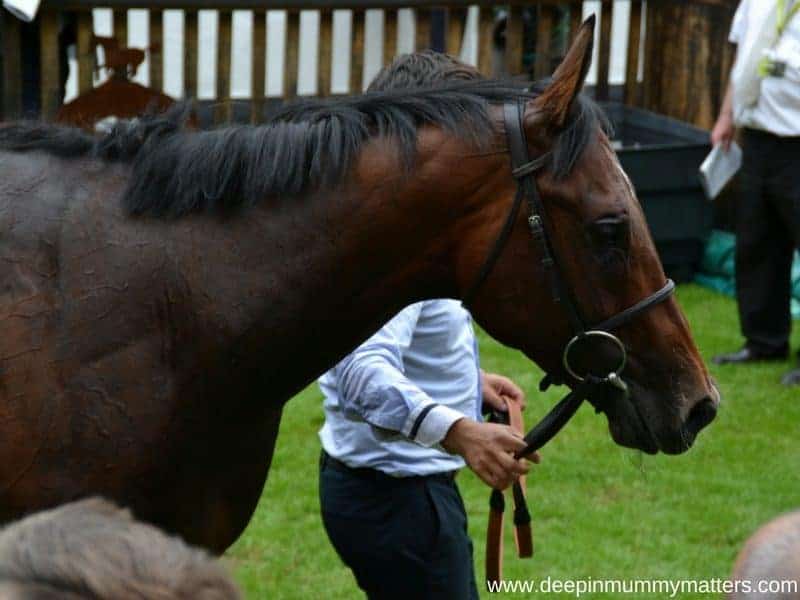 Having a Premier Ticket meant that we could explore all areas so as one race finished we decided to have a walk up to the Winner's Circle to see the horse and his Jockey being congratulated. The horse received a well deserved cooling bucket of water over his back and a rub-down for their efforts.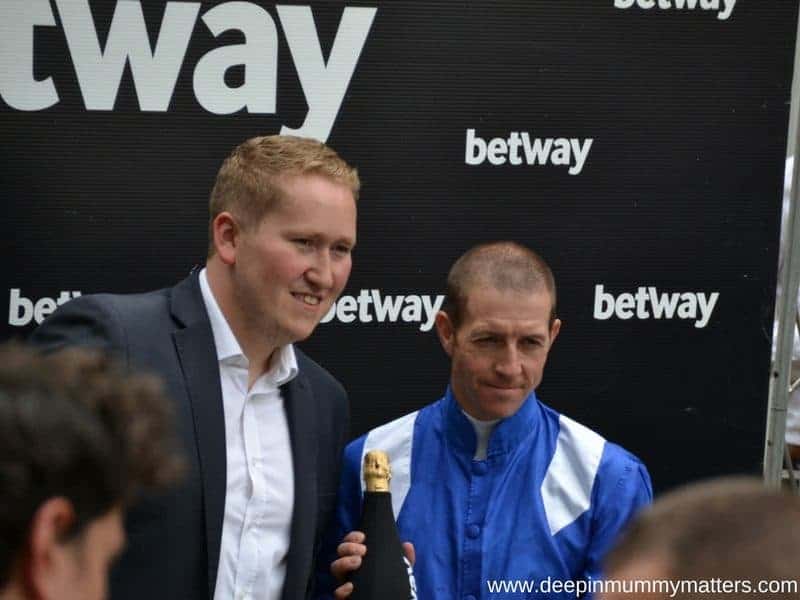 Parade Ring and Pre-Parade Ring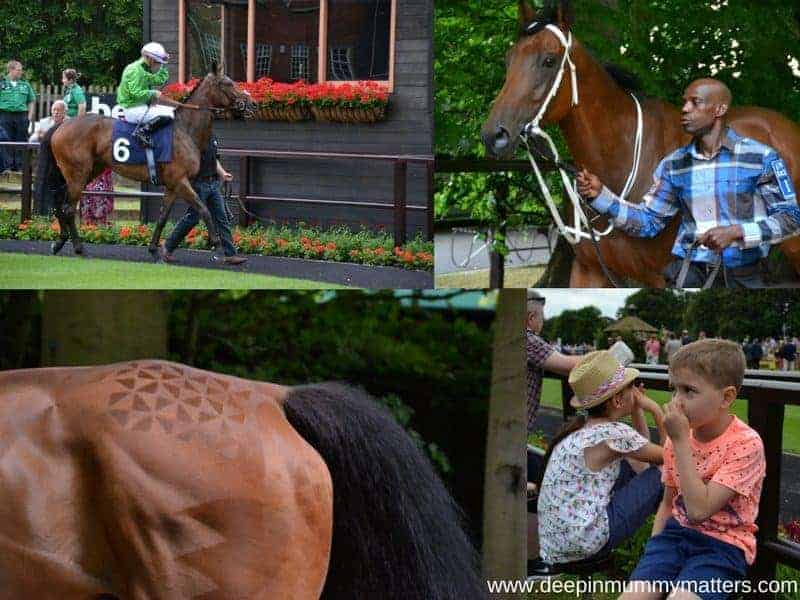 Following the Winner's Circle, we ventured a little further with Sarah and her children to the Pre-Parade ring (children are not permitted to enter this area for safety reasons) and the Parade Ring. The Parade Ring had seating all around so the children loved watching the horses walking around . . . right up to the point that one horse decided to 'lighten the load' right in front of them. Yes, it was very stinky!!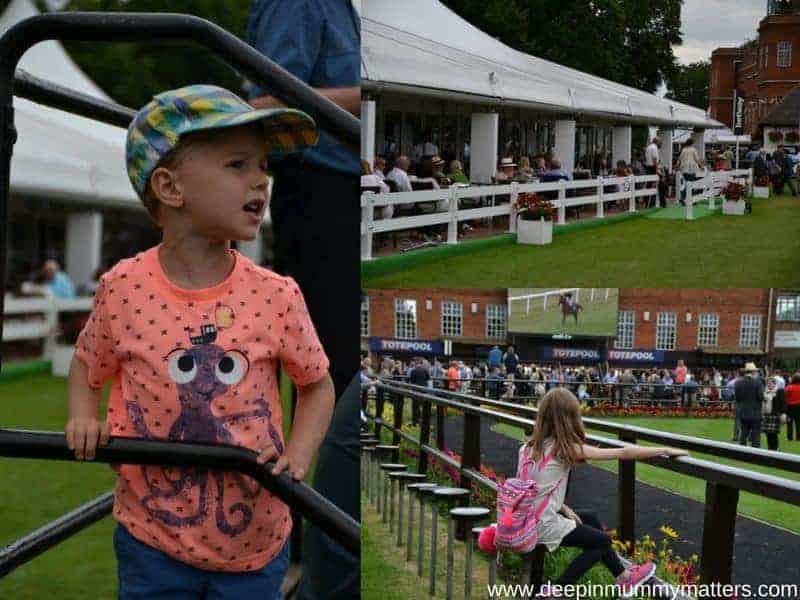 Albie picks a Winner!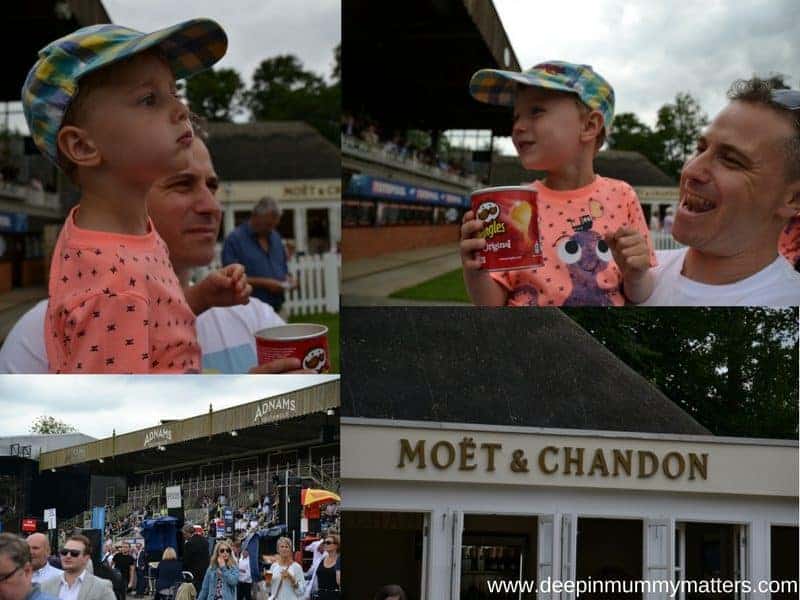 On the day we didn't actually place any bets, we were having lots of fun being caught up in the atmosphere of the venue and having fun as a family. That didn't stop us having a little game amongst ourselves, as the last race began we each picked a horse and stood trackside to watch the gee-gees coming in. All of the Beans were excited and cheering on their horses as they came up the track but it was Albie who was cheering the loudest when his horse won!
A Perfect Family Day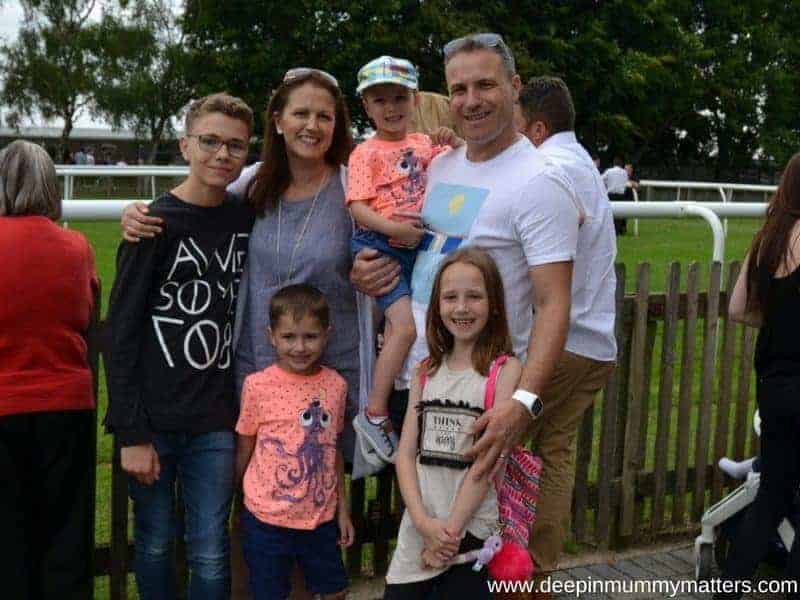 We might not have considered a day at the Races as a family day out before but we most certainly will do another time, everyone agreed it was the best day out. We relaxed in each other's company, had fun with friends, saw beautiful animals, enjoyed a spot of competition and got to try out sporting activities for free.
In the Family Enclosure, you can take your own picnics (though you need to be aware of the strict alcohol limits) or you can buy food and drinks on site. We were given a picnic basket which had been ordered from The Pantry in Newmarket and let me tell you it was amazing, it had the biggest Sausage Rolls, Scotch Eggs and Scones I have ever seen, nevermind the sandwiches and crisps. We were so full we could eat our evening meal when we got home. If you're planning a day at the Races we would definitely recommend you order a Picnic Hamper.
Dates for your Diary
There are another five Summer Saturday's still to come this Summer and a Feel Good Friday so plenty of opportunities for you to enjoy the fun too.
22nd July – Summer Saturday: Great British Summer Day
29th July – Summer Saturday: Countryside Day
5th August – Summer Saturday: Great British Picnic
12th August – Summer Saturday: Royal British Legion Day
19th August – Summer Saturday: Horseplay
25th August – Feel Good Friday
DISCLAIMER: We were given tickets and a Picnic Hamper in exchange for our honest opinion. All words, images and opinions are my own and may not be copied without my permission. I have not been instructed what to write.