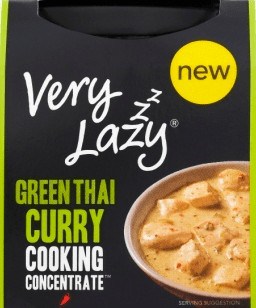 Very Lazy Green Thai Curry
Believe it or not, I have actually started cooking a little more often in the Mummy Matters household, in fact I now do most of the cooking Monday to Friday and although I wouldn't quite call myself a 'cook' yet, I'm getting there slowly with the help of my cookbooks. Back in April, I reviewed the Very Lazy Sausage Casserole concentrate which was perfect for someone like me who wants a meal to look good without having to put too much effort in.
Very Lazy Green Thai Curry
Last week I put the Very Lazy Green Thai Curry to the test and I failed at the first hurdle! I forgot to read the label and so I didn't have a necessary ingredient – Coconut Milk, this amused my Husband considerably!! After a trip to the shop where I purchased all those other non-essential items that you always end up buying when you only go in for one thing (DVD's, books, leggings, kitchen roll – why so much kitchen roll?) I was finally ready to get started.
Easy to Prepare
Green Thai Curry is one of my favourite meals, I'm not usually into spicy foods – a Korma or a Tikka Masala is about my limit so I was really looking forward to this meal. As with all the Very Lazy Concentrates it is so easy to prepare and cook, all I had to add was chicken (or prawns if that takes your fancy) and of course who could forget the coconut milk? The meal took 15 minutes to cook before serving on a bed of rice. It looked and smelt delicious, Hubby and our dinner guests devoured their plates in record time, unfortunately for me, it was slightly spicier than I prefer, I think perhaps too much black pepper or something so I didn't eat all of mine and it probably isn't one that I would try again but I am a bit of a wimp like that. It certainly hasn't put me off the Very Lazy range though, I just need to find a different flavour from the range for me and there's plenty to choose from.