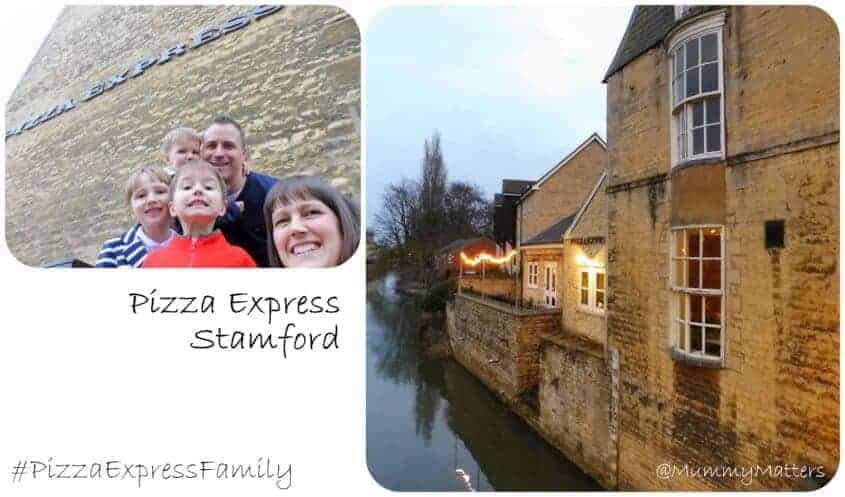 #PizzaExpressFamily Treat Night for the Beans
I couldn't begin to guess how many times we have been to Pizza Express with the Beans but I can definitely tell you it's our family's favourite place to eat. Jelly Bean is only 3 years old but already he knows the Pizza Express sign and will point it out excitedly when we visit a new town! We are lucky enough to live within 15 minutes of two Pizza Express restaurants, both of which are great and provide excellent service and delicious food. Recently we have been visiting Stamford more often as it's closer to Hubby's work and we like the cosier atmosphere here.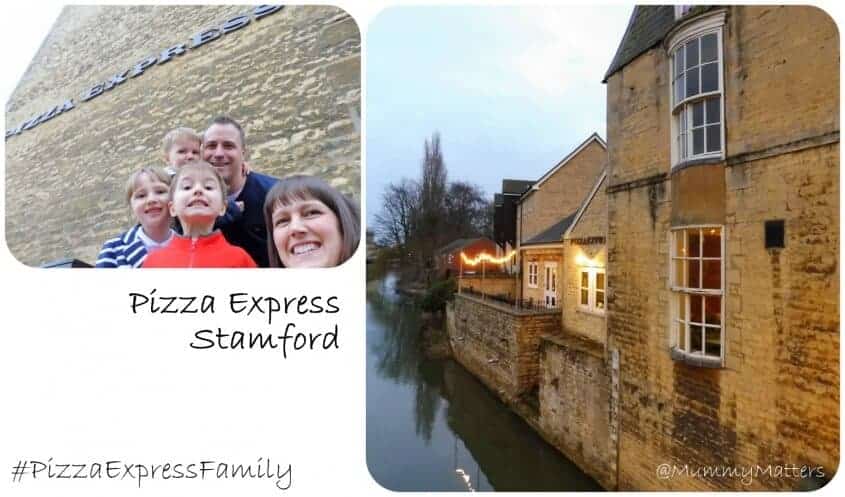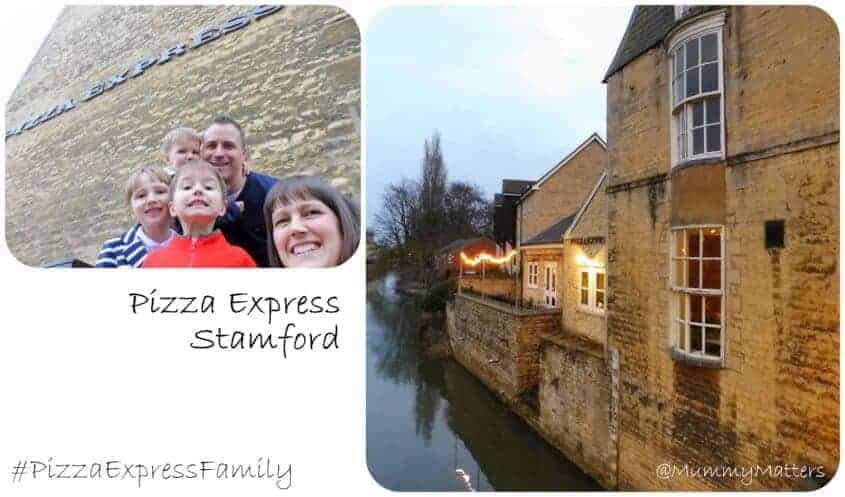 We have been invited to join the #PizzaExpressFamily campaign which will see a number of blogging families visit their local Pizza Express restaurant over the next week, then on the 31st March from 2-3.30pm there will be a Twitter Party with prizes to be won including a meal for four at Pizza Express.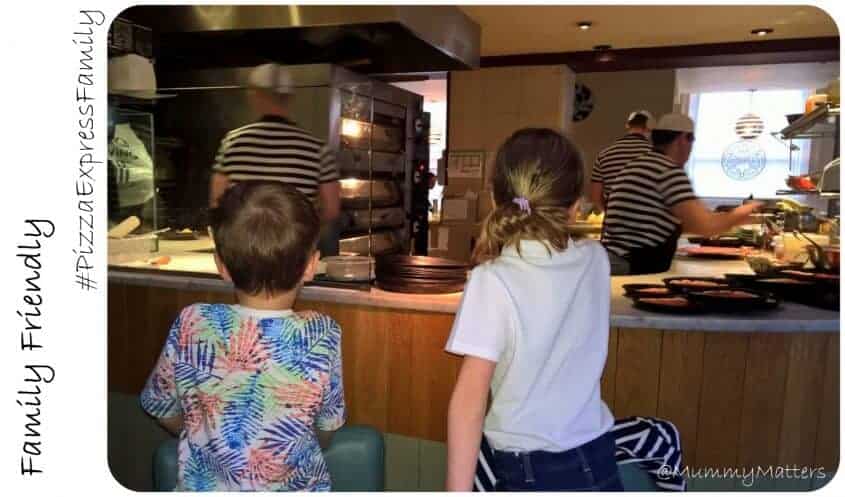 This evening we visited Pizza Express in Stamford and were warmly greeted by the staff. Little Bean proudly walked in and asked "could we have our usual table please?" which just happens to be right next to the Chef's station in the centre of the restaurant. The Beans love to sit and watch as the pizza dough is made and tossed around.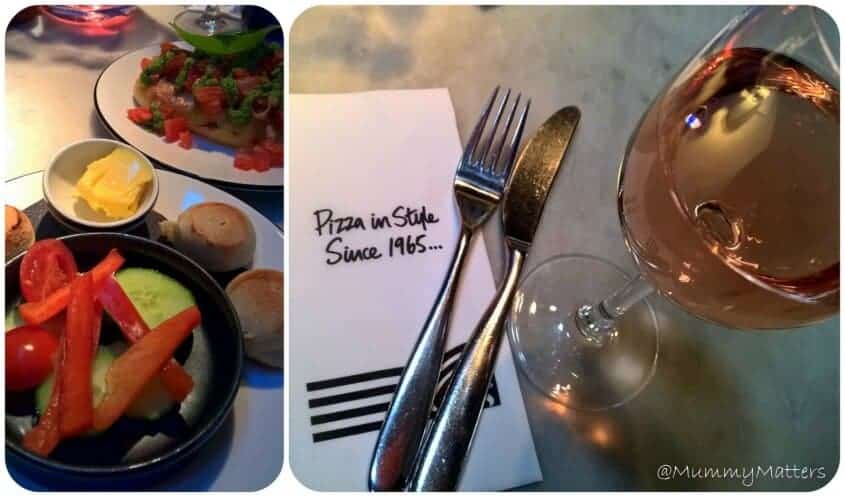 I shall be honest and tell you that at the moment I'm really trying to watch what I eat as I am so unhappy with the way I look and feel right now but I don't want that to stop the family enjoying a meal out together. With Pizza Express it's easy to be mindful of how much you are eating because they have a Leggera Menu (lower calorie options) and they taste great. Not being one to deny myself of the treats completely I allowed myself one glass of Pinot Grigio Blush to enjoy with my meal.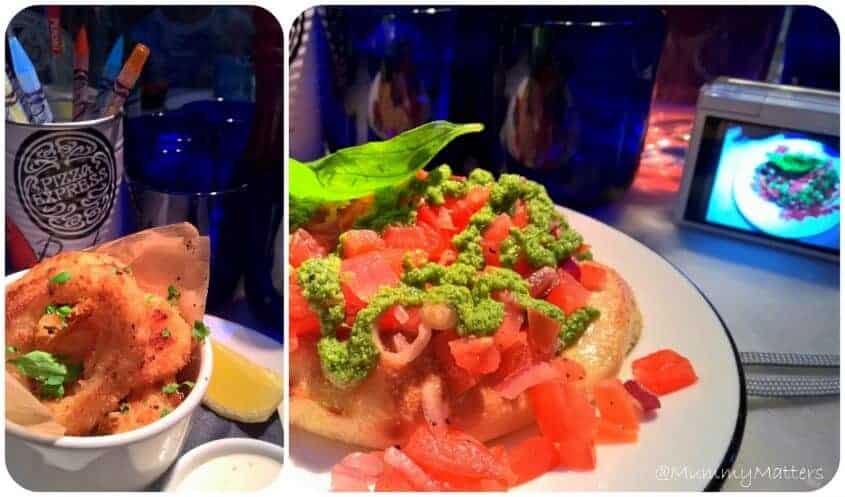 Hubby decided that he was going to give some of the NEW dishes a try and chose Calamari for starters, lightly-crumbed crispy rings served with Caesar dressing, lemon and fresh parsley. He said this was very tasty and light enough to not spoil his appetite. I chose Bruschetta which (believe it or not) was something I hadn't tried before but I loved it. I usually go for garlic bread and decided that whilst I still wanted the bread, I had a taste for tomatoes and  pesto but wasn't planning on eating Pizza for main.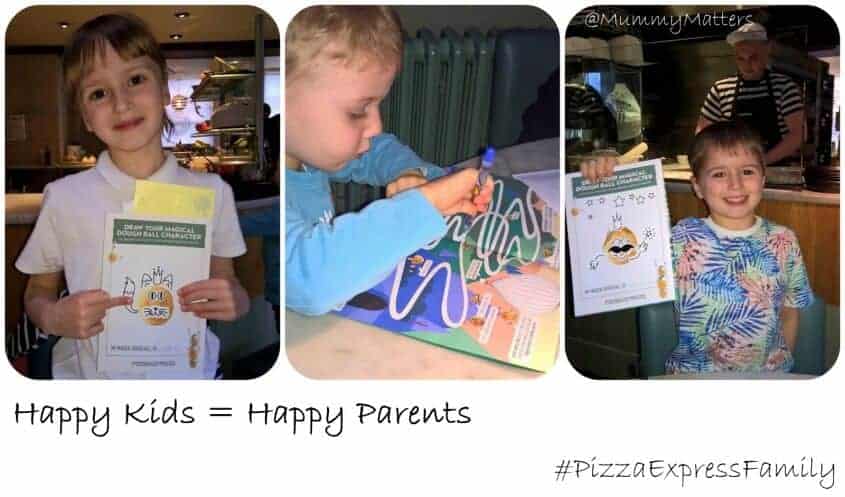 The Beans all chose their meals from the Piccolo Menu which doubles up as a great activity sheet. The Beans actually never even look at their menus anymore because they all know exactly what they want before they arrive! I love the activity sheets because it keeps them amused whilst Hubby and I make our food choices and it also distracts them between courses as well as providing fun for us to do together.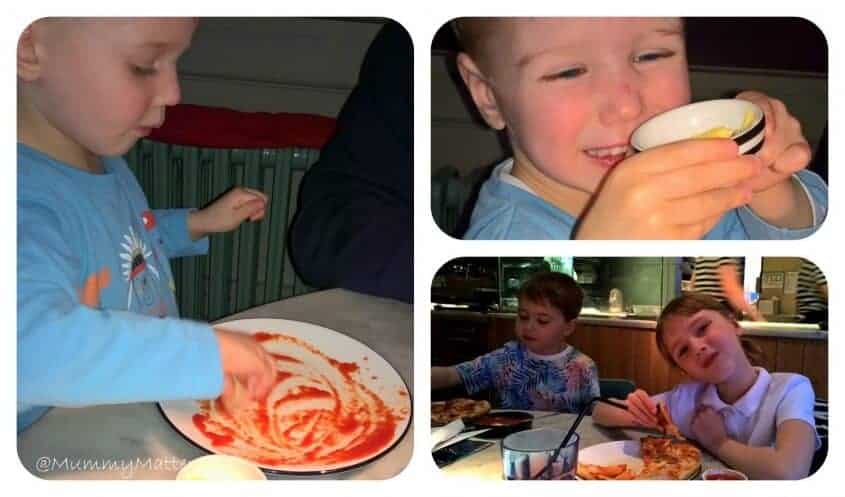 One of the favourite parts of the Beans' meals would have to be their dough balls, they love them so much they have even got me buying the Pizza Express dough balls and passata from the supermarket between visits to the restaurant. Jelly Bean is a strange one, he asked tonight if he could lick the butter straight out of the dish??? We managed to talk him out of it!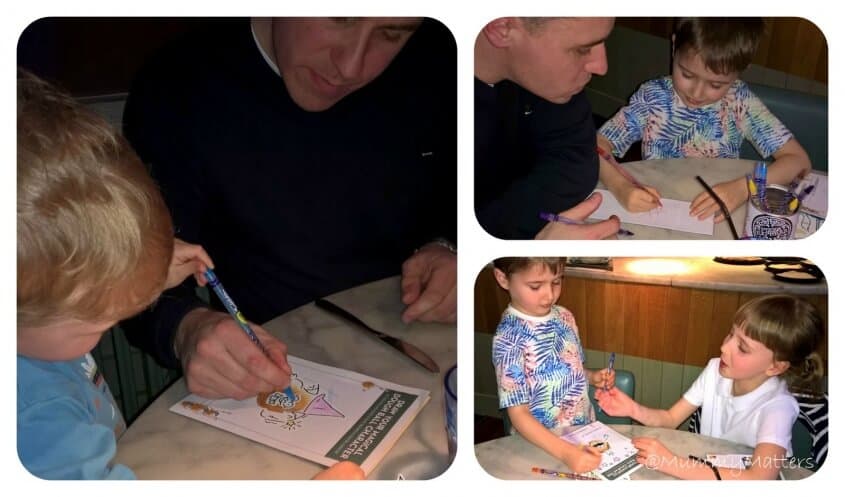 During the week the Beans eat their tea quite early and so Daddy is still at work so they miss this opportunity to sit with Daddy and relax at the table. They revel in the chance to get him to play games and help with their colouring, the meal becomes a real 'family affair'.
Sticking to his decision to try new foods from the menu, Daddy chose the Calzone Diavolo for his main course; hot spiced beef, green peppers, red onions, pepperoni, light mozzarella, spinach, tomato and Tabasco, with your choice of hot green, roquito or jalapeño peppers, baked with pancetta and Gran Milano cheese. He cleared his plate (leaving food is never an option) and commented that he would definitely order it again, it had a nice spiciness to it that left his tongue tingling.
I ordered from the Leggera Menu and chose the Superfood Salad. When the plate was placed in front of me my eyes nearly fell out of my head, there was sooooo much of it. But as I looked I got excited, it was perhaps one of the best salads I have ever eaten as it contained all of my favourites; avocado, beetroot, cucumber, tenderstem broccoli, chicken and spinach. It's high in nutrients but low in calories and I didn't managed to clear my plate but I would eat it again tomorrow!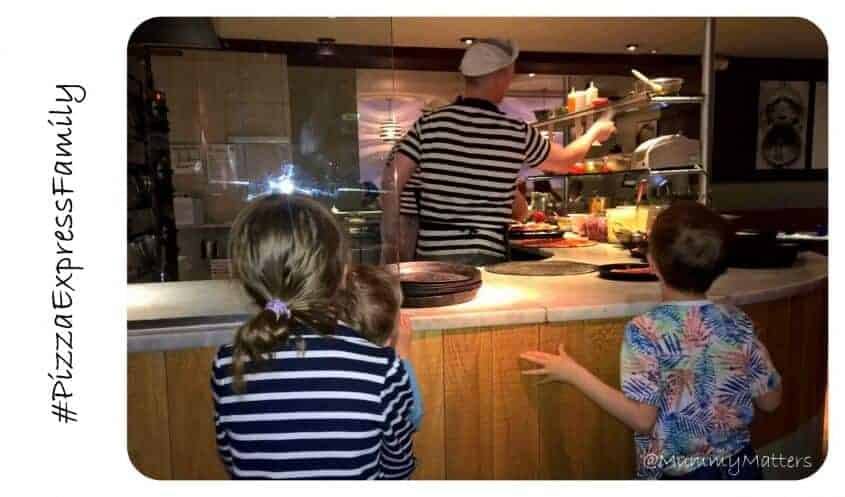 The Beans stuck to their usual pizzas (margherita for Little Bean and Jelly Bean, pepperoni for Beanie Boy) and they pretty much demolished the lot (which pleases Mummy immensely).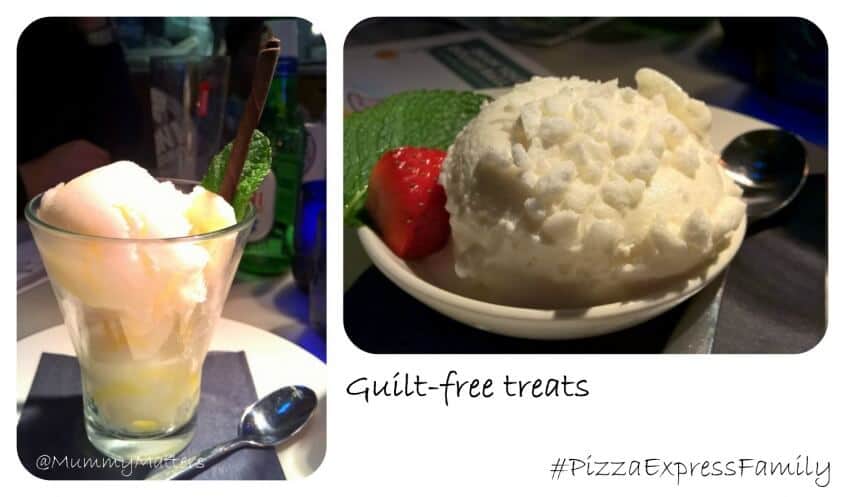 Since I have been watching what I eat I don't tend to have a dessert after my meal at home but since this was treat night and I knew that Pizza Express do a great low calorie dessert which just happens to be my favourite, I wasn't going to go without. I ordered the Leggera Tartufo Limoncello which is a delicious creamy Sicilian lemon and Fior di Latte gelato with a liquid centre of limoncello and the best bit is it comes in at under 210 calories! Perfect! Daddy chose the Lemon Sorbet which also came in around 200 calories – guilt free desserts? Yes please!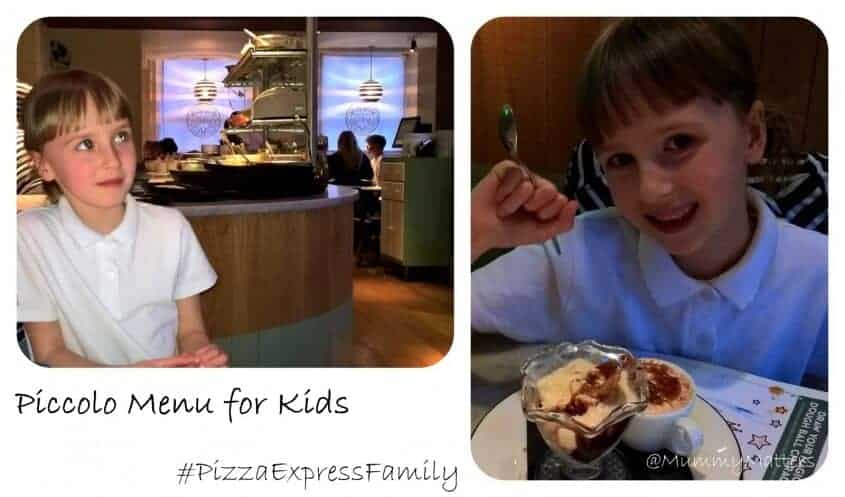 Little Bean makes me laugh when we go to Pizza Express as she is adamant that she will order her own meals and I accidentally ordered hers for her. The waitress saw the look of disappointment of Little Beans face and turned to her and asked for her order which soon put the smile back on her face. She still ordered Chocolate Sundae but the difference was, she had ordered it herself.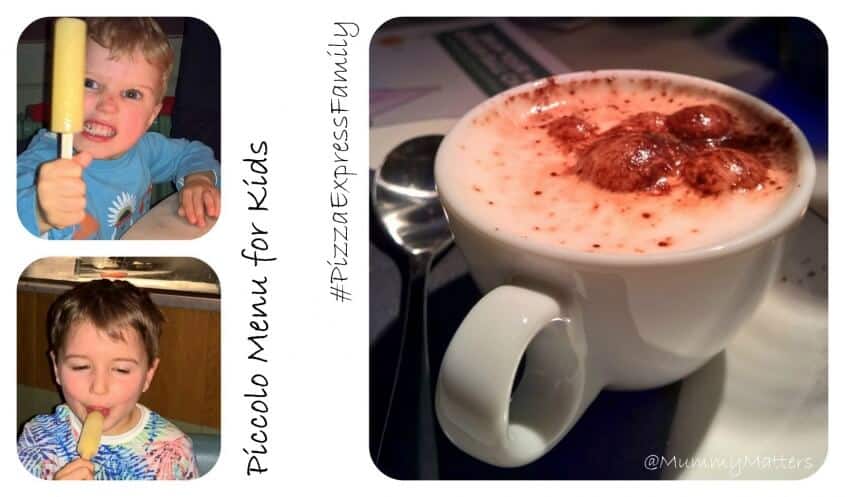 The boys both chose the Pip Organic Ice Lolly which is now Apple flavour instead of fruit but they still loved it all the same and of course they finished off their meals from the Piccolo menu with their 'Bamboccinos' as they call them (Bambinoccinos). The Piccolo Menu is excellent value for money at £6.95 for 3 courses and includes the Bambinoccino too.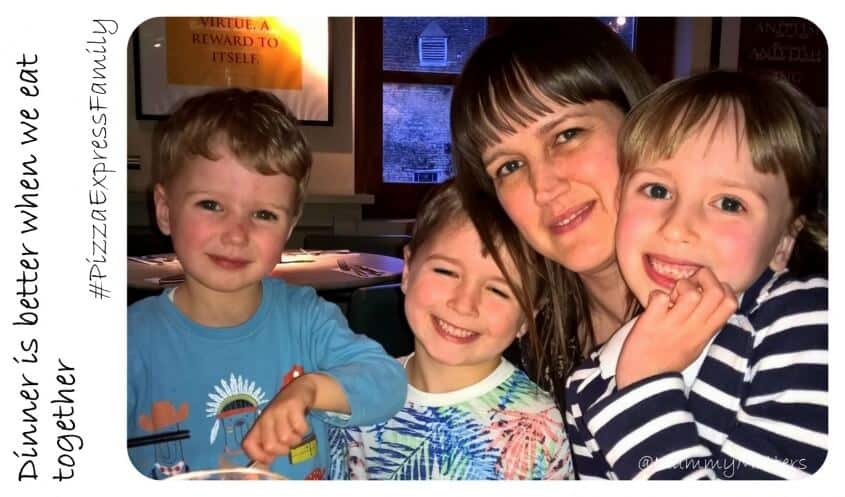 Thank you Pizza Express Stamford for another great evening, we shall be back again soon x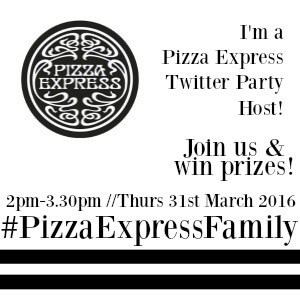 DISCLAIMER: We received our family meal and drinks at no charge in exchange for our honest opinion of our experience. All words, images and opinions are my own and may not be copied without my permission.