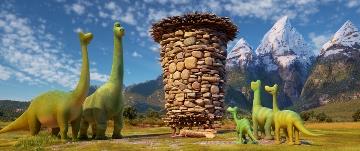 The Good Dinosaur – Weekend Event London Victoria Station TODAY!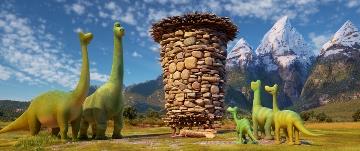 Everyone has their own unique journey of self-discovery to make their mark in the world. In an exclusive two day event at London's Victoria Station on the weekend of 19th – 20th March 2016, Disney•Pixar and TOMY are inviting you to come down and make your own mark to celebrate the Home Entertainment release of The Good Dinosaur. The film will be available on 3D Blu-rayTM, Blu-rayTM and DVD digital download on the 21st March 2016. The TOMY toy range inspired by the film is available now, from all good toy retailers, and includes an Arlo Mask, a selection of The Good Dinosaur figurines plus many more. Check your local retailer for special discounts across the whole range from all good toy retailers.
Created by the team who bought you Inside Out and Finding Nemo, the grain silo treasured by Arlo and his family is coming to life in London's Victoria Station. The silo will be bursting with dino eggs, which when cracked, will lead the winner to collect one of many magical Disney•Pixar and TOMY goodies. Come down, make your mark and join in with the magic of The Good Dinosaur.
@Disney_UK Twitter     @DisneyPixarUK              Facebook             #gooddino          #dinoselfie