Totally puzzled by Wasgij!
When was the last time you tackled a jigsaw puzzle? I don't mean a 4 and 8 piece one with your toddler, I mean a full-on 500+ piece jigsaw puzzle? We have completed a few photo puzzles which have been gifted to us over the years which were easy by comparison. For the past couple of weeks, Hubby and I (well ok mostly Hubby) have been doing something totally different because I was asked if we would like to try a Wasgij so I thought 'yeah why not?'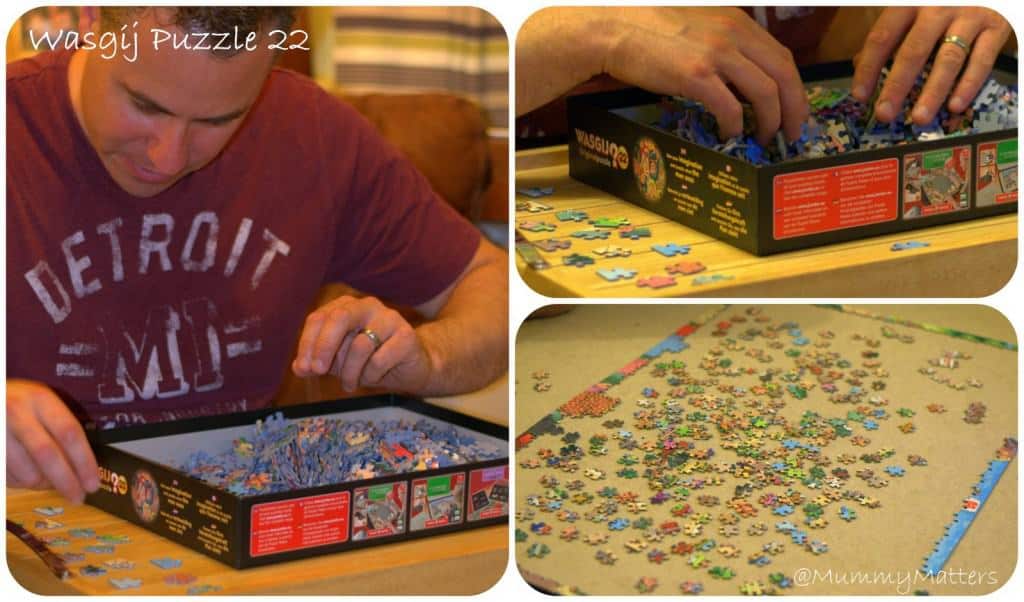 When it arrived and we saw that it was a 1500 piece puzzle we weren't too worried, puzzles are easy once you know how right? Well, that's what we thought but then we had never tried a Wasgij. For those of you who haven't tackled a Wasgij yet, let me explain . . .
Wasgij (Jigsaw backwards!) is unique because the image you are required to build differs to that shown on the box – unlike traditional jigsaw puzzles. Puzzlers can choose from four different puzzling concepts; Original, Destiny, Mystery and What If..? to enjoy – each uniquely different from the next.
This summer Jumbo Games launched the first-ever 1,500 piece Wasgij jigsaw puzzle – Wasgij Original 22: Wasgij Studio Tour! The box image of Wasgij Original 22 depicts the opening of the new tourist attraction, The Wasgij Studios and fans have turned up in their hundreds to be the first to step through the doors! As the Wasgij fans enjoy riding on the open-top Wasgij Tour bus and walking around the Wasgij Towers, a crowd gathers to witness something magical . . . an image that you, the puzzler, have to piece together.
On the box are a few clues to help you get started, with this puzzle we had to puzzle the image that a guy in the centre of the picture is taking a photograph of so we had to begin by adding in the backs of people who are standing in front of him and build from there. We all have our own ways of doing things so when I helped Hubby on the odd occasion I would grab all puzzle pieces which were similar colours and attempt to put them together away from the main puzzle creating lots of smaller pictures which he could then add in later as he discovered where they needed to go.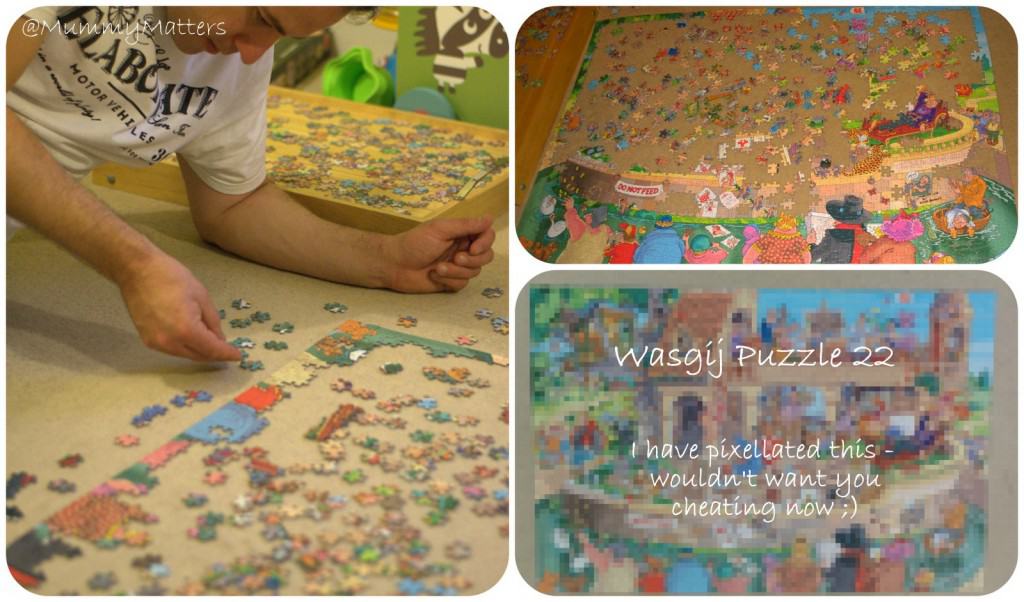 Hubby really enjoyed this challenge, he said that he found it quite therapeutic and relaxing, although obviously quite frustrating at times, especially when piecing together the outer edges as there were a few pieces which seemed to fit in a number of different spaces but he got there eventually.
I also found the Wasgij Puzzle App quite a fun distraction when I felt my mind idle. It's good to keep those grey cells exercised from time to time!
DISCLAIMER: We were sent the above mentioned Wasgij Puzzle free of charge for the purpose of this post. All words, images and opinions are my own and may not be copied without my permission.