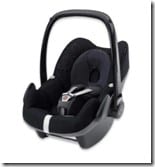 Top 5 car seats
Whether you're a new parent or you're on to your third, fourth or even fifth child, you can never be too prepared for bringing a new-born into the world (no matter how much practice you've had). Everything changes from the moment you hear their first tiny cries and instead of thinking 'now what?' we want you to feel relaxed and confident in the knowledge that you did everything you could to prepare for that special day. One of those important, essential matters of business to attend to is buying a car seat. There are many different styles and brands out there offering brilliant deals on a range of car seats that will suit you and your baby perfectly and we are here to show you exactly which ones they are.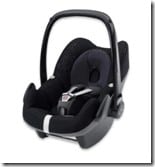 First up, we have the Maxi-Cosi Pebble which is in Group 0 meaning it is suitable for babies from birth, up to 12 months. This car seat has won the Best Buy award from Which? so it certainly deserves a place in our top 5 car seats list due to its vast colour range and the fact that it can be converted into a pushchair with other Maxi-Cosi or Quinny buggies is a huge bonus. This car seat is at the height of practicality as it features a stay open harness that allows you to place your child in and out of the seat with no extra fussing which is so important to a new mother.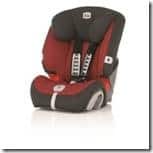 Next is the Britax Evolva 123 which is a popular choice for mothers who don't wish to spend a small fortune on a car seat that their child will grow out of within a year. This seat is specifically designed to adapt to the needs of your growing child as it is suitable for children from 9 months to 12 years. To make your job as a parent just that little bit easier, the Britax Evolva features the Click and Safe which is an audible harness system designed to click when the tension is correct when your child is secure in the seat.

Next is the My Child Travel Luxe which is a brilliant buy for parents who are interested in a car seat that has top safety features whilst looking stylish at the same time and for a brilliant price. This car seat is in Group 0+ so it is suitable for children straight from birth up to 4 years old. Seats in this category can sometimes prove to be expensive due to the fact that they are a necessity and they may need to be changed a couple of times depending on the group specification. This seat is perfect for parents looking to save a bit of cash but still want to receive a great quality product. This car seat boasts a multi position reclining seat, a 3 point car safety belt and one pull adjustment harness to ensure your child is securely seated in your car.

Next up is the Cosatto Giggle but don't let the cute name fool you. This car seat is dynamic in the sense that it offers the best of the best in safety technology, has a wide and varied colour range and even better, it comes with free head hugger, tummy and chest pads! What more could a new mother want? Still not tempted? The Cosatto Giggle is suitable for children from newborn to 11 years, adapting to the growth of your child, better than any other. Their exciting and innovative patterns and colour designs are one of the best in the industry making them a fun brand to invest in if style and design are on your list of criteria to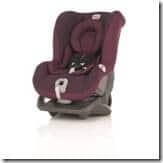 meet.
And last but not least, we have the Britax First Class Plus car seat. You get the best of both worlds with this seat as it combines the benefits of a car seat and an infant carrier as it adapts to your growing child from the time they're born to when they reach the age of 4. The Britax first class plus has a 5 point safety harness that is adjustable for when your child continually grows, ensuring your little one will never feel uncomfortable. This Britax model has a reputation for being extremely lightweight, making it easier to transfer from place to place.