This time last week: Butlins – Day 3 – the lurgy strikes!
After a late-night watching Cirque du Hilarious, we were delighted that the Beans all decided to have a little lie-in followed by a lazy morning before heading to Coast Restaurant for our breakfast. Coast was vibrantly decorated and much less busy than The Deck or The Yacht Club even though it served exactly the same food as the others.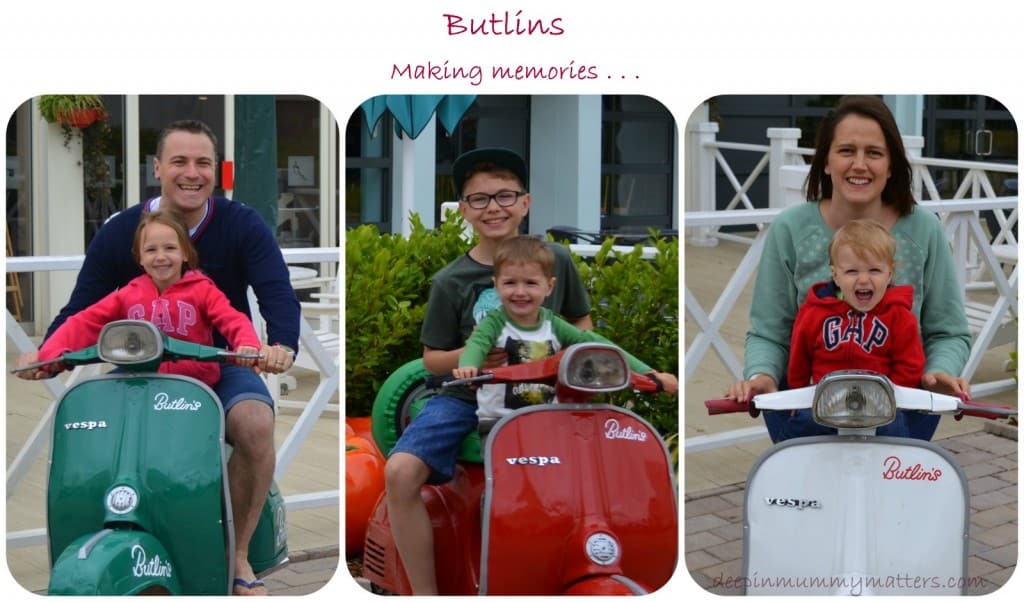 This meant that we were able to find a table easily and there was even a small children's play area although it only had a very small bucket of toys (I don't know whether more toys were placed there during the day/evening???).
Breakfast at Coast Restaurant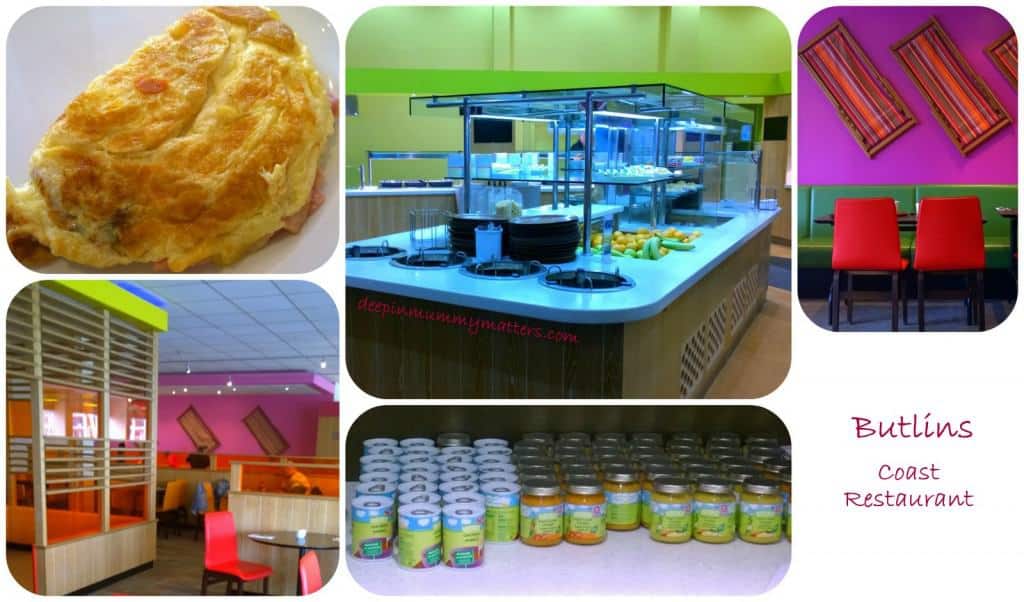 The staff in Coast were very attentive and again nothing was too much trouble for them. Little Bean kept commenting that her tummy 'felt funny' but because of her limited diet she is often constipated so we put it down to that and told her to drink an extra glass of water to try to help her to 'go'.
As we finished breakfast we asked the Beans what they wanted to do whilst Curly was at his football coaching session and they said that they wanted to go to The Fairground so to The Fairground we went!
Curly joined us for a walk first to help his breakfast go down and found ourselves outside Papa John's where we discovered these gorgeous Vespa Mopeds (my Mum used to have a purple one – love them!!) so we couldn't resist the chance to grab some family shots to remember our break by.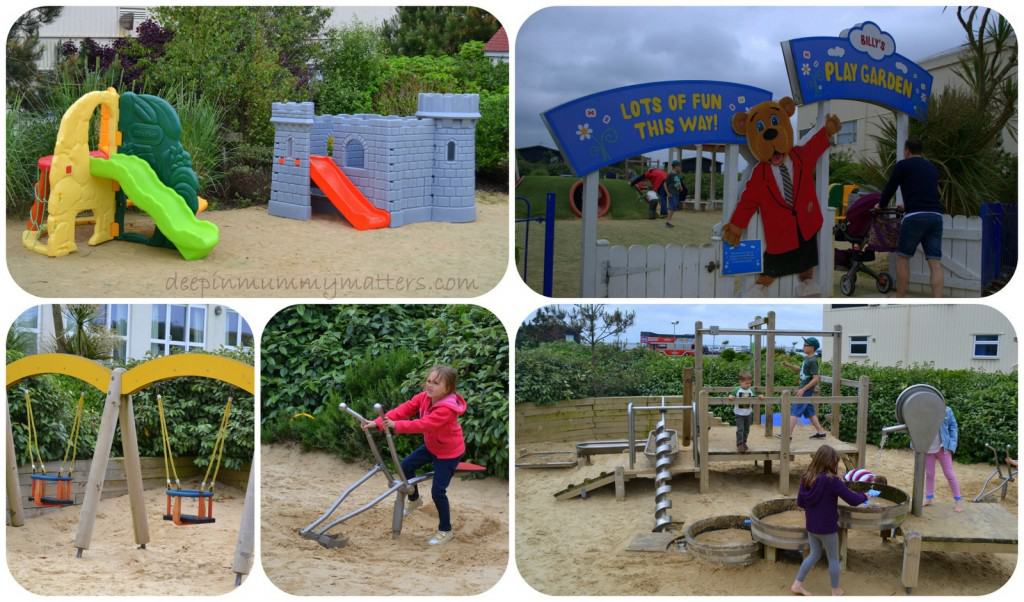 When we arrived at the fairground Little Bean and Beanie Boy had different ideas about what they wanted to do so at this point Hubby went off with the younger boys and me with Little Bean which means we haven't got as many photographs as I would like because Hubby doesn't really 'do' cameras.
I managed to sneak a couple of pics of Beanie Boy on the trampoline though. Little Bean asked if she could go on the Bungee Trampoline so we queued up for 45 minutes only to be told when she got to the front of the queue that she was too slim for the harness. Apparently, the harness on the Bungee Trampoline inside the Skyline is smaller but by the time we got there the queue had about 12 children in it and I wasn't prepared to stand and queue for another hour so we knocked that idea on the head.
Instead, Little Bean just chose to quietly sit and watch the Thomas Show but unusually for her she didn't seem to laugh or engage much, she just sat very quietly by my side. We returned to the room once again and whilst the Beans all had a nap I caught up with some work.
Unfortunately, when Little Bean woke up she looked worse than when she had gone to sleep, again saying that her tummy felt 'funny'. She had a drink and said that she still wanted to go to watch Dick v Dom as we had been given tickets for their show in the afternoon.
Kids Entertainment and Norovirus Outbreak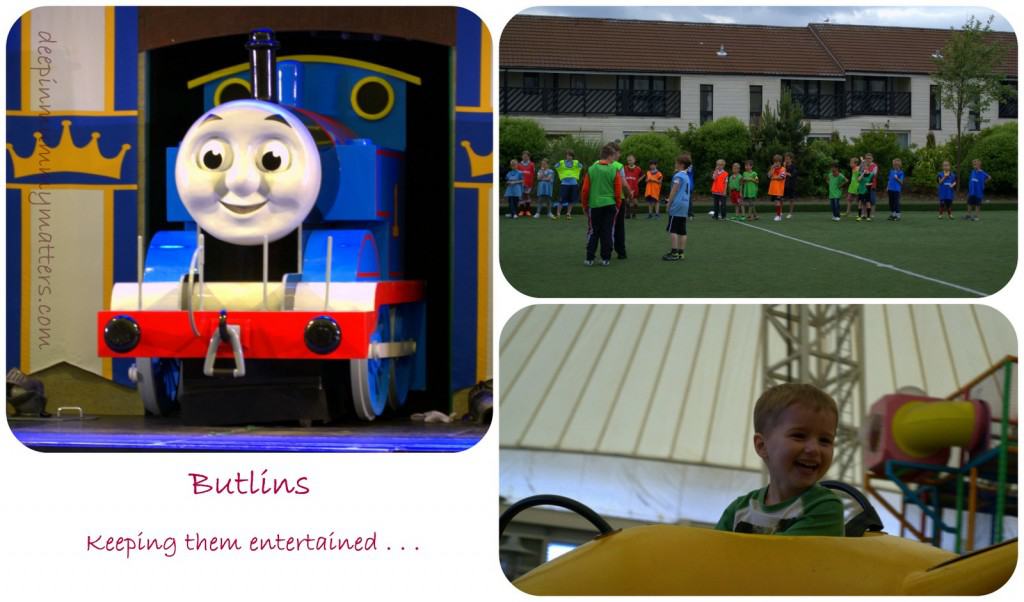 Upon arrival in the upstairs foyer of the Centre Stage, Little Bean began to heave and was sick time and time again. We highlighted this to staff who quickly came to clean it all up and arranged for an NHS First Responder to come and see her in our room to check her over.
I'm sorry to say I'm useless when it comes to sick, just the sight/smell of it sets me off so Hubby took her back to the room whilst I took the boys to see the show as planned. Hubby said that no sooner had they got back to the room where she continued to be sick over and over again than they received a visit from the NHS who gave her a thorough check over and advised her to rest in the room only taking small sips of water to keep her hydrated.
Hubby was asked to complete a questionnaire detailing where we had been over the past 24 hours, the activities she had taken part in, what she had consumed and where.
During our break, there were approximately 20+ other cases of sickness which out of 5,500+ people is pretty good going. It is worth noting that sicky bugs are just one of those things which can happen anytime, anywhere. We don't for a minute think that the bug was Butlins fault, everywhere you went in Butlins there were hand sanitisers for guests to use and signs asking you to use them.
There were cleaners constantly working around the clock to keep everywhere as clean as possible but cleanliness is only as good as the guests who visit and if they choose not to cleanse their hands then the risk of infections spread easily especially when it comes to children who touch everything and are constantly putting their fingers in their mouth.
What was good to see was how quickly and efficiently Butlins dealt with the events when they happened.
Dick -v- Dom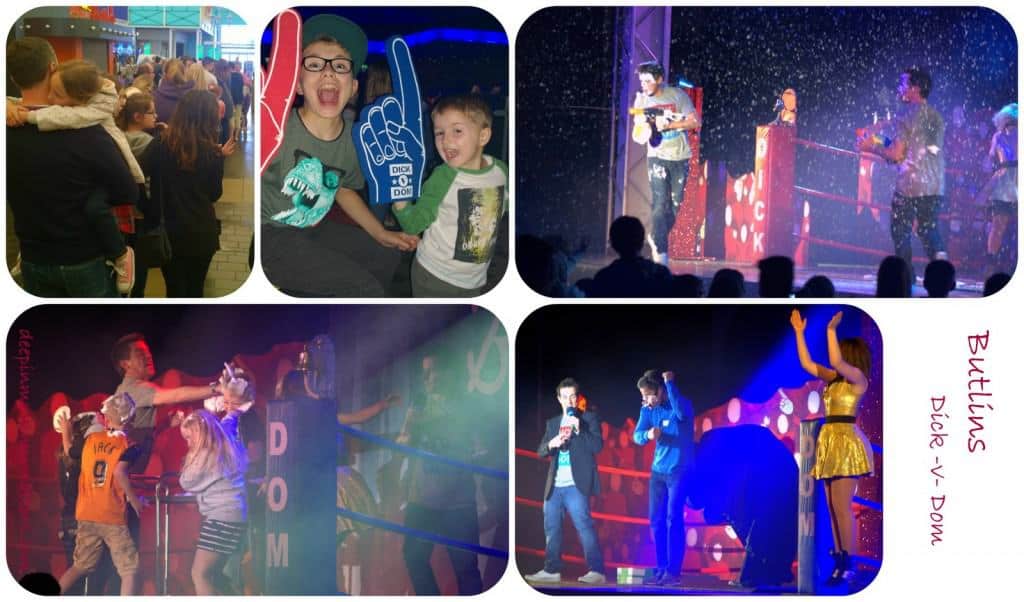 Back to the show though, I had previously seen Dick v Dom at Lollibop last year so I knew it was something which the boys would love and I wasn't wrong. They got stuck in supporting their teams (Curly – Dick and Beanie boy – Dom), they loved the 'fart' jokes and the banter between the pair.
Curly has long been a fan of Dick n Dom from their days 'in da bungalow' and I think this is just the beginning for Beanie Boy. The Show featured challenges for the pair where they needed audience participation in order to beat each other in the different rounds.
I obviously don't want to tell you too much as it would spoil it for those who are going to see it but as you would expect of Dick n Dom, there was a mess, much mickey-taking, music, dancing and good old healthy competition. For the record, Team Dom won!!!
Poorly Girl and Entertaining Boys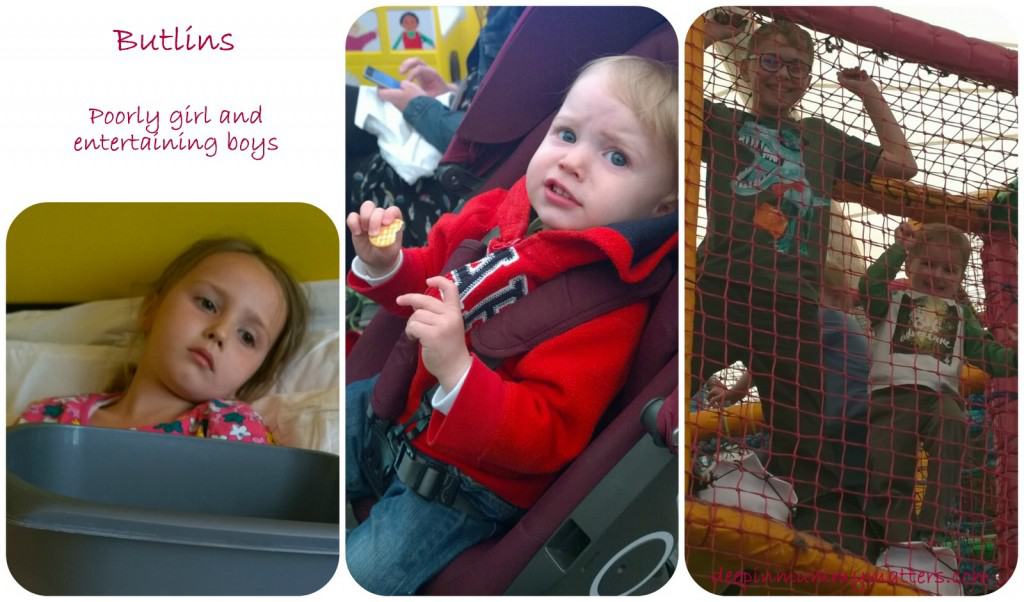 When we returned to our room to see Little Bean she was not good at all. Over the course of 15 hours she was sick 12 times (day and night) and was completely exhausted by it but bless her heart she didn't make any fuss, she just looked very sad.
We did go out for a meal in the evening to The Beachcomber and she sat very quietly in the corner watching a video on the Kindle. We didn't really know how else to get everyone fed and back to the rooms in time for bed, although later we discovered that we could have ordered a takeaway from Papa Johns. We just weren't really thinking straight.
Sadly, our meal at the Beachcomber was a disappointment last year. Service was extremely slow taking over 40 minutes for our main meal to arrive and 35 minutes for our desserts to arrive even though they hadn't cleared away our plates. The bar staff were brilliant, very helpful and friendly but the waiting staff seemed to be wandering around carrying empty trays back and forth.
In hindsight, we should have complained but we just wanted to eat our meal and go back to the room with Little Bean.
What I would say though is that when the food did arrive it was hot and tasted delicious and portion sizes were good so no complaints there! I have read other reviews of people who stayed at Butlins at the same time as us who had completely different experiences of the Beachcomber so perhaps we just arrived at an off-moment. We arrived at 5.30 pm so I wouldn't have said it was peak time and it didn't appear to be overly busy.
Date Night with Curly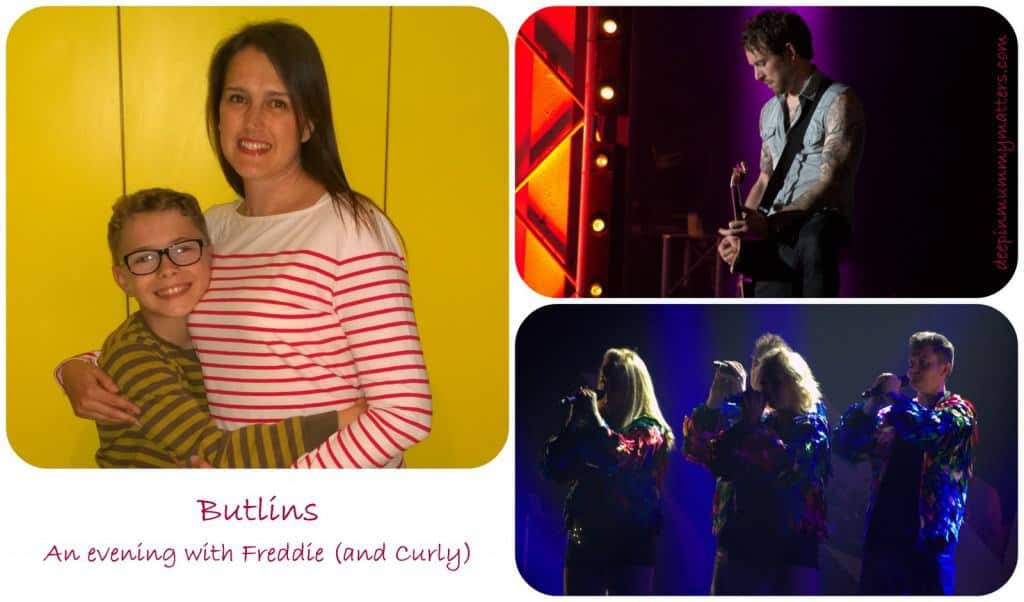 Once all the younger Beans were in bed Curly asked if he could have some time just me and him so we headed back to Centre Stage for an evening's entertainment with Freddie – the music of Freddie Mercury and Queen. They were brilliant, great to watch, awesome to listen to and the guitarist was excellent. We had a really fun evening out and we should definitely do it more often!
DISCLAIMER: We were given a 4 night break at Butlins Bognor Regis as part of our role as Butlins Ambassadors. All words, images and opinions are my own and may not be copied without my permission.