This time last week: Butlins – Day 4 – Scooby Doo and Sunshine!
Little Bean finally stopped being stick at around 7 am on Thursday morning but she definitely was still not right. She looked completely wiped out and initially wasn't keen to get out of bed. During the evening when she had been sick in her bed the Butlins staff were amazing, we asked for a change of bed linen for her but they not only changed the bed but also cleaned down the whole of her bedroom again and the bathroom with the antibacterial cleaner to minimise the risk of the other children catching the bug too.
Perfect Backdrops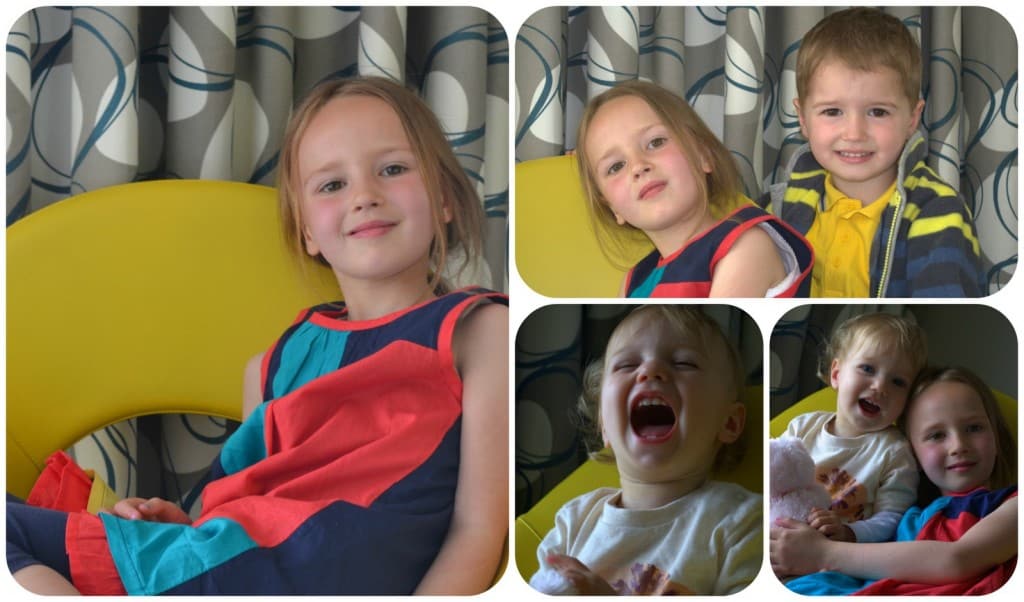 All week I had been eyeing up the curtains in our room as I loved the look of them with the bright yellow chairs in front so I grabbed the opportunity to sneak a few shots of the little Beans in the chair before we left the room. My plan was to test it out so that I could take a full family photo on Friday morning before we leave. Poor Little Bean still doesn't look right in these.
Bubbles, braids and arcades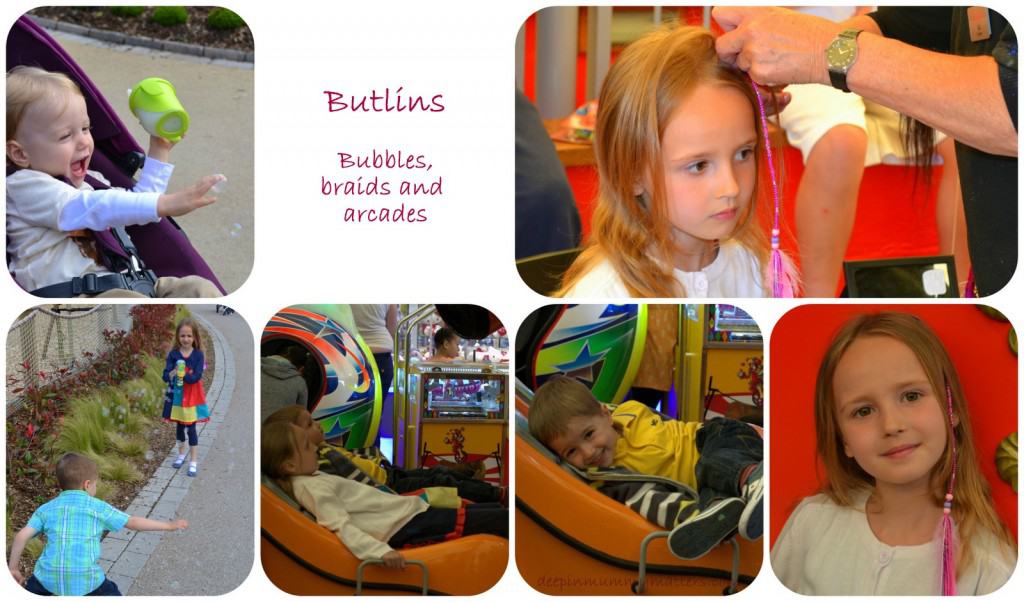 We decided to keep the morning fairly quiet and low key whilst Curly was at his last football session, just going for a walk, playing the arcades and playing with the bubble gun that Little Bean had bought with her holiday money from the Butlins Store. She chose to have a braid put in her hair too, she looked so grown up with it. Beanie Boy wanted a temporary tattoo but he had his mindset on a 'Dude' tattoo from the Skyline Gang and was disappointed when they didn't sell any – Butlins take note!!
Kiddy Rides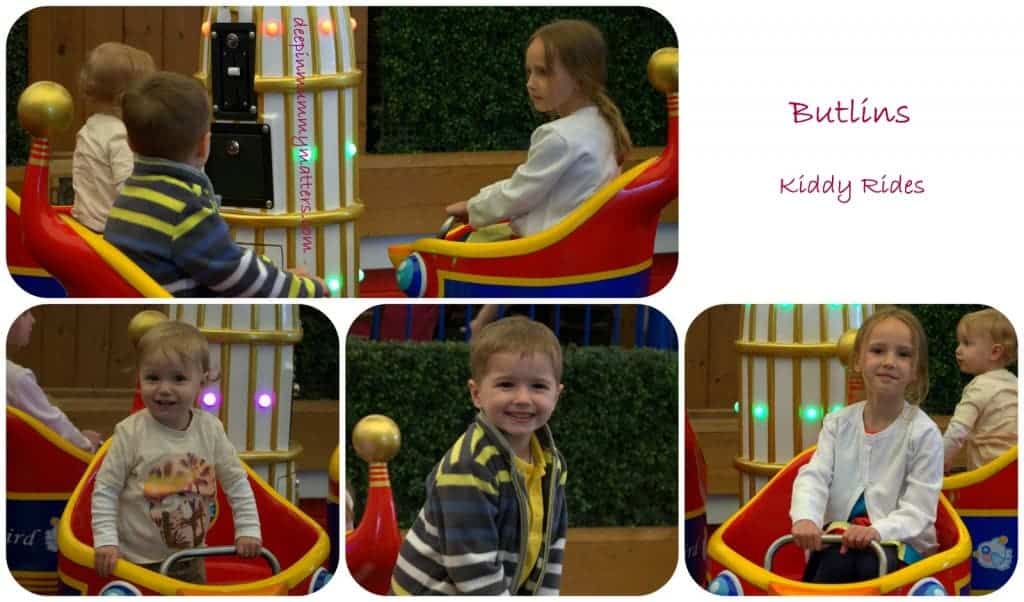 The Beans found this little ride which had three seats on it meaning they could all go on together. This was actually Jelly Bean's first 'ride' and he thought it was brilliant (although he refused to sit down) and at just £1 for all three children, we thought it was a bargain!!
Titan the Robot
I was very excited to see Titan the Robot would be paying the Skyline Pavillion a visit. The Beans and I had first seen Titan at Lollibop last year and we thought he was brilliant so I couldn't wait to show Daddy and the Beans said they couldn't remember him.
He is HUGE and the children look up to him with a mixture of amusement and fear, they all laugh along until he walks towards them then they all jump backwards. Titan is very funny, he picks out members of the crowd and makes quips at them or sings to them.
Curly saw him later in the day and Titan approached him telling him to "I am the entertainment around here, not you" which Curly thought was hilarious. He later got to pose with him for a photograph and is currently proudly showing his keyring to anyone who will look at it.
The 'show' lasts around 20 minutes and has lots of surprises so if you get the chance to watch him – do!
Scooby-Doo Show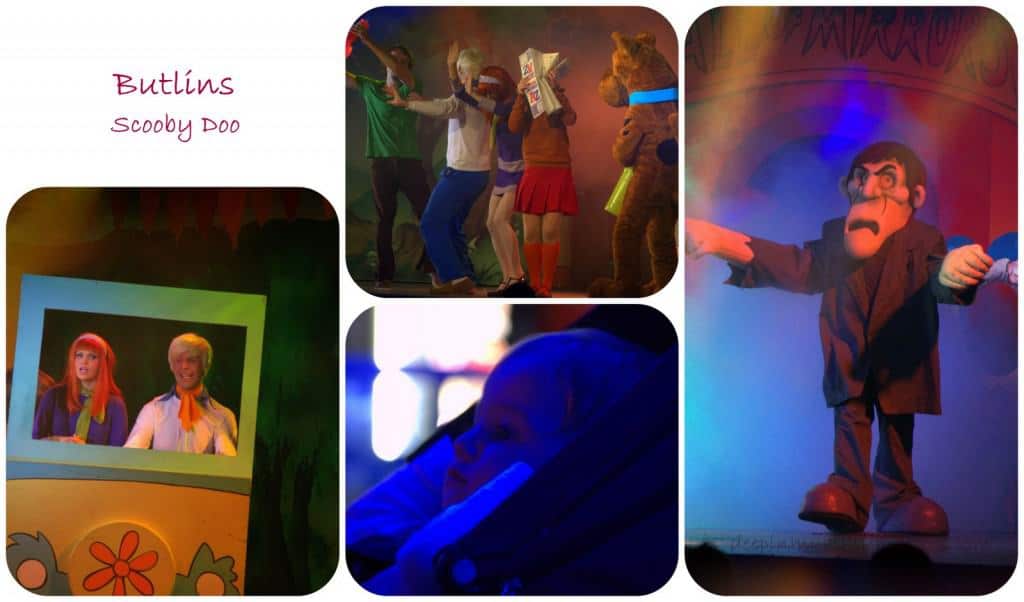 The moment that all of our Beans had been waiting all week for had finally arrived. We were given tickets to the afternoon performance of the Scooby-Doo show on Centre Stage. If you want to get a good seat for any of the shows in Centre Stage then you need to get there really early as the queues are huge and start forming way before the doors open.
We were generally one of the last to arrive and we found seats every time at the far right of the stage (as you look at it) in front of the furthest bar and toilets. These were actually really good seats if you don't mind looking from the sides. We were able to see the show well and could see the children whenever they moved from their floor space in front of the stage. All of our children (including Curly) are big Scooby-Doo fans, I don't think there is a Scooby-Doo show they haven't seen before and they loved it.
From a parents point of view, I'm afraid it didn't hold our interest but then again it's not really aimed at the parents. The really big disappointment for us was at the end when the children ran to queue up for photographs and autographs of the cast (as had been the case at every other performance we had seen at Centre Stage) only to be told that they wouldn't be doing photographs until the evening show (which we wouldn't be attending).
We had lots of tears from the Beans, especially from Little Bean who had missed Dick v Dom the day before and had bought a notepad and pen especially for getting autographs and didn't actually manage to get any at all. Many parents were upset by this as they too didn't plan on returning for the evening performance.
Curly had to miss the last 30 minutes of Scooby-Doo as he was booked into an Activity Session at Splash World called Aqua Walkers. Unfortunately, I was unable to take photographs of his activity because of the photography ban on the pool but he said that he really enjoyed this and would definitely recommend it. This activity cost an additional £5 and was booked at the Leisure Hub just down from the Go-Karts.
Papa Johns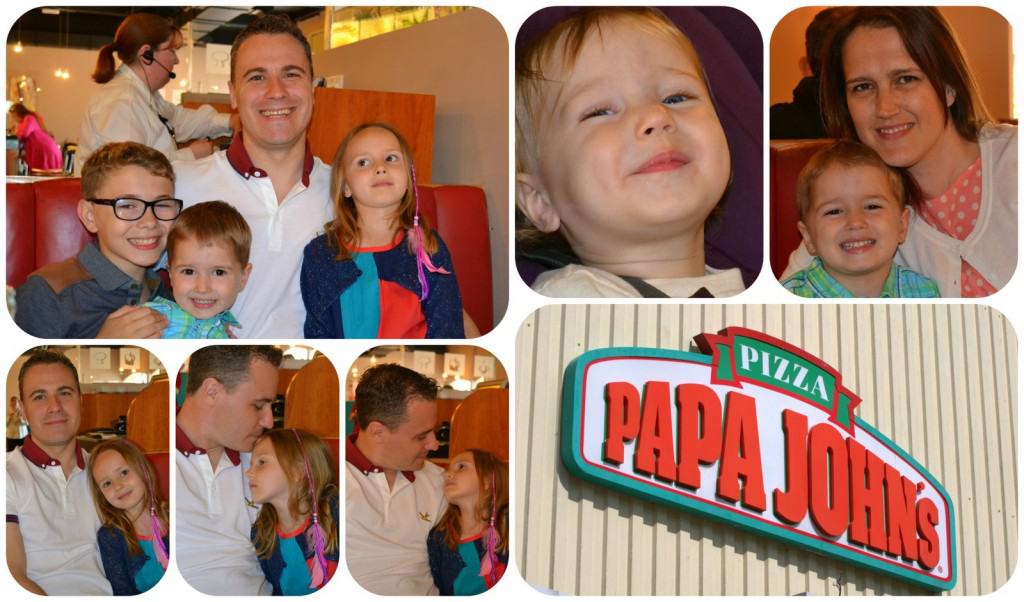 At the request of Little Bean, our final evening meal of the week was at Papa John's where she had spent her birthday last year. By sheer coincidence, we were even given the same table that we dined at last year and had the same waiting staff which we thought was nice.
Usually, it is Buffet Style service in Papa John's but in an effort to control the sickness bug Butlins had taken the decision to withdraw the Buffet Style for the evening and did table service instead which was perfectly fine by us.
We enjoyed a thoroughly scrumptious meal, the pizzas were delicious, the service was impeccable and the restaurant itself was spotless. It was the perfect evening meal to end our break.
Sadly Little Bean started to go downhill again though and asked Daddy if she could return to the room to go to bed.
Football Awards Presentation Night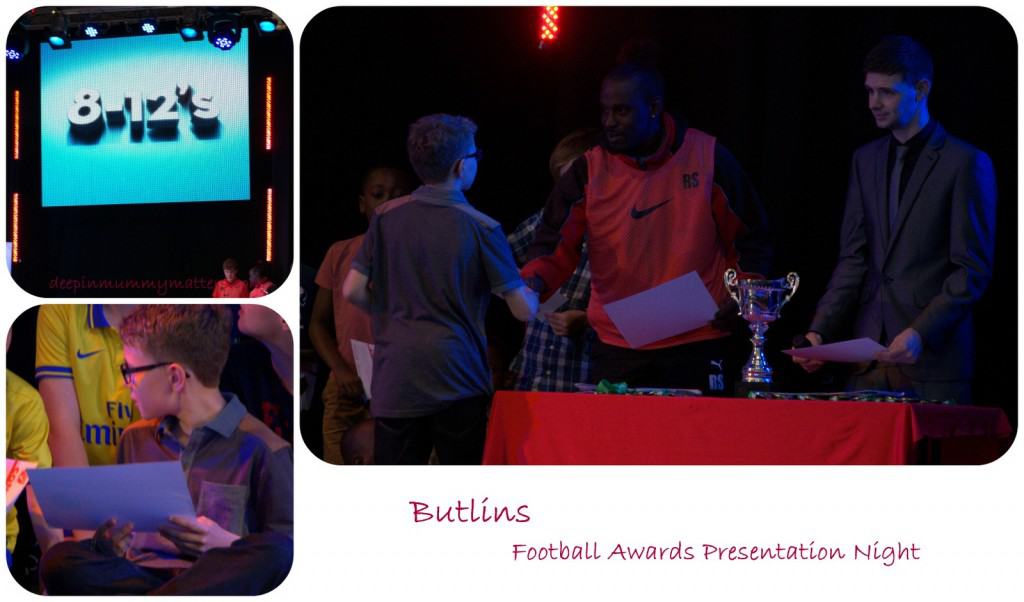 Curly proudly waited with all of his friends in the Skyline Pavillion to receive their certificates for completing their Football Coaching. His team didn't win but he loved taking part in it again and was given a medal but being one of the top players so he was over the moon.
He is now building up a little collection at home of his sporting Certificates and Medals. To celebrate he spent the evening with his football friends and had a blast. He came home beaming from ear to ear and had loved being given a bit of 'him time'.
Being on Butlins gives you the confidence to let them do a little more for themselves which helps you to gain a little trust in them too.
Arcade Fun for Beanie Boy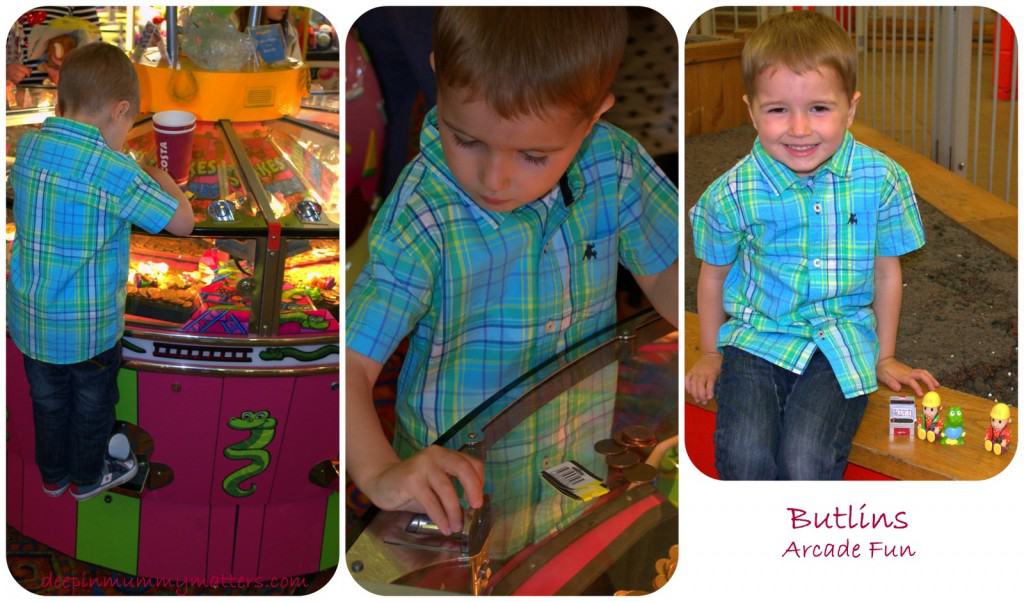 When Daddy returned to the room with Little Bean he took Jelly Bean too and put him to bed whilst I had a 'date' with Beanie Boy. My 'lucky' little fella desperately wanted to have a go on the penny slots so I told him that he could have whatever was left in my pocket which was just a measly £2.
With that £2 he managed to win himself four little figures and was delighted, he said that he would share them with Little Bean as she was too poorly to play them herself.
Skyline Gang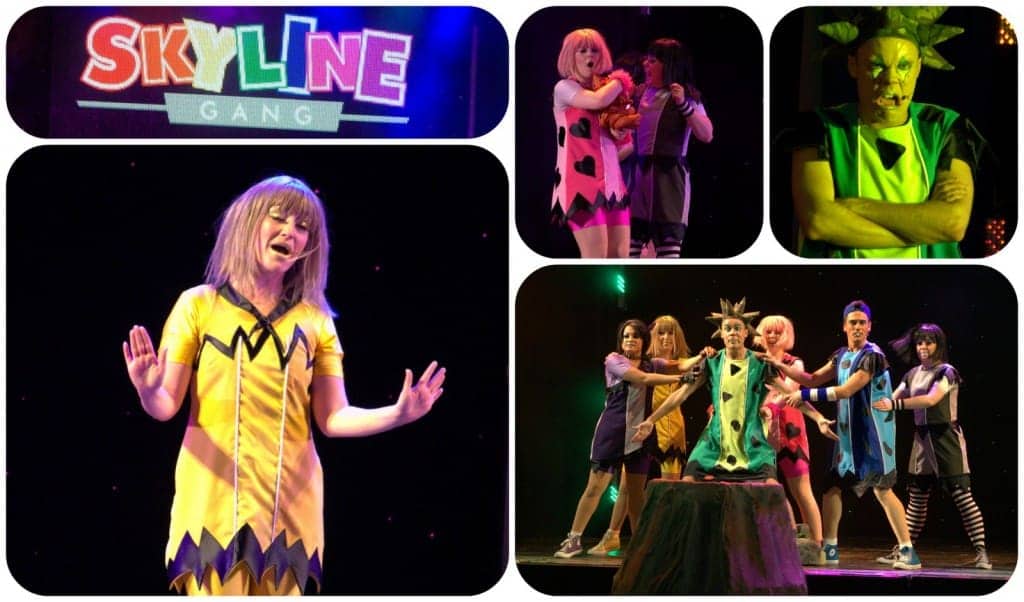 We finished off our evening watching the Skyline Gang minus Bud who we assumed had been taken ill. It was interesting to see a new member of the Skyline Gang called Misty, apparently, she had been a little mischievous, to begin with, but by the end of the show she had forged friendships with the rest of the gang and they had forgiven her previous misdemeanours which were really nice to see. With her black stripy tights, I think she would easily have been a favourite for Little Bean had she got to see them.
All too soon our break was drawing to a close and it was time to return to the room and get the packing done – boohoo!!!
DISCLAIMER: We were given a 4 night break at Butlins Bognor Regis as part of our role as Butlins Ambassadors. All words, images and opinions are my own and may not be copied without my permission. I have not been instructed what to write.