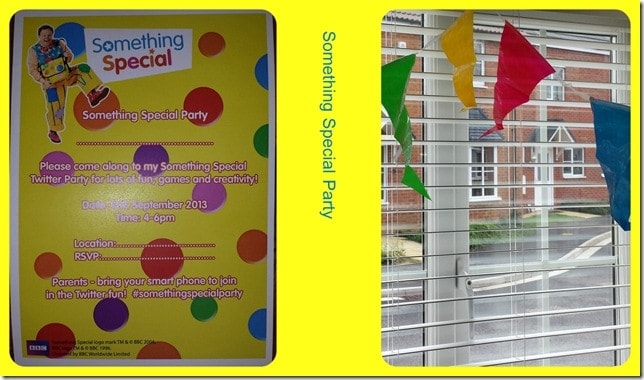 How to throw a Something Special party . . .
Waaaay back in February just after Jelly Bean was born, Beanie Boy began making plans for his birthday this Saturday! Yes you did read that right, Beanie Boy was planning his September birthday party in February. He wanted to make it very clear to me that the only theme he would consider for his birthday party was a Something Special theme!! Not wanting to disappoint him on his first 'real' birthday party where he gets to choose who comes, I said yes. At that time I had no idea how I was going to do it other than putting lots of spots everywhere!
Fast forward a few months and like a fairy godmother appearing in my dreams, an email landed in my Inbox asking if I would like to host a Something Special party!! So last week we had a trial run Something Special party which was a roaring success, as I tucked Beanie Boy up at bedtime, he hugged me tight and said "thank you so much for my Something Special party".
So here's my tips on how to throw a Something Special party . . .
Invitations
At the moment you can't buy Something Special invitations in the shops and I love a bit of 'make-your-own'. Nothing says 'Something Special' like spots do so get creative on the computer yourself or get the children to draw their own or just buy plain yellow card, lots of spotty stickers and get sticking!!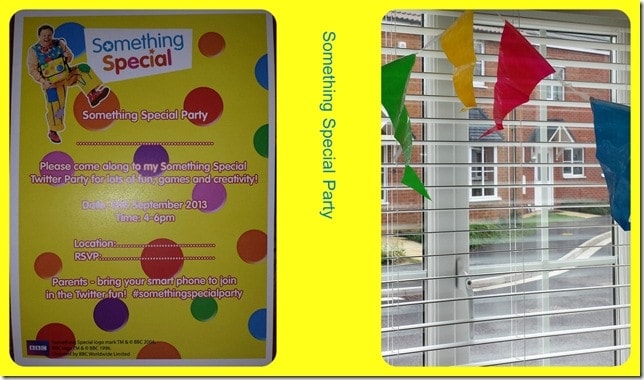 Decorations
Balloons – well that goes without question doesn't it! We had a selection of coloured balloons and I also found some great bunting in Tesco for just £1.25 and I just know that it will come out time and time again. If you're feeling creative though you could always make your own bunting, perhaps a row of Mr Tumble's spotty ties?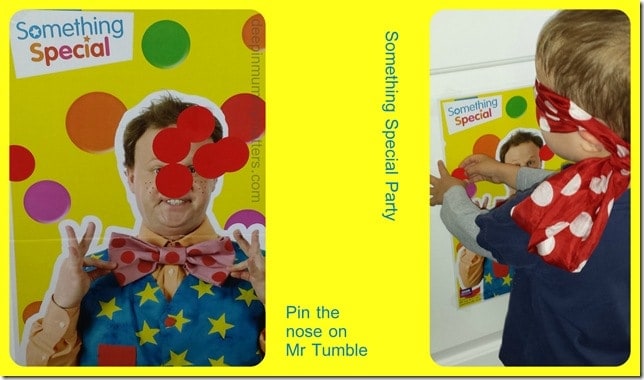 Activities
Pin the nose on Mr Tumble
We were provided with a poster of Mr Tumble but I'm sure you can find one yourself from the Something Special magazine and then you just need a sheet of red dots for his nose. Stick the poster to a firm surface at a height suitable for the children attending your party.
Make a blindfold using as scarf or clean tea towel.
Line the children up to take turns.
Place the blindfold on the first child, spin them around three times and point them in the direction of the poster so that they may place their sticker where they think Mr Tumble's nose should be.
The winner is the one whose sticker is closest to Mr Tumble's nose.
What's in the Spotty Bag – Memory Game
If your little partygoers are true Mr Tumble fans then I'm sure there will be a Spotty Bag somewhere in your house, if there isn't you can improvise with another bag.
Place 5 or 6 items on a table in front of the children and ask them to memorise what they see in front of them.
Ask them to turn their backs to the table and then place one of the items from the table into the 'spotty bag'.
Ask the children to turn around and tell you which item is in the 'spotty bag'.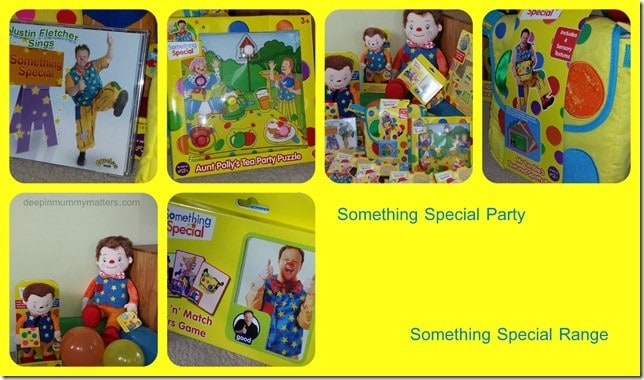 What will Mr Tumble say next?
If you have one of the new Mr Tumble Interactive soft toys then this is a great game for the little ones.
Get the children to sit on the floor in a circle and let the children hear all of the phrases.
Pass Mr Tumble to the first child in the circle and ask them to guess what Mr Tumble will say next. If they get the phrase right, give them a spotty sticker.
The first child to win three spotty stickers is the winner.
Pass the Parcel
I'm not sure the children would forgive you if you didn't play this game at your party. Such a simple one, but remember the children expect a little prize in every layer of the parcel (hint hint, they expect sweets!). In my experience they even expect sweets if they are deemed the winner and get to open the last layer!! Wrap the parcel with the same number of layers as there are children attending the party.
Get the children to sit on the floor in a circle.
Play music, such as the Something Special soundtrack and start/stop the music to signal the parcel moving or stopping to be opened.
Repeat until the final layer has been opened.
Colouring Activity Sheets
I like to place colouring activity sheets as placemats on the table along with a few small packs of crayons so that the children who finish their food first can keep themselves entertained whilst waiting for their friends to finished.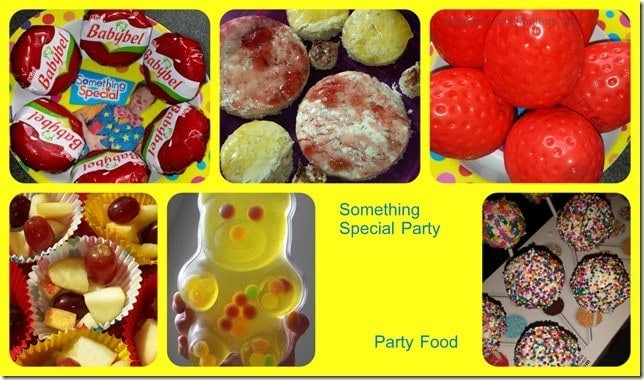 Food
Spotted Tie Pizza
Ingredients
Readymade pizza base
Pepperoni
Tomato puree
Cheese (grated)
Method
Use readymade pizza base or make your own if you're feeling brave!
Cute the base into a bow tie shape.
Add tomato puree to the base and spread evenly.
Sprinkle grated cheese onto the base.
Place pepperoni at random over the base to create the spots on Mr Tumble's tie.
Cook the pizza for 10-12 minutes or until golden brown.
Spotted Jelly
Select a jelly of your choice and make as per the packet instructions. Pour into a jelly mould (I used a teddy shaped one to make Big Ted) and then drop in some Jelly Tots sweets.
Place the Jelly into the refrigerator until it is set and ready to serve.
Star Shaped Spotty Biscuits
Ingredients
250g butter, softened
140g caster sugar
1 egg yolk
2tsp vanilla extract
300g plain flour
Smarties for topping
Method
Preheat oven to 180c/gas mark 4
Mix butter and sugar in a large bowl with a wooden spoon.
Add egg yolk and vanilla extract – beat to combine.
Sift flour and mix until combined.
Roll out on a floured surface.
Use a star shaped cutter or free hand cut into a star.
Put on a non-stick baking tray.
Bake for 12 minutes.
Place on a wire rack to cool.
Icing Ingredients
Icing Sugar
Water
Yellow Food Colouring
Icing Method
Add a few drops of water to the icing sugar as directed on the packaging.
Add food colouring to get the desired colour.
Spread over a cool biscuit using a knife or the back of a teaspoon.
Add Smarties to make colourful spots on the stars from Mr Tumble's jacket.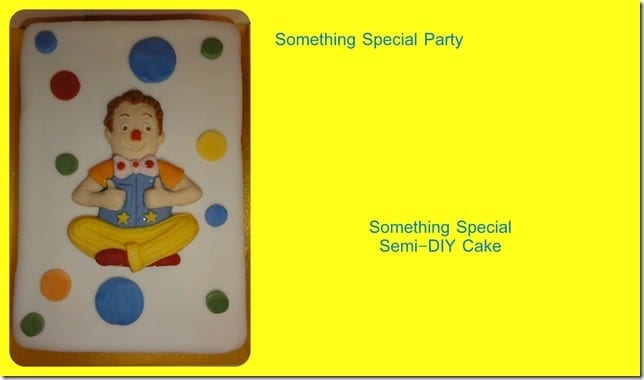 Birthday Cake
Now I had actually been sent a round Something Special Cake from Asda but unfortunately it got damaged in transit and they couldn't get hold of another one in time so I bought a plain white rectangular cake and rescued Mr Tumble from the original cake, then using some circle cutters and coloured icing I made different sized spots and hey presto, a semi-DIY Something Special cake!
My little people and their friends absolutely LOVED their Something Special party, they particularly enjoyed the Pin the Nose on Mr Tumble game and What's in the Spotty Bag. The most important thing is to have fun!!
Something Special is fast becoming a household name amongst pre-schoolers and finally there are some great products to back up the show. Beanie Boy is instantly drawn to all of them when we visit our local Tescos who carry a great range.
DISCLAIMER: I was sent a box of Something Special products and compensated for additional costs in hosting our Something Special party. All words, images and opinions are my own and may not be copied without my permission. I have not been instructed what to write.