The speech therapist is impressed – bye bye Baby Bean, hello Little Bean!
I've got some exciting news to share! Over the past couple of weeks, something remarkable has happened in our household. Baby Bean, or should I say, our newly crowned Little Bean, has taken her first steps into the world of adult food. While her palate may not be entirely focused on fruits and veggies just yet, I couldn't be happier with this fantastic development.
Discovering the Power of the Fork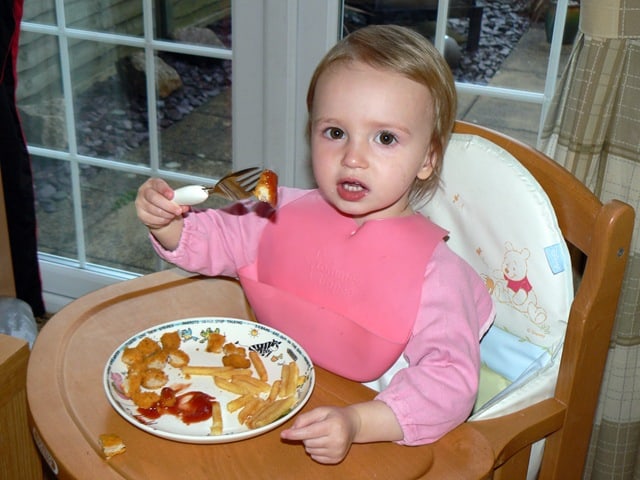 One of the turning points in this culinary journey was when we introduced her to a fork. Little Bean became utterly captivated by it and insisted on using it for every meal. With an adorable determination, she would pick up her food, declare "stab it," and then happily indulge. Our menu now includes a wide variety of items, from pizza to pancakes, with varying degrees of enthusiasm from our little food explorer.
A Visit from the Speech Therapist
Today, we had an appointment with our ever-supportive Speech Therapist, who has been an incredible source of guidance throughout this journey. To my delight, she was not only impressed by Little Bean's newfound enthusiasm for food but also pleasantly surprised by her progress in speech. It seems like our baby is growing up before our eyes, and we're embracing this new phase by officially introducing her as "Little Bean" on the blog.
A Parent's Perspective
I used to read posts like this from other parents and wonder if my daughter would ever eat properly. Well, here we are – still a long way from "proper" eating, but further along than I ever imagined. Little Bean is gradually becoming more open to trying new things, and she's even starting to understand when I encourage her to at least give new foods a chance. If she decides she doesn't like something, I respect her choice and don't push it further. Some items have become favourites, while others have temporarily dropped off her menu. But don't worry; I'll reintroduce them in a few months.
Tips for Parents with Picky Eaters
If you're dealing with a fussy eater like we were, here are some tips from our experience:
You're not alone – many parents have been through this.
Stay calm during meals; they won't starve themselves.
Avoid force-feeding; it's counterproductive.
Stick to one meal; don't make multiple dishes.
Understand your child's need for praise and adjust accordingly.
Encourage social eating whenever possible.
Seek professional help when needed; speech and eating are connected.
Rule out physical issues with the help of paediatricians and dieticians.
Consider messy play for tactile-sensitive children.
Never give up, and don't blame yourself; they're making their own choices.
Conclusion
So, there you have it – Little Bean's exciting culinary adventure and her remarkable progress. I hope our journey offers hope and inspiration to other parents dealing with picky eaters. Remember, every child is unique, and they will find their own way when the time is right. Until next time, happy eating and parenting!