Curly's Baby Names for Bump – so cute!
I'm pleased to say that this weekend is our weekend with Curly.  Tonight, he turned up full of the joys of spring; he and Little Bean were their usual excited selves to see each other, with Little Bean shouting "bro, bro" and then climbing on his knee for a cuddle the minute he sat down.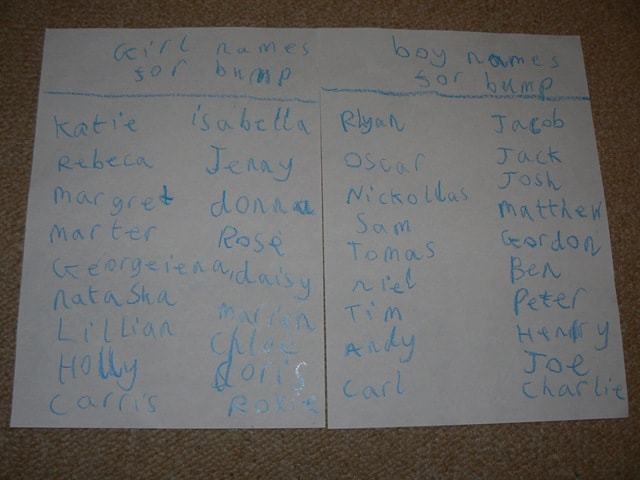 When Hubby took Little Bean up for her bath, Curly disappeared into his room, sat himself at the dining table with paper and a crayon, and proceeded to write the following lists of his favourite Baby names for Bump.
Boys
Girls
Rhyan
Oscar
Nickollas
Sam
Tomas
Niel
Tim
Andy
Carl
Jacob
Jack
Josh
Matthew
Gordon
Ben
Peter
Henry
Joe
Charlie
Zak
Barry
Barney
Stanly
Wayen
Bruce
Brian
Bruno
Angus
Alan
Patrick
Jhon
Tanton
Travis
Benttly
Robert
Aaron
Alastair
Algie (his most favourite)
Max
Theodore
Alvin
David
Luke
Katie
Rebeca
Margret
Marter
Georgeiena
Natasha
Lillian
Holly
Carris
Isabella
Jenny
Donna
Rose
Daisy
Marien
Chloe
Doris
Roxie
Anna
Willma
Eve
Polly
Mary
Sue
Maggie
Rachael
Megan
Grace
Ruby
Vikki
Tia
Lucy
Laura
Scarlet
Beatrix
Ellie
Imogen
Louise
Jasmine
Now I think you'll agree that's some list for us to go at.  We have told him that there are some lovely names on there and that he mustn't be offended if we don't use any of his names, but we might already have some names that we like.  We have said that we MAY use one of his names as Bump's middle name, so he seemed quite happy with that.  I love that he is so excited about Bump; he said he has told all his friends and family, even his teachers and dinner ladies!