The Gallery: Playtime
This week's theme for The Gallery by Tara Cain at Sticky Fingers was Playtime – who doesn't love Playtime!?
Playtime can be interpreted in many different ways; initially, as a parent, you think about your children playing, but then you realise – hey, we get playtime too!!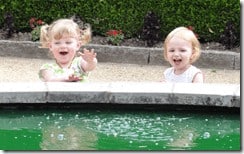 I took this photograph a couple of weeks ago of Little Bean and her best friend, Little Miss – they were having a wail of a time just throwing stones in the water. They would have stayed there all day, but Cafebebe and I had different ideas!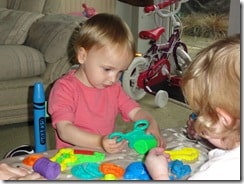 Little Bean has always had a thing about textures – in that she doesn't like to get her hands messy or touch funny feeling stuff. Initially, she would freak out if I put a blob of Play-Doh in front of her. Now she asks to play with it most days – always wanting to "cut it" or "stab it".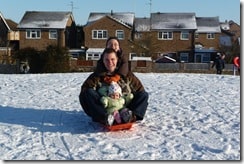 Playtime in the snow with Daddy. Sadly, we have moved from this house now – the big hill was right behind our house and great fun in the snow. I'm not sure where we'll go next time it snows, but we'll find somewhere because the children are both very outdoorsy and love playing in the snow!!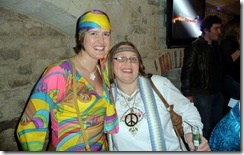 Hey, even I get to play sometimes – though, as you can see, this was before I was pregnant again. This was a '70s night out with the girlies (pictured with MumtoJ). This was a brilliant night out – you can't beat fancy dress for a good giggle!!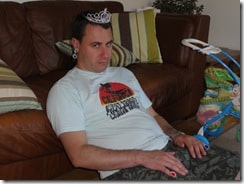 I'm sure Hubby will kill me for this one, but what could be more fun for the little ones than dressing Daddy up as a Princess!!

Doesn't he make a happy Princess? He was sulking because Little Bean wouldn't let him wear her tutu!!